If your best friend really wanted to go camping, you wouldn't leave them behind, would you? We sure hope not.
And, since dogs are a man (and woman's) best friend, there's no need to leave your pup behind when you decide to embark on a camping journey.
Dogs love camping and being in the outdoors just as much as you do, if not maybe even more. They're always game for a hike, always ready to scope out a new running trail, always down to hop in a kayak and go for an adventure, and always great with relaxing by a warm fire.
It seems as if there couldn't possibly be a better camping buddy than a dog, now that we mention it.
However, the key to your dog having just as good of a time camping as you do requires making sure Fido has all the gear he or she needs. And in case you were wondering, that means more than just a leash.
So, just like you need your gear to make your camping trip stellar, your dog does too.
Unsure of what exactly that gear will be? Don't worry — we've got you covered. Here are all the top things you'll need for your dog's camping adventures.
Don't Take Your Dog Camping Without These Must Have Gear Items for Pets
1. A leash, but not just any leash
The leash you hang on the back of your door for your dog's daily walk is not going to cut it out in the wild. You're going to need to step it up to something that has more to offer, and has more strength to it.
Many campers swear by the Ruffwear Slackline Leash. Great for walking, running, hiking, and more, this leash is nearly indestructible. The length is highly adjustable depending on whether you want to keep your pup closer, or let him roam a bit more on his own.
This leash also comes equipped with a special Talon Clip that promises security and safety for you and your dog, while also ensuring your dog's comfort isn't sacrificed. You can hook the clip to yourself when you're walking or running, and can also clip it to something while you're working on getting your camp set up.
You'll also get an accessory loop with this leash that is ideal to hook pick-up bags on for all the times you and your dog are on the go.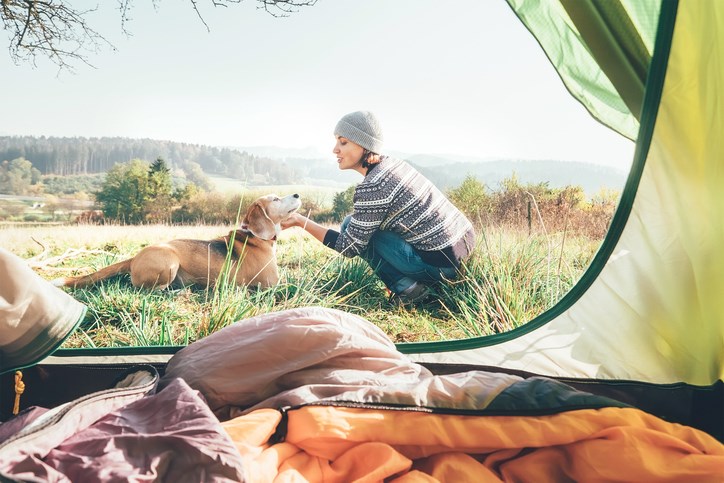 2. Beds aren't just for people
You don't want to lay on the rocks or hard ground when you're camping and guess what, neither does your dog. He may be more accustomed to sleeping on hard surfaces than you, but when camping, you want to try to make your pup as comfortable as possible and give him something that he can actually get some sleep on.
There are a number of packable pet beds that you can choose from, but there is a resounding opinion with dog-owning campers that the Ruffwear Highlands Bed is the top option.
This bed is incredibly lightweight, easy to pack, and strong enough to keep your pup warm and comfortable while hiking. There is also the option to get the additional Ruffwear Highlands Pad for when your camping nights are going to be extra cold.
The fabric on this bed is water-resistant and, great news, it is machine washable! Simply throw it in the washer on cold, and let it air dry and you're ready to take it out on your next adventure.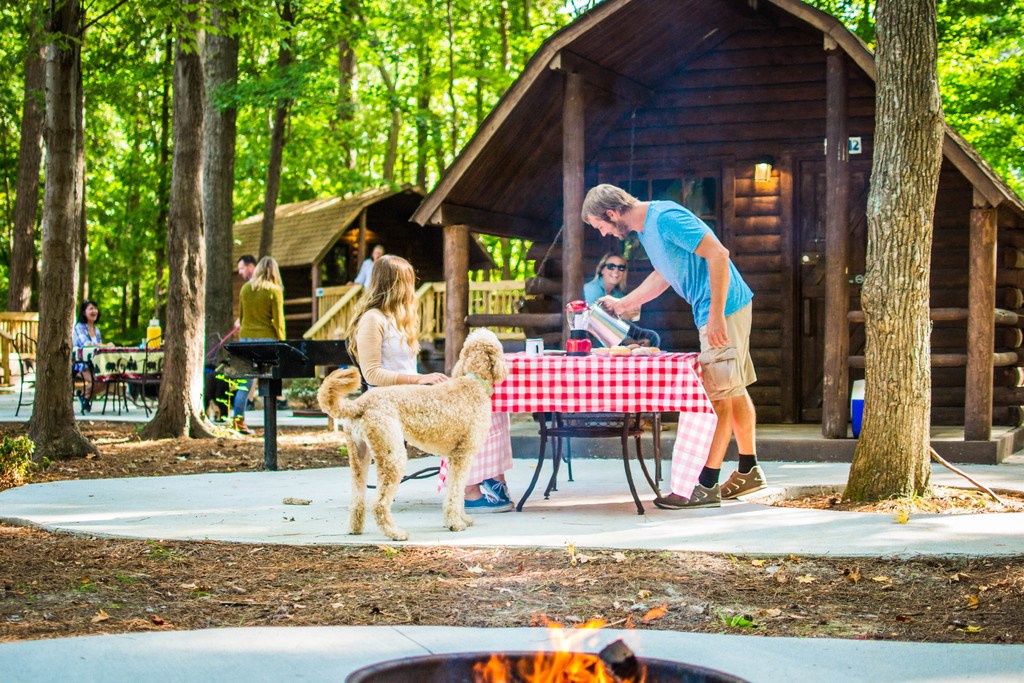 3. Sunglasses for your too-cool-for-school pup
It's likely the thought has never crossed many peoples' minds that dogs may find it bright outside, too. You'd never go camping without your sunglasses, and you shouldn't go camping without some sunglasses for your dog, too.
Now, Fido's sunglasses are going to be quite a bit different from yours. First of all, they are going to need to stay on his face, and let's be honest — the style of sunglasses you wear will last about 2 seconds on your dog's face.
Thankfully, there have been some great innovations that have come to the creation of goggles for dogs.
These aren't just any goggles, they are UV goggles that also happen to be waterproof. Made by QUMY, this pair of dog goggles will keep your dog's eyes from getting burned (yes, that's a thing that can happen), and won't get broken in the process, as they are shatterproof.
Thankfully, they're easy to clean too, and adjustable for a variety of different dog sizes.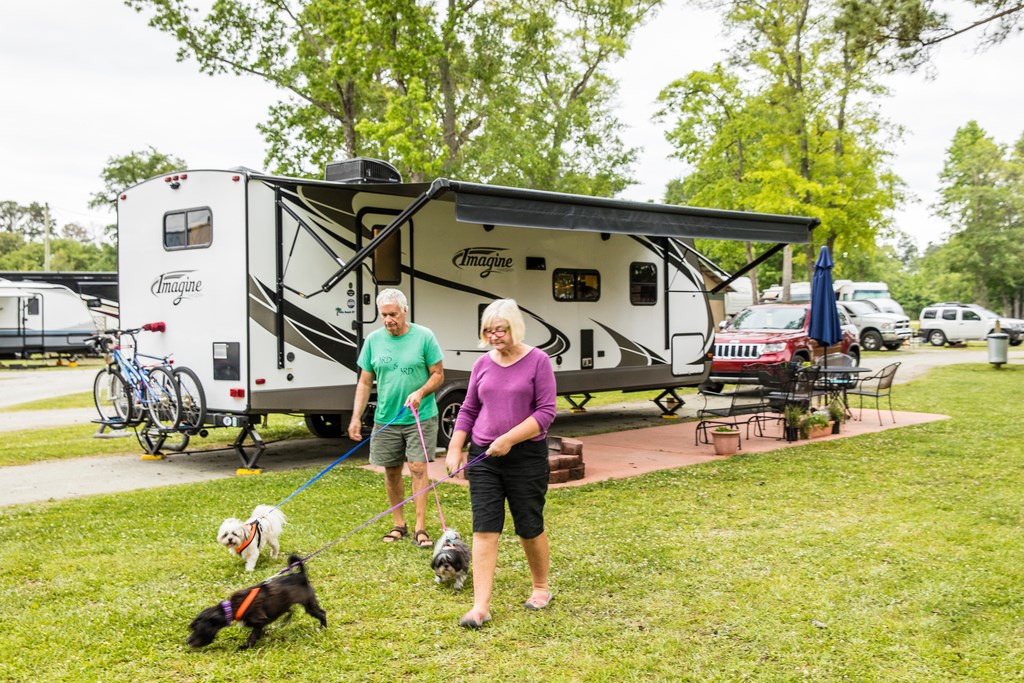 4. These boots were made for walking
People would think you were crazy if you were out hiking in the woods without shoes on. And, while your dog has pads on his feet that are built to withstand far more terrain and wear and tear than your feet, that doesn't mean that he wouldn't do well with some protection on his paws while out camping.
Your dog can still feel the cold, the wet, the heat, and more through his paw pads, so it is highly recommended that, just as you purchased some hiking boots for yourself, you purchase some hiking boots for your doggo too.
If you're looking for some quality boots for your dogs, many pet owners love these from My Busy Dog. Not only do these boots keep your pup protected from hot and cold surfaces, it also keeps them protected when hiking through some areas that are filled with ruffage such as pinecones, tough gass, and more.
The soles of these shoes are thick and strong, keeping your dog's paws safe and set to keep treading. And they are easy to put on, but will stay secure while on.
It's no surprise they are water resistant, and come in a variety of sizes so that you can ensure your dog gets the right fit and stays comfortable.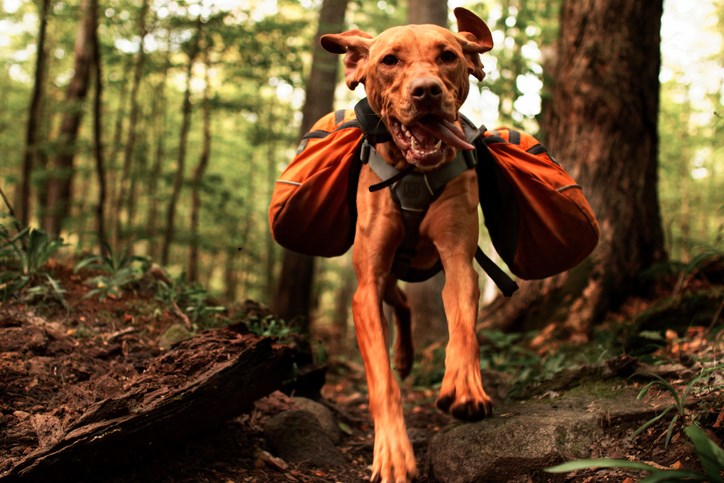 5. Pack it in
Though you don't want to treat your dog like a pack mule, you can definitely have him help you carry some of your things (or his) while camping. But, in order to do that, you want to get him a backpack that will make life easy for him, and keep him happy on your adventures.
Ruffwear makes a doggy day pack that pet owners seem to absolutely love, and we now understand why. Their Approach Pack is a day hiking pack that works to distribute weight evenly across your pet.
The structure of the harness ensures a comfortable fit, but also ensures your dog can be efficient in carrying some gear. This pack won't stop Fido from his exploring, thanks to its radial-cut saddlebags that promise a better fit.
It is crucial that you not load your dog's backpack up with more than 25% of its body weight. Anything more than that can actually harm the animal. And if it's your dog's first time wearing a pack, start light and add more weight as he gets used to it.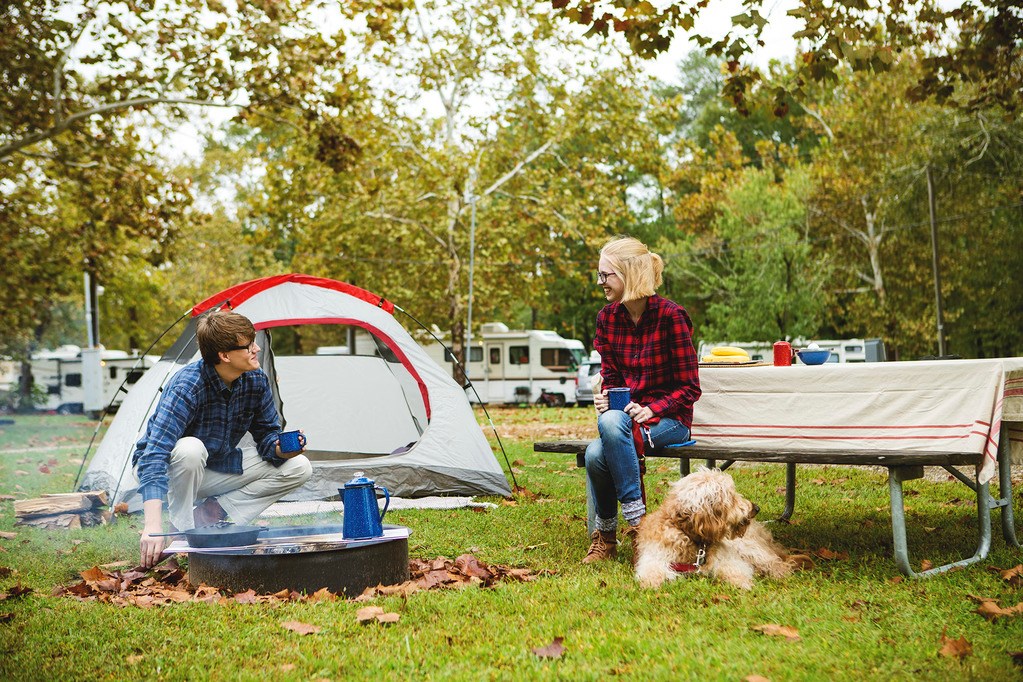 6. Food on the go
Since you won't be taking your dog's bowls for food and water with you camping, you're going to need some other way to feed your pup while you're out camping.
And no one wants to carry around clunky bowls while they're camping and deal with the extra weight. That's why you will love these Dexas Collapsible Food Bowls.
Lightweight and compact, these bowls are made of silicon that is not toxic for your doggy and is also super easy to clean.
You can either pack them into your bag, or clip them on the outside with your carabiner.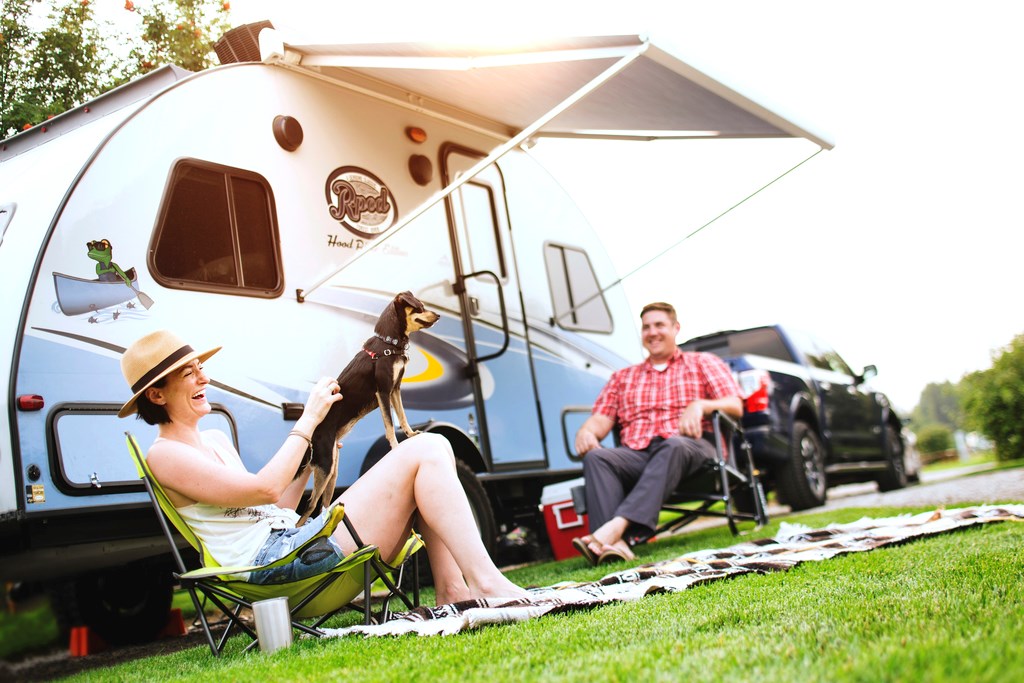 7. Don't lose track
It's a sad thing, but dogs do get lost. More often than we'd all like to know, too. Don't let your dog become one of the lost ones when you go camping.
Thankfully there is a way to ensure that doesn't happen — with a GPS tracking device. No, this isn't a futuristic one that you have to have surgically inserted into your pup, this one simply attaches to your dog's collar.
The Whistle GPS Pet Tracker & Activity Monitor lets you track where your dog is going and what he is doing, all from your phone. This tracker will also send you location alerts via email, text, and within the app.
It is shock-resistant and waterproof, so you don't have to worry about your pup having all the fun he wants while in the great outdoors.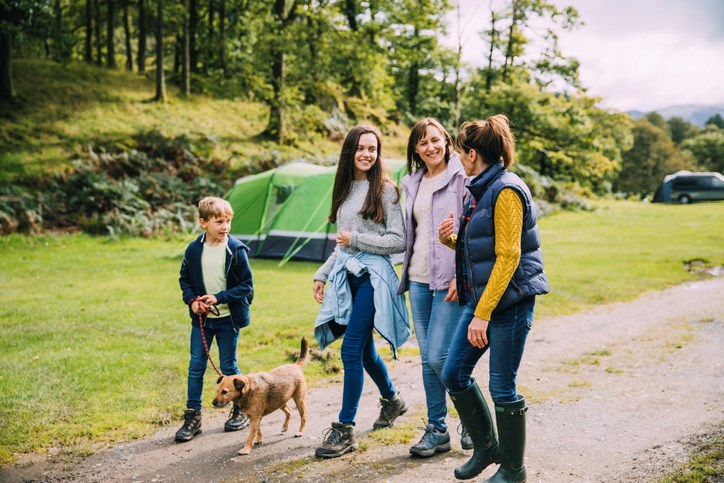 8. Scoop, don't pollute
Even though you are out in nature, it is still courtesy to pick up your dog's poop. However, rather than waste a bunch of plastic bags that are bad for the environment, opt for ones that are biodegradable.
Made from plant material and vegetable oils, these bags will break down completely so you aren't littering our beautiful Mother Nature.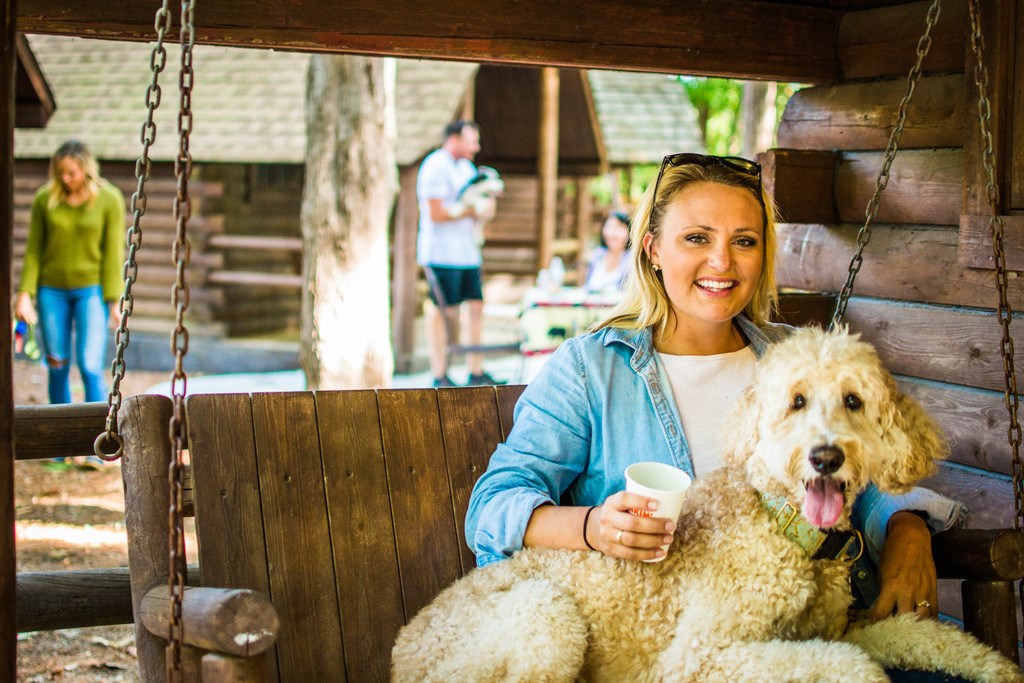 9. Cover it up
As a dog owner, you know when you let your pup run loose in the wild, he is bound to get into something and come back to you a filthy mess.
And you shouldn't keep him from having his fun, but that doesn't mean you have to sacrifice the cleanliness of your car in the process.
That's why it is a good idea to get a car seat cover for your dog to sit in after your adventures out on the trails. This one from URPOWER is the top choice among dog owners for many reasons.
First of all, it is waterproof and wear-proof, so it can handle your wet dog and lots of wear and tear. Secondly, its shape makes it easy to keep your pup in one place, and allow other people or things to sit in the seats next to him. It is built hammock-style with side flaps, and is easy for your dog to get in and out of.
Thirdly, it is slip-proof so your dog won't go sliding every time you hit the brakes. Safety is first for not only you, but your dog too!
Even more, it is quick and easy to install in your car and is very easy to clean once Fido has left his mark.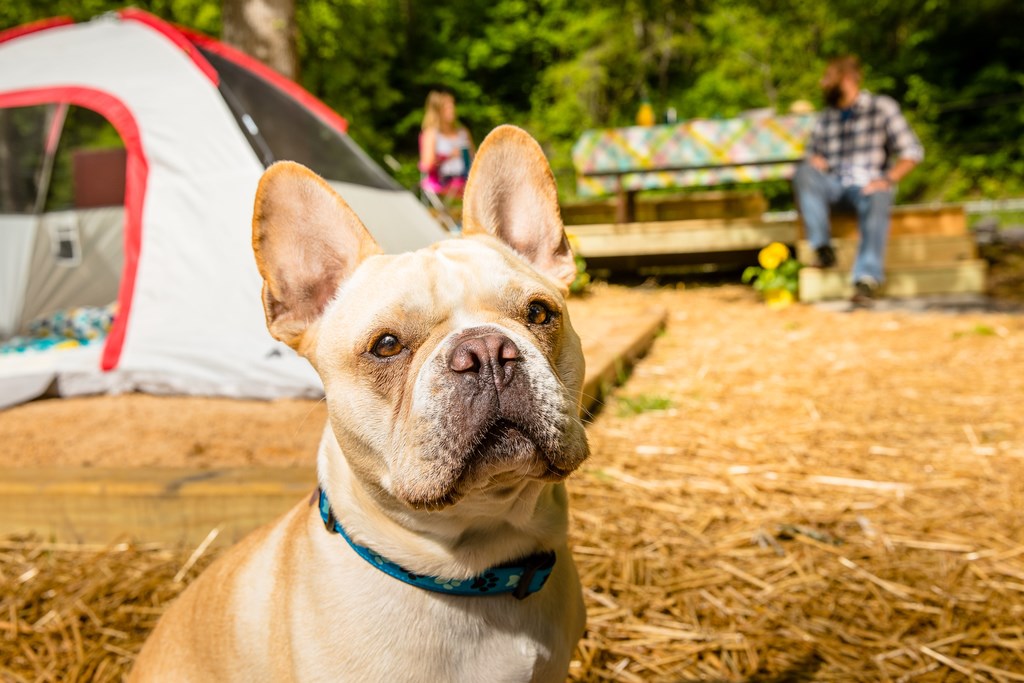 10. Safety is always first
It is never suggested to go camping without a first aid kit for yourself, and the same goes for your dog.
You need to have tools handy in case something should happen to Fido while you're out in the wild.
Adventure Medical Kits' ADS Me and My Dog First Aid Kit has everything you need to keep things under control if an accident arises.
In this small, convenient bag comes a number of tools, including:
All you need for wound care
Ointments
Medicine (such as aspirin and antihistamine)
Moleskin
Gloves
Saline wash
Pet first aid manual
Guide to travel medicine
Emergency blanket
Cold pack
Syringe
Splinter/tick remover
Triangular bandage to use for muzzling
Self-adhering bandage that won't' stick to fur
And more
You and your dog will feel much more safe going out camping together with this kit in tow.
Keeping your dog safe, healthy, and happy while camping isn't very hard. It's essentially finding doggo-versions of everything you need for yourself! And how cute is that?!
By having the right gear for both you and your dog, you are guaranteeing that you will have the time of your lives exploring the great outdoors together, and enjoying this special time with your best friend.
---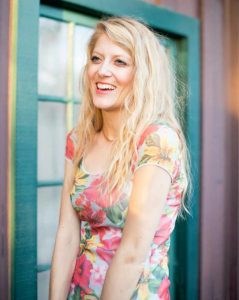 Leslie, a.k.a. Copy Girl, is a copywriter who gets butterflies from telling stories through words.
Her voice comes from a place filled with passion, dreams, and lots of sugar. "Cake over steak" is her go-to motto.
With over 10 years of experience in crafting words, and years of embarking on travels that have taken this Montana girl to some incredible places, Leslie love the adventures of both body and mind her writing takes her on.
Everywhere she goes, she takes this advice with her:
"Hold on to your divine blush, your innate rosy magic, or end up brown." – Tom Robbins, Jitterbug Perfume
To see what Leslie's up to in the writing world, visit her website here.
---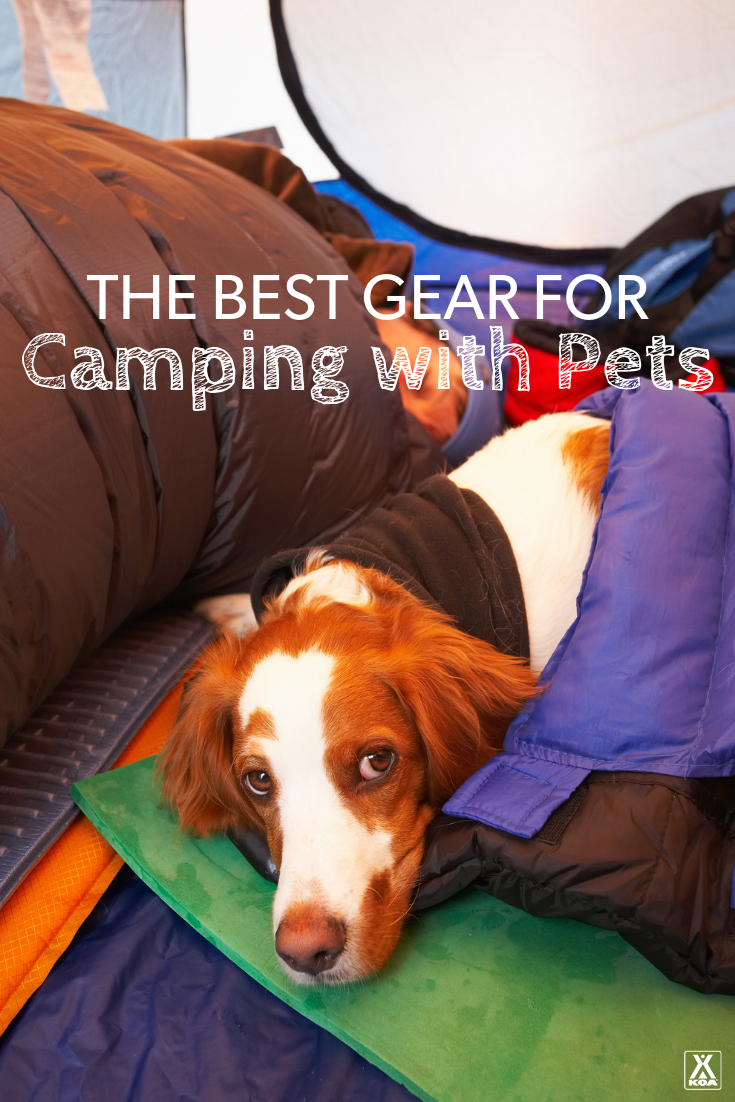 Kampgrounds of America, Inc is a participant in the Amazon Services LLC Associates Program, and affiliate advertising program. Some links may be affiliate links and Kampgrounds of America, Inc may get paid if you buy something or take an action after clicking one of these links.

Prices are accurate at time of publishing. Note that are subject to change at the discretion of Amazon or their marketplace sellers.