Working Remotely on the Road in Your RV | Benefits & Tips for Success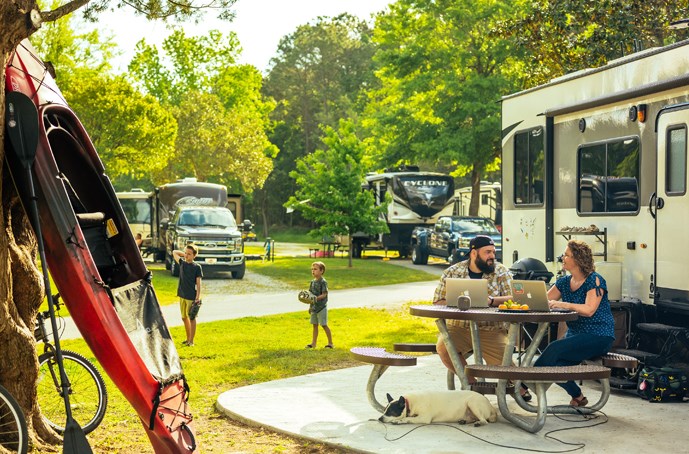 Craving that life on the road but don't have the money in the bank to just quit your full-time job and head out into the great unknown?
We know the feeling. Few things sound better than saying "sayonara" to that desk job and living a life full of adventure. However, we do not condone making that switch until you've got some plans laid out on how you can make some money.
And thinking about that can be enough for people to say that it's more trouble than it's worth to make that on-the-road job dream a reality.
We are here to shake those naysaying thoughts and share with you the benefits of working on the road in your RV, and why making this switch is one that you will never regret.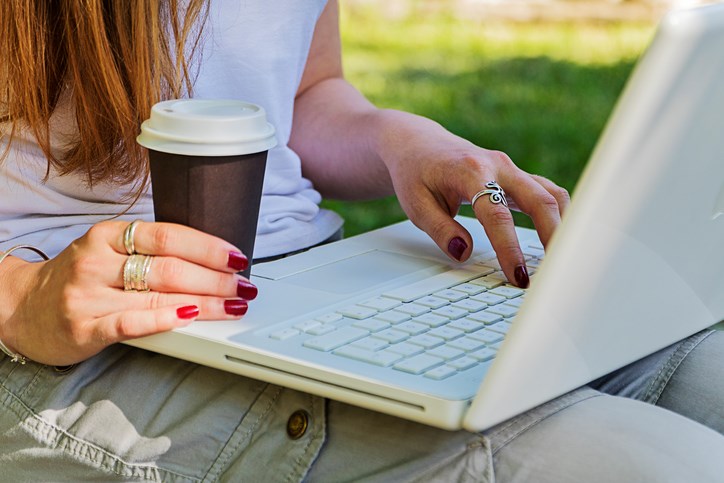 Why You'll Love Working From Your RV
1. Freedom
Nothing can feel more free than being able to take off and head wherever you want, whenever you want. If you're someone who has some wanderlust running through your veins, then you are going to love working on the road in your RV.
You will never feel tied down to any place, and are free to roam to your heart's delight.
This is especially key if you are used to living in a place whose weather is less than desirable certain times of the year. To be able to escape a harsh winter and head somewhere warm while still making money sounds like a dream come true.
2. Live Cheaper
There is no denying that the initial purchase of an RV is quite an investment. In fact, it's one you want to go into with a lot of information and only when you feel you are truly ready financially and mentally to make this purchase. (Check out our guide here for some great RV buying tips.)
However, once that purchase is made, you will find yourself saving money on the daily. Though you will still be paying for things such as:
Gas
Campsite fees
RV maintenance
Insurance
Taxes
Chances are good that those things all add up to be less than what you're paying to live your daily life at your current home. Think: no more mortgage or rent, and no more utilities! Sounds nice, right?
3. Enjoy Nature
There is something about nature that really calms the spirit and makes you feel happy. That's one of the reasons why KOA exists — because campers love to escape the hustle and bustle of their daily lives, and choose to spend their free time getting out in nature.
What if you were able to make much more of that free time by working in your RV, allowing you to travel as much as you'd like?
In your RV, you get to park your home on wheels in nature all over the country, and see a plethora of different magnificent creatures and plants and areas that will bring you all sorts of joy.
You could spend a week living by the beach, then pack up your RV and head up to the mountains and enjoy a week living there. The variety of living that RV life allows you is unlike anything else.
4. Opportunity For Growth
When you're staying in one place with your job, it can sometimes be difficult to grow. However, if you are traveling the country and going from place to place, you are providing yourself more opportunity to spread the word about your business further, and present more opportunity to get more business.
Here are some things you may want to consider to help grow your business:
Add logo to side of RV
Hand out business cards at campsites
Talk to people to spread via word of mouth
Advertise services in places that you're heading to next
These are just a few ways that you can grow your business while out on the road.
5. You'll Have Fun
It's a sad fact, but not as many people can say they love their jobs as we'd like to see. However, you won't be one of those people if you are working on the road in your RV. You will have so much fun working from your RV all over the country, and enjoy a new "office" as often as you'd like.
You'll also love the ability to take a break and go for a quick hike to get some energy to finish up your work for the day and enjoy nature even more!
So we hope we've convinced you why working on the road in your RV is something you are going to love.
Now, comes some quick tips on how to make it work because it will take some adjusting.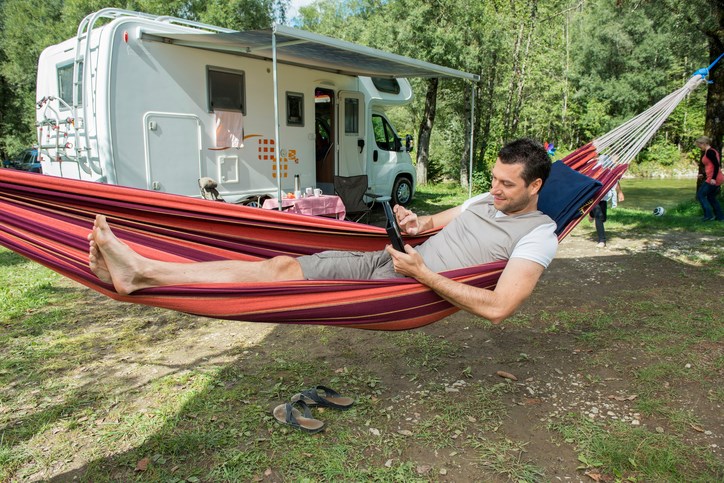 Tips on How to Make Working From Your RV a Success
1. Get Internet
Chances are good you're going to need some sort of internet access while you're working on the road, so be sure you look into options there. You may try at first to see if you can survive without it, but we don't recommend that — it will make doing your job so much easier to have the internet whenever you need it.
All KOA campgrounds will have internet, but you need to consider what you'll do when you're out on the road and realize that the service you may require for work might not be found at every pit stop and campground. We suggest a mobile hot spot, or getting cell service from a number of different providers so that you know you'll have access all the time.
2. Establish Business Hours
Just because your place of work is your place of sleep, eat, and travel too doesn't mean that you should be "on" all the time. It is important that, from the very beginning, you establish an idea of "business hours" — time in your RV that will be dedicated to work only.
Treat it as an office, and stay at the office until your work is done, or your hours are up for the day and then "leave the office" by choosing a time to put your laptop and work stuff away so you can enjoy your time off.
Obviously there will be times where you have to make some exceptions to this rule and work more than you originally planned to, but just don't let your work life consume your every living moment since the two will be overlapping in the RV.
3. Connect With Other Remote Workers
One of the downsides of working remotely is that you don't have colleagues to collaborate and chat with. This can feel isolating at times. In order to combat these feelings, we suggest finding online forums and Facebook groups to connect with other remote workers so that you have people to bounce ideas off of, chat with, and even vent to when you're feeling frustrated about your job.
4. Establish a "Desk" Area
Even if you don't have a real desk in your RV to work from, try to find a space that will be conducive to you working. A table works wonders — really anything except sitting in a chair with your laptop on your lap.
It is important to have some semblance of a desk so that you are able to take your work more seriously and focus on the task at hand.
Invest in whatever you need to make your seat comfortable because you are going to be spending some time here.
5. Buy the Right Tools
Buy things you'll need such as USB and power outlets to run your daily business. Also, if you need things such as printers and scanners to make your job work, find quality options that won't give you problems while you're on the go.
Noise-cancelling headphones are another great thing so that you can tune out what's going on around you and zone in on your work. And don't forget external hard drives to store data on in case anything should happen to your laptop.
Is This The Life For You?
Working on the road in your RV may not be for everyone, and we totally get that.
However, if this sounds like your cup of tea, then we suggest you implement these tips to get the ball rolling and start your life out on the road!
A great way to test the waters is to go short term. Try a month or two on the road working and see how it goes. Once you've determined how well that works and if seems like a sustainable lifestyle for you, then go ahead and take a longer trip next time.
---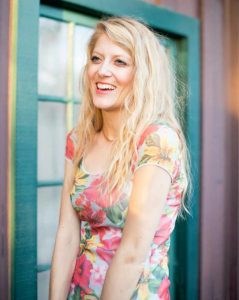 Leslie, a.k.a. Copy Girl, is a copywriter who gets butterflies from telling stories through words.
Her voice comes from a place filled with passion, dreams, and lots of sugar. "Cake over steak" is her go-to motto.
With over 10 years of experience in crafting words, and years of embarking on travels that have taken this Montana girl to some incredible places, Leslie love the adventures of both body and mind her writing takes her on.
Everywhere she goes, she takes this advice with her:
"Hold on to your divine blush, your innate rosy magic, or end up brown." – Tom Robbins, Jitterbug Perfume
To see what Leslie's up to in the writing world, visit her website here.
---