Glossary
America's Largest RV Show: An annual event and tradeshow that is held annually in Hershey, PA.
Auxiliary Battery: Many RVs and motorhomes rely on a separate battery for powering 12-volt equipment and appliances.
Breakaway Switch: A device that is designed to automatically stop a trailer if it becomes unattached from a towing hitch during transportation.
Class A Motorhome: The largest and most common type of motorhome for RVing across the U.S.
Class B Motorhome: These are the smallest of all motorized RVs, and they are built on the chassis of a common van or minivan.
Class C Motorhome: These are more comparable to traditional trucks than vans or buses. They feature an overhanging section that extends beyond the roof of the front cab, which usually accommodates a bed.
Class Super C Motorhome: A highly specialized, performance-oriented RV that is meant for serious RV enthusiasts.
Diesel: An alternative fuel to the unleaded gasoline that is used in cars and vehicles. Motorhomes with diesel engines typically feature greater performance and efficiency.
Fifth Wheel: A type of RV that is non-motorized and attaches to the bed of a truck for transportation.
Grey Water: Another term for the wastewater generated by using sinks, baths, toilets and other appliances in your RV.
Height Limit: Most states impose a maximum height limit on all RVs and motorhomes. This is to ensure compliance with the clearances of any local bridges or tunnels.
Hitch: A device that is used to attach a non-motorized RV or trailer to another vehicle.
Length Limit: Most states impose a maximum length limit on all RVs and motorhomes to ensure the safety of every driver on the road.
LP Gas: Liquefied petroleum gas, known as LP, LPG or propane, is often used to fuel small stoves and other appliances.
Motorhome: An alternate term for RV. Although this is typically used to describe a motorized vehicle, it is often used interchangeably to describe all types and classes of RV.
RV: A standard abbreviation for the term "recreational vehicle," it is often used interchangeably with terms like motorhome, fifth wheel and travel trailer.
RVer: Also known as an RV enthusiast, this describes a person who is interested in RVs and the RV lifestyle.
Toy Hauler: Another name for RV or travel trailer, toy haulers are often reserved for hauling dirt bikes, four-wheelers and other recreational toys.
Travel Trailer: A small- to mid-sized trailer. Since most travel trailers do not feature an engine of their own, they require towing from another vehicle.
Van Conversion: A van that has been converted into a motorhome or RV. There are endless possibilities and customization options for van conversions.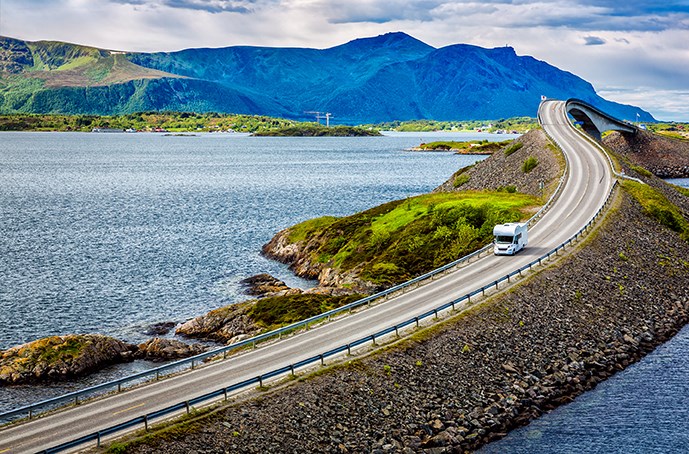 Getting Started Checklist
If you're pressed for time, feel free to use our handy guide to getting started in the world of RVing. Even if you're already knowledgeable on the subject, it's helpful to print this short checklist for any friends or family members who are considering the lifestyle:
Research the current market of new or used RVs to determine what you can afford. Don't forget to plan for extra costs like registration, insurance, fuel, maintenance and long-term storage.
Obtain financing from your preferred financial institution, dealership or lender.
Find your dream RV, motorhome or towable vehicle. There are plenty of resources to help you achieve this, including websites, local classified ads and even TV commercials.
Make the proper arrangements with your dealer. Whether you're having your RV delivered or planning to pick it up yourself, now's the time to make your intentions known.
Set up your RV as soon as possible to ensure its condition and functionality. Even if you aren't planning a road trip in the near future, it's important to identify any potential issues and notify the dealer immediately.
Find a campground and try it out for yourself! There are plenty of KOA locations to choose from, or you can find your own unique spot in the great outdoors.
Become acquainted with your community. You've probably already met some great folks during the initial phases of researching, buying and testing your RV, but you'll meet even more during your future travels. Thankfully, there are plenty of RV clubs, gatherings and events that make it easy to become a part of the RV community.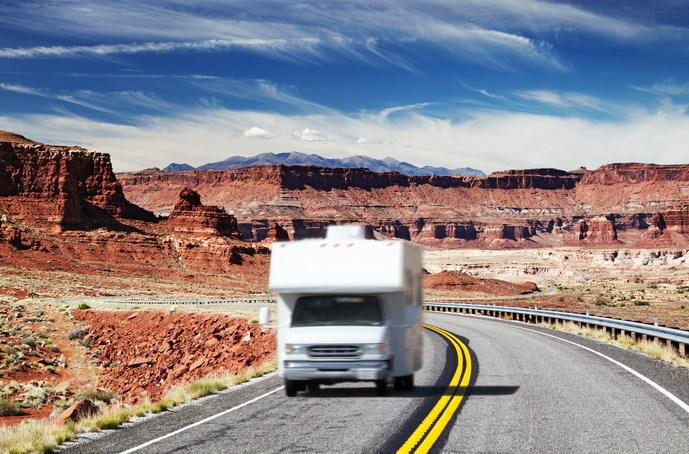 Pre-Owned RV Checklist
If you opted for a pre-owned or rental RV, it's a good idea to give it a thorough inspection before setting off for your destination. This helps ensure you're getting your money's worth, but it also means a safe trip for everyone involved. Take a few minutes to run down our list and verify each one — it might even save a life:
The first step is to inspect the external condition of the RV itself. Check for any large dents, surface cracks or leaks in the walls as well as the roof. Doors, windows, vents and skylights require proper sealing or caulking, so verify the condition of these fixtures, too.
Check the condition of any outdoor accessories, including steps, ladders, mirrors, lights and awnings. Ensure fuel doors are closed and caps are in place at all times. If your RV has a fold-out, expansion or slide, use this time to verify its operability.
Examine the undercarriage for any leaks, frame damage or aftermarket welds. Verify the condition of axles, suspension system, brakes and holding tanks for water and waste.
Ensure all leveling jacks and stabilizing legs are in working order. If you notice any damage, including any legs that "stick" during deployment, it might be time to hit the garage for repairs. You can also take this time to verify the condition of the RV's wheels, including tire pressure, tread and the presence of a spare.
Inspect any exterior storage compartments to make certain they're secure, waterproof and clean. You don't want to arrive at the campground without your luggage, so it's important to verify the presence of working locks and to look for signs of water damage or excess wear.
Verify the condition of utility systems, including all connectors, switches and wiring systems. This includes any hookups for television, telephone, satellite dish, fresh water, grey water and electrical connections.
Check your fuel sources, including batteries, propane tanks and generator levels. Recording this information is a good idea for future maintenance needs.
Examine all the trailer coupling components, including the tongue, king pin, breakaway switch, safety chains and other connectors. Verify the presence of a trailer wiring harness and plug if you plan to pull another vehicle or trailer behind your RV.
Perform a thorough inspection of the motorhome's engine compartment. Make sure to verify fluid levels and examine the overall condition of filters, hoses, belts and other components.
Take a tour of the RV's interior. Any major signs of wear or damage, either in the rear cab or within the cockpit, could be indicative of more serious issues.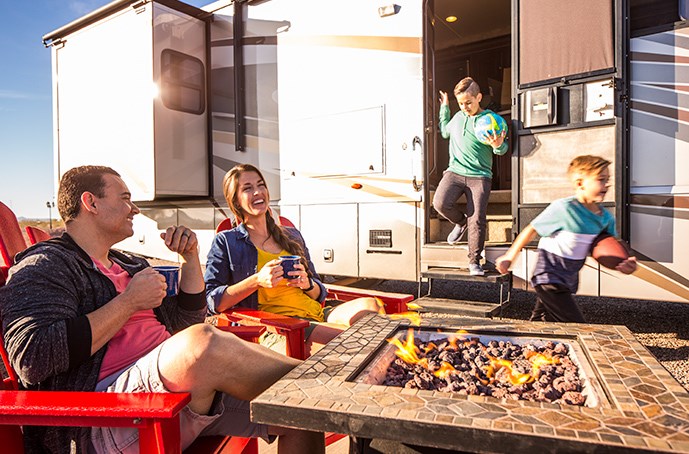 First Trip Packing List
Although it's easy to stress over what to pack for an RV trip, this is actually one of the easiest and most enjoyable parts of your entire outing. There are some things you want to be sure you have, however. For example, bring attire that is appropriate for the weather and the activities you plan to do. You'll also want to be armed with some basic tools — as well as the knowledge to use them — in case you find yourself in a jam.
We already provide some useful RV packing tips for beginners on our website, but here are some additional tips to make the most of your RV excursion:
1. Organize Your Tools and Spare Parts
You don't have to be a mechanic to be an RV enthusiast, but it helps to have a working knowledge of the different systems and components of your vehicle. While there are dedicated RV mechanics, dealerships and even fellow RVers who might offer a helping hand, a blown tire or overheating engine could leave you stranded miles from civilization. Adding some fundamental tools and know-how to your packing list for your motorhome could save you significant time and expense.
A basic toolkit would include enough items to cover many common issues. A socket set with various sized sockets and extensions, a selection of combination and crescent wrenches, pliers, screwdrivers, a large flashlight, safety goggles and work gloves are absolute necessities. Other useful tools include a tire gauge, ball peen hammer, 12-volt test light, wire brush and a pry bar.
If you have advanced knowledge of automobiles, you can add tools that are specific to your trade or area of expertise. Additional items to consider include rope, zip ties, shovels, extra weather-stripping and rubber gaskets, wire brushes and a tube of silicone. These can be used around the campsite to bolster your comfort as well as inside the RV to repair minor damage or patch small cracks.
To ensure the integrity and longevity of your internal amenities and systems, consider including a water filter or pressure regulator to control the flow of water, sewer kits for preserving your RV's bathroom and surge protectors to safeguard any electronic equipment.
2. Food and Clothing
Summer vacations and locations with warmer climates call for lightweight and light-colored clothing, sunglasses, hats and appropriate footwear. Make sure to bring along items like sunscreen, umbrellas for blocking the sun or rain and a cooler to keep your food fresh. Some RVs include refrigerators of their own, but day trips in the sun can be brutal without a personal or small cooler to bring along.
While the warmer months are the most popular time for RVing, diehard enthusiasts are known to enjoy the hobby all year-round. Some purposely seek out warmer areas as the seasons change, but modern RV amenities make it possible to camp comfortably in colder climates.
There are some vital RV packing tips to consider when camping in the winter, but your overall packing list won't change too much. Warm, thick clothing, cotton hats and gloves and water-resistant boots are a must. For snowy recreation, don't forget to pack your skis, snowboards or snowshoes, too. If you happen to own a sport utility RV, you can even pack your snowmobile inside for a trip up north.
As far as RV camping food ideas and food packing tips go, there are plenty of options when traveling and camping with an RV. You might prefer full meals, which can easily be accomplished with the amenities available in modern motorhomes. Most of the prep work, such as seasoning, marinating, cutting and separating, can even be done at home before setting off on your trip. Other road-friendly options include light and handheld snacks, such as trail mix, potato chips and sandwiches.
3. Cleaning Supplies
You probably want your RV to be clean, so there are also essential RV cleaning products you need to pack.
Standard window cleaners and surface cleaners will work well here, but there are some specialty items to consider. Compact vacuum cleaners are great for motorhomes that don't feature built-in cleaning systems. For vehicles that include a full bathroom, don't forget the toilet bowl cleaner and shower spray, too.
A wet/dry mop combines both functions, so you'll save space with just one tool that serves a dual purpose. A doormat will keep dirt from tracking too far into your home away from home. Microfiber cloths and cleaning wipes are quick-reach items in case of spills and germs.
4. Other Useful Tips
Before finalizing your RV departure checklist, try to think of some of the items that are frequently overlooked, and bring things that can be used in multiple situations. For example, bandanas can be worn, used as cleaning rags or wrapped around a wound in an emergency. A flint and steel are more reliable than a lighter or matches when it comes to starting campfires, and pre-treated sticks are ideal for roasting marshmallows and hotdogs — just don't forget the buns!
If you are new to camping, you might want to take a moment to ensure you're not over-packing. It's a common problem among newbies, and it can result in spoiled food, unnecessary weight and wasted space. Typical items to drop from your packing list include video games, DVDs, extraneous clothing and foods that require a lot of campsite preparation.
Remember, traveling in an RV gives you the luxury of packing less. The features and amenities included in modern RVs are meant to provide comfort on the road without having to bring along lots of extra stuff.