The 12 Best Camping Chairs | KOA Camping Blog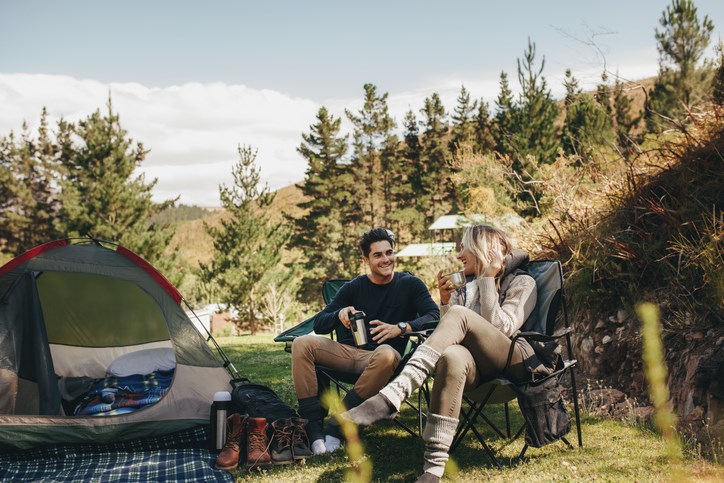 After a long day of taking in the great outdoors, what could feel cozier than relaxing in a dependable chair in front of the crackle of a bonfire?
Before you spend your downtime sharing stories and delicious food at camp, choose the perfect, portable outdoor lounge chair to take with you on your next adventure. Camping chair options have steadily increased over the years, and a camping chair exists for every occasion. Adding a portable or collapsible camping chair to your supplies could make your next stay with Kampgrounds of America extra comfortable.
Want help deciding? This practical guide will inspire you to make a well-informed choice. Check out our top picks for the most popular reviewed chairs with the highest ratings.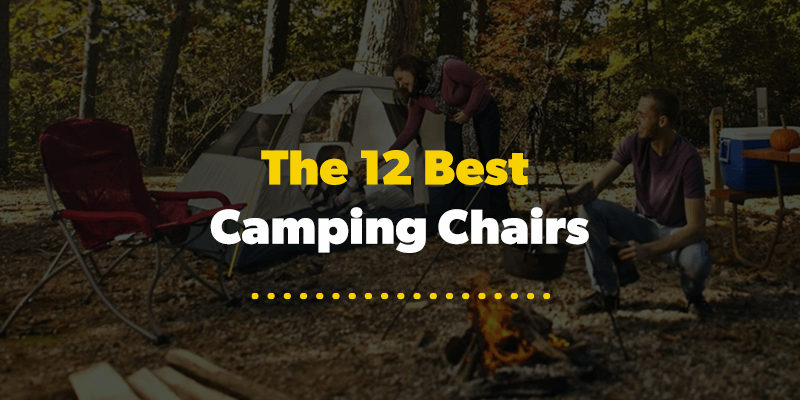 Why Choosing a Great Camping Chair Is Important
Whether you're planning to go on long, winding hikes or hours-long fishing ventures, you'll want to make sure everyone has a comfortable place to rest their backs and relax for the evening or during the day's events. Portable chairs are designed to accommodate a range of personal preferences and body types. Making a thoughtful selection can help you stay comfortable during your trip.
Quality Camping Chairs Limit Discomfort
Setting up camp with a suitable chair can prevent back and neck pain later during your trip. Limit any potential aches and pains by camping with a reliable chair that distributes your weight evenly and cradles your pressure points. When you have to sit on the ground or a hard, uneven surface, your resting position places strain on your joints. Sitting on the nearest available rock or stump might seem like a viable option. Still, even on a minimalist venture, you will have a more enjoyable experience suspended safely off the ground in a chair.
Comfortable Chairs Promote Rest
Even short camping excursions involve plenty of adventurous physical activity. Good, comfortable camping chairs help you relax after exerting your muscles and expending your energy. Being able to sit down comfortably after a busy day in the outdoors prepares you and your fellow campers — from young children to seniors — for a necessary, restful night of sleep.
Outdoor Lounge Chairs Help You Adapt to the Weather
Many camping chairs have special features that provide you with a snug seat regardless of the weather. They are generally made with water-resistant fabrics, and some camp chairs come with detachable canopies for keeping off a light drizzle. Many chairs also have a breathable mesh to keep you cool on hot, humid summer days, and some are insulated with cushioning to help you brace against the cold.
Below we have listed factors to consider when you're shopping for a particular kind of portable chair.
What to Consider When Choosing a Chair for Camping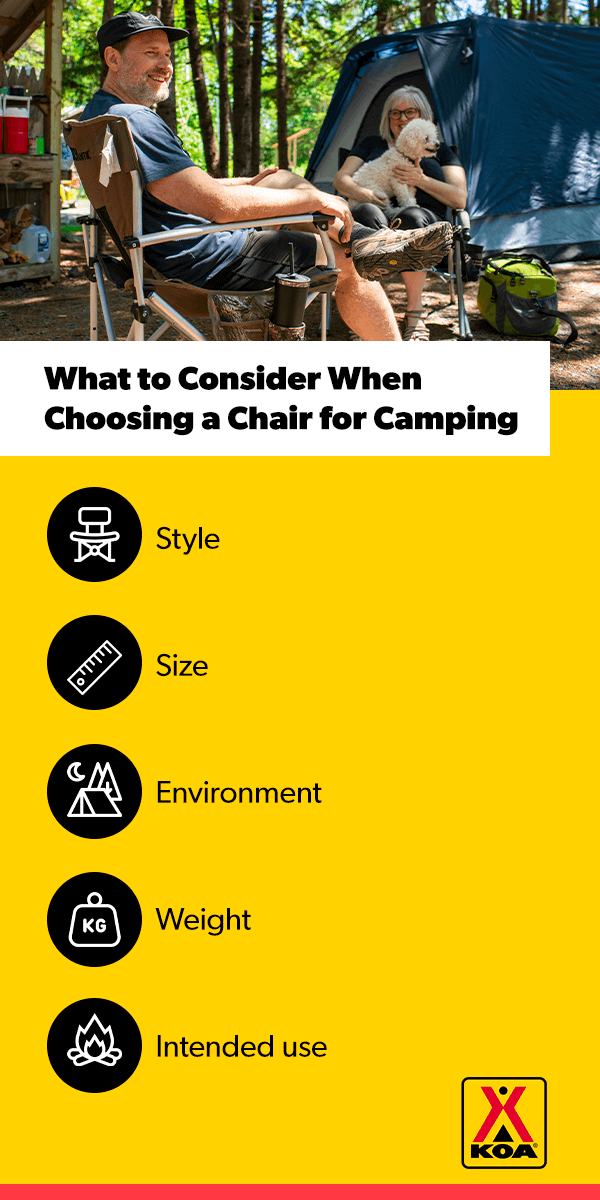 Camping chairs are universally built for the outdoors, and each model has unique features. The good news is that many portable chairs make for affordable additions to your essential traveling equipment. If you're concerned about how easily a purchase will fit into your budget, consider buying a chair for the features that you will get the most use out of.
Style: From the classic four-pegged lawn chairs commonly used on the sidelines of soccer games to camping stools that mimic the feeling of sitting on a log around a bonfire, portable chairs come in many kinds. You can even find a rocker to gently swing in.
Size: Roomier chairs are easier to slide into and out of, making them the best option for comfort and accessibility. A large classic camping chair with drink holders at the end of either armrest is a nice addition for campers who enjoy long afternoons sitting out in the open air.
Environment: If you want a great seat for a sandy beach or uneven terrain, chairs built to stand low to the ground are less prone to getting tipped over by gravity or the wind. If you're going to be in a cold climate, you might want to invest in a padded chair with a high back to trap heat.
Weight: Firm materials that are great for support will naturally be heavier. Lightweight chairs often transport more compactly, making them easier to carry over long distances. If you're going backpacking and are able-bodied, it would be wise to select an ultralight, collapsible camping chair.
Intended use: Some chairs are marketed for specific uses or camping activities, such as backpacking or sitting near a fire. Certain brands even produce models recommended for young children. Your needs for any usual chair are important to consider when you want to be well-prepared for a trip.
Types of Camping Chairs
The style of a chair can indicate what it feels like to sit down. Below are some common types.
The classic chair: Looks like a typical lawn chair with four legs. The frame is usually aluminum, which is lightweight and rust-proof.
Tripod chair: Designed to weigh less than its four-legged counterpart, it has only three points of support, which means slightly less stability.
Two-legged chair: This chair is even more minimalistic than the tripod variety and relies on your balance while remaining flat-footed to stay level.
Suspended chair: A contemporary model made to suspend you in a comfortable basket that might be able to sway back and forth.
Rocker/glider: The old-timey design lets you enjoy the fresh air while casually rocking in place.
Scoop chair: Made with a broad seat, this chair is meant to be especially comfortable while having the benefit of also being lighter.
The Best Camping Chairs You Will Ever Use
Still unsure about what kind of chair you should take on your outing? We determined which models are the most in-demand while paying careful attention to their quality. When we sorted the results and compiled our list, we gave credit for user ratings based on real camping experiences and trustworthy value standards. Here's our list of camp chairs, by category:
1. Most Dependable Overall
Kijaro Dual Lock Portable Camping and Sports Chair
This multi-use chair has a classic look for a premium value. Its seat is firm instead of loose, making it great to rest in for longer periods. Its metal frame's dual-lock system ensures the joints stay fixed in place while the chair is in use. This model's generous weight limit of 300 lbs and height of 45.7 inches provides comfort for even the tallest campers. If you want a camping chair that does everything you expect, you'll want to check out this chair.
2. Highest Quality on a Budget
Amazon Basics Portable Camping Chair
Available with or without padding, this portable camping chair is made from nylon mesh fabric for optimum ventilation. The frame is a steel alloy, making it especially strong. As one of the most affordable items on our list, this Amazon Basics model is highly sought after. A drink cooler and additional storage pouch make this chair even more functional during your camping trip.
3. Most Storage Space
Coleman Oversized Quad Chair With Cooler
Apart from being a comfortable and sturdy chair, this one also comes with a built-in four can cooler and a side pouch. You can keep drinks cool and stock snacks, books, a first aid kit and a flashlight at the ready — you might be able to keep all your key supplies and entertainment right where you sit. With this chair, you have plenty of room to organize your stuff and keep things up off the ground, all while providing a padded seat to relax.
4. Best Minimalistic Camping Stool
ALPS Mountaineering Tri-Leg Stool
This ultralight tripod stool neatly folds up to a compact size ideal for saving precious square inches of space inside a backpack or duffel bag. Its fabric and frame are stable and thin, offering a quick resting spot for active campers who enjoy traveling long distances. It's a must-have if you're planning a minimalistic journey out on the trails and prefer a chair over a mat.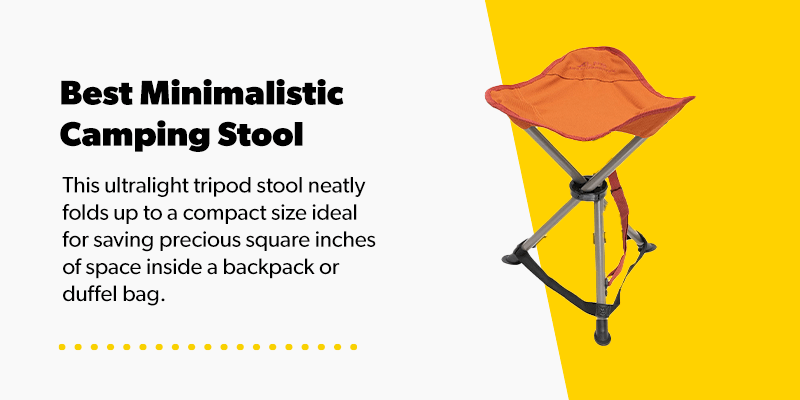 5. Best Rocking Chair
GCI Outdoor Kickback Rocker Chair
Sitting up at a slightly lower height than most lawn chairs, this model has a reliable weight limit of 250 lbs. It's relaxing to rock in and even comes with a phone pouch and drink holder. Stay long enough in this cozy chair, and you might be tempted to take a nap — which means this chair might take first place as one of your favorite and best campfire chairs.
6. Best for Back Pain
Timber Ridge Zero Gravity Chair Oversized
If you're prone to back pain, a firm seat offers more support than one made of a soft canvas. This highly-rated anti-gravity chair is designed to promote lumbar support and has an impressive weight limit of 350 lbs. You can easily adjust the seat from an upright position to reclined. With the extra head support and cushion, this chair model is perfect for viewing the stars on a clear night.
7. Best for Weight Capacity
Rave reviews show how luxuriously comfortable this chair is for anyone. With a weight limit of 800 lbs and a cushioned seat that is 38 inches wide and 20 inches long, this heavy-duty lounge chair is wonderfully spacious. It also happens to be a durable model made with a strong steel frame and high-density polyester fabric. Two cupholders and two roomy pockets make for excellent storage.
8. Best Loveseat
This seamless loveseat is great for couples who want to snuggle close together or for families with multiple children. With a steel frame and a weight limit of 500 lbs, the robust model is nice and dependable. The same as all portable chairs, you can fold the Kelty Loveseat down to a compact size and contain it within a carrying sack for easy transportation.
9. Most Durable
ALPS Mountaineering Camp Chair
With polyester fabric, an aluminum frame and welded joints, this chair is built to be both lightweight and long-lasting. Its weight limit is 425 lbs, making its design remarkably supportive. If you're willing to pay a little extra for durability, this is the model that we suggest. You can potentially get years of use out of one chair with its rust-resistant frame. As a bonus, the back support is detachable for easier transportation and storage.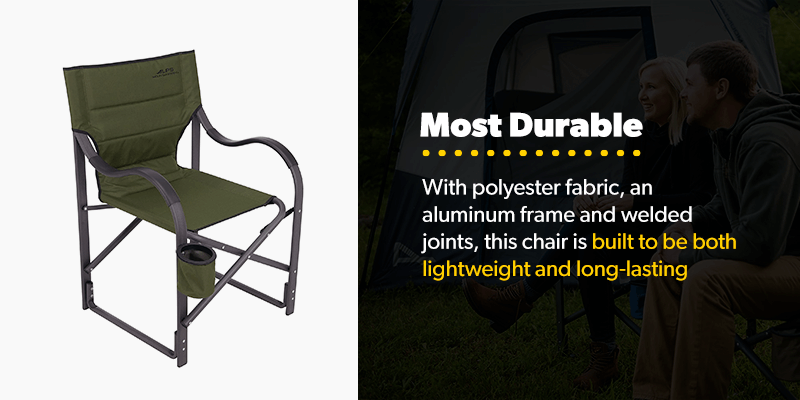 10. Lightest Weight
Weighing just 18 oz, this model is a potential pick for the highest quality ultralight camping chair with back support. Although lighter chairs are on the market, the Helinox Zero's seat pocket offers a rest from the ground with an unbeatable degree of comfort. It's about as small as all lightweight chairs, yet it has an incredible weight limit of 265 lbs. It could be just what you need if you're a hiker looking to explore new terrain with your camping gear slung over your shoulders.
11. Best for Kids
Bring along a chair your kids will want to sit in when night falls — like this super colorful option. Although the age range is unspecific, young campers of about 5 or 6 years old would likely be most comfortable in this camping chair. The seat sits approximately 10 inches above the ground, with a weight limit of 160 lbs. A locking mechanism helps keep the legs and seat stable.
12. Best for Babies
Designed especially for the youngest campers ages 3 months and up, this chair could last until your little one surpasses the growth limit of 75 lbs. This chair is adjustable, and there are different setup features for all ages and stages of growth. It is functionally designed to transition along with your child from baby to toddler to kid. Plus, it comes with a removable sun canopy, food tray and carry bag.
Find the Perfect Chair for Your Stay With KOA
Portable chairs are an essential item to bring along for a pleasant time on your vacation to one of our Tent Sites. Comfy camping chairs make useful additions to your gear if you're staying at an RV Site or Camping Cabin as well. We offer camping and recreational services at all our campsites.
When you book with KOA, you can expect to choose from accommodations suited to your camping interests. We have over 500 sites across the country with amenities that appeal to the wild and the pampered alike. Our staff is trained to provide excellent hospitality to our campers. Book your stay with us for a truly unique experience that you will remember fondly for the years to come. We look forward to seeing you!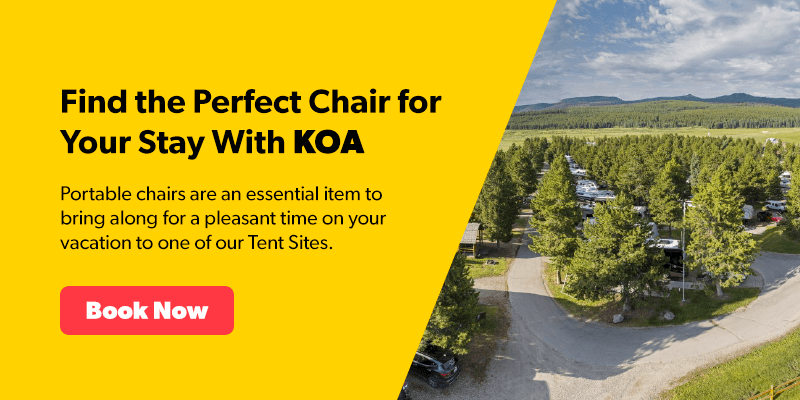 ---
About the Author: Kampgrounds of America
Kampgrounds of America is the largest system of open-to-the-public campgrounds in the world, with over 500 locations across the United States and Canada. Founded in Billings, MT in 1962, KOA's family of campground brands – KOA Journey, KOA Holiday and KOA Resort – today serve more than a million camping families each year. KOA is dedicated to "connecting people to the outdoors and each other" by providing people with a variety of camping experiences and the information they need to make the most of their camping trip. Read more of their camping and travel resources by visiting KOA.com/blog.
---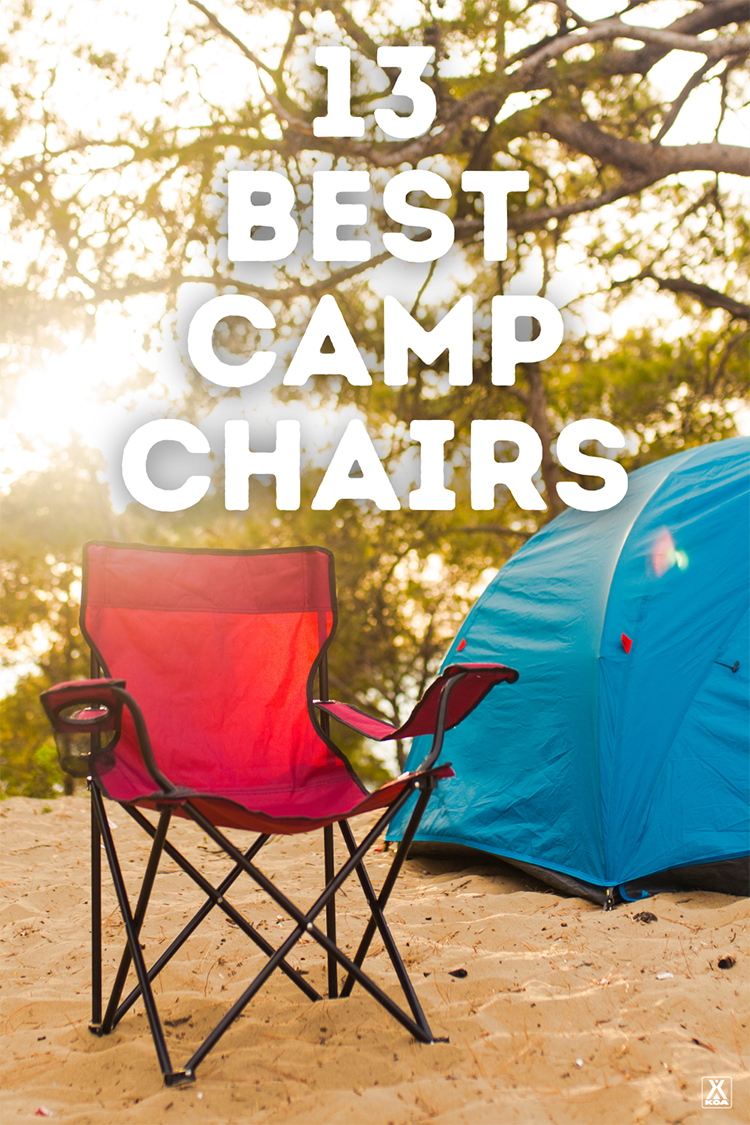 Kampgrounds of America, Inc is a participant in the Amazon Services LLC Associates Program, and affiliate advertising program. Some links may be affiliate links and Kampgrounds of America, Inc may get paid if you buy something or take an action after clicking one of these links.
Prices are accurate at time of publishing. Note that they are subject to change at the discretion of Amazon or their marketplace sellers.