Sun Safety Tips for Camping | Avoiding Sunburn on Camping Trips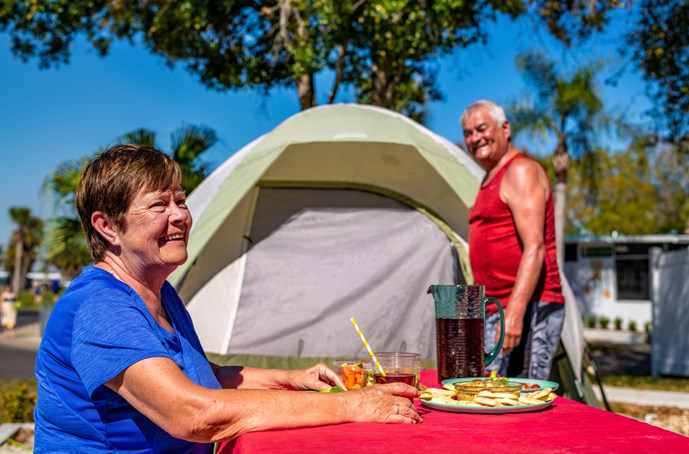 Summer is peak camping seasons for many families. Kids are free from their school responsibilities, so many families take off for an outdoor adventure. The warm weather is perfect for swimming, boating, hiking and a variety of other favorite outdoor pursuits. However, extreme temperatures and strong rays from the sun mean you need to be extra diligent about keeping you and your family safe outdoors.
Six Sun Safety Tips for Your Next Camping Trip
Whether it's winter, spring, summer or fall, sun protection is an important aspect of camping safety. With that in mind, here are some sun safety tips which will help you avoid sunburn while camping.
1. Apply Sunscreen
It may seem obvious, but one of the simplest methods of protecting your skin from harmful UV rays is sunscreen. Whether you're taking a hike or spending a day at the lake or beach, you'll want to use a sunscreen that's at least SPF 30. If you think you'll be sweating or plan to go swimming, choose a waterproof sunscreen. Apply it liberally to all exposed parts of your body 15 to 30 minutes before going outside.
Although most people remember their shoulders and faces, most forget to put sunscreen on their hands, ears, neck, feet and lips. Also, don't forget to reapply at least every two hours or after each time you take a dip in the water.
2. Wear a Hat
While applying sunscreen to your face is important, wearing a hat adds an extra boost of protection against UV and other harmful sun rays. Hats come in a wide range of styles, but look for one that fits your head snuggly and covers the back of your neck if possible.
3. Drink Plenty of Water
Whether you're camping during the heat of summer or on a dry winter day, dehydration is a real danger. If you and your family are participating in any sort of outdoor activity, consciously plan to stop and drink water every 20 to 30 minutes.
When you're outdoors with your kids, check their water bottles regularly to ensure they are taking the time to drink their water. We all know that when little ones are having fun, they don't want to stop and drink.
4. Dress for Sun
Lightweight fabrics like cotton and light colors will keep you nice and cool while you're camping out. Even if it's hot out, you may want to consider buying clothes that keep your arms and legs covered to limit sun exposure. UV sunglasses are another must-have to keep your eyes protected from the harsh rays.
5. Limit Your Outside Time During Peak Sun Hours
As you're planning your camping itinerary, keep in mind that the sun is at its most powerful from noon to 3 p.m. Arranging other fun activities – a scavenger hunt in the woods, for example – that keep you in the shade during those hours will protect you and your family from sun damage.
6. Treat Sunburn if You Do Get Burned
If you do end up getting too much sun, it's also important to know how to treat sunburn. Take cool showers or baths to relieve the burn, and use a moisturizer that contains aloe vera. If your sunburn is particularly painful, take an ibuprofen to reduce swelling and pain. Be sure to drink extra water to avoid dehydration while your skin heals. If your skin blisters, let them heal naturally — don't pick at or agitate your skin by scratching.
If you're already burned, take extra precautions to protect your burned skin while the sunburn heals. Wear clothes that cover the affected areas.
Make a Reservation for Your Summer Camping Trip Today
At KOA, we want to ensure you have a fun, relaxing and safe camping experience each time you visit one of our campgrounds. When you stay at a KOA Campground, you'll find clean sites, bathrooms with running water, playgrounds for the kids and passionate staff to help make your stay a success. Many campgrounds also offer activities for the whole family such as swimming pools for those hot summer days, rock climbing walls, mini golf and more. Check with specific campgrounds to see what features and activities are available.
Whether you're looking to pitch a tent at a Tent Site or bunk up in one of our Camping Cabins, you'll find a wide variety of lodging options at one of our many campgrounds located throughout North America.
Don't wait — our campsites book up fast! Summer is just around the corner, and early reservations are essential to save your spot during our peak camping season. Reserve your site today for your summer camping adventure.
---