It feels as if we wait months and months and endure the dark depths of winter for that moment when the sun finally feels warm on our skin again. Oh, to feel that sunshine on your face without layers of clothes and coats on is a feeling unlike any other. And that feeling, my friends, marks the beginning of summer.
What does summer mean to you? We are guessing it involves being outside, going camping, enjoying hiking, and finding numerous different ways to be in the sun. And we are in full support of that. Sunshine is good for the soul.
However, you do want to keep sun safety in mind as you find yourself spending more time outdoors with the warmer temperatures. Because as much as the sun brings you happiness, it also comes with some potential dangers.
We've put together a guide with top tips to keep you safe this summer in the sun. And if you've got kids, make sure you practice sun safety with them as well.
How to Stay Safe in the Sun
There are more than just painful sunburns that are cause for concern when it comes to time in the sun. You also run the risk of sun cancer if you've been exposed to too much UV light. According to the Skin Cancer Foundation, 1 in 5 people in the United States will develop skin cancer by the time they reach the age of 70. Skin cancer is the most common cancer in this country, and for many, it can be avoided by practicing sun safety. According to the Mayo Clinic, most skin cancer develops as a result of overexposure to the sun.
Now that you know the importance of sun safety, let's get into how you can protect yourself and your family.
The Cancer Council has a catchy 5-step process to protect you from the sun:
SLIP on covering clothing
SLOP on SPF 30 (or higher) broad-spectrum, water-resistant sunscreen
SLAP on a hat
SEEK shade
SLIDE on some sunglasses
We love this fun and witty approach to sun care and are going to go into more detail about each of those steps and add in a few of our own that are also crucial to protecting you and the ones you love from the sun.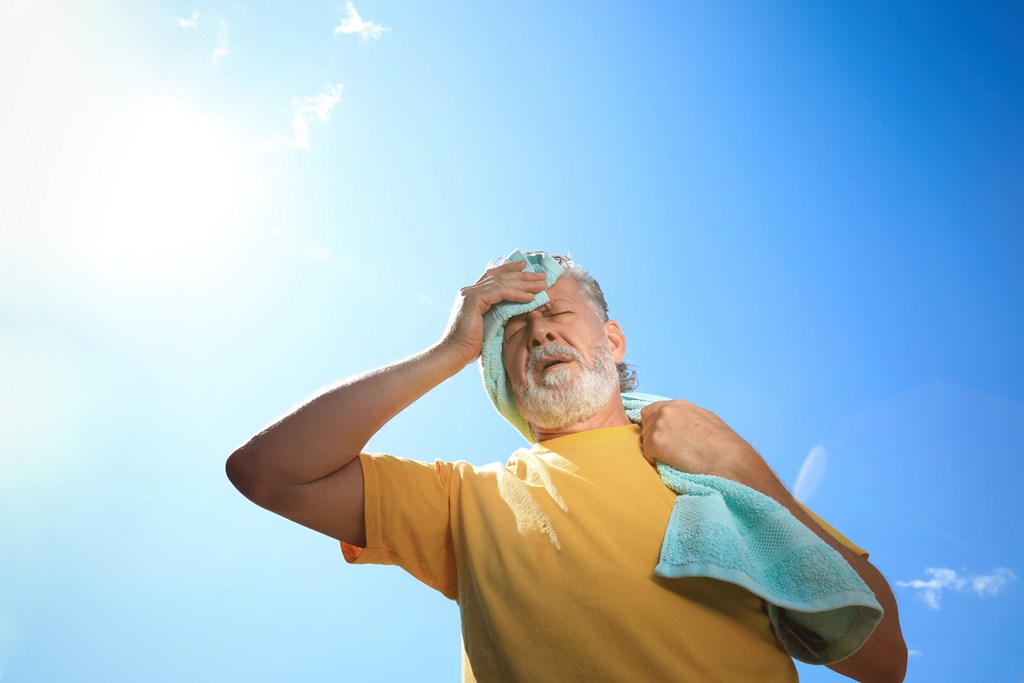 Avoid Sunstroke
This illness can happen to anyone and all it takes is the body's temperature hitting above 104F to give you sunstroke (also called heatstroke). If you are suffering from sunstroke, you may experience the following symptoms, according to the Mayo Clinic:
High body temperature
Altered mental state or behavior
Alteration in sweating
Nausea and vomiting
Flushed skin
Rapid breathing
Racing heart rate
Headache
If you leave sunstroke untreated, you run the risk of causing serious damage to your heart, brain, kidneys, and your muscles. And the longer you wait to get treatment, the worse the complications can get.
So, if you have any sort of feeling that you or someone you're camping with has gotten sunstroke, call 911 and in the meantime, do the following:
Get yourself or the person with sunstroke in shade or inside
Take off extra layers of clothing to help cool them down
Use anything available to help cool you or them down including a cold shower, a fan, ice packs, and more
Find Shade
One of the best ways to stay safe from the sun is to find shade whenever and wherever you can. If you're relaxing at the campsite, then be sure to bring an umbrella, a canopy, or an E-Z Up to sit under so you're protected from the sun.
Wear Clothing That Covers
One of the best ways to protect yourself from the sun is to wear clothing that covers as much skin as you can comfortably handle in the heat. We aren't suggesting that you wear a snowsuit and winter coat to hike in the summer, but do try to keep your arms and legs covered as much as possible.
If you want to step up your sun clothes game, then aim to find clothing that offers UPF (ultraviolet protection factor). This category of clothes shows you how much UV radiation the fabric allows to reach your skin. So, if you get a shirt that has UPF 50, that means that only 1/50 (2%) of the sun's rays will penetrate the clothing. Athleta, REI, and Coolibar are some of our favorite UPF clothing brands. Take a look at some pieces that may be right up your alley in terms of style, and then you can enjoy them even more with the added bonus of sun protection.
Wear a Hat
As much as you want to try and be in the shade, we understand that while camping, you also want to be out adventuring and you likely won't take a sun umbrella with you to do that. And that is where hats come in. Hats are a great way to keep you safe from the sun when you're out hiking. The best hat is one that covers not only your face but also your ears and the back of your neck. The wider the brim you can get away with, the better.
You also want to take into consideration the fabric that the hat is made of. Though straw hats may be more fun to wear, they don't offer the level of protection that a fabric like canvas does. That's because the canvas is more tightly knit and allows less sun to penetrate.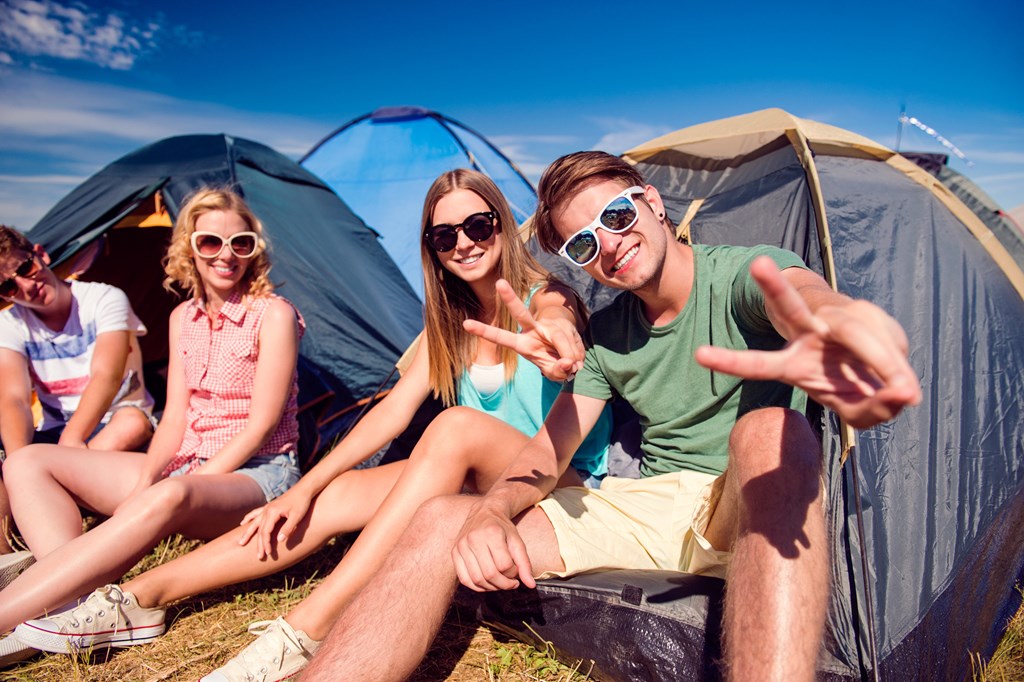 Always Have Sunglasses
When most people think of protection from the sun, they only think about their bodies and faces, but not their eyes. Though your eyes can't get skin cancer, the thin skin around them can, and that's why you want good sunglasses to protect that gentle area. You want sunglasses that block both UVA and UVB rays, which aren't hard to find.
In addition to protecting the skin around your eyes, sunglasses protect your eyes themselves from harmful UV rays. There has certainly been some point in your life where your parents warned you not to look at the sun, and chances are good that you say the same thing to your kids. Sunglasses will help to reduce your risk of cataracts as well, which can cause serious issues with vision.
Stay Hydrated
When you're out in the sun, you are going to get dehydrated quicker than you are indoors. That's thanks to the sun and heat exposure. In order to avoid getting sunstroke, you want to stay well-hydrated. An average person's body can deal with between 3-4% loss of body water without causing issues. However, once you get past 5% and even up to 10%, you can experience some awful symptoms including:
Headaches
Fatigue
Dizziness
Confusion
Seizures
In order to avoid dehydration when out in the sun and to lower your risk of getting sunstroke, you want to remember to drink before you feel like you're thirsty. Don't try to make up for lost water and instead stay ahead of your water consumption. When you're out in the sun, always carry a bottle of water with you.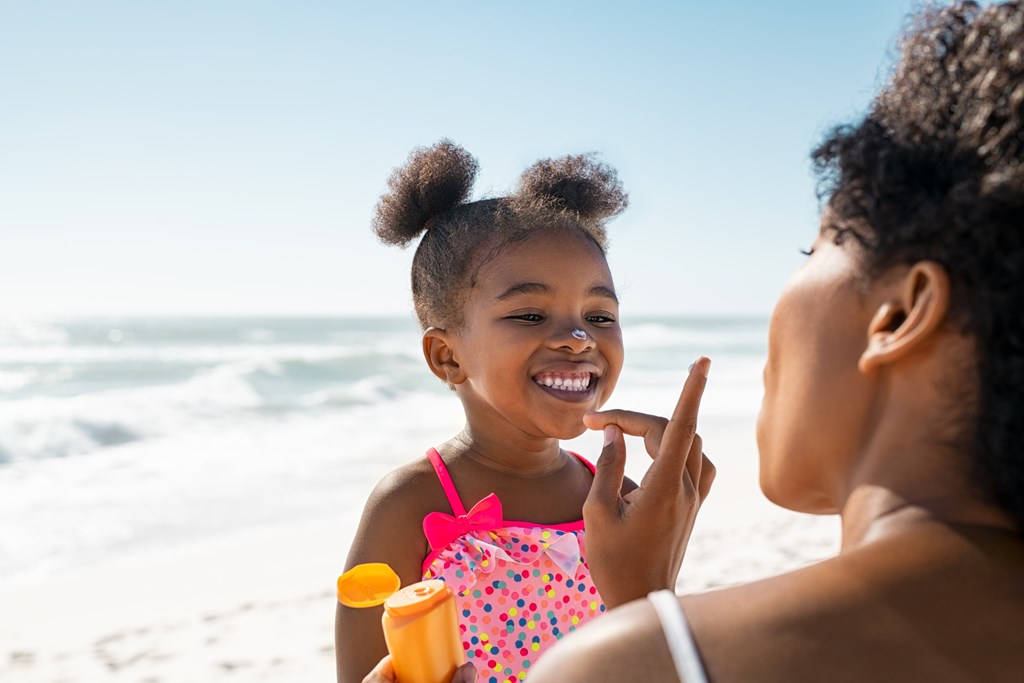 Don't Go Anywhere Without Sunscreen
Though all of the above are important parts of sun safety, we saved the best (most important) for last. No one in your family should go outside without a layer of sunscreen on every inch of the body from the head down to the toes. You should aim for sunscreen that has an SPF of at least 30 (according to the American Academy of Dermatology), and it should be applied about 30 minutes before sun exposure.
And putting it on once for the day is not enough. Reapplication is key with this stuff. If you stay out in the sun for longer than two hours, then you need to reapply. If you've been swimming or sweating, you will need to apply right after that as well. Don't believe that waterproof sunscreen is actually waterproof because it's not.
When it comes to finding the right kind of sunscreen, you want one that is a non-nano mineral sunscreen, which means it is made with either zinc oxide or titanium oxide. The reason that these two are the best is because they are not as irritating to the skin as some other sunscreens that are full of chemicals. This is especially key for children as their skin is much more sensitive than adults.
Another reason why you want a sunscreen with either zinc oxide or titanium oxide is because studies have shown that sunscreens with chemical ingredients can be absorbed into the bloodstream even after just one use. Though more research needs to be done on this, it is better to err on the safe side and spent the extra few dollars on sunscreen that will actually get the job done, and keep you and your family safe from not only the sun but also from harmful chemicals.
The great thing about sunscreen is that you can choose one that fits your preferred mode of application. You can choose a sunscreen lotion, sunscreen spray, or even a sunscreen stick. It seems that for kids, sprays may be easier to apply, but it's a matter of personal preference as long as you are getting a thick layer of whatever kind of sunscreen you choose.
You want to be sure to put sunscreen on some key areas that are often overlooked:
Tops of the feet
Back of the neck
Back of the knees
Ears
When it comes to babies under the age of six months, you want to stay away from a lot of sunscreen application. However, if you are going somewhere that the sun can't be avoided, then put a little bit of safe sunscreen on your baby and reapply every couple of hours.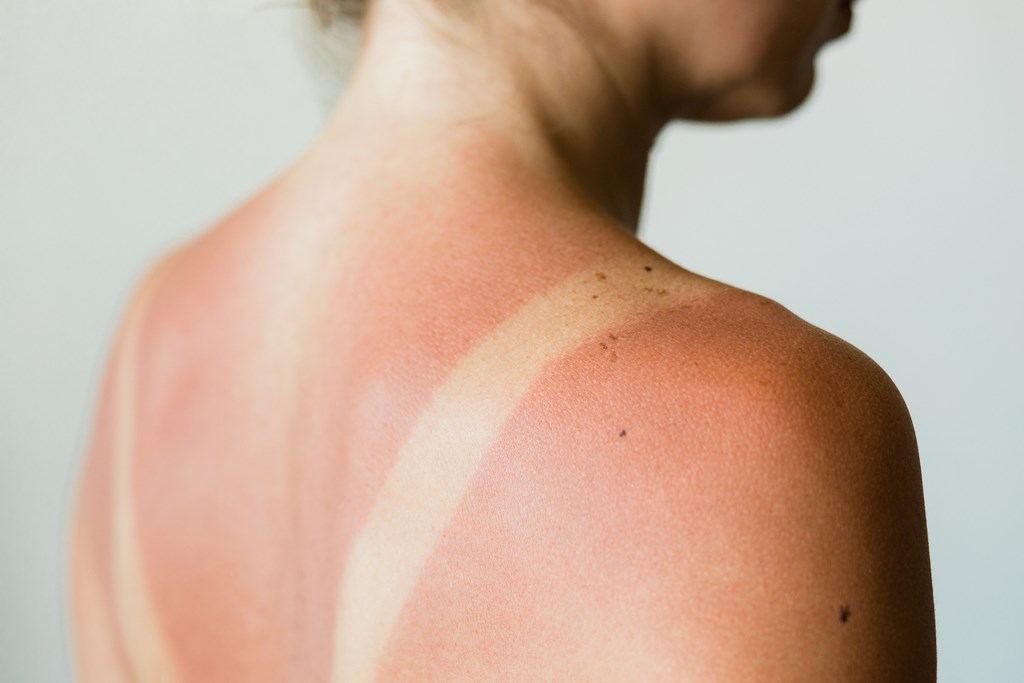 What To Do If You Get Sunburned
You may have gone according to all the above plans and still ended up with a sunburn. We've all been there.
While this isn't an ideal situation, there are some things you can do to help alleviate the sunburn and make it as tolerable as possible.
The first thing you want to do is hop in a bath that is lukewarm to help bring down the heat in a comfortable way. Following the bath, you want to apply a light moisturizer, but be sure to avoid any that contain alcohol. Some people swear by aloe vera as well, which you can get from a store or even better yet – straight from an aloe vera plant. When it comes to aloe vera, you want to steer clear of rubbing it all the way into your skin and instead let your skin soak it up and then layer on more.
If your skin has that "on fire" feeling, then cool compresses will become your best friend. Also be sure to wear breathable clothing, as tight clothes will just aggravate the pain of the burn. And most importantly, stay out of the sun until your burn is better. You do not want to make your sunburn even worse.
You may find yourself in a situation where your sunburn is more extreme than something that is as pink as bubblegum and gives you mild pain. If your sunburn shows up as blisters on your body, that means you've got a second-degree burn and it's time to head to th
---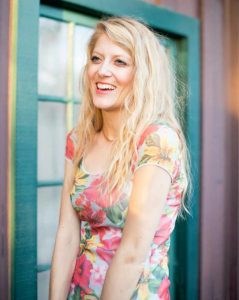 Leslie, a.k.a. Copy Girl, is a copywriter who gets butterflies from telling stories through words.
Her voice comes from a place filled with passion, dreams, and lots of sugar. "Cake over steak" is her go-to motto.
With over 10 years of experience in crafting words, and years of embarking on travels that have taken this Montana girl to some incredible places, Leslie love the adventures of both body and mind her writing takes her on.
Everywhere she goes, she takes this advice with her:
"Hold on to your divine blush, your innate rosy magic, or end up brown." – Tom Robbins, Jitterbug Perfume
To see what Leslie's up to in the writing world, visit her website here.
---