Though camping food is fun any time of the year, there is something special about cooking up some camping eats when the weather is at its finest.
The days are longer and that means more time for adventuring in the great outdoors. And you know what that means? A bigger appetite. After those long days in the sun, you want to come back to camp with some tasty food in store.
To help you build up the excitement and the hype about what could possibly await you back at camp, we've put together the best summer camping recipes so that you can start prepping and getting everything you need to make these food dreams come true.
What to eat while camping in the summer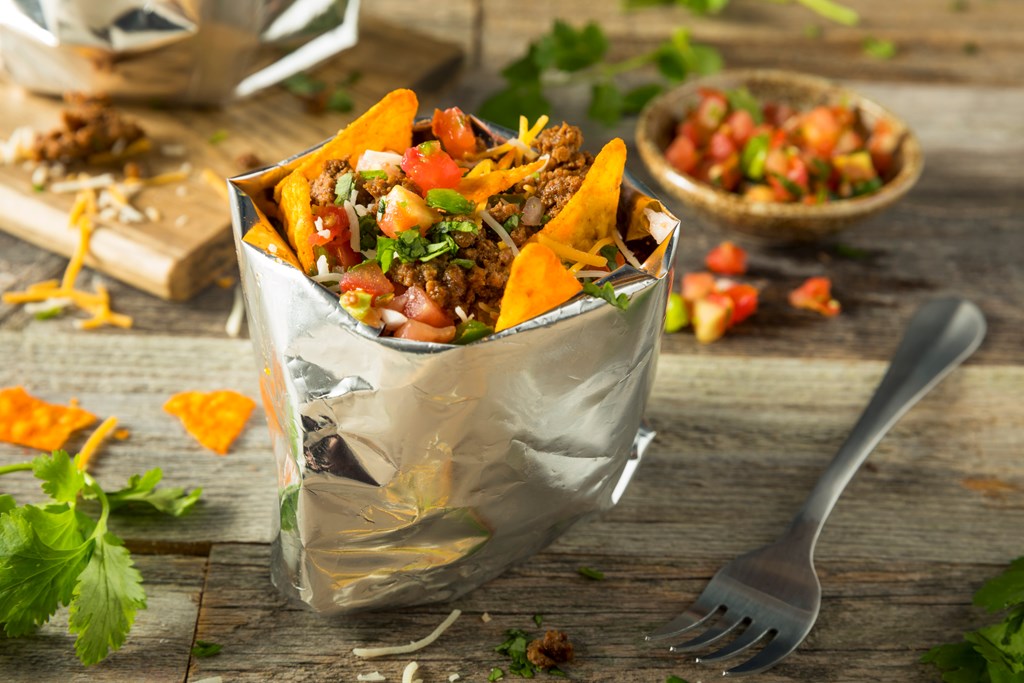 1. Walking Tacos
It feels wrong to go on a camping trip in the summer and not eat walking tacos. Here's a recipe that will surely make your belly happy, and your kid's too.
Ingredients
1 pound ground beef
1 packet chili seasoning mix
¼ teaspoon pepper
1 can (10 ounces) diced tomatoes and green chiles
1 can (15 ounces) ranch-style beans (pinto beans in seasoned tomato sauce)
5 packages (1 ounce each) corn chips – or try nacho cheese chips!
Optional toppings: shredded cheddar cheese, sour cream, and sliced green onions
How to make it
In a large skillet, cook beef over medium heat until no longer pink, breaking into crumbles, for 6-8 minutes
Drain the meat
Stir in chili seasoning mix, pepper, tomatoes, and beans and bring to a boil
Reduce heat; simmer, uncovered, until thickened, for 20-25 minutes, stirring occasionally
Open corn chip bags
Add beef mixture and toppings
2. Foil Packet Potato and Sausage
This is a quick and easy way to get some good grub when you're hungry after a long day. They are mobile for on-the-go eating, too.
Ingredients:
3 pounds red potatoes, cut into ½-inch cubes
2 packages (12 ounces each) smoked sausage links, cut into ½-inch slices
4 bacon strips, cooked and crumbled
1 medium onion, chopped
2 T chopped fresh parsley
¼ tsp salt
¼ tsp garlic salt
¼ tsp pepper
How to make it:
Prepare campfire or grill for cooking on medium heat
In a large bowl, toss potatoes with sausage, bacon, onion, parsley, salts, and pepper
Divide mixture among eight 18×12-in. pieces of heavy-duty nonstick foil
Fold foil around potato mixture, sealing tightly
Place packets over campfire or grill
Cook 15 minutes on each side or until potatoes are tender
Open packets carefully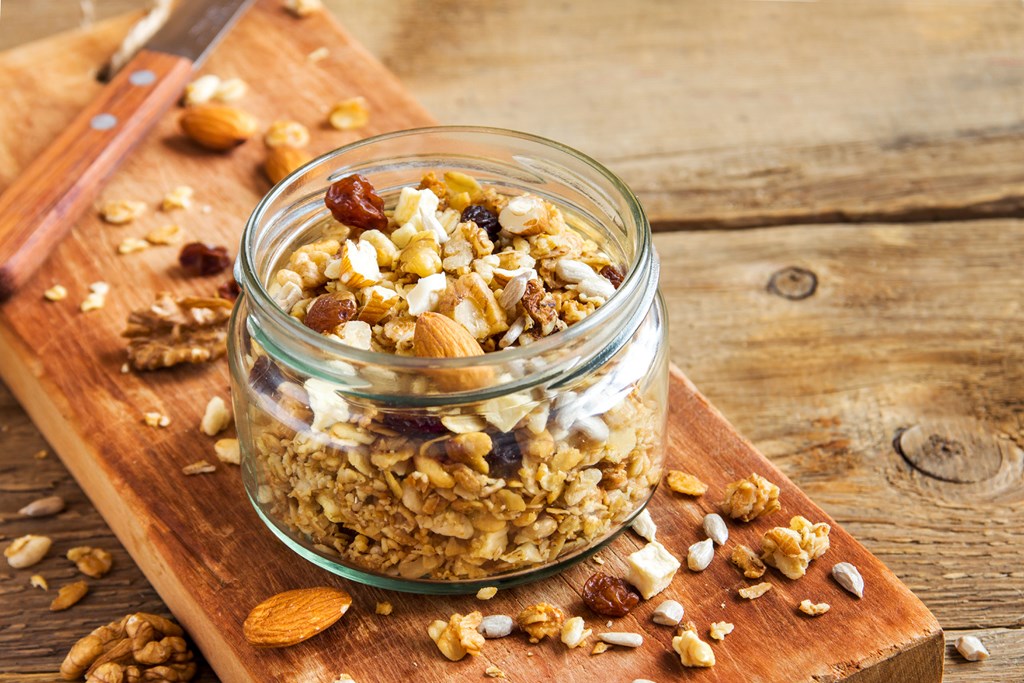 3. Morning Granola
This granola makes for the perfect breakfast when topped with yogurt and some fresh fruit, or as a great snack while you're out and about hiking.
Ingredients:
6 cups old-fashioned oats
½ cup unblanched almonds, coarsely chopped
¼ cup packed brown sugar
¼ cup flaxseed
¼ cup canola oil
¼ cup honey
1 T maple syrup
1 tsp apple pie spice
½ teaspoon salt
½ teaspoon vanilla extract
½ cup dried cranberries
½ cup raisins
How to make it:
Preheat oven to 300°
In a large bowl, combine oats, almonds, brown sugar, and flax
In a microwave-safe bowl, whisk oil, honey, maple syrup, pie spice, and salt
Microwave on high for 30-45 seconds or until heated through, stirring once
Stir in vanilla
Pour over oat mixture; toss to coat
Spread evenly in a 15x10x1-in. baking pan coated with cooking spray
Bake until golden brown, 30-40 minutes, stirring every 10 minutes
Cool completely on a wire rack
Stir in cranberries and raisins
Store in an airtight container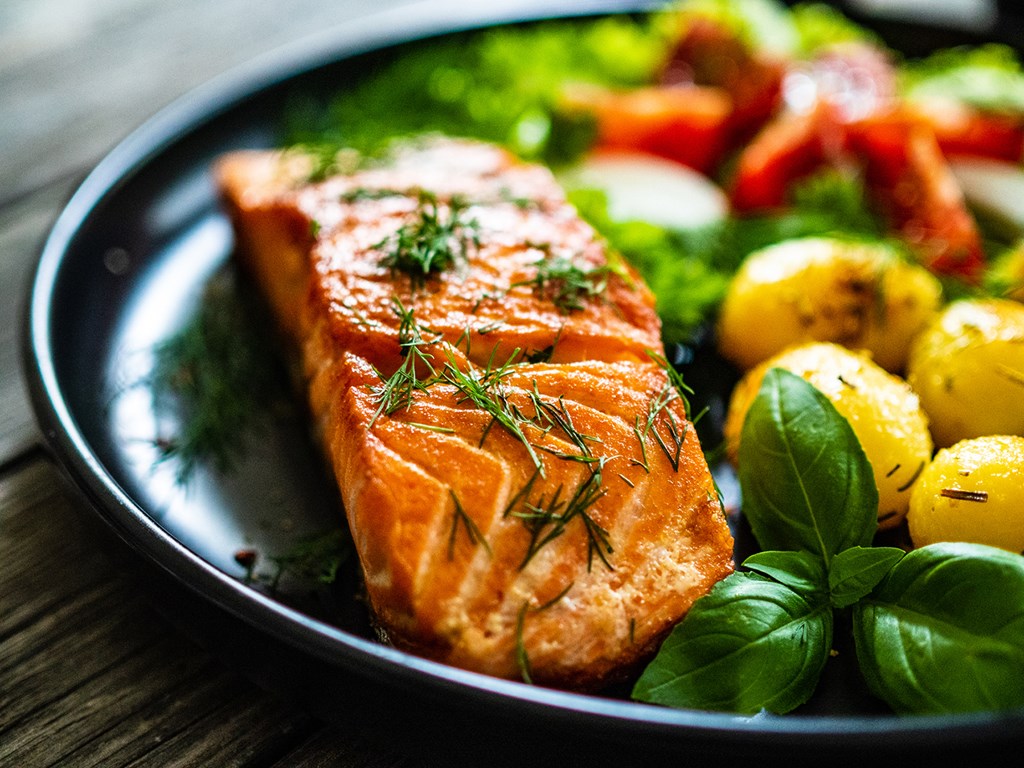 4. Lemon Dill Salmon Packets
We are big fans of packet recipes when camping because it's an easy and mess-free way to eat. This one is packed with flavor that you may find yourself trying to recreate at home.
Ingredients:
1 T butter, softened
4 salmon fillets (6 ounces each)
½ tsp salt
¼ tsp pepper
½ medium onion, sliced
4 garlic cloves, sliced
4 fresh dill sprigs
1 T minced fresh basil
1 medium lemon, sliced
How to make it:
Prepare campfire or grill for cooking on medium heat
Prepare 4 pieces of a double thickness of foil (about 12 in. square)
Spread butter in the center of each
Place 1 salmon fillet in the middle; sprinkle with salt and pepper
Top with onion, garlic, dill, basil, and lemon
Fold foil around fillets and seal.
Place packets on a grill grate over a campfire or grill
Cook until fish just begins to flake easily with a fork, about 8-10 minutes
Open carefully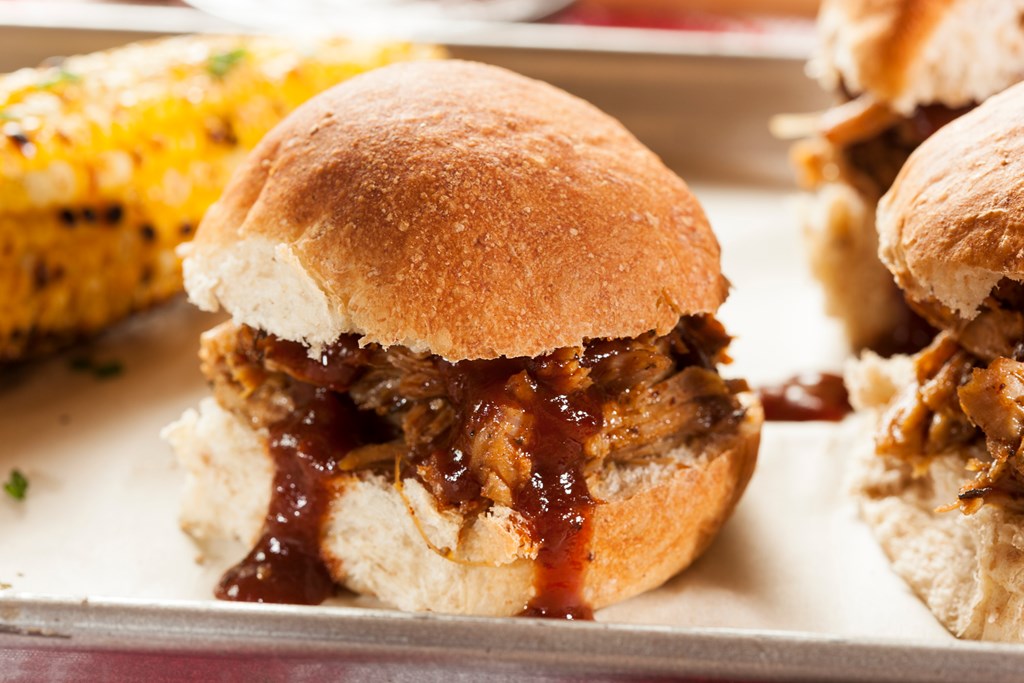 5. BBQ Chicken Sliders
Though a bit messier than some of the other things on this list, it is well worth the potential spill. These BBQ sliders just scream summer.
Ingredients:
1 ½ quarts water
¼ cup packed brown sugar
2 T salt
1 T liquid smoke
2 garlic cloves, minced
½ tsp dried thyme
2 pounds boneless skinless chicken breasts
⅓ cup liquid smoke
1 ½ cups barbecue sauce
16 small buns or dinner rolls, split and warmed
How to make it:
In a large bowl, mix water, brown sugar, salt, liquid smoke, garlic, and thyme, stirring to dissolve brown sugar
Save 1 cup of this mixture for cooking chicken; cover and refrigerate.
Place chicken in bowl with remaining mixture and turn to coat chicken
Cover and refrigerate for 18-24 hours, turning occasionally.
Remove chicken from mixture and transfer to a 3-qt. slow cooker
Throw away mixture in bowl
Then add saved 1 cup of mixture and ⅓ cup liquid smoke to chicken
Cook, covered, on low for 4-5 hours or until chicken is tender
Remove chicken; cool slightly
Throw away cooking juices
Shred chicken with 2 forks and return to slow cooker
Stir in barbecue sauce
Serve on buns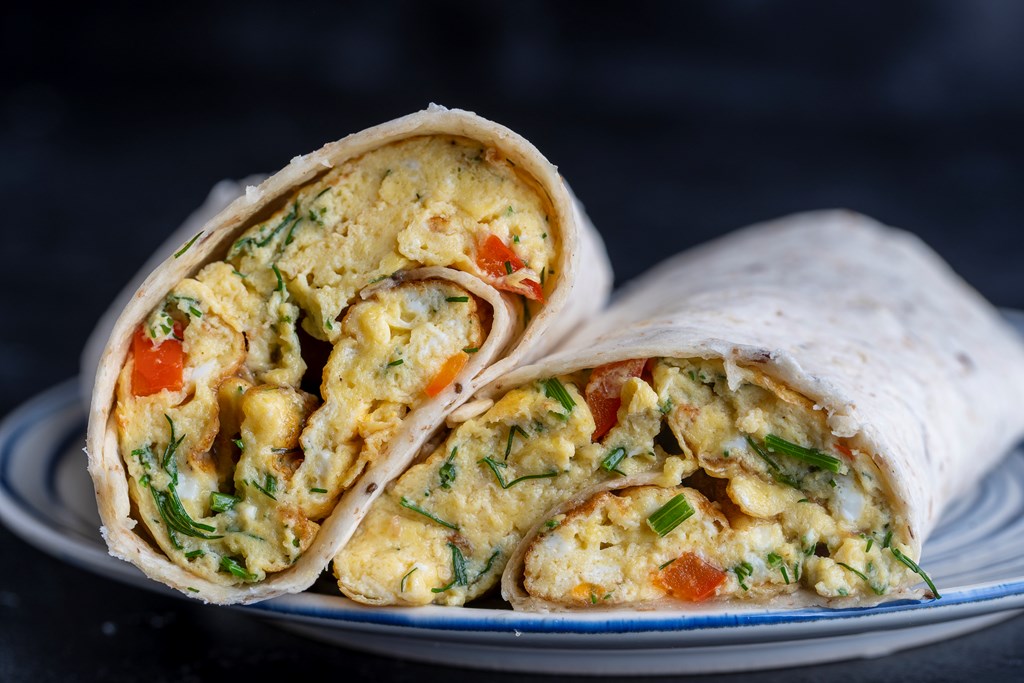 6. Egg and Spinach Breakfast Burrito
These burritos are perfect for making ahead of time and warming up when you've got a day of adventures ahead of you and want something quick to grab and go.
Ingredients:
1 pound bulk lean turkey breakfast sausage
1 T canola oil
1 cup frozen cubed hash brown potatoes, thawed
1 small red onion, chopped
1 small red pepper, chopped
6 cups (about 4 ounces) fresh spinach, chopped
6 large eggs, beaten
10 multigrain tortillas (8 inches), warmed
Cheese
How to make it:
In a large skillet, cook sausage over medium heat until no longer pink, for 4-6 minutes
Break into crumbles and remove from pan
In the same skillet, heat oil
Add potatoes, onion, and pepper; cook, stirring, until tender, for 5-7 minutes
Add spinach and stir until wilted, for 1-2 minutes
Add sausage and eggs
Cook and stir until no liquid egg remains
Spoon ½ cup filling across the center of each tortilla and sprinkle with cheese
Fold bottom and sides over filling and roll up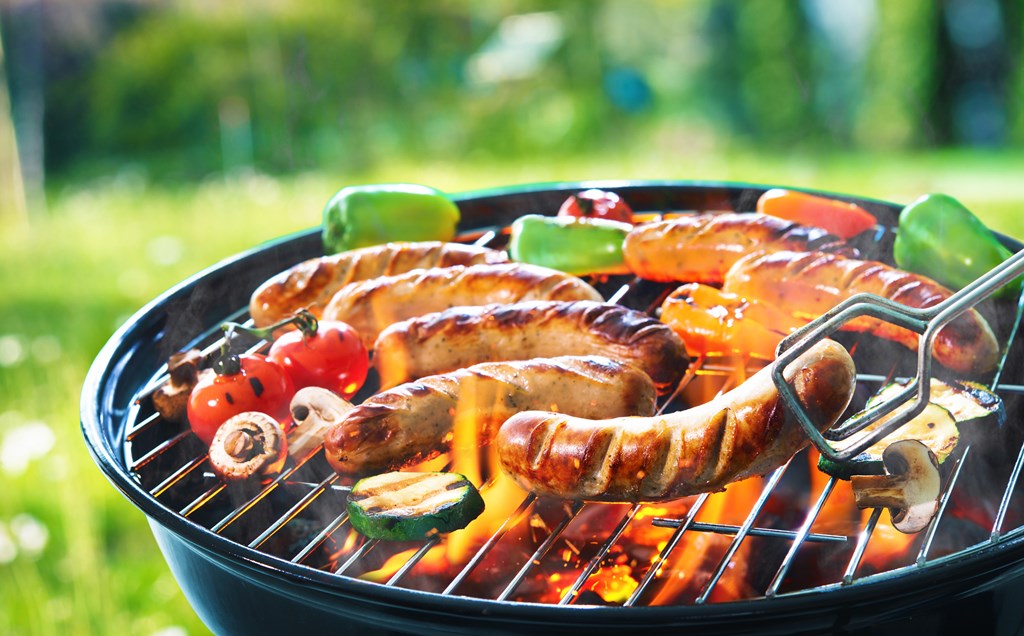 7. Grilled Sausage and Vegetables
There's nothing like summer vegetables and grilled sausages when camping. It's classic, yet still healthy. The extra bit of sweet in here gives it some nice unexpected flavor.
Ingredients:
¾ cup peach preserves
½ cup reduced-sodium soy sauce
3 T minced fresh gingerroot
3 T water
3 garlic cloves, minced
Dash hot pepper sauce, optional
4 medium sweet red peppers
1 medium eggplant
3 small zucchini
2 small yellow summer squash
12 hot Italian pork or turkey sausage links (4 ounces each)
How to make it:
Place the first 5 ingredients in a blender; if desired, add pepper sauce. Cover and process until blended.
Cut peppers lengthwise in half; remove seeds. Cut eggplant lengthwise into 1/2-in.-thick slices. Cut zucchini and yellow squash lengthwise into quarters. Place all vegetables in a large bowl; drizzle with 1/2 cup of the sauce and toss to coat.
Place vegetables on a greased grill rack. Grill, covered, over medium heat 8-10 minutes or until tender and lightly charred, turning once. Cool slightly. Reduce grill temperature to medium-low heat.
Cut vegetables into bite-sized pieces. Toss with additional 1/4 cup sauce; keep warm.
Grill sausages, covered, over medium-low heat for 15-20 minutes or until a thermometer reads 160° for pork sausages (165° for turkey sausages), turning occasionally. Remove sausages from grill; toss with remaining sauce. Serve with vegetables.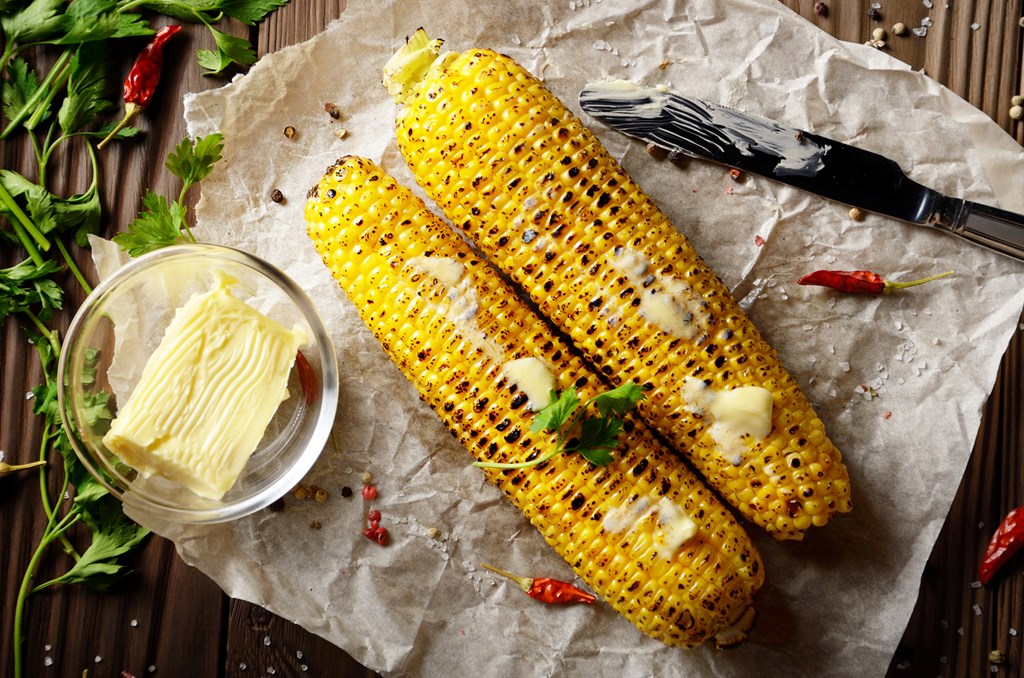 8. Grilled Spicy Corn on the Cob
This spicy take on corn will really make your taste buds sing. It's a quick and easy way to get some veggies with your meal, or works as a great snack, too.
Ingredients
4 large ears sweet corn, husks removed
¼ cup butter, melted
2 tsp dried thyme
1 T hot pepper sauce
1 tsp chicken bouillon granules
¼ cup chopped seeded jalapeno peppers
How to make it:
Place each ear of corn on a double thickness of heavy-duty foil (about 18×12 in.)
Combine butter, thyme, hot pepper sauce, and bouillon granules
Brush over corn and sprinkle each with 1 tablespoon jalapenos, seal tightly
Grill, covered, over medium heat until corn is tender, for 15-20 minutes
Open carefully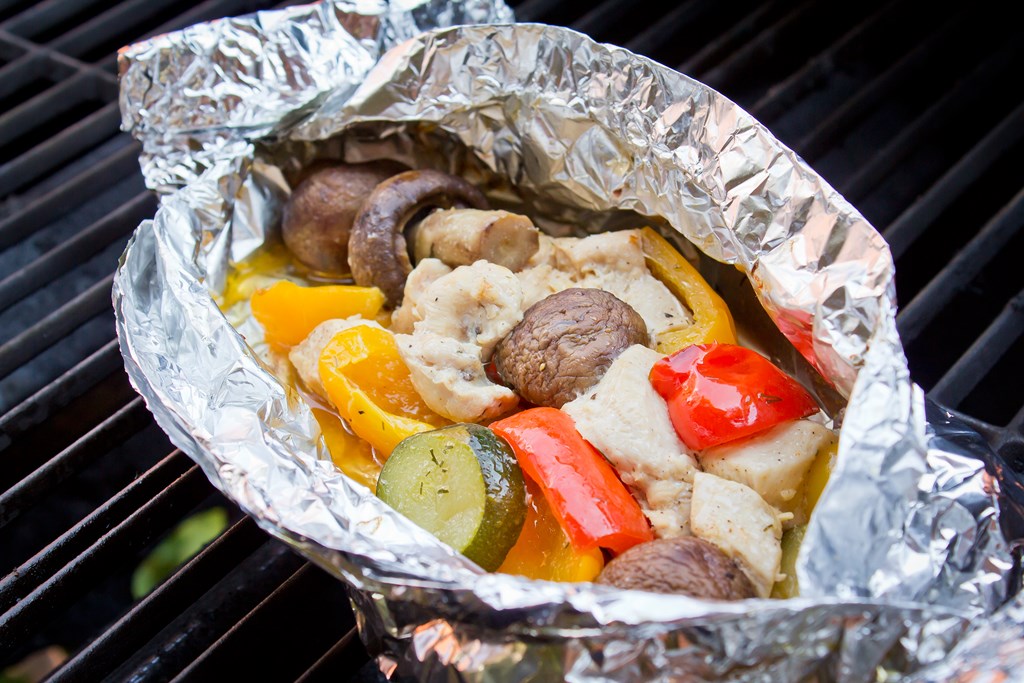 9. Bag Kabobs
Though the name may not sound too catchy, these kabobs will catch your attention with their full flavor. They are a great thing to prep ahead of time and put on the grill once you're at your campsite.
Ingredients
Beef or chicken
Bell peppers
Mushrooms
Onion
Jalapeno peppers (optional)
Small potatoes
Zucchini squash
Fresh garlic
2-3 T olive oil
Lemon or lime
McCormick's Salt-free Chicken seasoning
Powdered butter flavoring
2 T soy sauce
Lemon pepper seasoning
Dill
How to make it:
Boil potatoes for approximately 4-5 minutes depending on size (they should still be firm and crisp, not mushy)
Let potatoes cool completely before putting in foil bag
Chop bell peppers, onion, and zucchini squash into large pieces
Put chopped vegetables, whole jalapenos, whole potatoes, and whole mushrooms into a large foil bag with garlic, olive oil, lemon or lime juice, soy sauce, butter flavoring, lemon pepper seasonings, and dill
Cut meat into large stew size pieces
Put meat in a separate foil bag with ¼ cup of olive oil, garlic, chicken seasonings, butter flavoring, and 2 T of soy sauce.
Place the foil bags into larger 2 gallon ziplock bags to store while traveling
To cook, remove foil bags from plastic ziplock bags and grill for 8-10 minutes, turning after 5-6 minutes
Let sit before opening bags
10. Green Chile Chicken Enchiladas
Enchiladas are always a good idea and are perfect for making ahead of time and warming up after a long day of adventuring out in nature.
Ingredients:
3-4 chicken breasts , cooked and shredded
12 corn tortillas
½ c onion, chopped finely
2 c grated Longhorn or Colby cheese
½ c milk
1 can cream of chicken soup
½ – 1 c chopped fresh, frozen or canned green chiles
1 c sour cream
How to make it:
Cut tortillas into quarters and place a layer into crock pot, top with onions and grated cheese
Start another layer and top again with onions and cheese
Mix together milk, green chiles, sour cream, soup, and chicken
Pour some of the mixture over tortillas
Continue with more layers of tortillas, onions and cheese
Pour remaining mixture over tortillas and top with remaining cheese
Cook in crock pot on low for 2-3 hours
This can also be prepared the same way and cooked in a 2-quart casserole dish
11. A Mean Three-Bean Salad
This mix of tasty ingredients is the perfect side dish for your main meal, or by adding chicken into it, you can make it a meal of its own.
Ingredients:
2 (15 oz) cans pinto beans
2 (15 oz) cans kidney beans
2 (15 oz) cans garbanzo beans
1 c red onion, thinly sliced
1 c green bell pepper, chopped
1 c red bell pepper, chopped
½ c celery
¾ c red wine vinegar
½ c sugar
½ c olive oil
½ tsp dry mustard
½ tsp salt
2 T parsley, chopped
1 T fresh cilantro, chopped
1 tsp fresh oregano, chopped
How to make it:
Drain all the beans; put into a large mixing bowl
Add red onion, bell peppers, and celery
In small bowl, combine vinegar, sugar, olive oil, salt, mustard, cilantro, parsley, and oregano
Pour over beans and veggies; toss to mix well
Cover and refrigerate several hours or overnight, stirring occasionally
12. Marinated Coleslaw
This side dish will go well with all of your favorite summer BBQ eats. We love this one because it is a healthy alternative to other coleslaws yet still packs great flavor.
Ingredients:
1 medium cabbage, shredded with knife
1 onion, sliced fine
½ c vinegar
½ c honey
½ c salad oil
1 tsp salt
1 tsp dry mustard
1 tsp celery seed
How to make it
Combine vinegar, honey, oil and seasoning in pan and heat to boiling
Pour over cabbage and onion
Cool and refrigerate
This will keep at least a week and tastes best the second or third day

---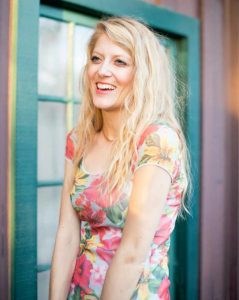 Leslie, a.k.a. Copy Girl, is a copywriter who gets butterflies from telling stories through words.
Her voice comes from a place filled with passion, dreams, and lots of sugar. "Cake over steak" is her go-to motto.
With over 10 years of experience in crafting words, and years of embarking on travels that have taken this Montana girl to some incredible places, Leslie love the adventures of both body and mind her writing takes her on.
Everywhere she goes, she takes this advice with her:
"Hold on to your divine blush, your innate rosy magic, or end up brown." – Tom Robbins, Jitterbug Perfume
To see what Leslie's up to in the writing world, visit her website here.
---