Looking for an easy-to-make dessert to get you in the camping mood? Try this s'mores bread pudding recipe from celebrity chef – and avid KOA camper – George Duran. Want to see video to help you make this recipe? Check out chef Duran on a recent Fox and Friends segment.
How to Make S'mores Bread Pudding
Ingredients
14-oz. ciabatta bread, about 12-13 cups
2 C. heavy cream
2 C. whole milk
10 egg yolks
1 C. Nutella spread
2/3 C. sugar
4 tsp. vanilla
1 tsp Kosher salt
3-oz. graham crackers, crushed
3 Tblsp. butter, melted
2 Tblsp. brown sugar
1/2 tsp. cinnamon
1/2 C. mini chocolate chips or finely chopped chocolate
1/2 C. mini marshmallows
Flake salt
Directions
Cut ciabatta into 1/2-inch pieces and allow it to dry on your countertop for 1-2 hours.
Pre-heat your oven to 325F and grease a large cast iron pan or baking dish.
In a large bowl whisk heavy cream, milk, egg yolks, Nutella, sugar, vanilla and salt until fully combined. Add ciabatta to bowl and mix and press into mixture until absorbed.
In the meantime in a small bowl mix crushed graham crackers with melted butter, brown sugar and cinnamon. Set aside.
Pour bread mixture in baking dish and top with crushed graham crackers and chocolate chips. Bake for 55-65 minutes or until set.
Remove from oven and set broiler on high. Add mini marshmallows on top and broil for 1-2 minutes until browned.
Allow to rest for 30 minutes before serving with flake salt

---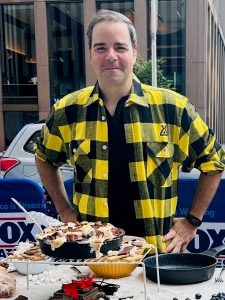 George Duran is a chef and entertainer. Author of Take This Dish and Twist it, known for his Food Network show Ham on the Street and most recently host of TLC's Ultimate Cake Off. He's appeared as guests on NBC's Today Show, CBS This Morning, The Wendy William Show, the Dr. Oz Show, The Nate Berkus Show and many others.  Born and raised in Caracas, Venezuela by Armenian parents, George attended NYU before he enrolled in culinary school at the Ecole Superieure de Cuisine Francaise, Groupe Ferrandi in Paris.