Paella over the campfire? You bet!
Ingredients
1 1/2 tsp saffron threads
2 cups water
1/4 cup olive oil
1/2lb pork county ribs, cut into 1″ chunks
1 tsp each garlic poser, paprika, salt and pepper
1/2lb boneless, skinless chicken thighs, diced
1lb chorizo, removed from casing
1 large onion, sliced
1 red bell pepper, sliced
1 bunch scallions, white and green separated
1 jalapeno, minced
2 cups medium-grain rice
1/4 cup dry white wine
2 cups chicken stock or broth
1 cup green peas
1lb large shrimp
Directions
In a small pot, toast saffron threads over medium low heat until they become fragrant. Add two cups of water and bring to a simmer. Remove from heat and allow to steep for 15 minutes.
Season pork and chicken with garlic powder, paprika, salt and pepper. Heat olive oil in a paella pan over high heat and sear chicken and pork well. Remove pan from heat and set aside.
Add chorizo to pan and cook until browned. Add onion, bell pepper, white portions of scallions, jalapeno and garlic. Saute until vegetable soften before adding rice. Stir well to combine.
Add steeped saffron to the rice mixture. Add pork, chicken, wine and stock. Top dish with peas.
Arrange shrimp atop paella and cook uncovered over medium heat until rice has absorbed the liquid and shrimp have cooked thoroughly.
Top with green scallions before serving.
Makes eight servings.
---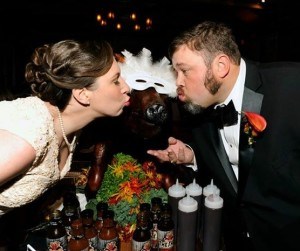 Ken and Jessica Hess are traveling the country to share their love of all things barbecue with the world. From Alabama, Ken is associate pitmaster at Big Bob Gibson BBQ and a seasoned barbecue competitor. Amassing many titles and trophies, Ken has won the World Championship of Pork four times.
---