The holiday season is about bringing together family and friends for festive occasions. And food. Lots of food, right? Make sure your dishes are a hit this season with these holiday-inspired recipes from KOA. From red and peppered shashlik to decorative snowmen desserts, there's a recipe in here for everyone on your list. Happy cooking and have a holly, jolly holiday!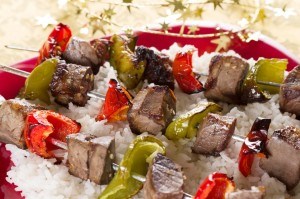 Red and Green Holiday Shashlik
Easy to prepare ahead and cook over the grill at the campsite, tangy beef sirloin shashlik is a colorful way to create a quick, but memorable holiday meal. Shashlik is a traditional outdoor food popular in many countries in Europe and Asia.
Ingredients:
• 1-2 pounds sirloin steak, cut into 1 inch cubes
• 1 cup olive oil
• 1 cup vinegar
• 2 teaspoons prepared minced garlic
• 1 small onion, finely chopped
• 1 1 /2 tablespoons sea salt
• 1 teaspoon freshly ground black pepper
• 1 red bell pepper, cut into 1-inch chunks
• 1 green bell pepper, cut into 1- inch chunks
• Rice or pilaf
Equipment: Grill or broiler, metal skewers or soak bamboo skewers in water for 30 minutes
Directions:
1. Combine all ingredients except the bell pepper in a gallon Ziploc bag or a covered dish. Allow the mixture to marinate in the refrigerator for at least six hours, or preferably overnight.
2. Thread the sirloin steak and cut bell pepper onto the skewers alternating red and green pepper pieces.
3. Cook on a hot grill, turning as needed for 5-8 minutes to reach desired doneness. Alternately broil for the same time under a high broil, turning frequently to cook evenly. Serve immediately over rice or pilaf.
Serves 4.
Build a Snowman Dessert
End your holiday meal with these adorable snowman fruit salads. Kids especially love the hands-on building process that results in a frosty friend.
Ingredients:
1 8 oz. package of cream cheese, softened
1 cup crushed pineapple, drain and press out excess juice
½ cup powdered sugar (omit for a no-sugar added dessert)
2 cups shredded coconut
Pretzel sticks
Raisins
Shredded carrot
Directions:
1. Mix the softened cream cheese and the crushed pineapple in a bowl. Add the powdered sugar if desired. Return to the refrigerator for at least 30 minutes to chill.
2. Scoop a spoonful of the mixture to make a ball about 1 ½ inches across. Roll in the shredded coconut to cover and place on a baking sheet covered with wax paper. Continue making smaller balls, until you have enough for three per snowman. Return the refrigerator for 30 minutes to firm.
3. Stack three balls on top of each other to make a snowman. Decorate with pretzel sticks for arms, pieces of raisins for coal eyes and a piece of shredded carrot for a noise. Refrigerate until ready to serve.
Makes 5-6 snowmen.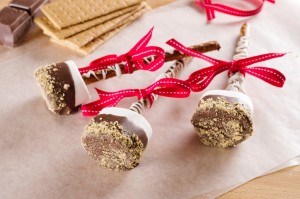 S'more Giveaway Treats
Share your love of all things camping with your neighbors and friends with s'mores during the holiday. This quick and easy-to-make treat is perfect for packaging with ribbon and cellophane as gifts. For even more fun, experiment with different toppings such as flavored white coating, crushed peppermint candy, drizzled caramel or whatever you imagine.
Ingredients:
• 1 package jumbo marshmallows
• 1 package pretzel rods
• 1 package chocolate candy coating (almond bark)
• 1 package white candy coating (almond bark)
• 6 graham crackers, crushed
Directions:
1. Place a jumbo marshmallow on each pretzel rod, twisting gentle if needed, until secure.
2. Melt the chocolate candy coating as directed on the package. Dip each marshmallow on a pretzel about ¾ of the way into the chocolate to cover. Allow the excess to drizzle off and then sprinkle with the crushed graham crackers. Place on a baking sheet covered with wax paper.
3. Melt the white candy coating as directed on the package. Drizzle the white candy coating across the pretzel rods, leaving about an inch at the end without coating to hold onto.
4. Allow the candy coating to set and then package with ribbon as gifts. Use the excess candy coating to dip additional pretzel rods if desired.
Makes 1-2 dozen s'more treats.
Festive Chili Cream Cheese Dip
For a quick and elegant appetizer when guests drop by or to add to a holiday or New Year's Eve party, this festive dip takes only a few minutes to prepare and tastes delicious.
Ingredients:
• 1 8 oz. package cream cheese
• ½ cup Thai sweet red chili sauce
• Pretzel rod (optional)
• Crackers
Directions:
1. Open the cream cheese and cut diagonally to create two triangles. Arrange the triangles of cream cheese on a serving plate to form the shape of a tree.
2. Pour the sweet red chili sauce over the cream cheese to cover. Garnish with a piece of pretzel rod for the trunk of the holiday tree. Serve with crackers.
Makes 6-8 servings.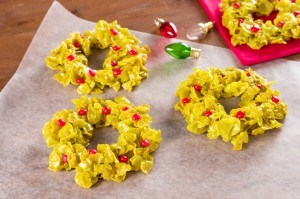 Holiday Cereal Wreaths
Create your own holiday tradition by cooking with the special little ones in your life. Kids love to form by hand the sticky, gooey cereal mixture that makes these wreathes. For even more colorful holiday treats, decorate with other types of candy such as Sixlets or Skittles.
Ingredients:
• ½ cup butter
• 4 cups mini marshmallows
• 1 teaspoon neon green food color
• 4 cups corn flakes
• Cinnamon Imperials Cake Decorations
Equipment: Sauce pan
Directions:
1. Over medium heat, melt the butter. Add the mini marshmallows continuing to cook until melted. Add the green food color.
2. Mix in the corn flakes while gently stirring to coat evenly. While the mixture is still warm, form wreath shapes on baking sheets covered with wax paper. Decorate with cinnamon imperials or other candy. Allow to harden before serving.
Makes 6 big wreaths.