You don't have to go far to live the vacation life. Follow these tips to plan your new favorite getaway – the RV staycation.
There are few things that incite greater excitement within than a vacation, especially when that vacation is happening in your beloved RV.
Goodbye reality, hello dreamy vacation.
However, planning a vacation and coughing up the money to head into the great wide open in your RV can bring about some serious stress — especially after all the money that you spent over the holiday season.
But that doesn't mean you haven't earned — and, let's be honest, need a vacation. So why not opt for an easy, fun RV staycation?
Not only will you save money and time with a staycation (two things you are probably very short on post-holidays), you'll still get to enjoy the benefits of "getting away" from it all, and clocking in some serious r&r.
To ensure your staycation is the vacation you've been dreaming of, we're sharing some tips on how you can staycation like a pro.
How To Get The Most Out Of Your RV Staycation
1. Create hype
The countdown
One of the best parts of a vacation is looking forward to it. Once you've got the dates planned, the countdown begins.
And we are talking a literal countdown. Put your time off in your planner, on your calendar at home, in your phone. You want reminders everywhere that vacation is just around the corner.
Getting through each boring or stressful day becomes much easier when you know that every day crossed off the calendar is bringing you one step closer to that oh-so-deserved vacation.
The same is true for a staycation.
A key factor in staycation success is treating it just like you would a vacation — act as if you are going out of town, and will be a tourist in a new spot.
Itinerary planning
Make the planning of your staycation itinerary a group effort. Involve everyone in deciding on daily activities, and get input on nearby attractions that are worth a visit.
Let the kids choose some things they want to do, and schedule in some time for parts of your local area that you have never got around to exploring.
Again — act as if this staycation is no different than any other family vacation you take.
2. Choose your campground
As an avid RVer, you've likely explored a lot of KOA campgrounds across the country.
Now's your opportunity to experience a campground you might not be as familiar with – the KOA right in your backyard. You might just find you add another fabulous campground to your list of favorites!
Book a spot at your local KOA just like you would when traveling, and find out what fun activities and amenities they have to offer guests.
Take advantage of the local hikes and other recreational activities the local KOA owners suggest. Whatever you do, don't just opt for your typical Saturday walks.
Just be sure to bring along with you all your favorite camping gear. You're going to be setting up camp just like you would if you had traveled 1,000 miles and left home far behind.

3. Research and explore like a tourist
You may think you know your city or town like the back of your hand.
"I've lived here for 20 years and I've seen it all," you may say.
Chances are good, however, that there is a lot happening in your area that you aren't aware of.
So, get creative.
Shout out to the Internet for making this part so easy.
Research online things to do in your town, and you're sure to find a whole slew of things that you haven't experienced before, or haven't experienced through the eyes of a tourist.
See with fresh eyes
Even if you have gone to the city zoo before, do it differently this time — drive there in your RV and park it like you would if you were out of town. Splurge on that cotton candy and popcorn you normally wouldn't. And ask the zoo if they have special tours or experiences for out-of-towners.
You never know what new and exciting things you'll find in your hometown if you just ask.
Whatever your plans are for your staycation, ensure that nothing you do is how you would do it at home.
Take different routes than you usually do to get to places. Bring your bikes along with you, and ride around your city or town. Try out new restaurants, and order whatever the waiter claims is the "local favorite."
You're sure to discover areas that you never knew existed that may just become your new favorite go-to spots!
4. Search for local specials
Your city or town likely offers fabulous package deals for tourists to experience multiple sites while visiting. Take advantage of those offers — oftentimes provided by museums, sports arenas, zoos, etc. You'll get to do a lot of exploring and save money doing it.
5. Unplug
There is no way a staycation will feel like a real vacation if you're watching work emails pour in, and are fielding phone calls from your colleagues. As tough as it may be, you've got to turn off the ringer on your phone and force yourself to ignore the incoming calls and texts.
Though it may seem silly, you're definitely going to want to set an "out of office" message for your work email. In it state that you will be away from your email until the end of your vacation. Then shut your computer down, and leave it at home until you get back from your staycation.

6. Take photos
How many vacations have you gone on where you came back and said, "I wish I had taken more pictures?"
This has happened to us so many times, and the regret is heavy — it's impossible to go back and recreate the exact same vacation in order to get some pictures. Don't make the same mistake during your staycation.
You've likely got a lot a pictures of your city or town, but all those pictures are through the eyes of a local, not a tourist. A new perspective on your local spots will give you an entirely new way to appreciate them, and enjoy them in the future.
Your staycation photos are just as deserving of a spot on your Facebook feed as your vacation photos!
7. Allow for a splurge
It is true that one of the reasons you've likely opted for a staycation is to save money, and it seems as if splurging while staycationing kind of defeats the purpose.
However, hear us out.
You are already saving a great deal of money on gas and possible RV maintenance by staycationing, so you have earned the right to splurge on dinner at a nice restaurant, or tickets to an event that you would normally deem as being out of your budget.
Remember — a staycation is meant to be special, not just another typical night in your city or town that you happen to be spending at a campground.
8. Let go
You may find that staying away from your phone and computer while staycationing is a challenge.
However, you've got to do your best to let go.
Don't let thoughts of the office ruin your vacation (especially the fact that the office is just five minutes away).
Focus your attention instead on the fact that you need this vacation, and deserve it, too!
The more you're able to let go, relax, and let the fun happen, the more worthwhile your staycation will be.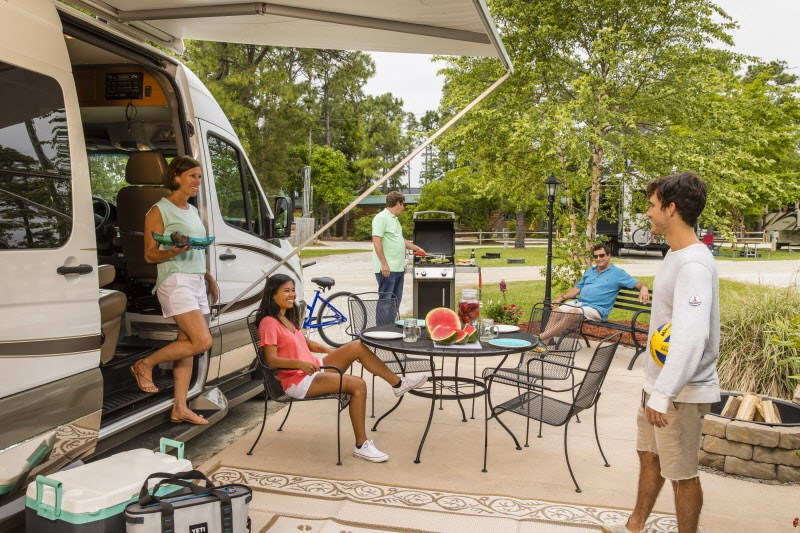 By implementing these 8 easy tips, you're setting yourself up for a fabulous staycation you'll surely never forget.
Mastering the art of staycations will prove to be an incredible skill to have — the more often you're able to allow yourself to unplug and escape from your daily life, the happier you'll be.
The ease and low cost of a staycation allows you to do just that.
So prepare yourself for a much more happy, zen and relaxed way of life, all thanks to your RV staycations.
---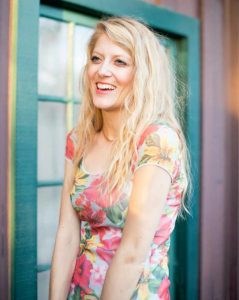 Leslie, a.k.a. Copy Girl, is a copywriter who gets butterflies from telling stories through words.
Her voice comes from a place filled with passion, dreams, and lots of sugar. "Cake over steak" is her go-to motto.
With over 10 years of experience in crafting words, and years of embarking on travels that have taken this Montana girl to some incredible places, Leslie love the adventures of both body and mind her writing takes her on.
Everywhere she goes, she takes this advice with her:
"Hold on to your divine blush, your innate rosy magic, or end up brown." – Tom Robbins, Jitterbug Perfume
To see what Leslie's up to in the writing world, visit her website here.
---