Take a video tour of Rocky Mountain National Park and Estes Park KOA.
Rocky Mountain National Park, offers breathtaking mountain landscapes along with 300 miles of pristine hiking trails perfect for adventurers from beginner to advance. A trek down any one of these trails offers the chance to view abundant wildlife – deer, moose, elk, beavers, marmots, big horn sheep and more. Seriously, there are elk everywhere! Then take a drive over Trail Ridge Road, which crests at 12,000 feet and crosses the Continental Divide. You might even get to have a snowball fight in July!
Located at 7,500 feet, the Estes Park KOA offers sweeping views of the Rockies and nearby Lake Estes. This convenient location serves as the perfect basecamp for Rocky Mountain exploration. In addition to the park, just down the road is the quaint town of Estes Park (there's a shuttle from the KOA) with fun shops, good restaurants, a myriad of galleries and a number of summer festivals. Make sure and visit the classic Taffy Shop, where the taffy machine has been spinning since 1935!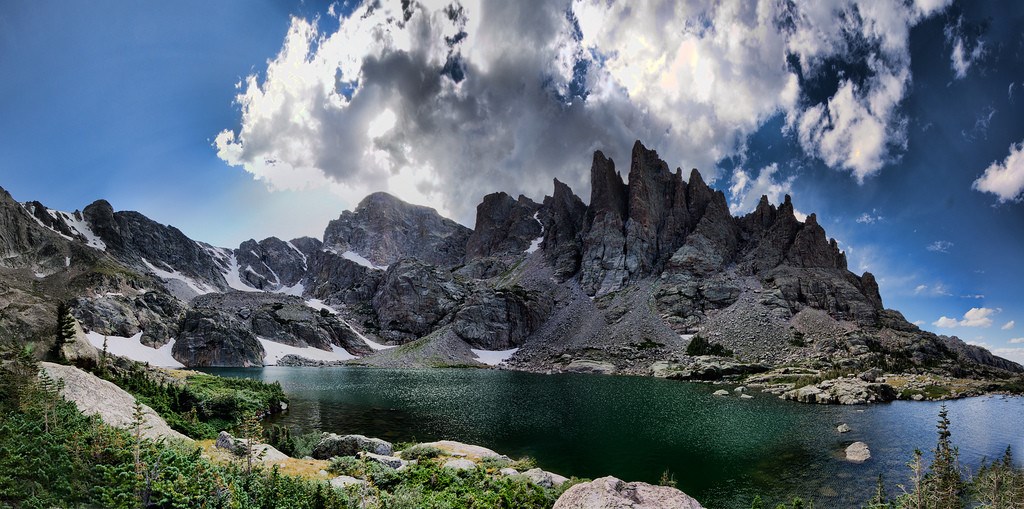 6 Rocky Mountain National Park Facts
1. THE PARK'S FIRST ADVOCATE WAS A TEENAGER
Enos Mills, who moved to Colorado on his own as a young teen in the 1880s, is considered the "Father of Rocky Mountain National Park." Mills love of Colorado made him a devout advocate for the creation of the park, and he spoke and wrote at length to educate the public on nature preservation.
2. THE PARK'S FIRST PAYING GUEST WAS A LONGTIME FAN
Abner Sprague, a 19th century homesteader and pioneer, was the first person to pay $3 for park admission in 1939. Today, visitors on foot or bicycle pay $10 per person and those in vehicles pay $20 for a seven-day pass.
3. IT FEATURES THE HIGHEST CONTINUOUS PAVED ROAD IN THE COUNTRY
Peaking at 12,183 feet (2 miles above sea level), Trail Ridge Road runs 48 miles between Grand Lake and Estes Park. Work was completed on the "highway to the sky" in 1933 after four years of an off-and-on construction schedule that was largely determined by high-elevation weather conditions.
4. BIGHORN SHEEP ARE THE SYMBOL OF THE PARK
Bighorn sheep, the largest wild sheep in North America, are both the symbol of the national park and for all of Colorado Parks & Wildlife, because of their distinct presence in the state. Rocky Mountain National Park is currently home to approximately 300 to 400 bighorn sheep.
5. THE COUNTRY'S FIRST FEMALE NATURE GUIDES WERE TRAINED AT THE PARK
Esther and Elizabeth Burnell first visited the park's Estes Park area in 1916. Noting their enthusiasm for their new surroundings, Enos Mills encouraged them to take nature guide training. When the sisters passed the examination, they became the first female naturalists certified by the National Park Service.
6. IT'S POPULAR
Though its only an eighth the sizes of Yellowstone, Rocky Mountain National Park attracts just as many visitors. Approximately three million people pass through the gates of the park each year.
---
2016 is the 100th anniversary of the National Parks Service which oversees marks than 400 National Parks, Monuments and Seashores across the U.S. Inspired to visit one of our National Parks? If you are headed toward any of our National Parks or Monuments, check out this list of KOA campgrounds near National Parks and Monuments.