Roasted Tomato & Cheese Pasta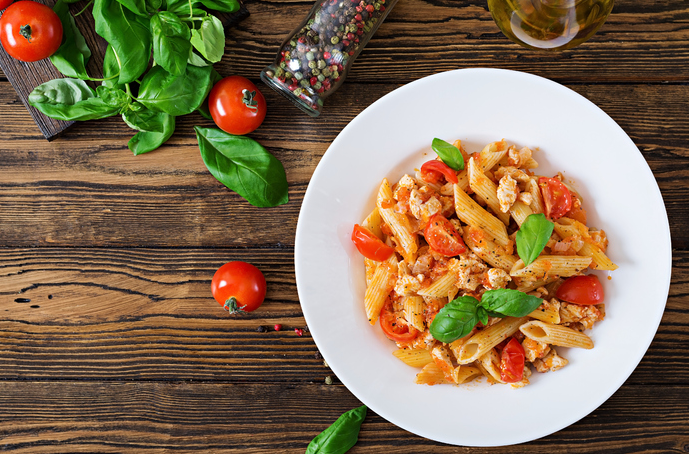 Have you seen this viral pasta dish taking over the internet? Try our camping version of the famous "TikTok Pasta" and you won't be disappointed!
Roasted Tomato & Cheese Pasta
Ingredients
1 lb. cherry tomatoes
1 (5.2oz) package garlic and fine herb cheese, such as Boursin
3 cloves garlic, minced
4 Tbsp. olive oil
½ tsp. red pepper flakes
½ tsp. salt
½ tsp. freshly ground pepper
½ cup fresh basil leaves, chopped
12 oz. cooked pasta (penne, bowties, etc.)
Directions
At home: Boil pasta according to pack instruction. Drain, cool and store in a zip top bag. Chop garlic, measure out spices, and place in storage containers.

At camp: Preheat grill to 400. Place herb cheese, cherry tomatoes and garlic in a cast iron skillet or Dutch oven. Drizzle with olive oil. Close grill and roast over indirect heat for 25 minutes.

Remove from grill and add red pepper flakes, salt, pepper and fresh basil. Stir and add cooked pasta. Return to heat until pasta is warmed through, about 5 minutes. Serves 6.
---
About the Author: Kampgrounds of America
Kampgrounds of America is the largest system of open-to-the-public campgrounds in the world, with over 500 locations across the United States and Canada. Founded in Billings, MT in 1962, KOA's family of campground brands – KOA Journey, KOA Holiday and KOA Resort – today serve more than a million camping families each year. KOA is dedicated to "connecting people to the outdoors and each other" by providing people with a variety of camping experiences and the information they need to make the most of their camping trip. Read more of their camping and travel resources by visiting KOA.com/blog.
---