Road Trip Essentials Checklist
Road trips are a classic American pastime. The windows are rolled down, music is playing and your car is filled with all your favorite people. The only thing on your mind is where your next stop is going to be and the beautiful landscapes outside your window. Whether you are making a long trek to an exciting destination or road tripping to see as many places as possible, here is everything you need to stay safe, be comfortable and have fun. Before You Go
Before you head out, you need to verify that your car is functioning safely and correctly. A professional inspection can offer you peace of mind while you are driving down the highway, and it is a great way to save money and spare yourself the hassle and lost time of an unexpected breakdown.
A professional should check the following items:
Headlights and taillights
Oil level and filter
Fluid levels, including transmission, windshield wiper and brake
The heater and air conditioner
The air filter
Windshield wiper blades
Turn signals
The horn
The brake pads
Battery performance and visible corrosion
Identify and correct all dashboard warning lights

Cleaning Your Car
A clean car is a comfortable car, and a comfortable car means happy passengers. Before you leave, consider gathering the group to work together to get the vehicle in tip-top shape. Take time to scrub both the inside and outside, and make regular stops at car washes along the way if necessary to remove any mud, salt or debris buildup that could impact your vision on the road.
Here are some tips for cleaning your car:
Wash all windows and the windshield with window cleaner
Dust and wipe down the dash
Remove trash from the console, glove compartment and under the seats
Wipe down interior and exterior door handles
Wash floor mats
Vacuum all seats and floorboards
Wash and polish the outside of the car at home or in a car wash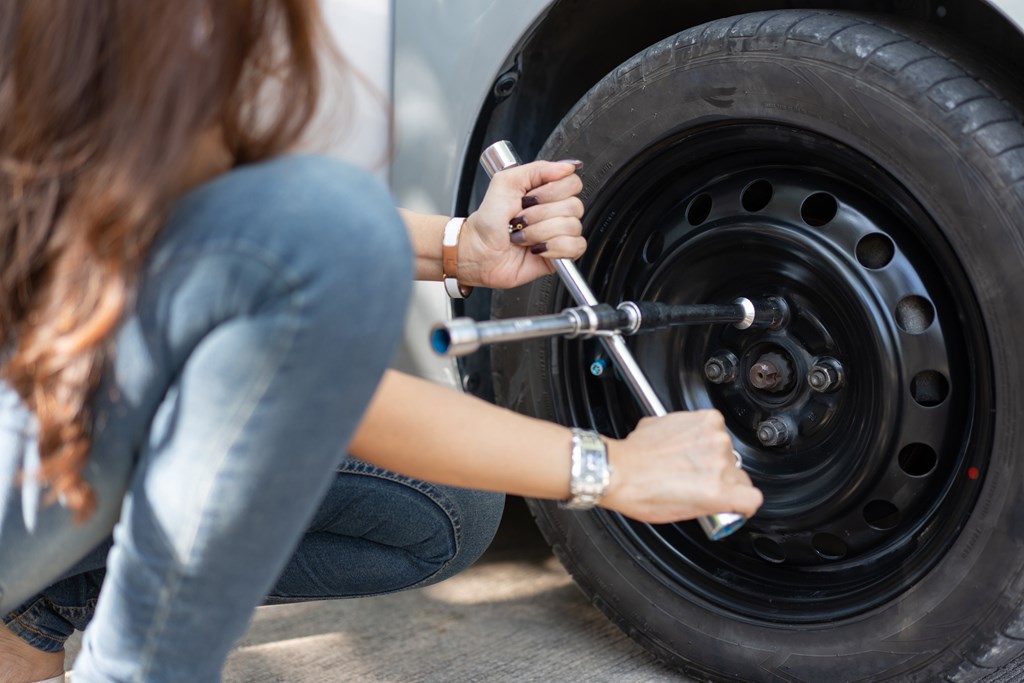 Safety
No matter how long your road trip is, safety should always be your primary concern. With a little preparation and pre-planning, you are doing your part to ensure a safer drive for you and other people on the road. Keep your safety items and a roadside emergency kit in the trunk or hatchback of your car so they are secure but out of the way. Consider investing in a car organizer to keep everything sorted and easy to find.
Make sure you have the following emergency and non-emergency safety items:
Jumper cables
A flashlight with spare batteries
Insect repellant
A travel-sized fire extinguisher
A non-combustible can of tire inflater
Car oil
Antifreeze
A spare tire
A car jack
An emergency blanket
Nonperishable emergency food
A folded plastic tarp
An empty, spill-proof gas can
Sunglasses
High SPF sunscreen
Contact information for a towing company and insurance company
A multi-tool pocket knife
Windshield wiper fluid
Brake fluid
A plastic funnel
Tire chains
Bottled water
Sand or cat litter for traction on icy roadways
A snow shovel
An ice scraper and snow brush
A windshield cleaning squeegee
A spare set of car keys, just in case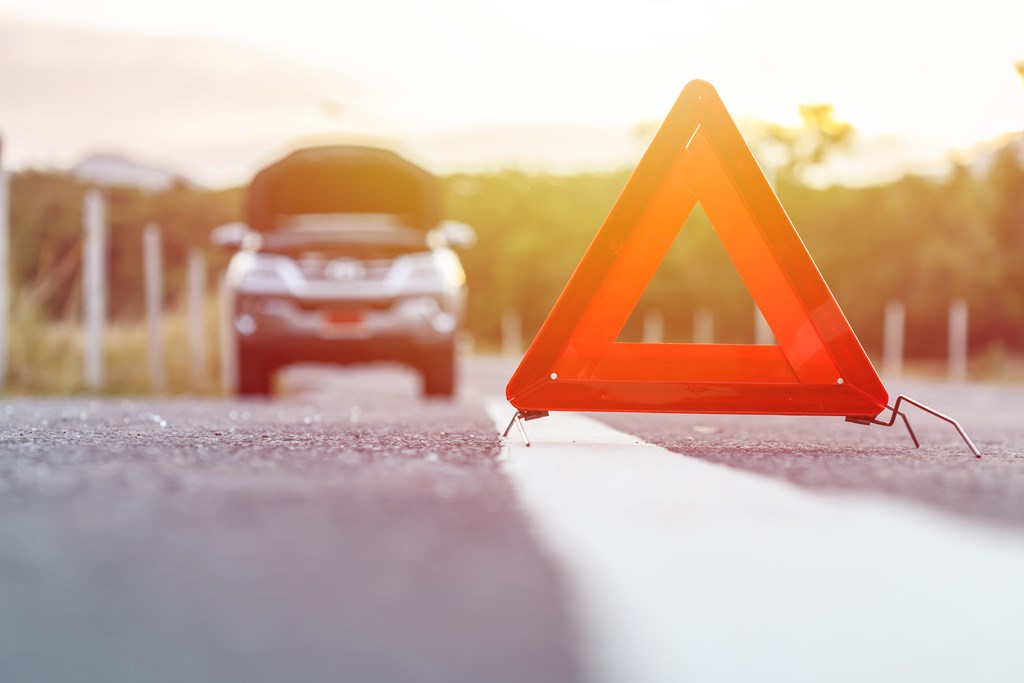 Roadside Emergency Kit
Every car should have a roadside emergency kit on board in case of minor accidents, flat tires or other hazardous circumstances. You can usually find roadside emergency kits pre-assembled at auto stores or travel centers, but you can also collect your own items and keep them in a durable, water-resistant bag.
At the minimum, your roadside emergency kit should include:
Road flares
A tow strap
Work gloves
A disposable rain poncho
A tire pressure gauge
A window breaking devices
A seatbelt cutter
Duct tape
A standard tool kit with flat head and Phillips head screwdrivers, cutting pliers and wheel wrench
A reflective vest to wear during inclement weather or low light
Bungee cords
Ratchet straps
Keep certain items, like the seatbelt cutter and window breaking device, easy to reach from the driver's seat.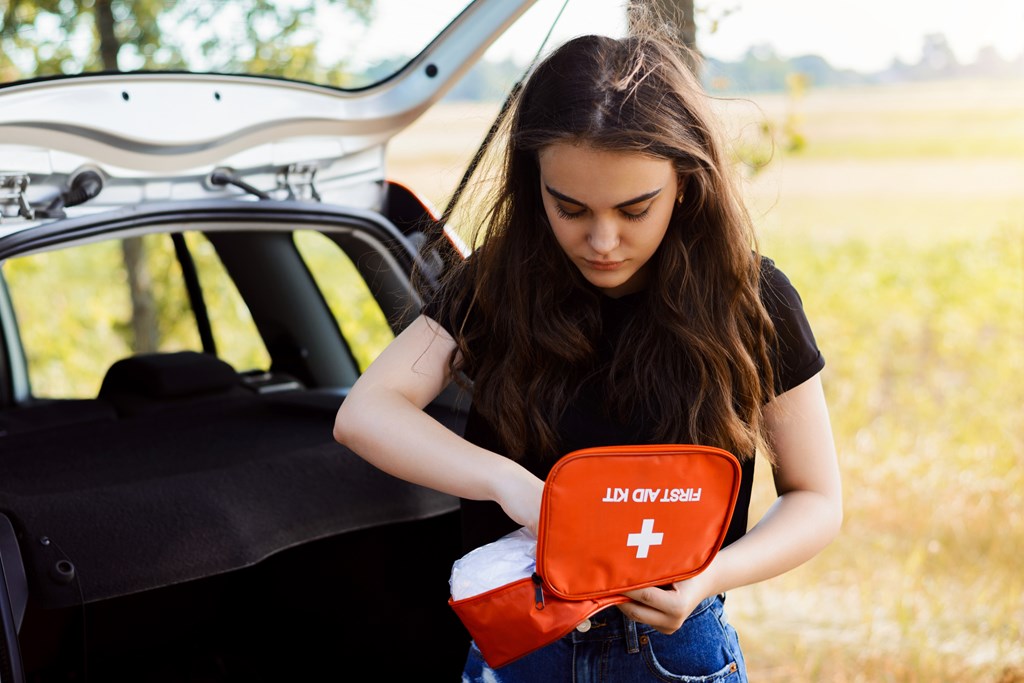 Travel First-Aid Kit
It is a good idea to have a portable first-aid kit on hand in case of minor injuries while on the road. You can adapt this first-aid kit to suit your specific needs and those of your passengers. Unlike your other safety items, keep your first-aid kit somewhere in the front or backseat of your car, so it is easily accessible if someone needs it while in transit.
Some items to consider are:
Your health insurance information
A list of all known allergies for each passenger
Adhesive bandages
Over-the-counter medications, including pain relievers, antacids and antihistamines
Sterile wipes
Gauze
Finger splints
Antibiotic ointment
A pair of non-latex gloves
An oral thermometer
Tweezers
A first-aid kit instruction manual
Eyewash solution
Hydrogen peroxide
Anti-diarrhea medication
Cold medicine
Cough drops
An EpiPen
Any prescription medications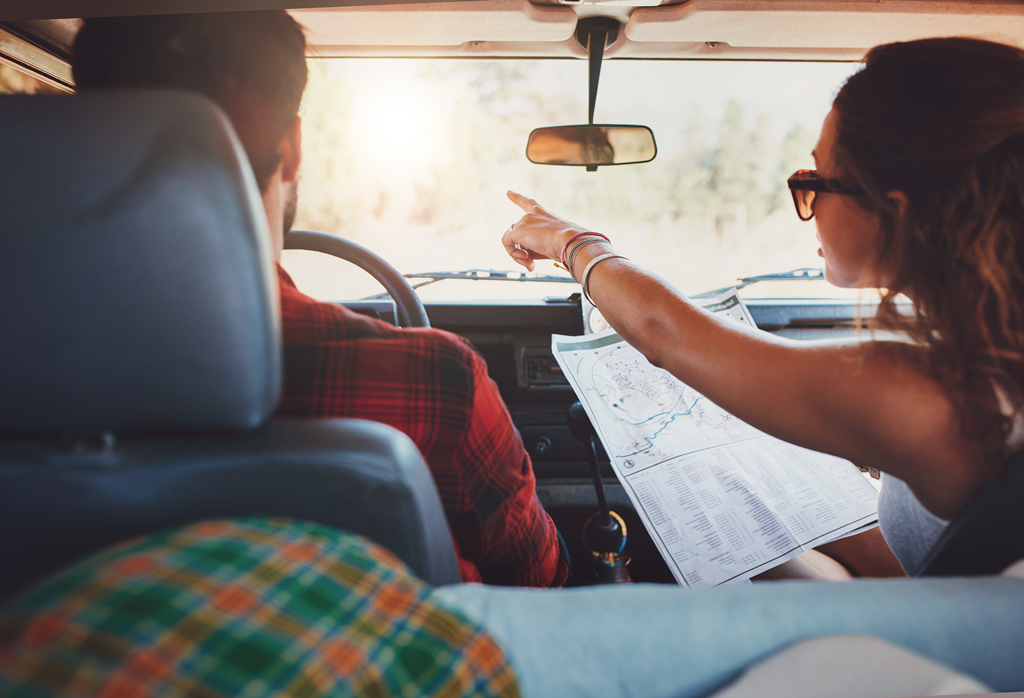 Travel
The best way to keep the car clean and enjoyable for all is to be prepared for anything, including messes. As you are planning your travel route, consider where all rest areas, toll booths, gas stations and pull-off points are so you have enough supplies to last between stops. Always fill your water bottle every time you have the opportunity to do so. If your route includes a lot of back roads or rural areas, fill your gas tank as often as you can. Keep an eye on the weather forecast as you travel and set up emergency weather alerts on your cell phone, so you can be prepared to pull over if necessary.
These travel items are essential for a successful trip:
Your driver's license
The car's registration information
Your proof of insurance
A paper map
A GPS
A car phone charger
Money for toll booths
Spare cash
Your wallet with credit and debit cards
A stain-removal laundry pen
A travel-sized umbrella
An air freshener that is not too overpowering
A roll of toilet paper and plastic bag
A car mount for your cell phone
A cell phone with hands-free optimization
A roll of paper towels
Cleaning wipes
Travel tote bags to hold supplies
A keychain or lanyard to keep track of your keys while out of the car
Trash bags or a car trash can
A mini vacuum cleaner
A copy of each lodging reservation confirmation
The vehicle owner's manual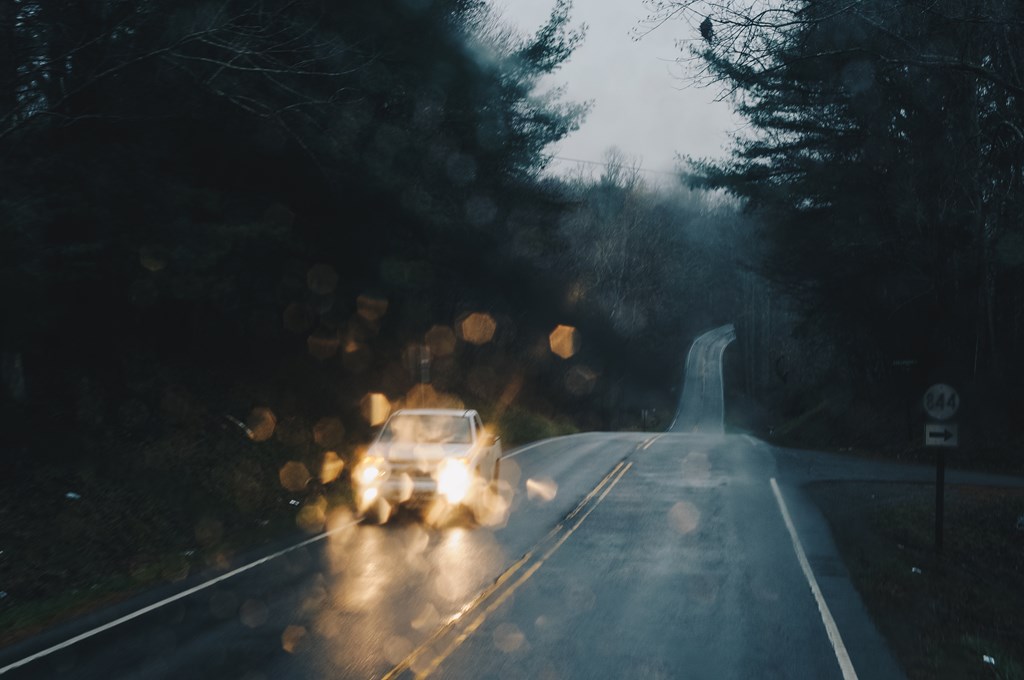 Comfort
Road trips are a lot of fun, but they require a little bit of pre-planning if you want things to stay comfortable for each passenger. This includes regularly emptying trash at rest stops, creating a comfortable temperature inside and staying dry. While packing your road trip bag, be sure to check the weather forecast and factor in the climate of each destination you plan to visit.
To make the ride as smooth as possible, bring along the following:
Hand and body lotion
Baby wipes to stay clean
Lip balm with SPF
Hair ties to keep your hair from blowing in the wind
A travel pillow
Seat cushions
Seat warmers
Window shades
Motion sickness bags
A towel to dry off in case you get caught in the rain
A sunshade for your windshield
A toiletry bag with eye rewetting drops, tissues, etc.
Comfortable clothes for long trips, like leggings, sweat pants and light layers
A soft sweater or hoodie
Slip-on shoes
Rain gear, including a rain jacket with a hood and slip-on boots
Winter clothing, including an insulated coat, hat, gloves and scarf

Recreation
Just because you are on the road does not mean there are not ways to keep yourself entertained. As long as you do so safely, there are many memories to be made from both the inside of your car and at the places you stop overnight, like a campground.
For example, you could bring:
An external car rack for bicycles, kayaks or luggage
A water-resistant picnic blanket and basket for rest stops
A tablet to watch movies on-the-go
A book or e-reader
Travel games, such as cards or travel bingo
A playlist, CDs or satellite radio subscription
Headphones or earbuds
A travel journal and pen to record your memories from each stop
A daypack for exploring stopping points
In addition to physical recreational items, research different games you can play while on the road, like the alphabet game, I Spy, the license plate game or 20 questions.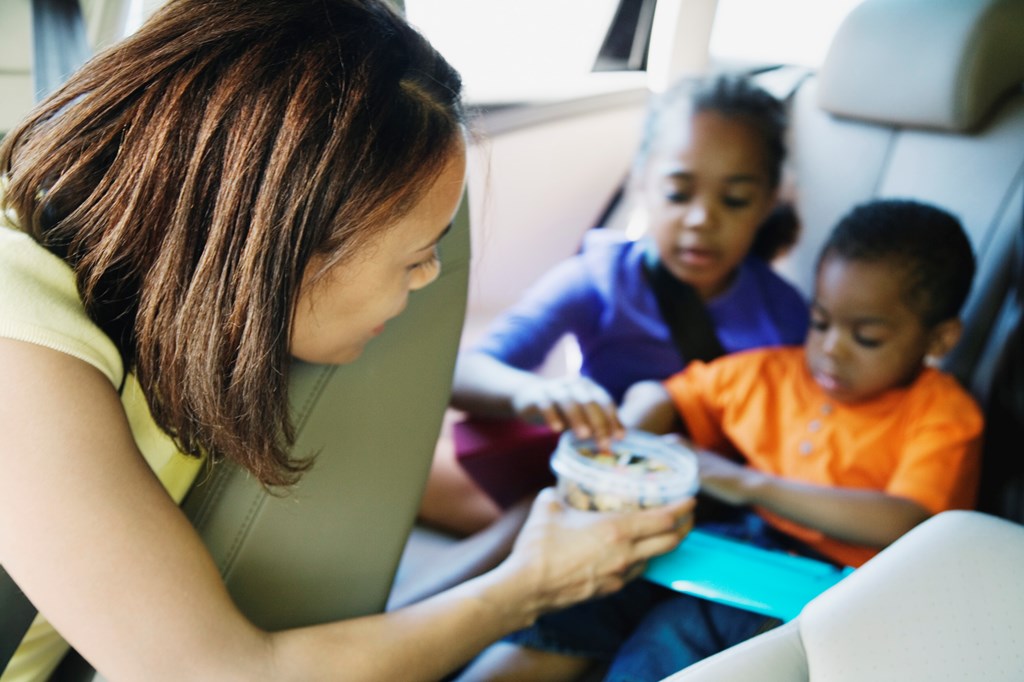 Snacks
Although there is no substitute for stopping at a restaurant or drive-thru for a complete meal, every road trip needs snacks. Have a snack bag or individual snack containers, so everyone has easy access to food whenever they are hungry. You could also use food storage containers and include cooked foods and cutlery. Bring along a travel cooler filled with ice or ice packs to keep drinks and perishables cold.
These are some easy-to-prepare, mess-free road snacks:
Trail mix
Granola
Chips or crackers
Beef jerky
Veggies and dip
Apples
Fresh fruit cups
Nuts and seeds
Peanut butter and jelly sandwiches
Energy bars
Dried fruit or gummies
Snack cheese
Candy bars
Muffins
Popcorn or kettle corn
Pre-made salads with dressing on the side
Snack cakes
Gum or mints
A spill-proof snack container
A travel mug or thermos
An insulated, refillable water bottle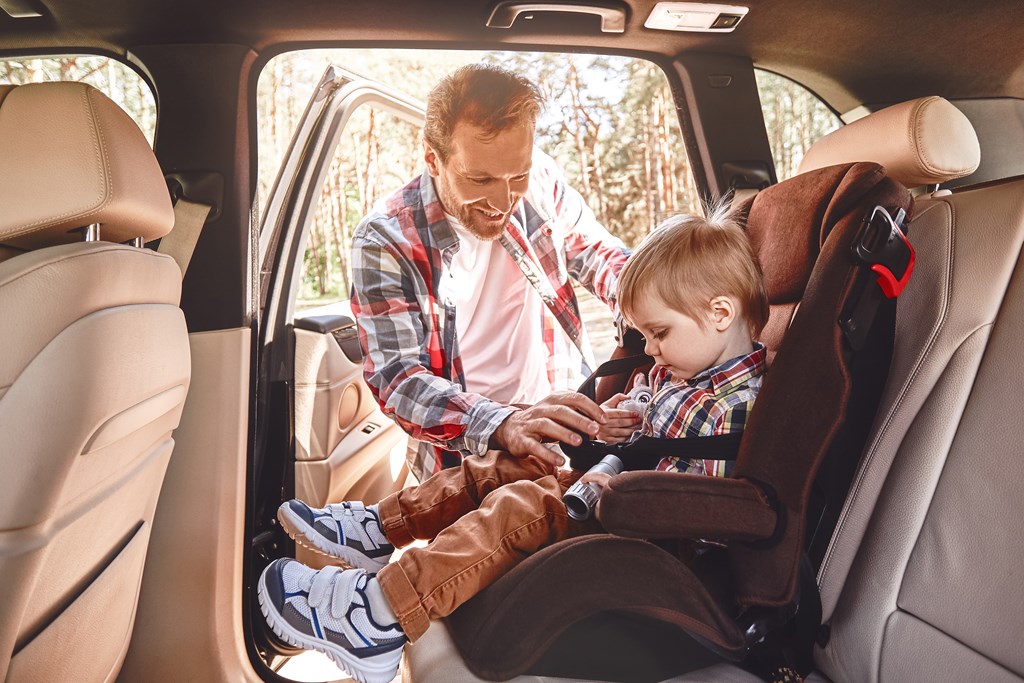 If Traveling With Kids
Road trips are an excellent way to show your child different perspectives and expose them to new places, foods and activities. To keep them entertained on the road, bring along plenty of activities and make an effort to include older children in your plans by asking questions about the places you visit and letting them help you choose the next stop.
In addition to frequent rest stops, stock your car with the following items to keep your child safe and happy:
Kid-friendly tablets with their favorite movies or cartoons
Your child's favorite stuffed toy
A coloring book and crayons
Activity books
A change of clothes
A portable diaper changing station
Prefilled bottles or a jug of water for filling bottles on-the-go
Plenty of diapers, baby wipes and baby food
Board books
Your child's favorite music
A car seat mirror so you can keep an eye on your baby while traveling
An over-the-seat organizer to keep everything sorted and within reach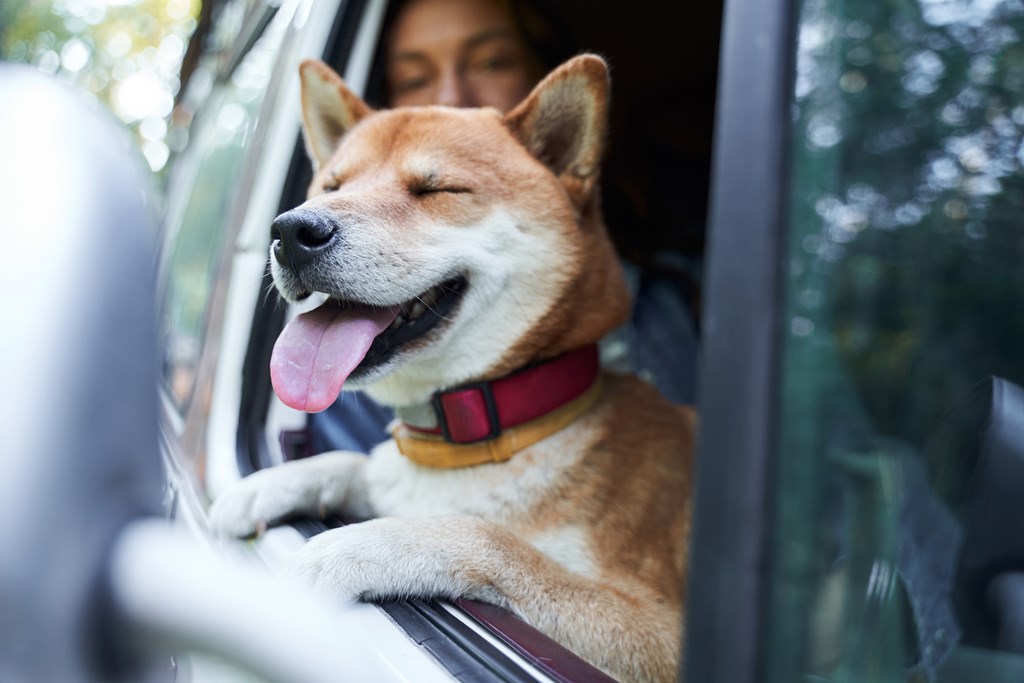 If Traveling With Pets
Traveling with your pet can be a rewarding experience. Before the trip, schedule an appointment with your pet's veterinarian to make sure they are healthy and in good traveling condition. While you are there, consider having your pet microchipped if they are not already. If they have never traveled in a car before or road trips make them anxious, try working your way up to the big day by starting with small drives around the neighborhood. Remember that pets need restroom breaks and exercise just as often — if not more — than people do, so be sure to stop regularly.
Here is what you need for a pet-friendly road trip:
A pet bed or plenty of blankets and pillows
Seat covers
A pet seatbelt
A small animal carrier, if applicable
A jug of water and a spill-proof water bowl
Treats
Chew toys
Pet ID tags
Up-to-date vaccination records
A pet first-aid kit
Pet waste bags
A leash and harness
Motion sickness or travel anxiety medication, if prescribed by a vet
Reserve a Stay at Kampgrounds of America
Take your road trip to the next level by staying at KOA Campgrounds along the way. What better way to experience what each area has to offer than by immersing yourself in your surroundings? Every KOA has clean, level and spacious campsites for every type of camper. Choose from Tent Sites, RV Sites, cabins or opt for a unique lodging experience, such as a Glamping Tent, Airstream or caboose. On-site amenities are a great way to stretch your legs and get some exercise before hitting the road again.
Visit KOA online to learn more and reserve your stay today!
---
About the Author: Kampgrounds of America
Kampgrounds of America is the largest system of open-to-the-public campgrounds in the world, with over 500 locations across the United States and Canada. Founded in Billings, MT in 1962, KOA's family of campground brands – KOA Journey, KOA Holiday and KOA Resort – today serve more than a million camping families each year. KOA is dedicated to "connecting people to the outdoors and each other" by providing people with a variety of camping experiences and the information they need to make the most of their camping trip. Read more of their camping and travel resources by visiting KOA.com/blog.