Camping with Kids – 10 Tips | Top Camping with Kids Hacks | KOA Camping Blog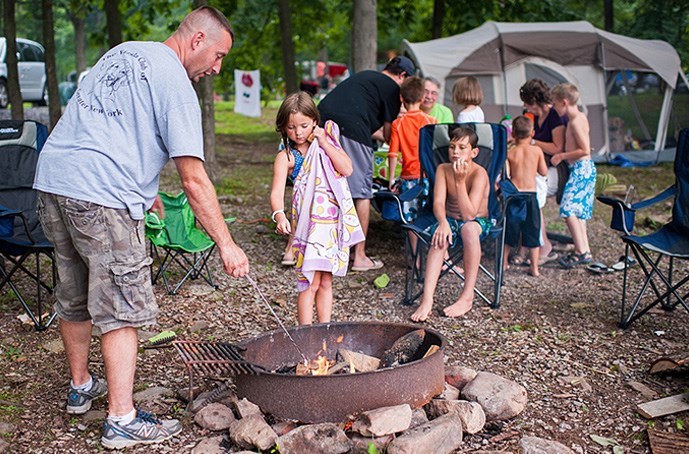 When we started taking our kids camping a few years ago, we were complete camping newbies.  We had been camping before, but never with kids.  Since then, camping has become one of our favorite things to do as a family, and we have learned a lot in the last five years. While there is no such thing as a total expert, these tips we've developed over time are a great place to get you started!
 10 tips for planning a camping trip with kids
Decide whether you will be camping in a tent, a cabin, or and RV.  When we first starting camping, we camped in a tent.  While we really enjoyed it, we decided it was just too much for us with small children, and the chance of rain always looming.  We weren't ready for a camper/ RV (I'm still working on the husband…  ), so we settled on a cabin.  We have stayed in more rustic Camping Cabins without bathrooms or kitchens, and we have stayed in Deluxe Cabins which are like small houses with all the comforts you'd ever need.  When we plan a camping trip, the very first thing we look for is cabin availability well in advance.  If you're planning on staying in a tent or an RV be sure to spend time finding the site to match your family's needs.

Photo Credit: Lorrin Sell

Consider the distance the campground is from your home. Planning a camping trip is a little different than planning another family vacation.  It's unlikely that you will be able to fly to your location because of the equipment you need to pack.  Taking a long road trip will work for some families, while others may not be ready to brave one.  How old your children are, and how they handle the car, will play a role in determining how far you're willing to drive.  Luckily, all you have to do is look around and you'll find a KOA just about anywhere you want to go!
Check out the campground activities.  When we choose a place to go camping, we put a lot of thought into what the campground offers in the way of activities.  Knowing that there are planned activities for the children, like tie dying shirts, bubble pits, or crafts ensures that there will be things for the children to do even when we don't have time to plan anything, or want to leave the campground.  Most of the time these activities are either free with your stay, or available at a very low and reasonable rate.
Pay attention to what activities are available in the area, beyond the campground.  Depending on how long you're planning on camping, you may not need to leave the campground.  However, if you're planning a week-long vacation, you are most likely going to venture out.  What does your family enjoy most?  Look for a location that will meet those needs.

Photo Credit: Lorrin Sell

Read campsite reviews.  With a variety of locations and types of campgrounds, reading reviews is a great way to find a camping location that meets your family's needs. While all KOAs welcome kids, some are more geared toward families – with the above mentioned activities and amenities – than others.  You will be a lot happier if you do a little digging before you settle on a campground.
Start planning early.  One thing that shocked me the most when we started camping was how quickly sites filled up, particularly if you have requirements.  Want a waterfront site?  Better book early!  Want a Deluxe Cabin with a bathroom?  Better book early!  Planning to bring your dog?  Better make sure those spots aren't limited.  You would be surprised how quickly a popular campground books.  A couple of years ago, we started planning our trip in February.  We weren't set on a specific week, but we did need a cabin, and we were headed to "a" beach.  We had one week, and one cabin option for the entire summer by the time we started looking.  This isn't just for cabins either, we have booked tent sites in February for the summer, in order to get a waterfront spot.
Pay attention to campground amenities, and where you are in relation to the bathroom, hiking trails, playgrounds, etc.  We are always so pleased with the amenities KOAs have to offer.  We have been to KOAs with splash pads, incredible pools, bounce pads, playgrounds, convenience stores, beautiful and clean bathrooms and wash houses.  These are all things we consider when choosing a campsite.  We also pay attention to the campground's map.  If we are staying in a Camping Cabin, or a tent, we don't want to be far from the bathroom.   We also prefer not to be close the entrance because traffic is usually heavier there.

Bonus: sign up for the KOA Rewards Program and get 10%* discount on the daily registration rate at 500+ KOA locations. As a rewards member, you'll also accumulate points that can be redeemed for dollars off your daily registration rate. Plus, for every camper who enrolls in KOA Rewards, KOA donates a dollar to KOA Care Camps.

Photo Credit: Lorrin Sell

Plan meals before you leave for your trip.  We have brought crock pot meals already prepared and ready to cook.  We have had food on the grill, or mountain pies and hot dogs on the campfire.  Planning your meals in advance will allow you to do the prep work before you leave the house for vacation, and make vacation so much more relaxing.  This is especially helpful if you are staying in a tent or a very basic cabin, where you do not have a sink or refrigerator. Need a little help planning? Try on of KOA's helpful camping menus – they can be a real lifesaver!
Pack appropriately.  It took us a long time to figure out the basics of what to pack for a camping trip with kids.  We would have saved ourselves a lot of money, and heartache, if we would have done a little bit of research and planning when it came to packing.  Some basic must-haves: tons of baby wipes, bug spray, sunscreen, plastic tablecloth for your picnic table, roasting sticks, citronella candles, a couple of toys for the kids, a lantern, extra flashlights, garbage bags, and some card games. There is, obviously, a lot more to pack, but that's a start!

Photo Credit: Lorrin Sell

Include the kids!  We love planning a camping trip for our kids.  The possibilities are endless, and there are so many amazing experiences to enjoy. So why not have the whole family join in? We have started to incorporate the kids into planning our trips.  We ask them where they want to go, and what they're hoping to do.  Of course, we have the final say, but they really enjoy talking about what they would like to do, and giving us ideas. Planning the trip should be as fun as going on it–  well, almost!
---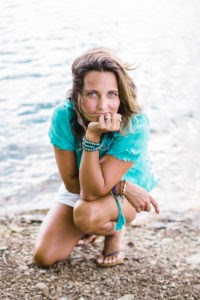 Lorrin Sell is a mom with a camera, embracing the perfect mess of life with 4 kids. In addition to creating her own striking images as a photographer of wild things, Lorrin's blog offers help to busy moms and dads who are interested in learning the craft of good photography in an easy, approachable way, as well as DIYs, recipes, tips for traveling with kids, and so much more mom-life. Learn more about Lorrin, her photography and life with kids on her website, photographer of wild things. You can also connect with Lorrin on Facebook, Instagram, Pinterest, and Twitter.
---