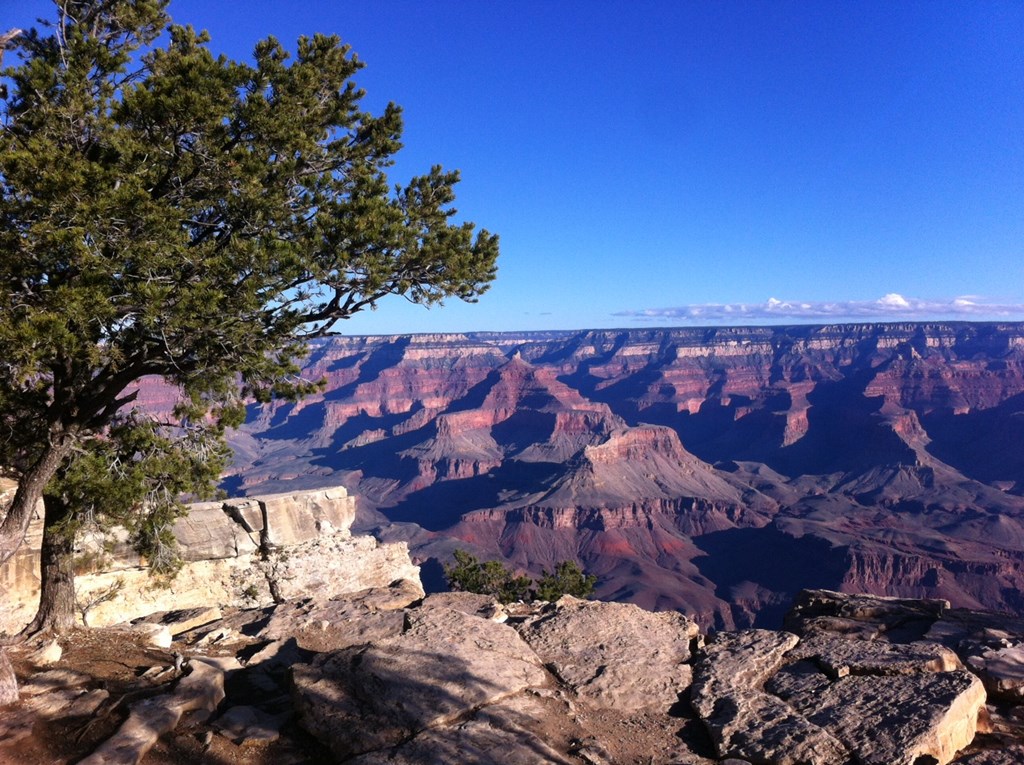 By Chris Epting
The great explorer of the American West, John Wesley Powell, said of the Grand Canyon, "The glories and the beauties of form, color and sound unite in the Grand Canyon-forms unrivaled even by the mountains, colors that vie with sunsets, and sounds that span the diapason from tempest to tinkling raindrop, from cataract to bubbling fountain."
It not only inspires, but for many of us it's still the ultimate road trip destination in the United States. Is there a more popular photographic backdrop? But just because it's one of the most popular places, doesn't mean you can't find some true peace and serenity in the Grand Canyon.
When my 21-year-old son and I hit the road recently toward the Grand Canyon/Williams KOA Journey Campground we knew we could see stops along the way. Heading east from Southern California, there are still some great Route 66 attractions, like hiking the Amboy Crater, not to mention visiting the graceful towns of Kingman and Seligman among a few others. Sure, the Mother Road is pocked and all but forgotten today. But there still something about it.
We checked into our Cabin early in the evening and planned out the next couple of days. There wasn't much man-made light by this KOA, which made for some of the best stargazing this backyard astronomer has seen in years.
We got to the South rim to watch sunrise and there was a smattering of other early-morning folks joining us. We walked several miles along the South Rim trail early that day and for the most part, we were the only ones there. What a gorgeous time of year to be wandering to the gray green ponderosa pine forests, replete with banana yucca, fragrant pinyon pine and Utah juniper. Plenty of mule deer were also wandering around along with the ever-present elk that give the place such a wild texture.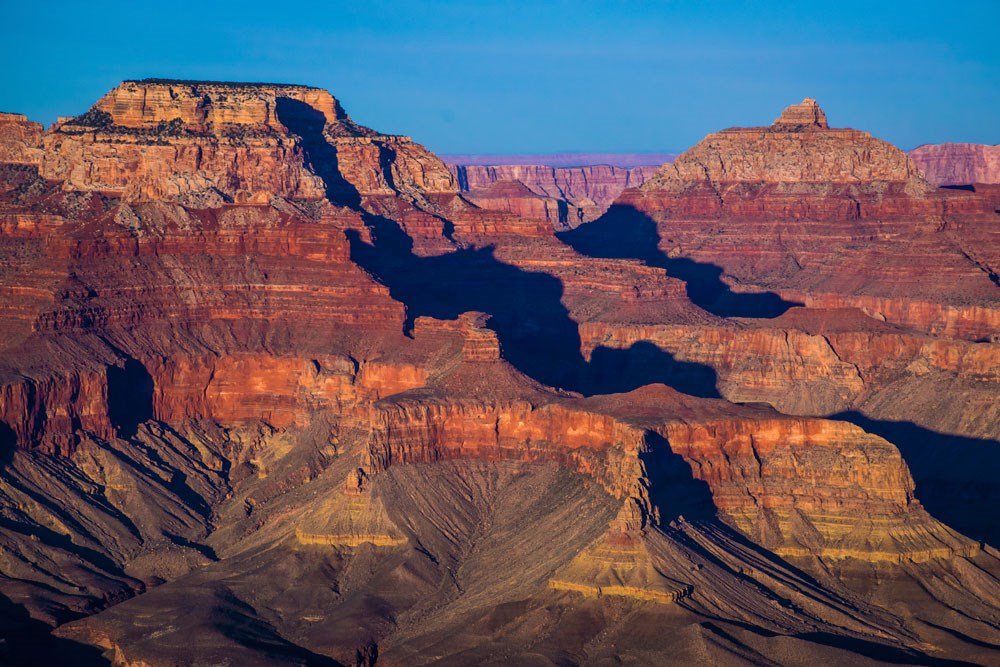 The rim trail extends from the Grand Canyon Village area to Hermit's Rest. We stayed up top this trip, enjoying some of the most spectacular views in the world. The weather was cool and comfortable and it was surreal to feel like we had the canyon to ourselves most of the day. It seems almost unfathomable that it cost just $25 to enter this majestic place and that the fee is good for an entire week. The shuttles that take visitors to outlying places such as Hermits Rest and the remarkable Desert View watchtower are free as are maps and many other services. For me, as a traveler, this may actually be the best bargain in the country.
We went back to the Canyon for another early morning South Rim hike the next day, making sure we visited each visitor center so that my son could get his National Parks stamps (which many other people seemed to be doing as well). Once again, the crowds were thin, and so many more moments felt private as the Canyon once again felt like our personal sanctuary.
The Tusayan ruins located on Desert View Drive, about 20 miles from the main visitor center, were also fascinating and it's hard to imagine a better perch to watch a sunset than the craggy sandstone ledge we found right near the Yavapai Museum of Geology, located back on the South rim trail.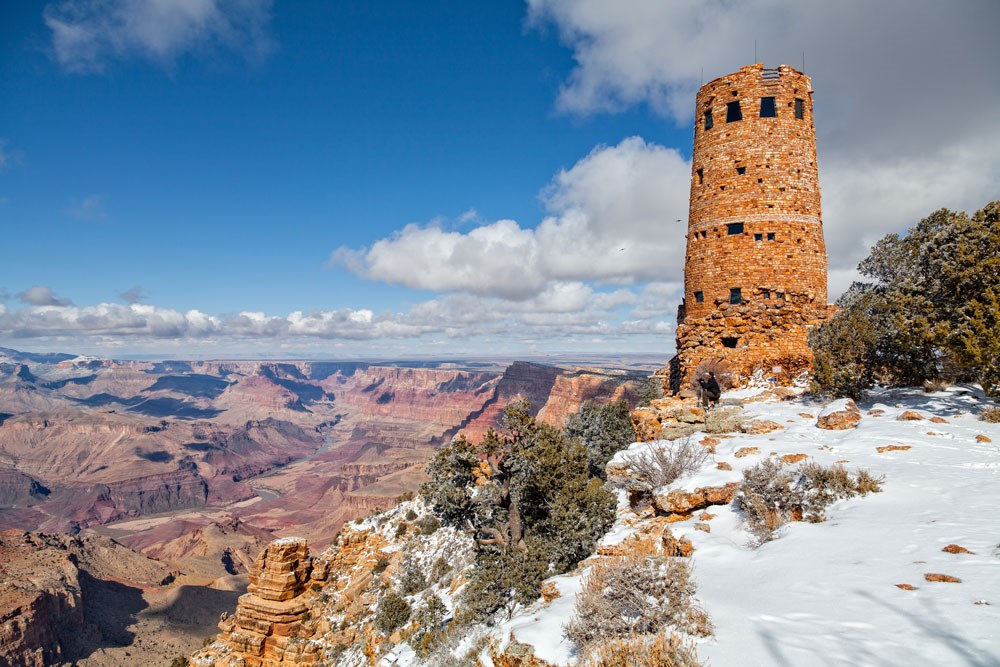 We talked about returning soon to do a hike down into the Canyon to camp for a few days. There are some other interesting places to visit in the area. We enjoyed the Planes of Fame Air Museum and headed into downtown Flagstaff for dinner one night. But this was a Grand Canyon trip and having little cabin to head back to each night that wasn't even an hour from the South Rim provided the perfect respite. There's another KOA just several miles away off of I 40 toward Flagstaff. We were thinking, these have got to be the two closest KOA locations in the country. That one wouldn't open for several weeks, and will check it out next time. But for a Grand Canyon adventure, as simple as we did it or even for those looking for something along the more rugged scale, the Grand Canyon/Williams KOA Journey is the perfect launch point/base camp. There's a gourmet fireside coffee bar, they're dog friendly and of course they can help steer you toward whatever you like with that famous KOA hospitality.
Away from the crowds, out in the great expanse of wide open space, this automatically became one of our favorite KOA adventures. It's the nearest to the Grand Canyon which matters for sure. But it's also about those blazing stars at night and the crackling fire by our cabin that were spectacular in their own ways.
View our KOA campgrounds near these great locations!
–Flagstaff KOA 
–Williams / Exit 167 / Circle Pines KOA
###
Chris Epting is an award-winning journalist, travel writer and author of 25 books including "Roadside Baseball" and "James Dean Died Here – the Locations of America's Pop Culture Landmarks." And he loves all of KOA.