Outdoor Stories: Josie Gutierrez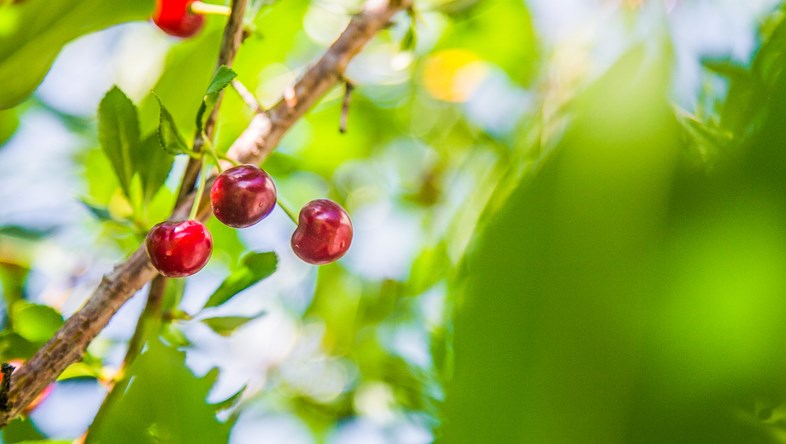 Outdoor Stories is an ongoing feature in which outdoor enthusiasts share their very personal outdoor experiences in their own words. At KOA, we believe that there are intrinsic benefits from being in nature and that the great outdoors offer endless places to explore and discover – both on the outside and on the inside.
I was recently asked to be a keynote speaker regarding "The Importance of trees within a community". The platica would cover how to support a deeper connection to the care and protection of trees and the impact of the human relationship with nature. I thought this would be perfect for me since I love them both. After all, nature is where I find myself most present and alive. So, I said YES!
I started looking for pictures of myself hugging trees, hiding behind trees, playing in trees, standing on trees and me in trees. It was no surprise that I came across plenty, haha. There was one photo that made me stop. It was of me smiling while picking a cherry from a tree. I had seen this image many times before and never thought anything about it. Thinking about my first connection to a tree for the platica, made me see the image differently. I must have been about three years old in the picture and the outfit I was wearing always made me laugh. I was immediately transported back to Traverse City, Michigan this time, where the photo was taken. Three years ago, my dad took me on the most memorable road trip to Michigan where we once again picked cherries together for no other reason than to eat them. We both smiled and laughed as he had me taste the "tart" cherry that is so unique in taste with an intense red color. They usually have a very short shelf-life and you will never find them in Texas. Just for the record, they were yummy!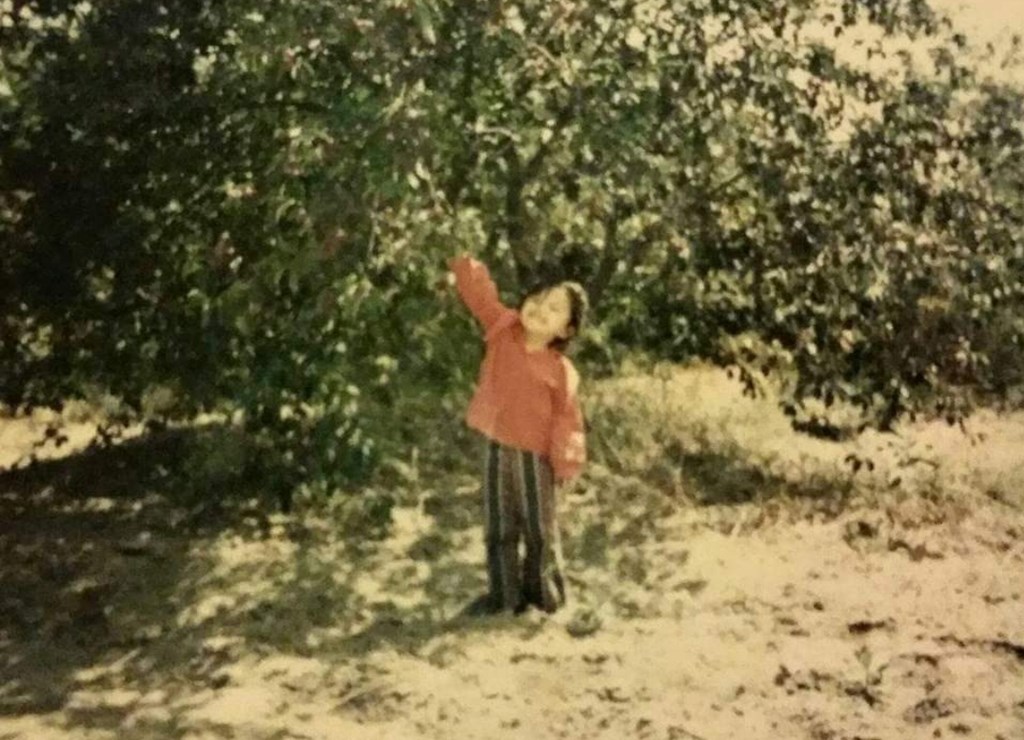 The cherry picture really took me back because I know that for me it was strictly for fun. My dad's first experience picking cherry's, was as a migrant worker from the ages of eight to 15 in Traverse City, MI. This was a way of providing financial support for his familia. He was one of the youngest of seven and everyone worked the fields, including my Abuelita. My dad Efrain remembers happy times there with his parents and siblings. This was only half of the journey the family would take from Texas to Indiana then Michigan every year till he was 15 "al Norte". His love for fruits, vegetables, travel and the outdoors were a huge part of his youth and teenage years.
My dad loved nurturing my passion for fruits and that picture of me at the age of three was a full circle moment for him. My full circle moment came later as an adult on a road trip "al Norte" with him. This time around my dad and I picked the cherries together and as he reminisced, I listened. I understood my father more and realized how impactful his human connection was to "la Madre Tierra."
My father understood the nurturing not just for nature but for his daughter. I was his first born. My parents knew each other longer than they were married. Even though my parents divorced by the time I was five, they always understood I needed the best of them both. My mom wasn't much into traveling but my dad loved the open road. My parents just wanted me to be happy and at such a young age I was traveling to Acapulco and spending the days with my Abuelita and visiting cousins in Mexico. Those road trips were the beginning of my love for travel and exploring the outdoors. There was no social media, no computers or cell phones, it was just us … familia, beautiful conversations and the open road. I loved the feel of the wind in my hair, sitting in the backseat, wrapped up in a book but always taking the time to peek out the window to see the landscape.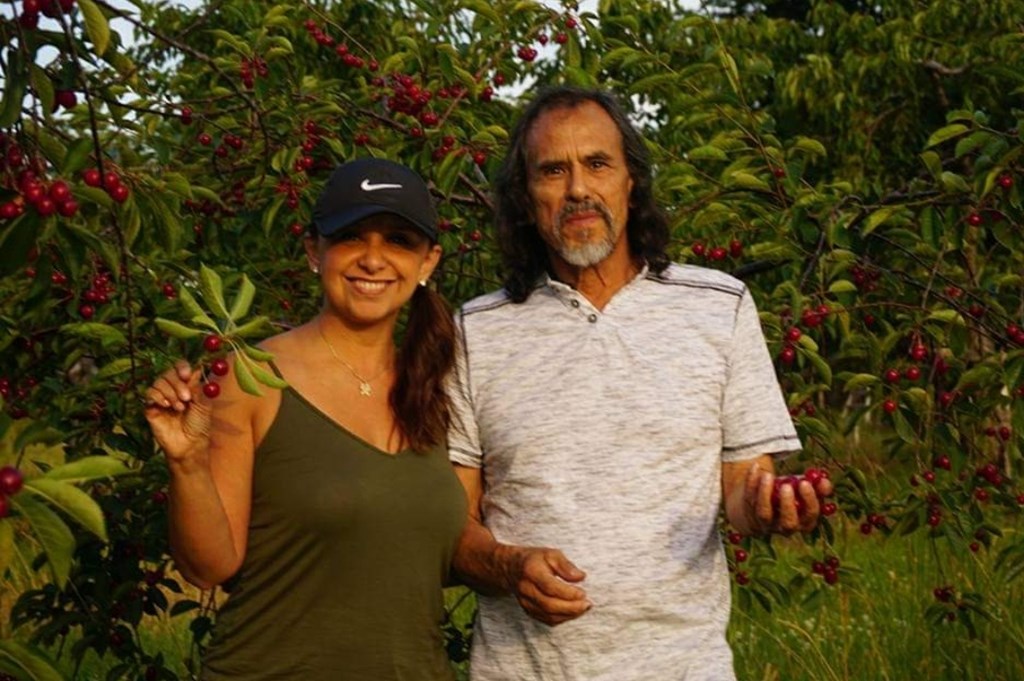 When I was with my mom the playground at the apartment complex was my nature. The parking lot and street were for bicycling. The sidewalk was for roller-skating. The grass was for creating cheerleading routines. The trees were there for us to climb. I thought I had the best of both worlds and looking back … I did. I had love. I had my family. I had my friends and I had nature. I never knew I needed more.
When I was twenty, I had a beautiful friend introduce me to Garner State Park in Texas. She told me her family would go camping every summer and suggested a road trip. She said the magic words "road trip." We arrived at Garner State Park late in the evening and it was hard to see anything. I was curious about camping because this was foreign to me and not something any of my friends or family had ever done. We arrived so late that we didn't set up a tent and ended up sleeping in her car. When the sun rose, so did we, and I was not a morning person, lol. I saw trees, hills, and happy campers all around us. The birds were chirping as we walked a small hike to the Frio River. I stood there mesmerized by what I saw. The prettiest and clearest river, surrounded by the most magical trees I had ever seen.
This was forever a moment I would never forget. I instantly knew I would find my way back, again and again, and I did. My friend lost her life 5 years after our first trip to Garner State Park and it was hard to go back for a few years. When I became a mother, I knew I had to return and give this special gift of nature to my girls. This was only the beginning.
Then in 2015 I had more time on the weekends and knew I was ready to expand my outdoor adventures. I even started a blog on fitness, fun and … life. On this journey I discovered the organization Latino Outdoors. They were fairly new and were focused on the Latino narrative in the outdoors. They were looking for Ambassadors and before you knew it, I became the local one for San Antonio, TX.
We host a variety of outdoor events but my favorite is our yearly camping trip to Garner State Park. It is a full circle moment of giving back what I was given many moons ago. The power of la Madre Tierra.
---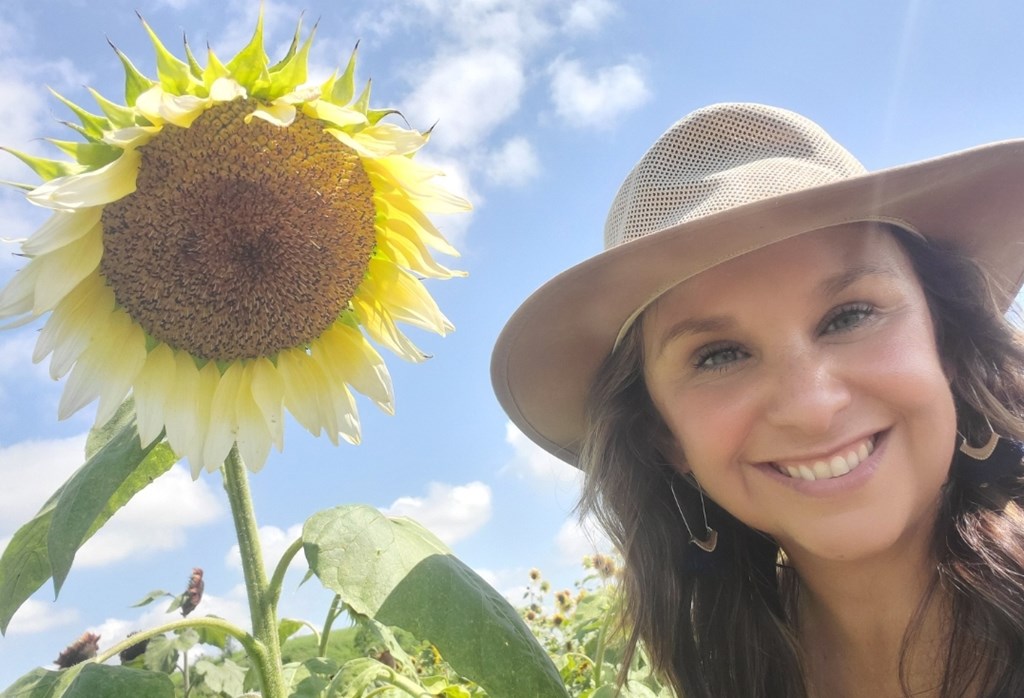 Deeply rooted in the Latino community, Josie has had a lifelong dedication in celebrating the love of her heritage. Josie has spent decades connecting to nature and loves nothing more than to share her love for the outdoors with her family, friends, and community. On any given weekend you will likely find Josie afuera, learning and exploring. Born and raised in San Antonio, TX Josie has a wonderful outdoor playground, the Texas Hill Country. Openly sharing each step of her life's journey, her intention is to awaken the childlike wonderment in all of us.
---