If you're searching for the perfect hiking companion, you don't have to look further than your four-legged friend. Dogs of all sizes love the great outdoors. After hitting the trail with your pooch in tow, they'll be eagerly wagging their tail every time they see you pull on your hiking boots. Before your next hiking adventure with your dog, it's important to be prepared with the right gear — not just for yourself, but for your beloved pup as well.
Dog Hiking Gear to Consider Before You Hit the Trail
When it comes to hiking and camping gear for dogs, there are tons of options available online. Narrowing down your dog hiking gear list can feel like a daunting task, which is why we're here to give you our picks for the dog hiking essentials you should consider. Each item on our list will help ensure the security and safety of your beloved trail hound.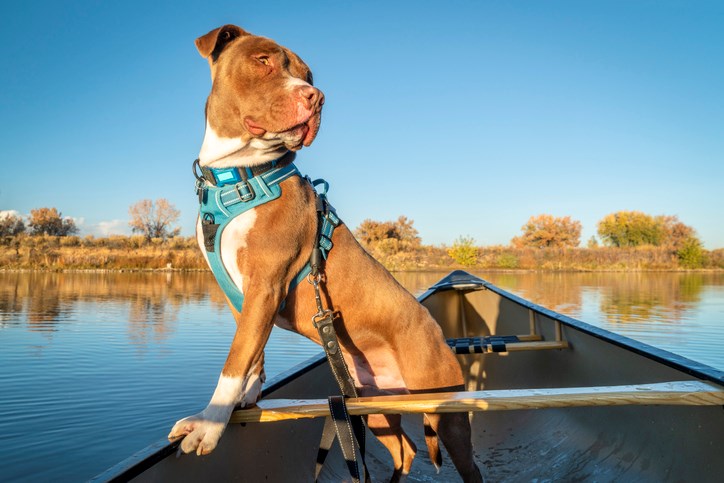 1. Hiking Harness
A canine hiking harness is usually made of colorful material that can be seen from a distance so that your pooch is highly visible on the trail. They're also designed to be durable and comfortable, enduring any adventure you've got planned without causing inadvertent chafing or pain.
Add a reflective collar or small light to protect your pup if you're planning a night hike.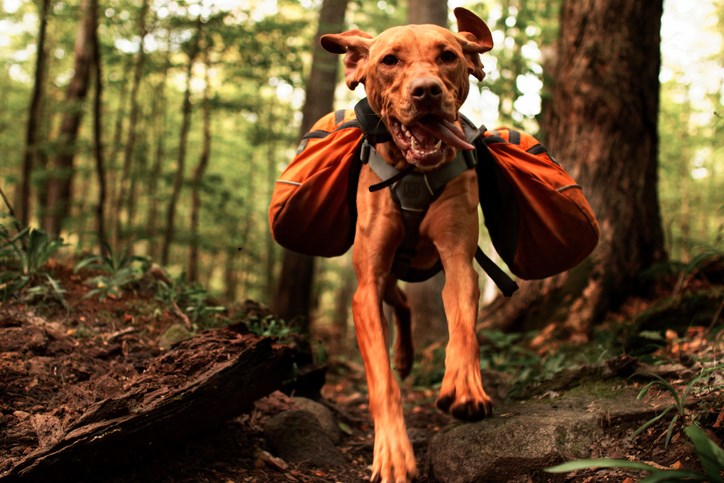 2. Dog Backpack
Chances are, you have enough gear to lug without adding the supplies your doggie needs. Dogs love to help, and with a dog backpack, they can carry their own supplies during your hike. The best dog hiking backpacks are designed to serve as a dual-purpose hiking harness. Always check manufacturer information, or talk to your dog's vet, to determine how much your dog can carry based on their breed, age and size!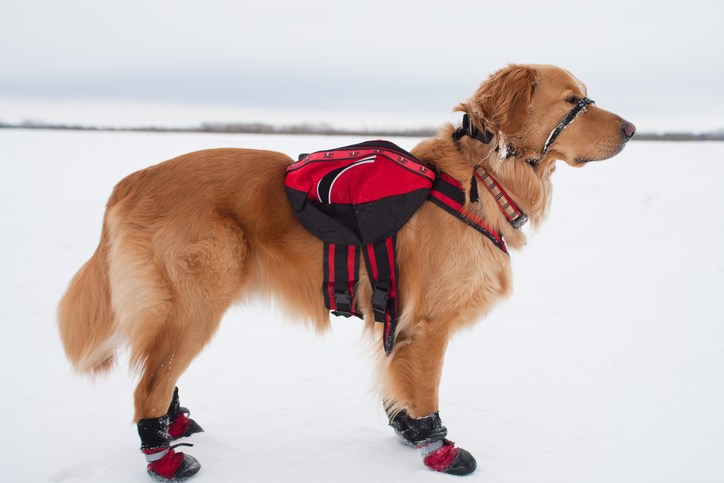 3. Booties
Just like our feet, your dog's paws can be sensitive to adverse weather conditions and rougher terrain, especially if your pup isn't used to walking outdoors. If you're planning a cold-weather hike or expect rougher footing conditions, protect their tootsies with specially designed dog booties.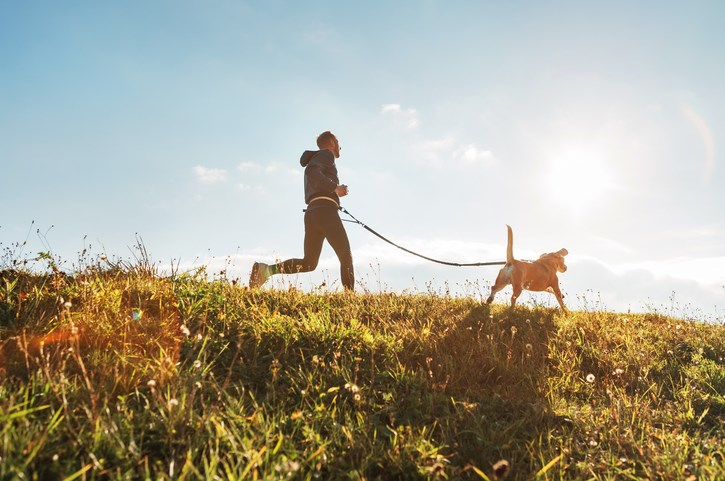 4. A Durable Leash
Hiking outdoors is often a bit rougher than your daily dog walk. A durable leash made of leather or nylon can withstand the rigors of the trail and keep your pup from chasing after wildlife or greeting approaching hikers too eagerly.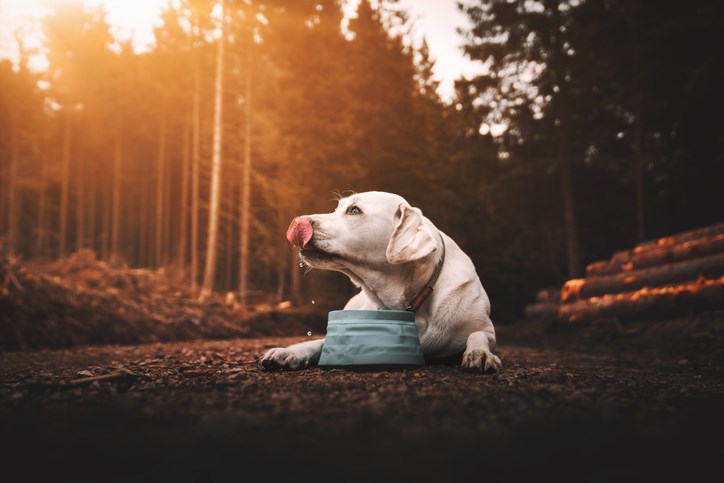 5. Portable Water Bowl and Food
Humans aren't the only ones who need to stay hydrated on the trail. Bring extra water and a collapsible water bowl for your pup, and stop for periodic water breaks along the way. If you're planning an extended hike, bring along your dog's food as well.
6. Poop Bags
Just because you're out and about in the great outdoors doesn't mean you can just leave your doggie's business where it lies. Bring along some disposable poop bags, and take your dog's waste with you until you find a proper trash receptacle. If you're roughing it and don't expect to encounter many trash cans, pack a small spade and bury the poop. Respect the beauty of your surroundings and leave no trace.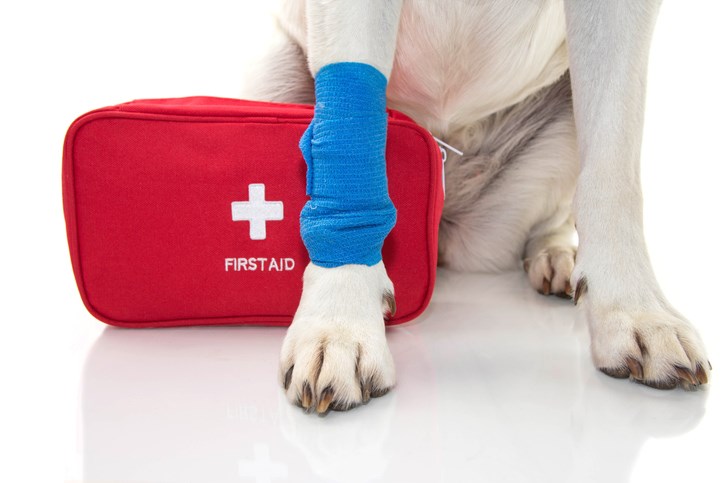 7. Animal First Aid Kit
Safety first! From cracked paws to cuts and scrapes, the outdoors can present many dangers to your four-legged friend. Be prepared with a first aid kit stocked with everything you may need for a doggie medical emergency.
Your first aid kit might include items such as gauze, non-stick bandages, cotton balls, antiseptic or antibiotic spray, scissors and tweezers. Check with your vet for any other first aid kit recommendations!
---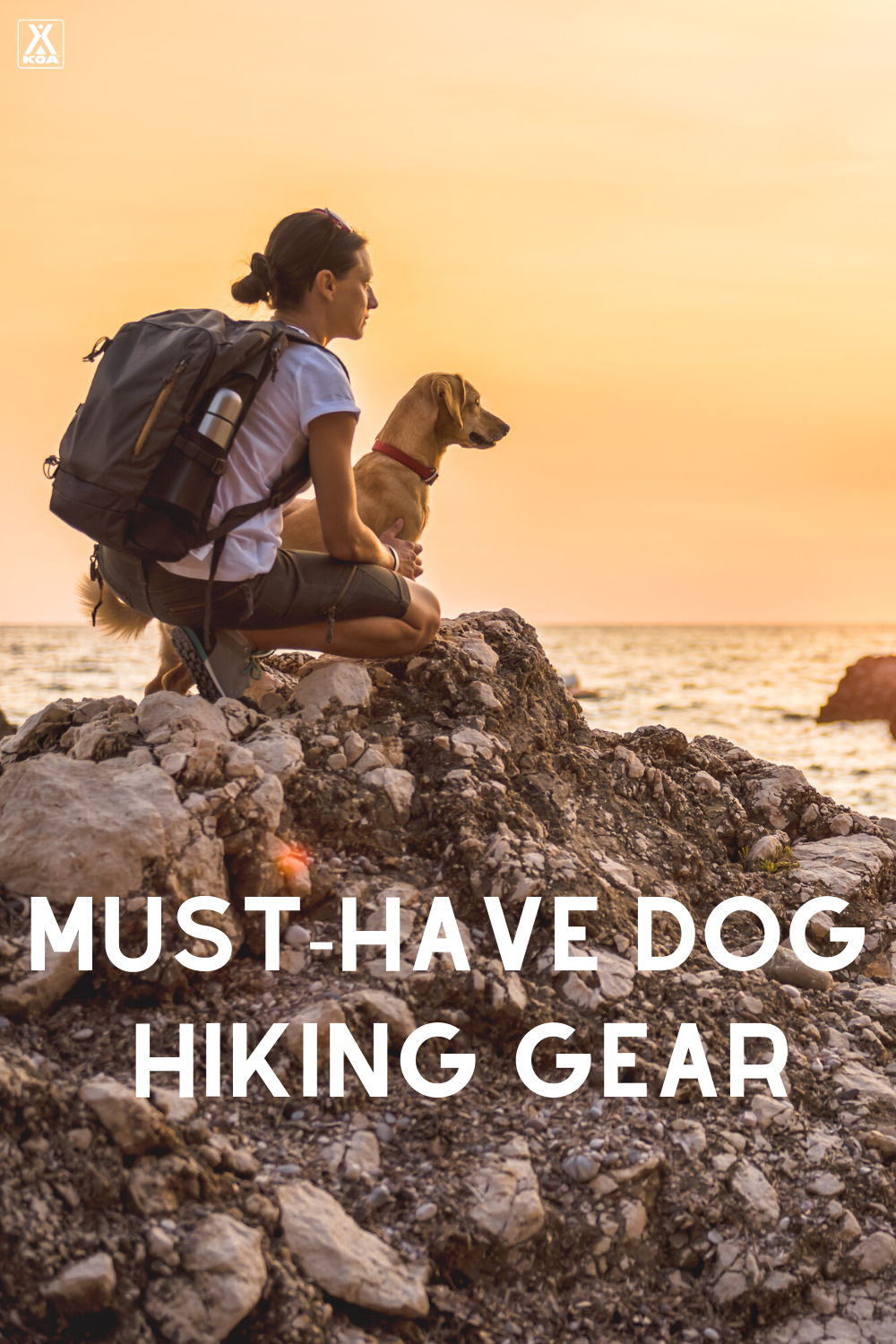 Kampgrounds of America, Inc is a participant in the Amazon Services LLC Associates Program, and affiliate advertising program. Some links may be affiliate links and Kampgrounds of America, Inc may get paid if you buy something or take an action after clicking one of these links.
Prices are accurate at time of publishing. Note that are subject to change at the discretion of Amazon or their marketplace sellers.