Breakfast or dessert (or anytime to be honest), these tasty Nutella s'more pancakes are perfect for campers with a sweet tooth.
Nutella S'more Pancakes

Ingredients
2 cups flour
2 Tbsp sugar
1/2 Tbsp baking poweder
1/2 tsp baking soda
Pinch of salt
2 eggs
6 Tbsp butter, melted
1 cup milk
1 cup buttermilki
1 tsp vanilla
1 jar marshmallow cream
1 small jar of hazelnut spread – such as Nutella
Chocolate sauce
4 graham crackers, crushed
12 marshmallows, toasted
Directions
Combine first five ingredients in a bowl and mix to combine. Add eggs, butter, vanilla, milk and buttermilk and whisk until well combined to make batter.
Heat griddle or griddle grate over coals. Spoon batter onto griddle to form pancakes. Spoon one teaspoon fluff and one teaspoon hazelnut spread onto each pancake once they begin to bubnle. Top each pancake with an additional 1-2 tablespoons of batter. Flip pancakes and cook another 30 seconds.
Top pancakes with chocolate sauce, a spoonful of marshmallow cream, crumbled graham crackers and a couple of toasted marshmallows.
Makes 4-6 servings.
---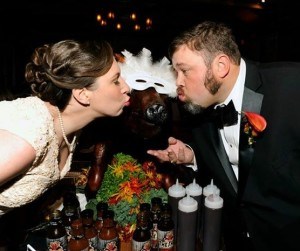 Ken and Jessica Hess are traveling the country to share their love of all things barbecue with the world. From Alabama, Ken is associate pitmaster at Big Bob Gibson BBQ and a seasoned barbecue competitor. Amassing many titles and trophies, Ken has won the World Championship of Pork four times.
---