KOA NEWS SERVICE (April 2014) – Most campers have a tent somewhere in their past. Maybe you're still one of the millions of North Americans who can't wait to retrieve your favorite nylon shelter from the garage this spring and hit the woods.
We, at Kampgrounds of America, have always loved our tenters. More than 10 percent of our guests like to "pitch it" at their favorite KOAs.
You might think the "latest thing" in tent design still involves stakes, poles and "shock cords." But innovative design is alive and well in the tent business. We decided to take a look at some of the most unusual, cutting-edge tent designs we could find — just for fun.
Where we could, we'll tell you where to find more information on the designs.
Here's our "pitch" for the latest in tents: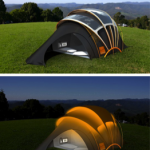 Solar Orange Concept Tent – This tent, from the UK telecom giant Orange, uses photovoltaic fabric panels to capture the sun's energy for use throughout the tent to power lights and gadgets. It even powers a wireless internet signal and heats the floor automatically when the temp falls below a preset level. Yeah. It's cool. Click Here to find out more.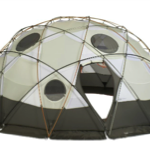 The Stronghold™ – If traditional tents make you nervous when the weather gets rough, maybe The Stronghold™ is for you. This dome shelter from Mountain Hardwear can sleep 10 and is engineered to minimize wind load. This is a favorite for those attacking Kilimanjaro. It's one tough tent. But bring your checkbook. It starts at $3,500 at the Mountain Hardware website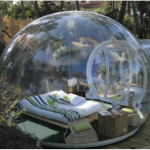 Bubble Tent – OK. This is really out there. If privacy isn't your thing, check out the Bubble Tent from French company Bubble Tree (www.bubbletree.fr). It's big, and you can even furnish it like an outside room. Bring about $600.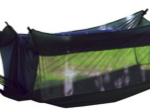 Hammock tent – For campers who prefer to hang from the trees, we've got a couple of offerings. First, there's the Texsport Wilderness Hammock. This "tent" has a rainproof roof and is completely surrounded by mosquito netting. The sleeping area is cotton canvas and will hold up to 250 pounds. It's available on Amazon.com.
The Co
coon Tree Tent – This spherical structure is made of an aluminum frame covered by a waterproof tarpaulin and is designed to hang in trees. It only weighs about 50 pounds and is secured by ropes and nets. The makers call it a "cabin in a tree." You can find out more, including a list of current distributors, by clicking HERE.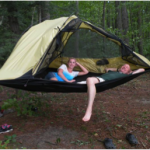 Treez Tents – OK. Just one more tent if you want to sleep off the ground. TreezTreeTents.com has several models that suspend off the ground. They are all – well – cool, and they can sleep a family of four. That's four… suspended in the air! Inventory Timothy Steiner did a wonderful job of making a very different, yet very usable tent. The Aelph Omega version is 9x9x9 and weighs in at about 12 pounds. You can take a look at the entire collection HERE.
Decagon Link Station – From Japan company Logos comes this modular tent design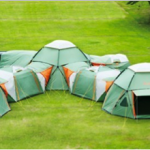 that lets you add and subtract modules to meet your needs. There are even modules that attach to the back of your car or SUV. You might feel a bit like a hamster in this setup, but think how cool the kids will think you are on a rainy camping day. You can find out more about this unusual tent "community" HERE.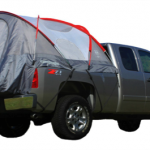 Truck Cab Tent – So, you've got the pickup truck, but aren't in the market for an RV to pull. How about a tent that fits in the back of your ride? The Rightline Gear CampRight Truck Tent gets you in a tent, but off the ground. There are no stakes, tarps or guy lines. It has just straps and buckles that won't scratch your paint. It has a floorless design that lets you slip in an air mattress and not have to unload the bed of your truck to get things set up. It's available at Amazon.com.
Bikamp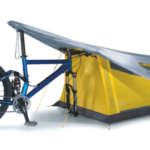 er – When summer comes, every KOA sees hard-core bicyclers who love to take to the roads for an extended cross-country tour. The Topeak Bikamper One-Person Bicycling Tent actually uses the bike's frame for part of its support. It weighs just 3.5 pounds, and packs down to a small stuff sack that straps to the handlebars. Order from Amazon.com
JakPak Jacket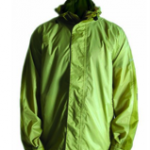 Tent – If packing a tent around doesn't appeal to you, how about wearing one? The JakPak Tent Jacket is a raincoat that actually unfolds to become a waterproof tent shelter for one. Yeah, it looks a bit odd, but that's what we told you we were going to be looking for, right? There's even mosquito netting to keep the bugs away. You can see how it all works by viewing videos at the JakPak website. You can order it for your very own at the same website for $199.99.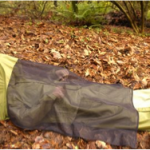 Heimplanet Cave Tent – If you're a tenter who just can't seem to figure out those darn poles, maybe an inflatable pole tent is for you. Heimplanet's "The Cave" tent comes in a single piece. The inflatable-pole skeleton has five separate chambers, and the near vertical walls give you 54 square feet of floor space. Just pump up the "poles," and you're all set. It's all available at Heimplanet.com for about $669.
Zaltana Pop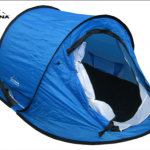 Up Tent – And finally, how about a tent that you just throw into the air and it lands, completely set up? It comes packed in a round "stuff sack." Just take it out and chuck it. It lands on the ground ready for you to climb in and start sleeping. It sleeps three people, and with a little practice, you'll be able to get it back in the storage sack, we promise. This pop up tent is available at Zaltana's Website.
Save