Muffin Tin Brunch Recipes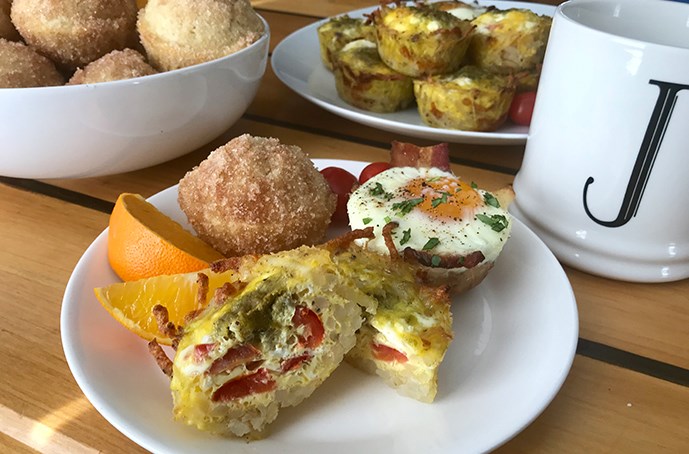 Please a crowd with three easy muffin tin recipes. Make on or make all three for a yummy brunch buffet.
Pesto Goat Cheese Hash Brown Nests
Ingredients
1 20oz package of refrigerated hash browns
4 Tbsp butter, melted
1/2 cup shredded mozzarella
2 tsp Italian season, such as Dizzy Pig's Mediterranianish
Kosher salt
Black pepper
1 pint grape tomatoes, quartered
3/4 cup crumbled goat cheese
1/4 cup pesto
12 large eggs
cooking spray
Directions
Preheat oven to 350 degrees. In a bowl combine hash browns, melted butter, mozzarella and Italian seasoning. Season to taste with salt and pepper.
Spray a regular-size muffin pan generously with non-stick spray. Divide potato mixture evenly between the cups and press down to cover the bottoms and sides of each cup. Bake for 18-20 minutes, or until potatoes begin to brown.
Add 4-6 tomato quarters, one tablespoon of goat cheese and one teaspoon of pesto to each potato nest.
Scramble eggs and season with salt and pepper. Pour eggs into each nest to cover tomatoes and cheese before baking an additional 18-20 minutes, or until eggs are set.
Makes 12.
---
Open-Faced Bagelwiches

Ingredients
6 plain mini bagels
6 slices smoked cheddar or Gouda
6 slices thick cut bacon, cooked and cut in half
12 eggs
Scallions and/or Italian parsley
Cooking spray
Directions
Preheat oven to 305 degrees. Spray muffin tin with cooking spray. Press half of a mini bagel into each cup, flattening slightly. Top with half a slice of cheese, half a strip of cooked bacon and one egg. Season to taste with salt and pepper.
Bake for 16-18 minutes for medium, or until eggs are cooked to desired doneness. Remove bagelwiches from muffin pan and garnish with chopped scallions or Italian parsley.
Makes 12.
---
Cinnamon Sugar Donut Muffin

Ingredients
2 3/4 cups all-purpose flour
1 cup granulated sugar
1/4 cup cornstarch
1 Tbsp baking powder
1/2 tsp ground nutmeg
1 tsp salt
1/4 tsp ground allspice
1 cup buttermilk
8 Tbsp unsalted butter, melted
2 large eggs plus 1 yolk
cooking spray
Coating
1 cup sugar
2 tsp ground cinnamon
8 Tbsp unsalted butter, melted
Directions
Preheat oven to 375 degrees. In a bowl, combine flour and additional dry ingredients. In a second bowl, combine buttermilk, butter and eggs. Slowly add egg mixture to flour mixture and whisk until fully incorporated.
Spray muffin pan generously with cooking spray. Fill cups 2/3 full with batter. Bake for 15-17 minutes, or until a toothpick inserted in the center comes out clean.
Set up two bowls – one with melted butter and the other with cinnamon and sugar. Remove cooked muffins from pan and, working one at a time, coat each with melted butter, then roll in cinnamon sugar.
---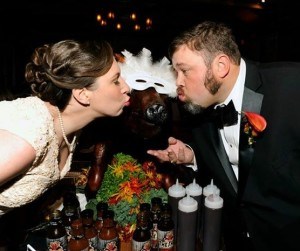 Ken and Jessica Hess are traveling the country to share their love of all things barbecue with the world. From Alabama, Ken is associate pitmaster at Big Bob Gibson BBQ and a seasoned barbecue competitor. Amassing many titles and trophies, Ken has won the World Championship of Pork four times.
---