A hearty breakfast full of the good stuff is a must when you're camping. This easy cast iron recipe from Lodge is sure to fill you up for a day of campground fun.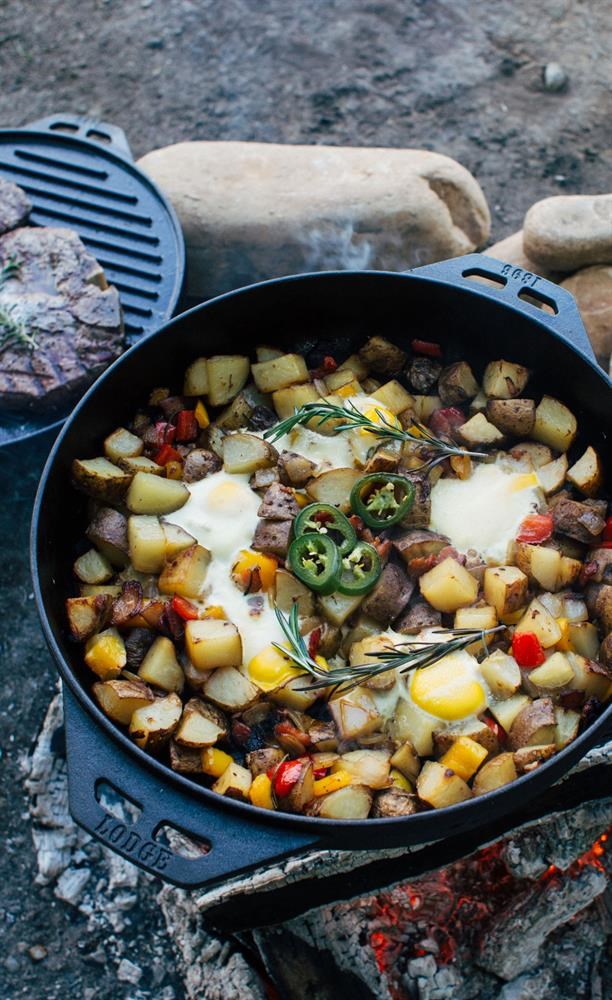 Ingredients
1 pound bacon, diced
4-6 potatoes, half inch cubes
2 tablespoons olive oil
1 yellow onion, diced
1 red bell pepper, diced
1 green bell pepper, diced
2 tablespoons garlic, minced
4 eggs
1 jalapeño, sliced salt & pepper
Directions
Set the Cook-It-All's skillet/wok in a bed of coals. Preheat to medium-high heat.
Cook bacon 3⁄4 of the way through (3-5 min).
Remove to a paper towel lined plate.
Add cubed potatoes to bacon grease along with 2 tbsp. of olive oil. Cook, stirring occasionally, until starting to brown (12-15 min).
Add onion, peppers and garlic. Mix well, cook until softened (10 min).
Sprinkle bacon into skillet and stir.
Crack eggs evenly over the hash.
Place the Cook-It-All griddle on top of skillet/wok and cook until yolks are at desired temperature.
---
Since 1896, Lodge has been creating quality cast iron products in Pittsburg, Tennessee. What might seem as humble beginnings has lead to the company becoming a leader in the kitchenware industry. Known in homes and kitchens around the world, Lodge continues to innovate and create new products for home cooks and professionals alike.
---