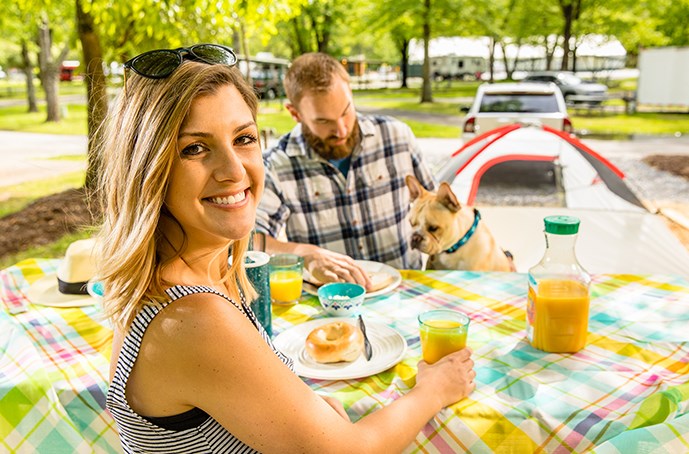 Contemplating what to get mom for Mother's Day this year? If your mom likes camping or RVing, this list is for you! Take a look at our ultimate guide for Mother's Day camping gifts and you're sure to make mom a happy camper.
Chances are good that your mother is one of the most important people in your life.
And, with Mother's Day just around the corner, that also means chances are good you're feeling a bit of pressure to find the perfect gift for her.
Choosing something to give your mom for Mother's Day is an art — it's all about finding a gift that strikes the perfect balance between something that she'll get a lot of use out of, but that isn't a boring and practical item she'd buy for herself.
You've likely already spent some time trying to brainstorm the perfect gift for your mom, and haven't been able to come up with that one thing that really sings to you.
Instead, make it easier for yourself by following these two steps:
Think about what your mom enjoys doing. Is it camping? Hiking? Spending time outdoors? If so, then move onto step #2.
Rely upon our gift guide to find something she's sure to love.
We've handpicked our favorite items that will cover gift giving for the mother who enjoys camping, hiking, and spending time outdoors.
So, take a look at what our Mother's Day gift picks are below, and simply click on the link to shop.
This guarantees you'll be stress-free about what to get for your mom, and instead spend the time appreciating her wonderful existence.
GoPro
GoPro HERO5
Whether your mom is an adventurous outdoors fan who'd love to see the helmet cam footage of her hurling down a giant waterfall in her kayak, or if she's more relaxed when outdoors and would love seeing the wildlife footage as she walks through the forest, your mom is going to love getting a GoPro HERO5. This small, easy-to-pack, and easy-to-carry camera is also waterproof, so your mom will not have to stress about getting it wet. Plus, the user-friendly simplicity of the camera makes it something less tech-savvy moms love. With this camera, she'll be able to capture videos, photos, burst photos, as well as the wonders of nature one can only see via time lapse photos.
Price: Starting at $150
---
Suja Essential Oils
Saje Essential Oils
Essential oils seem to be making a comeback, but chances are good your mom knows all about them from the last time they went mainstream — back when she was young. However, there's been a major upgrade with essential oils, and there are more scents available than ever. Your mom will love throwing some of these into her backpack when heading out camping for a variety of uses. From simply smelling nice to health/beauty uses; from medical purposes to bug repellant, you'd be amazed at the incredible things essential oils can do. Pick out some scents you think will be her favorite, and that will double as great ones to have while she's adventuring outdoors.
Price: Varies
---
Chacos
Mega Z/Cloud Chacos
Perfect for days spent at the river or walking around, your outdoor-loving mom is going to go crazy over a new pair of Chacos. She's especially going to love this new style of the famous sandal, the Mega Z/Cloud. With extra cushioning, she'll be able to walk for hours without worrying about her feet hurting. In addition, this particular style offers nearly 30 mm of webbing for a truly customized and comfortable fit. Plus, the trusty ChacoGrip will ensure that your mom stays safe when things get slippery near the water.
Price: $115
---
Pendleton
National Park Pendleton Blanket
A wool blanket is something that is a must for all outdoor travelers. Great to have for bundling up on a cold night, to use as a picnic blanket, as well as a comfy spot to sunbathe, your mom will get a great deal of use and love out of a quality wool blanket. And, if you're looking for the best quality, you'll want to go with a Pendleton blanket. How about you make it extra special for your outdoorsy mom, and gift her one of Pendleton's National Parks blankets? With the highest quality of virgin wool, and made right here in the U.S., your mom will love this comfy, yet durable blanket to use for all her outdoor needs.
Price: Varies
---

Value Kard Rewards
Give your mom a gift that will keep giving back to her —  KOA Value Kard Rewards. With this card, your mom will enjoy a variety of benefits including 10% off daily site fees, reward points to use on future camping trips, a free night of camping during KOA's Value Kard Rewards Appreciation Weekend, access to thousands of dollars in coupons via the KOA Coupon Savings Program, and so much more. Your mom will also gain access to exclusive offers from KOA partners like Dish TV, Geico, and Route 66. This is a gift that has a lot of bang for its buck.
Price: $30
---
Journo
Happy Camper Enamel Mug
You mom is likely no stranger to coffee, and every coffee lover knows that your morning (or afternoon) coffee is even more enjoyable when you have a great cup to drink it out of. This Happy Camper enamel mug is the perfect gift for your camping mom. Not only is it lightweight and super easy to pack, it is also incredibly durable and will be able to withstand a bit of a beating from the outdoors. Plus, the fun design is something that will bring a smile to your mom's face, and she deserves that, doesn't she?
Price: $17
---
Lamzac
Lamzac Camping Chair
Yep, you read that right — an inflatable chair. Trust us, your mother is going to get great use out of this gift. Built specifically for the outdoors, this chair is incredibly easy to set up, and provides wonderfully comfortable seating for up to wo people. You can inflate and deflate it in a matter of minutes, and it packs up into a small package that makes it easy for your mom to take with her wherever she'd like. This particular brand is made of durable, rip-stop nylon so your mom doesn't have to worry about taking it outdoors.
Price: $60
---
REI
Petzl Tikkina Headlamp
Even if you mom is not into spelunking, she'll have plenty of reasons to love this headlamp. The perfect companion for any outdoor adventuring, this Petzl lamp is compact, lightweight, and easy to use. With three levels of brightness achieved by pushing a single button, your mom won't have to fuss with figuring out how to turn it on. Plus, this one is water resistant, so if she gets stuck in the rain, the headlamp will help guide her through. Whether she's on a walk, reading a book, or setting up a late-night campfire for s'mores, your mom will be thankful she's got this headlamp by her side.
Price: $20
---
Bed Bath & Beyond
Picnic at Ascot Picnic Basket
Though your mom may not take this camping with her, she'll be able to enjoy it during a spontaneous trip to the park for a picnic. This insulated basket has plenty of room to store delicious food and some wine, and will surely keep it all cool. The handles on the basket make it easier to carry than your average picnic basket, without sacrificing the chic factor. The waterproof, leak-proof lining makes for easy cleanup as well. With this basket, picnicking is sure to become your mom's new favorite activity.
Price: $47
---
Smith
Smith Collette Sunglasses
These sunglasses are ideal for your adventuring mom. Made specifically for women, they will provide her with great functionality, while also being fashionable. Your mom will also love the Chromapop lens technology that helps cut back on eye fatigue while at the same time clarifying her vision. Even better, these glasses are part of Smith's Evolve series which is the world's largest eco-friendly sunglasses collection, and are made of 53% bio-based materials. But don't let that fool you — these sunglasses, though lightweight, are surprisingly durable.
Price: $169
---
REI
Trigger Point Performance GRID Foam Roller
Whether camping or at home, your mom will get some great benefits out of this foam roller. Recovering from a long hike through the woods will be much easier when she's got this foam roller to help her soothe her tight muscles and get her blood properly flowing again. It's small enough to bring camping, or wherever your mom's adventures may take her. Weighing less than 2 pounds, it's incredibly lightweight too, and comes in a fun bright orange color. Though not typically something you think of getting for your mom, this unique gift will be one she finds herself using quite a bit.
Price: $40
---
Zappos
Baffin Crush Booty
These slippers that are essentially a sleeping bag for the feet, will go onto your mother's feet  and likely never come off. She can wear them while camping, around the house, and wherever else she'd like. Their warmth is unparallelled, and the level of comfort is too high to ever enjoy any other slippers. If your adventurous mom is camping out in the cold, she can use these slippers inside her sleeping bag to keep her feet extra warm. Available in a variety of colors, your can even get her a couple of pairs — one for home and one for camping. They're incredibly light and packable, and are easy to roll up into a bag to take anywhere.
Price: $36
With the wide variety of gifts above, you're sure to find something that is perfect for your one-of-a-kind mom perfect for her next camping adventure. (You probably found a thing or two to order for yourself, too!) So have fun shopping, and enjoy the look on your mother's face when she opens up your carefully-picked, well-researched, and incredibly thoughtful gift.
---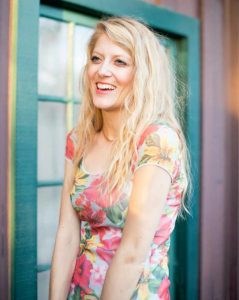 Leslie, a.k.a. Copy Girl, is a copywriter who gets butterflies from telling stories through words.
Her voice comes from a place filled with passion, dreams, and lots of sugar. "Cake over steak" is her go-to motto.
With over 10 years of experience in crafting words, and years of embarking on travels that have taken this Montana girl to some incredible places, Leslie love the adventures of both body and mind her writing takes her on.
Everywhere she goes, she takes this advice with her:
"Hold on to your divine blush, your innate rosy magic, or end up brown." – Tom Robbins, Jitterbug Perfume
To see what Leslie's up to in the writing world, visit her website here.
---