Grill up a healthy – and yummy – dinner packed with Asian flavors.
Ingredients
Dressing
2 Tbsp soy sauce or tamari
1 Tbsp turbindo sugar
2 Tbps rice vinegar
1 Tbsp sesame oil
2 tsp freash ginger, minced
1 Tbsp sambal oelek (chili paste)
Slaw
1 bag slaw mix
3/4 cup green onions, sliced
2 Tbsp fresh  mint, roughly chopped
Prepared dressing (or Asian-inspired dressing of choice)
2lbs sirloin steak, cut into 3/4″-1″ cubes
3 Tbsp butter, melted
2 Tbps miso paste
2 Tbsp sesame oil (if searing steak in pan)
2 heads butter leaf lettuce, separated into leaves
Mao Ploy (sweet chili sauce)
Fresh mint, for garnish
Toasted sesame seeds, for garnish
Directions
Preheat grill to 500 degrees Fahrenheit or preheat a cast iron pan over high heat. In a bowl, combine soy sauce, sugar, rice vinegar, sesame oil, ginger and sambal oelek. Whisk until combined and power over slaw mix, green onion and mint. Toss well to coat.
Combine melted butter and miso paste. For skewers, place cubes on wooden or metal skewers, season with salt and sear on grill for 3-4 minutes, turning to cook evenly. Brush with miso butter and cook an additional 1-2 minutes. For pan cooking, heat two tablespoons of sesame oil over high heat and add sirloin cubes. Season with salt and sear 3-4 minutes. Drizzle miso butter over steak and cook an additional two minutes.
To assemble, fill each butter lettuce leaf with 1-2 tablespoons of slaw. Top with one skewer or 5-6 cubes of sirloin. Drizzle with Mao Ploy, fresh mint and sesame seeds.
---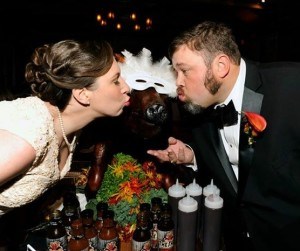 Ken and Jessica Hess are traveling the country to share their love of all things barbecue with the world. From Alabama, Ken is associate pitmaster at Big Bob Gibson BBQ and a seasoned barbecue competitor. Amassing many titles and trophies, Ken has won the World Championship of Pork four times.
---