RVers are getting younger. Meet the newest faces of the RV world.
"There aren't many of us out there, the young RVers that is. We hide away in the back of RV parks and national parks, hoping for a decent Wi-Fi connection." – Heath & Alyssa
But when the hosts of The RV Entrepreneur Podcast wrote the above, the year was 2014. Now, just three years later, Heath and Alyssa, both millennials, can brag about being a part of the fastest growing group of RV owners. They're no longer unicorns. At least, that's the graphic RoverPass—an online campground directory including KOAs—used to represent the myth of the rare millennial camper in its 2016 blog post providing evidence that millennial RVers do exist.
No need to call in Millennial MythBusters. In the last few months, USA Today, The New York Post and Bloomberg, among other media outlets, have all ran feature stories about the growing sector of Gen-Y RVers. But here at KOA, we weren't surprised. Most of the media reports align with the key findings of KOA's 2017 North American Camping Report. Here are five highlights from the report and recent headlines.
1. Proportionately Speaking, They're #1
In 2016, the U.S. Census Bureau announced that millennials—generally thought to be people ages 18-34—now outnumber baby boomers—ages 51-69. They're not only the largest group (accounting for 30%) in the U.S.' general population. They also account for the largest group of campers. According to the Camping Report, they constitute 38% of campers. What's more, 51% of millennials say they have plans to camp in 2017!
Brandi Holmes
2. They're Hard to Stereotype
Camping millennials share a love for being outdoors, but they're a far from homogenous group. The KOA Camping Report found that there is a growing number of non-white millennial campers, especially among Asian Americans. They also come from different regions and they're not your conventional boy scout and girl scout graduates. Brandi Holmes and her boyfriend Jonathan, both millennials, lived in Brooklyn before they traded city living for their 35-foot-long Fleetwood Bounder. Millennials are also big fans of renting RVs, especially for music festivals. Visit the Palm Springs / Joshua Tree KOA in April, during the world-famous Coachella, and you'll see a sea of millennials resting and recharging their phones at their campsites in between concerts.
3. Bigger Isn't Better, Move Over Motorhomes
The tiny-living trend is nothing new, but when it comes to RVing, tiny-traveling is a growing fad among millennials. Nate Yarbrough, 29 and his wife, 28, recently downsized from their RV to build their own DIY campervan. JUCY rentals (which receive a 10% discount at KOA campgrounds) says their demographic of 20-35-year-old renters gravitates toward the mini RV because they don't want to tow much, they're more eco-friendly and they're cheaper. In fact, according to the Recreational Vehicle Industry Association, "towables" currently account for 87 percent of the RV market.
4. They're Connected
Yes, lower fuel prices and an uptick in the economy make RVing more accessible to millennials, but another huge factor is connectivity. According to the Camping Report, 43% of millennials admit access to technology—i.e. being able to work remotely—makes it easier for them to spend more time camping. Annabelle, a 30-year-old who camps with her cat and fiancé chose her RV life because she and her partner can both work remotely and they want to explore America before settling down and starting a family.
5. They're Influencing the Industry
From their purchasing habits to their styles of socializing, millennials are changing the camping industry landscape. Thor Industries, the largest RV-maker in the U.S., has even coined a new term for its smaller, lighter units catering to millennial demand: RUV's. These "recreational use vehicles" are a far cry from the mega motorhomes of the past. Campground owners are taking note of the increase in trailers and are considering millennials in the layout of their sites. Millennials also account for the largest groups when it comes to group camping. The Camping Report found the average group size for Gen Y'ers is 10.7 whereas Baby Boomers average groups of 7.9 and mature campers average 4.6. So, yes, they like to be on their phones and expect campgrounds to have Wi-Fi, but they're also incredibly social creatures in person.
Heath and Alyssa
"We get strange looks from the retirees, who shake their heads and wonder how we travel without first having worked 40 years." – Heath & Alyssa, 2014.
Good news, Heath and Alyssa. The RVing realm is starting to accept, and even embrace you.
---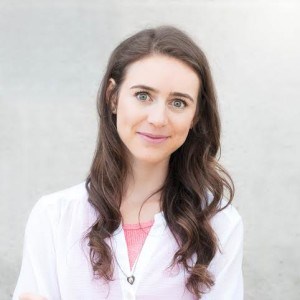 Katie Jackson is a writer and media specialist based in Montana's Big Sky Country. Living and working everywhere from New York to Nicaragua, Katie is no stranger to adventure. When she's not traveling the world (or writing about it!) she's busy chasing after a Leonberger named Zeus. Follow Katie's travels on Instagram @katietalkstravel.

---