What is our newest national park? The answer is worth knowing. Not just because it could be a Jeopardy question. But because it could be your next amazing vacation. Just an hour's drive east of Chicago's Magnificent Mile is a 15-mile stretch of Lake Michigan shoreline now called Indiana Dunes National Park. Formerly Indiana Dunes National Lakeshore, this 15,000-acre protected area celebrates one year of National Park status this February. If you haven't visited this Hoosier State gem yet, here's what you need to know and more importantly, why you need to go now.
Where is Indiana Dunes National Park?
Located in the upper left-hand corner of Indiana and at the southern tip of Lake Michigan, Indiana Dunes National Park is about 160 miles from Indianapolis, 49 miles from Chicago and 250 miles from Detroit. The closet city is Gary, Indiana which is just 15 miles west. Indiana Dunes National Park surrounds and includes Indiana Dunes State Park – a 3-mile stretch of shoreline and dunes – which was established in 1925.
Why is it a National Park?
Indiana Dunes National Park is the 61st National Park in the national park system. (The 60th is Gateway Arch National Park in St. Louis, designated a National Park in February 2018.) Although it's been a national lakeshore since 1966, it wasn't until recently that this stretch of shoreline was really recognized for its diversity which played a major role in the area becoming a National Park. Since the park encompasses so many different ecosystems, it has a relatively high number of species for such a small area. The park includes bogs, savannahs, sand dunes, deciduous forest and even prairies. According to an article in The Washington Post, you can find a native prickly pear cactus growing on the same dune as the Bearberry, typically found in the Arctic.
Wildlife-wise, it's also very diverse. The park is home to nearly 50 species of mammals. For comparison, Yellowstone National Park – which is nearly 150 times as big as Indiana Dunes National Park – is home to 67 species of mammals. Here in Indiana the white-tailed deer is the largest mammal. The coyote is the largest predator. While Yellowstone has 6 species of reptiles, 16 species of fish and just under 300 species of birds, Indiana Dunes has 23 species of reptiles, 71 species of fish and more than 350 species of birds.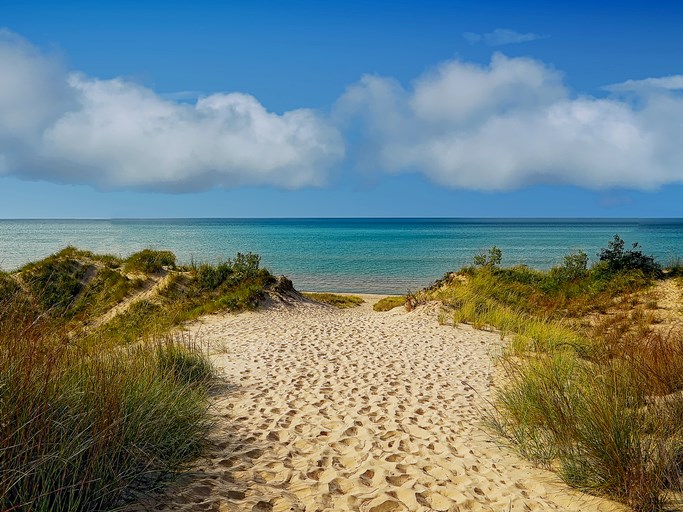 What is there to do in Indiana Dunes National Park?
Birdwatching here could be an Olympic sport. One birdwatching enthusiast featured in a park brochure writes "I've birded on six continents, and in my birding experience, birding in the Indiana Dunes is definitely the crème de la crème." But you don't have to be an expert to appreciate the birds. There's a free Backpacks for Birders program where amateurs can borrow backpacks, left at local spots, filled with gear including binoculars, maps and an identification book.
Of course, most people come to Indiana Dunes National Park for the beaches. From Memorial Day to Labor Day there are even lifeguards at West Beach, the most popular place to swim. The water is warmest in August when it can get up to 70 degrees Fahrenheit. On summer weekends visitors can take advantage of free shuttle buses that travel around the park and stop at popular sites.
Hiking is also popular. It can be as easy as you want – most of the park is flat – or as challenging as you want. Consider climbing up 200-foot tall sand dunes to be the ultimate stairmaster. There are about 50 miles of marked trails which are open year-round. In the winter, visitors are invited to ski or snowshoe although they must bring their own gear as there are currently no rentals. However, that could soon change as the number of visitors grows.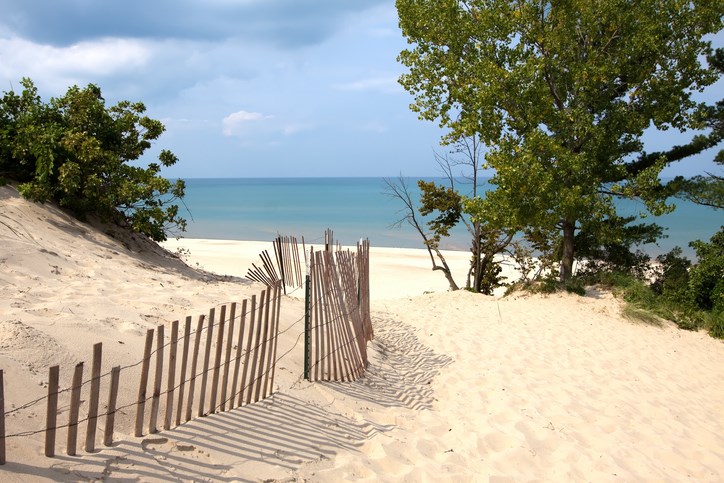 Why you should visit Indiana Dunes National Park now:
Since receiving the "National Park" title, the number of visitors to this stretch of lakeshore has been record-breaking. July 2019 welcomed more than twice as many people as July 2018. Annually, the area is used to welcoming about 3.5 million visitors, including international travelers. "Definitely worth one or more visits" writes a TripAdvisor reviewer from Germany. A TripAdvisor reviewer from France writes "Just like the ocean." The number of visitors is only expected to keep growing. Of course, it helps that Frommer's included Indiana Dunes National Park on its prestigious list of the Best Places to Go in 2020. It's one of three U.S. destinations that made the cut and is right up there alongside the likes of Tokyo, Papua New Guinea and the North and South Poles.
If you plan on visiting Indiana Dunes National Park in 2020, note that free days are January 20, April 18, August 25, September 26 and November 11. All other days require showing a parks pass or paying a day-use fee. Or, you can volunteer and get free entry. Every Saturday through March 21, the park welcomes volunteers to help with projects ranging from beach clean-ups to habitat restoration.
Nearest KOA campgrounds:
Indiana Beach / Monticello KOA – Located 72 miles south of Indiana Dunes National Park and within Indiana Beach Amusement & Water Park Resort. Open May 17 – October 27.
Kankakee South KOA – Located 80 miles southwest of Indiana Dunes National Park in Chebanse, IL. Open April 1 – October 31.
---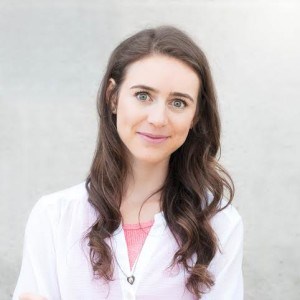 Katie Jackson is a writer and media specialist based in Montana's Big Sky Country. Living and working everywhere from New York to Nicaragua, Katie is no stranger to adventure. When she's not traveling the world (or writing about it!) she's busy chasing after a Leonberger named Zeus. Follow Katie's travels on Instagram @katietalkstravel.

---