Lubbock, Texas might not be the first city you think of in the Lone Star State, but it's a destination that should definitely be on your list.
There are a number of cities in Texas that share the state's spotlight. From Dallas to Austin; San Antonio to Houston; Fort Worth to El Paso, and more, this big state sure has a lot of big-time places for travelers to visit.
One place that isn't always included in the list of top Texas destinations, but sure ought to be, is Lubbock.
Though it feels small, the city of Lubbock boasts a population of over 250,000. While not a major metropolis (especially when compared to Houston's over 2 million people), there is a lot of punch packed into this friendly city.
And while this may be the first time you've heard of Lubbock, Texas, you certainly know of some people who came from these northwestern plains of Texas, most notably Buddy Holly.
There is an incredible variety of things to do in this city — golfing, wine tasting, live music, food and much more. But our favorite part about Lubbock is how friendly it is.
There is truly a sense of welcome that doesn't exist in many places anymore, and we know you'll love bringing your family to camp and enjoy all the sights that Lubbock, Texas has to offer.
For the Family
4ORE! Golf
4ORE! Golf
Chances are good when you heard "plains of northwest Texas," you didn't immediately think "golf." But, be ready for a surprise. Lubbock has recently welcomed a brand new addition to its scene, 4ORE! Golf. Picture Topgolf with much, much more.
4ORE! Golf is a vast golf entertainment complex that has games and activities for all ages, and for non-golfers too — though we challenge you to not take a swing or two at one of the tee boxes.
Aside from its variety of fun-filled golf-related games, 4ORE! Golf has an outdoor patio that is filled with other types of games (such as a bean bag toss and giant Jenga) for your whole family to enjoy. This patio often brings in local music to really get the party going.
For the adults, 4ORE! features a second-story cocktail lounge where speciality cocktails and wine flow.
And if you're looking to improve your skills, this is the place to do it. 4ORE! Golf Academy, managed by PGA touring professional J.J. Killeen, has two high-tech climate control teaching studios, ideal for perfecting your swing.
Regardless of your skill level or your level of love for the game, you'll have a blast at 4ORE! Golf.
Stars & Stripes Theatre
Star & Stripes Theatre
Dubbed the number 3 drive-in theatre in the country by TripAdvisor, once you visit Stars & Stripes Theatre, you will understand why. This drive in theatre has not one, not two, but three screens for movie lovers to enjoy.
And you're going to love the prices.
For just $8 for adults (ages 12 and up), $5 for kids (ages 4-11), and FREE for kids 3 and under you gain admission to TWO films. That's right — Stars & Stripes Theatre does double features every day, and has perfected the art of pairing movies together, so you can be sure that both movies you're seeing will be family-friendly.
You're going to want to show up early not only to secure a good spot, but to eat some of the theatre's delicious food in its retro-1950s diner. Be sure to order their specialty — a Chihuahua Sandwich to get the authentic Stars & Stripes experience!
Prairie Dog Town – Visit Lubbock
Prairie Dog Town
Though today it seems as if prairie dogs are nowhere near being at risk of extinction in Lubbock, a man by the name of K.N. Klapp felt they were back in 1935, and thus created a habit which was aptly named Prairie Dog Town. Turns out this was the first protected prairie dog colony in the United States.
Pay a visit to this prairie dog sanctuary yourself, but be sure to show up in the afternoon to enjoy taking in the sight of hundreds of prairie dogs popping in and out of the ground.
Science Spectrum & OMNI Theatre
Science Spectrum & OMNI Theatre
Get your kids excited about science at one of Lubbock's top attractions, the Science Spectrum & OMNI Theatre.
Boasting over 250 hands-on exhibits as well as Lubbock's only private aquarium, the Science Spectrum offers a lot of fun and learning to not only kids, but adults, too!
With both permanent and special exhibits, the museum is always changing. However, with 250 exhibits, we bet you won't make it through all of them.
And don't forget to stop in for a screening of one of the featured films at the OMNI Theatre. This 58-foot giant domed screen provides quite the visual experience.
Chances are good you'll need a couple days to explore all this complex has to offer!
Moonlight Musicals – Visit Lubbock
Moonlight Musicals Amphitheatre
If you're lucky enough to visit Lubbock in the summer, then you cannot miss out on one of the incredible performances at Moonlight Musicals Amphitheatre.
What looks from the outside like a pretty basic amphitheatre in a city park is so much more.
The cast and crew of these shows transform the concrete structure into something truly magical — a night out of the ordinary where local talent (including students from Texas Tech University), as well as Broadway professionals, sing and dance their hearts out.
And we promise you will not be disappointed with the all-star performances here.
What was once a dream of Lubbock having an outdoor theatre was made a reality over 12 years ago by Gerald Dolter, professor of voice at Texas Tech University.
Today, Moonlight Musicals offers shows not only in the amphitheatre during the summer, but throughout the rest of the year as well in a different space.
Buddy Holly Center
Buddy Holly Center
Though the kids may not know who Buddy Holly is, they can certainly still appreciate the fact that much of their favorite musical artists of today were heavily influenced by Buddy.
And Buddy Holly got his start in his hometown of Lubbock, Texas. It was here that he practiced and wrote what went on to become some of the greatest hits of his time, and possibly of all time.
To commemorate Buddy and the huge role he played in music, Lubbock created the Buddy Holly Center. Here visitors can tour exhibits that showcase the artifacts that played a role in Lubbock's "son," Buddy Holly, including a pair of his famous black-rimmed glasses and some of the artist's favorite guitars.
Evie Mae's Pit Barbecue
With all this sight-seeing, you and your family are going to get hungry. And oh boy, do we have the place for you.
Evie Mae's Pit Barbecue was awarded the number 9 spot on Texas Monthly's Top 5 best BBQ list. In our opinion, it should probably be number 1.
The greatest part about this place is that not only does it offer barbecue that literally melts in your mouth, along with stellar homemade side dishes, it also serves up gluten-free desserts that will have you in sugar heaven.
Whatever you do, don't leave here without trying the Texas Sheet Cake. You can feel a little less guilt knowing that it is gluten-free.
Where to Stay
Just minutes from the action of downtown Lubbock, and near all the sites above, Lubbock KOA Journey serves as the perfect home base for all of your Texas family fun.
Though the city may be in the middle of the West Texas plains, you won't know it at this KOA. With hundreds of mature shade trees, you'll love relaxing in the cool shade while listening to your favorite Buddy Holly tunes.
This KOA also offers visitors a heated indoor pool, hot tub, cabin accommodations, and beautiful RV and tent camping sites.
Book your stay at the Lubbock KOA Journey by clicking here.
---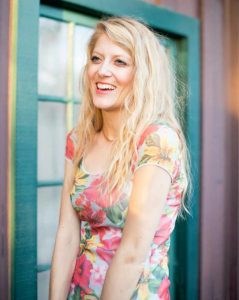 Leslie, a.k.a. Copy Girl, is a copywriter who gets butterflies from telling stories through words.
Her voice comes from a place filled with passion, dreams, and lots of sugar. "Cake over steak" is her go-to motto.
With over 10 years of experience in crafting words, and years of embarking on travels that have taken this Montana girl to some incredible places, Leslie love the adventures of both body and mind her writing takes her on.
Everywhere she goes, she takes this advice with her:
"Hold on to your divine blush, your innate rosy magic, or end up brown." – Tom Robbins, Jitterbug Perfume
To see what Leslie's up to in the writing world, visit her website here.
---
Save
Save