Bring along your Lodge Cast Iron and favorite toppings to make a campfire dinner that's sure to please – pizza!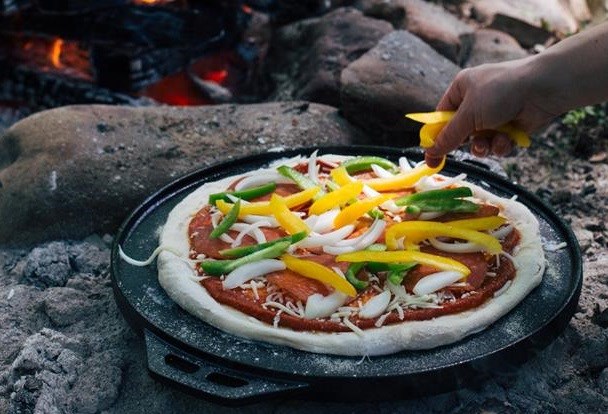 Ingredients
prepared pizza dough
1/4 cups pizza sauce
2 cups mozzarella, shredded
6 ounces pepperoni, sliced
1/2 cups yellow onion, sliced
1/2 cups mushrooms, sliced
1/2 cups green bell pepper, sliced
Oil, for coating griddle
Directions
Prepare 2 beds of coals. Set the Cook-It-All's domed skillet/wok in one of the beds of coals.
Preheat to high heat (Tip: you can use this time to sauté veggie toppings, if desired).
Oil the griddle side of the Cook-It-All. Roll out pizza dough and place on griddle, leaving an inch around the edge for the domed piece to lay.
Place the griddle with pizza dough over medium coals. Spread sauce around pizza dough.
Quickly add toppings and cover with cheese.
Cover with preheated dome. Fill dome with hot coals and cook until cheese has melted and crust begins to brown (5-10 min).
---
Since 1896, Lodge has been creating quality cast iron products in Pittsburg, Tennessee. What might seem as humble beginnings has lead to the company becoming a leader in the kitchenware industry. Known in homes and kitchens around the world, Lodge continues to innovate and create new products for home cooks and professionals alike.
---