Add a bit of gourmet, Mediterranean flavor to your next camping trip with leg of lamb. Eat sliced or enjoy as a delicious pita sandwich!
Ingredients
1 boneless leg of lamb (4-5lbs)
1 cup plain yogurt
2 Tbsp fresh rosemary, chopped
5 cloves garlic, minced
4 Tbsp Italian seasoning
1/2 Tbsp salt
1/2 Tbsp black pepper
Yogurt Sauce
2 cups plain yogurt
1 cucumber, seeded and diced
2 cloves garlic, minced
1 tsp salt
1/2 tsp Worcestershire sauce
1 Tbsp fresh dill, chopped
1/2 tsp black pepper
For Serving
Flatbreads or pitas
Shredded lettuce
Sliced tomatoes
Directions
Rub the leg of lamb with yogurt, rosemary and garlic and marinate overnight in the refrigerator or over ice.
Prior to cooking, remove any excess yogurt and marinade from lamb. Season heavily with Italian season, salt and pepper.
Preheat grill to approximately 400 degree Fahrenheit. Grill lamb indirectly for 40 minutes or until the internal temperature is 15 degrees. Allow lamb to rest for 10-15 minutes before slicing.
While lamb is resting, grill the pitas or flatbreads. Combine sauce ingredients in a bowl and mix well before assembling. Note: You can make your sauce ahead and refrigerate until needed.
Serves: 6-8
---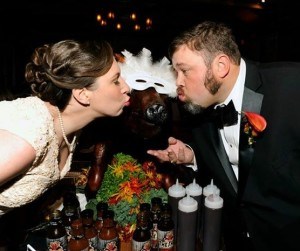 Ken and Jessica Hess are traveling the country to share their love of all things barbecue with the world. From Alabama, Ken is associate pitmaster at Big Bob Gibson BBQ and a seasoned barbecue competitor. Amassing many titles and trophies, Ken has won the World Championship of Pork four times.
---