Kampgrounds of America has been providing great outdoor experiences throughout North America for millions of families for over 60 years years.
But everyone has something they'd love to do that just might go beyond a wonderful family camping trip.
Your outdoor "dream" adventure might be something that tests you. It might be a chance to reconnect with those you love. It might be something you can do for someone else facing their own life challenges. Adventures don't care how old you are, how much you earn, or where you live. Adventures just want you to come outside and play.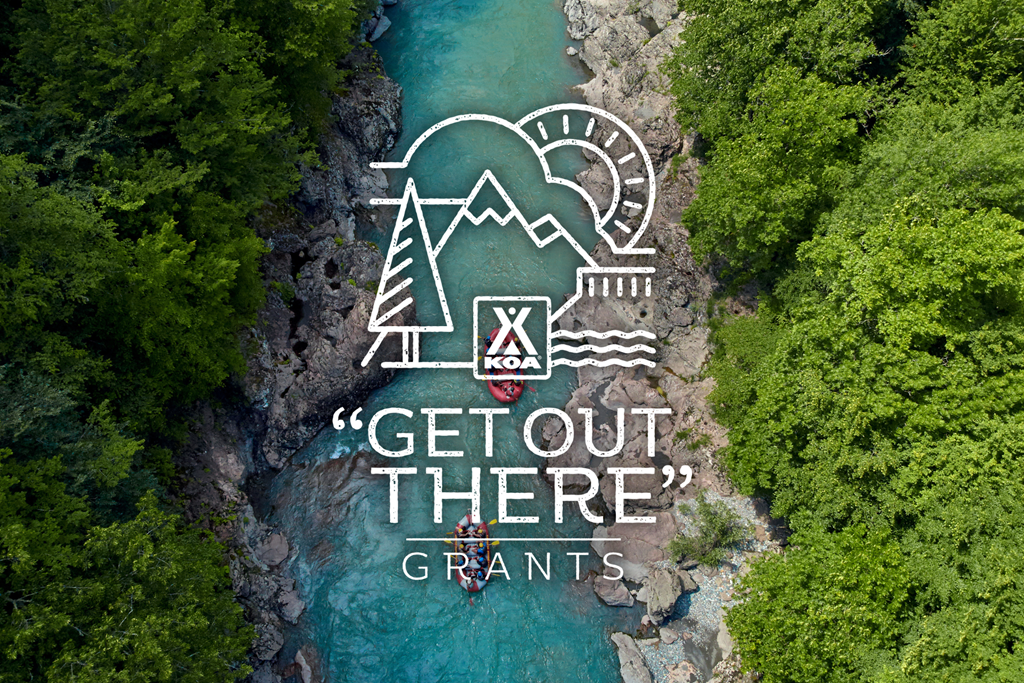 Kampgrounds of America is now taking applications for KOA 'Get Out There' Grants. The purpose of the grants is to aid in providing individuals, family and friends a chance to experience an adventure that – up until now – has always been beyond their reach.
Maybe it's a rafting trip down the wild Colorado with adult siblings you haven't connected with in a while. Perhaps it's that wilderness hike with long lost college friends. Or maybe it's a family trip that takes you places you've only dreamed about.
It could be anything…and that's the point.
Here's How It Works
First, fill out the KOA 'Get Out There' Grant application form. Let us know all about your "dream" adventure. We want to know all of the details, and whether your adventure is a "solo" effort, or you're planning to include friends or family. Your adventure can also take you anywhere in the U.S. or Canada. Remember, it could be anything. All you can do is ask.
Next, Our KOA 'Get Out There' Grant judging panel will take a close look at all of our applicants, and pick those that they feel best fit all of the criteria we've mentioned above. We're looking for adventures that build unbelievable memories.
Grants can be awarded in amounts from $1,000 to $5,000 per participant, based on the adventure. Our goal is to help make it happen!
Our small-but-professional video team will be there with you, creating a stellar film. We'll share your experience, inspiring folks just like you to get out there and build their own outdoor adventures.
The application period for 'Get Out There' Grants is February 1 through March 31, 2023. While KOA is sponsoring the grants, there is no requirement that an individual's proposed adventure include camping in order to receive a 'Get Out There' Grant. It might be an adventure that tests personal limits, helps you reconnect with old friends, or takes you to a new place you've always dreamed of.
To learn more about the KOA 'Get Out There' Grant and fill out an application, please visit https://koa.com/koa-get-out-there-grants/.
---
About the Author: Kampgrounds of America
Kampgrounds of America is the largest system of open-to-the-public campgrounds in the world, with over 500 locations across the United States and Canada. Founded in Billings, MT in 1962, KOA's family of campground brands – KOA Journey, KOA Holiday and KOA Resort – today serve more than a million camping families each year. KOA is dedicated to "connecting people to the outdoors and each other" by providing people with a variety of camping experiences and the information they need to make the most of their camping trip. Read more of their camping and travel resources by visiting KOA.com/blog.