By Eileen Ogintz
Remember MadLibs?
They're the fill-in-the-blank stories that kids like to make as silly as possible—great for a campfire.  There are junior MadLibs and MadLibs apps.
I started thinking about how much fun they could be for young kids at a campfire when family activity experts at the National Park Service suggested helping young kids to get more involved by making up songs to sing around the campfire.  Stories too, of course.  MadLibs—or one you create yourself—is one way to get started, once the kids help gather twigs and get out the fixings for s'mores, of course.
It's great if you can choose a story (one not too scary!) that somehow reflects the region you are visiting.  If you are in Maine, for example, there's the classic Blueberries for Sal by Robert McCloskey when Sal and her mom meet a bear and her cub.
Ask your children's librarian before you leave home, download a book or stop in a local bookstore—the national parks bookstores always have a good selection of kids' stories.
"Children five or six can be frightened by some scary campfire stories," says Barbara Graves, who coordinates youth programs at Zion National Park in Utah.  "A story with some challenges that are then overcome is more reassuring." And because young kids' attention spans are short, have them do something with their hands while they are listening, she suggests—passing a ball when they hear a particular word, for example.  Have them make animal sounds during the telling.  "Interaction instead of straight storytelling works well," she said.  Two of her favorite tales for the campfire: Navaho Coyote Tales by William Morgan and Tales with Tails by Kevin Strauss.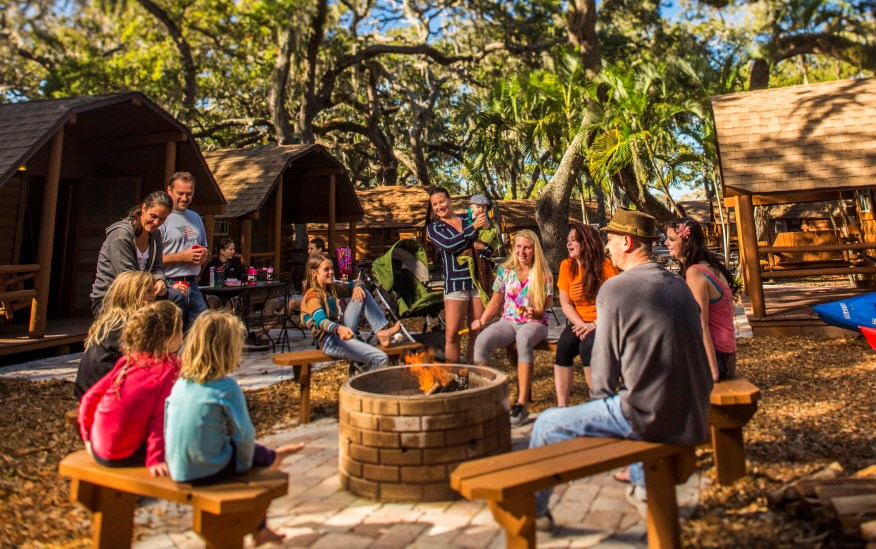 The American Library Association's 2015 Notable Children's Book list has lots of suggestions:
Around your next campfire, consider:
Flashlight. By Lizi Boyd, illustrations by the author. A young child with a flashlight discovers many of the mysteries and joys of the night; then suddenly the tables are turned. Cut outs add to the fun.
Shh! We Have a Plan. By Chris Haughton, illustrations by the author. Four friends creep through the woods on a search for prey. But even the best laid plans can go awry!
Little Roja Riding Hood. By Susan Middleton Elya, illustrations by Susan Guevara. The book uses a new spin on the classic fairytale to  provide a glimpse into a contemporary Hispanic family.
Weeds Find a Way. By Cindy Jenson-Elliott, illustrations by Carolyn Fisher. Overlooked plants take center stage.
When my kids were little, we always chose a new book where we were traveling to read at night.  There were tales about animals and stars, Native American legends and cowboys. They loved the stories when we got home too—because they reminded all of us of the fun we'd had. Can you think of a better souvenir?
Eileen Ogintz writes the syndicated column Taking the Kids.  Follow @TakingtheKids on Instagram, Twitter and Facebook.  Checkout Eileen's Kid's City Guides available online and from major booksellers.