Though we would all love to get professional-level photos of our adventures around the country and the world, let's be honest — most of us are missing two vital ingredients to make that happen: one, the equipment and two, the skills.
Cameras are not cheap, and they are not as easy to use as you may think. First of all, you've got to spend a great deal of time researching the best ones that will give you the most bang for your buck. Then you've got to shell out the money for the camera and some lenses to go along with it. And then, you've got to figure out how to actually use it correctly. Which, we are going to tell you is not as simple as just clicking away.
Enter the smartphone. Phew — a sigh of relief. While your photos using your iPhone may not always be professional-level, with the right use of your smartphone, you can get some stellar pictures that most people won't be able to tell were taken on your phone.
But how do you ensure that the travel photos you take on your phone actually look good?
Here, tips and tricks on how to take great travel photos with your phone that will be the envy of all your friends and family.
The Secret to Taking Fabulous Photos With Your Phone
1. Get some gear
Though you won't be dropping nearly as much money on gear for your phone camera as you would for a pro camera, there are a few things you may want to buy that will really elevate your photos.
A lightweight tripod. Chances are very good you'll come across some instances where you need to set up a shot with yourself in it — a selfie or a group photo, or you want to get a time lapse, or you find yourself in need of some stabilization in your photo.
This is where a lightweight tripod will come in very handy.
A waterproof case. It is every smartphone owner's biggest fear to spill water on their phone or to have it fall into water unprotected. Ease your worries and open up your opportunities for some fabulous water shots by purchasing a waterproof case or a pouch.
This way, you can capture some great moments while swimming, kayaking, surfing, really anything! Also, it will help keep your worries at bay about your phone getting ruined.
A portable USB charger. The more you're using your phone and its camera, the more quickly the battery life is going to drain right out of it. Thus, be sure you get a portable USB charger that allows you to zing some life back into your phone so you can get back out there are take some great photos.
2. Check your composition
The way you compose your photos can really mean the difference between a good photo and a great photo. And thankfully, smartphones make this easy for you. All you have to do is turn your grid lines on, and you will have the guidelines to master the rule-of-thirds concept.
To turn on your gridlines, just go to Settings, Camera, and slide the Grid feature to "on."
So what do you do once the grid lines are on? When going to take a picture, you focus on getting the subject of the photo at an intersection. This makes the photo far more visually appealing — do some testing of your own to find out.
3. Avoid the zoom
Though it is tempting to zoom in to capture the perfect details in a shot, by doing so you sacrifice the quality of the photo. The more you zoom in, the more pixelated your picture will become. Instead, "zoom with your feet" when possible and physically get closer to your subject to fill the frame without degrading your shot.
4. Use the Burst option
Sometimes an unexpected moment happens while traveling, and it's hard to nail that one perfect shot at the perfect moment. Thanks to smartphones' Burst Mode, getting capturing that perfect moment is much easier. Burst Mode takes 10 photos per second, and you can take as many as you'd like. Simply hold down the button to take a photo, and keep holding it until you feel you've got the pictures you want.
This works great when you see something such as wildlife or are trying to photograph a different moving subject. You get the opportunity with Burst Mode to capture the subject as it moves so you can get the optimal shot.
5. Use your phone at night, too
Thanks to the constant technology upgrades of smartphones, the cameras are able to do things they couldn't do in the past, such as take photos at night.
There are new settings on the iPhone specifically that allow for pictures in darker settings without the harsh use of a flash.
This means you have opportunity to capture some truly stunning evening moments that could end up being your favorite travel photos of all.
6. Switch into HDR Mode
The HDR Mode on iPhones creates the perfect balance of exposure — not too light and not too dark.
You'll love this feature when traveling because there are many times you won't have ideal lighting during your travels, but still want to capture your photo. HDR makes it so that the bright parts of the photo aren't blown out too much, and also makes it so the dark parts don't get completely lost in shadow.
To turn your HDR Mode on, go to your camera, tap HDR, and then hit On to keep it on at all times.
7. Include people in your photos
Though when traveling you likely find yourself primarily taking pictures of the scenery and outdoors, make those photos even better by including a person in them once in a while.
Not only will this add more personality to your photos, it will also give people a better look at the personal side of your travels. Plus, it's always fun to have subjects in your photo to make those memories extra special.
8. Find high spots to shoot from
If you want to give your friends and family a good idea of what things looked like where you were traveling, get up to the highest point possible for the most epic sweeping views of your location.
With a shot up here, you'll be able to include a lot in your photo and better capture what it was really like there. This will likely end up being the most iconic photo of your trip — the photo you show people when they ask where you went on your adventures.
Once up to this spot, you may want to take a photo in Panoramic mode to make it feel even more alive, and like the person who looks at the photo later is right there traveling with you.
9. Try apps to elevate your photos
If you're feeling a bit more adventurous, you may way to foray in to the world of photo editing with apps on your phone.
One of the best apps to use is the Lightroom Mobile app. Unlike the desktop version, the phone app is free and user-friendly. It gives you tons of options for filtering your picture, adjusting colors, adjusting focus, and so much more.
You can even create some custom filters of your own to create more cohesion with your photos — so that they all have the same color-style and aesthetic.
10. Don't be afraid of video
Video can seem intimidating as it feels as if you have to be a pro videographer in order to capture something worth saving.
However, this is certainly not the case.
Mess around with the video option on your phone, and we bet you'll have a lot of fun with it. And, you'll get more comfortable with it the more you use it.
There are options to try slo-mo as well as time lapse with your video that we highly suggest you foray into once you feel like you've got a handle on standard video features.
11. Tell a story
In order to capture travel photos that will really wow, you should aim to tell a story rather than randomly shooting everything that looks pretty.
Treat your photos as almost a visual journal of your journeys, and you'll find yourself getting much more creative and artistic with your shots.
In order to do this, you'll want to work on getting a number of different perspectives, a number of different lengths of shots, colors of shots, types of shots, etc. The more viewpoints you have, the better you will be able to share your story with others.
12. Don't overthink it
I know this seems hypocritical after giving you 11 other tips on how to take better travel photos, but the key to getting those stellar photos is to not spend too much time thinking about them. By doing that, you run the risk of missing some beautiful moments.
Rather, spend time before your trip practicing the tips and features up above so that you feel comfortable with them. That way, when you're out on your travels, you don't spend too much time thinking about how to get the perfect shot. Instead, you'll already have programmed into your brain how to do so, so you can get the shot and still have time to enjoy actually being there as well.
You don't have to be a pro to get great pictures with your smartphone. You just have to be willing to learn some quick tricks and get out there and practice.
Some of our favorite photos have been captured with our phones, and we are not ashamed to admit it.
Want to see your travel photo featured on KOA's Facebook or Instagram?
Be sure to tag us in your photos and use #KOACamping while traveling and you just may see it pop on our social media pages!
---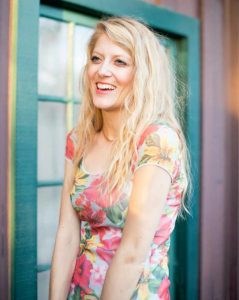 Leslie, a.k.a. Copy Girl, is a copywriter who gets butterflies from telling stories through words.
Her voice comes from a place filled with passion, dreams, and lots of sugar. "Cake over steak" is her go-to motto.
With over 10 years of experience in crafting words, and years of embarking on travels that have taken this Montana girl to some incredible places, Leslie love the adventures of both body and mind her writing takes her on.
Everywhere she goes, she takes this advice with her:
"Hold on to your divine blush, your innate rosy magic, or end up brown." – Tom Robbins, Jitterbug Perfume
To see what Leslie's up to in the writing world, visit her website here.
---