Hitting the trail is strenuous exercise. To summit those mountains and climb down those valleys, your body requires the proper fuel. While delicious, loaded cheese fries are not only incredibly messy to pack, they also won't give you the energy you need to keep going all day. Here are four tips for creating hiking munchies that satisfy and energize.
---
Make it yourself
The only way to truly know what's going in your snacks is if you make them yourself. The additives that allow many trail mixes and granola bars to sit on the shelves or in your pantry for months rob you of the vital nutrition you need for powering through your favorite trails. Grab your favorite fresh ingredients (the more local and the more additive-free, the better) and head to the kitchen to make your own trail snacks for optimizing your strength and energy when you're in the great outdoors. And as an added bonus, you get to create your own concoctions to suit your palate (peanut butter mango granola bars, anyone?).  Check out KOA's 6 Must Have Trail Mix Recipes that are super easy & delicious.
---
Pack the protein
Protein is what keeps your stomach from grumbling a half-mile from the trailhead. All good trail snacks should be chock full of it. Jerkies are great sources, while vegetarians and vegans can get their grams in from nuts and seeds (sunflower seeds, almonds, and pistachios offer the most protein for the least saturated fat). Try mixing protein powder in oatmeal for extra nutrition, or if you have a way to keep things cold, bring along some string cheese for a quick and easy way to get that much-needed boost.
---
Satisfy your sweet tooth
Sugar cravings normally happen when you've depleted your energy resources; eating plenty of protein should help with this. But for those times when that hankering for an ice cream cone just won't quit, try to quell your inner sugar demon with dried fruits or by mixing sweet ingredients like coconut flakes into granolas or other standard snacks. If heat is a non-issue, small pieces of dark chocolate usually do the trick when it comes to satisfying your sweet tooth, plus they offer essential nutrients like potassium and iron.
---
Stay hydrated
If you think you're hungry, drink water. If you're feeling tired, drink water. If you're dizzy, drink water. Dehydration wreaks havoc on our bodies, causing anything from headaches to seizures.  Thirst also tricks our bodies into thinking they're hungry, so if no amount of expertly prepared trail mix is satisfying your stomach, it could be water you need. Nothing's more important for a hiker than staying hydrated.
Hiking feels good; hiking healthy feels better. Take these tips and make your next journey one that your body can agree with.
---
Ready to go? Check out these 6 Must Have Trail Mix Recipes first!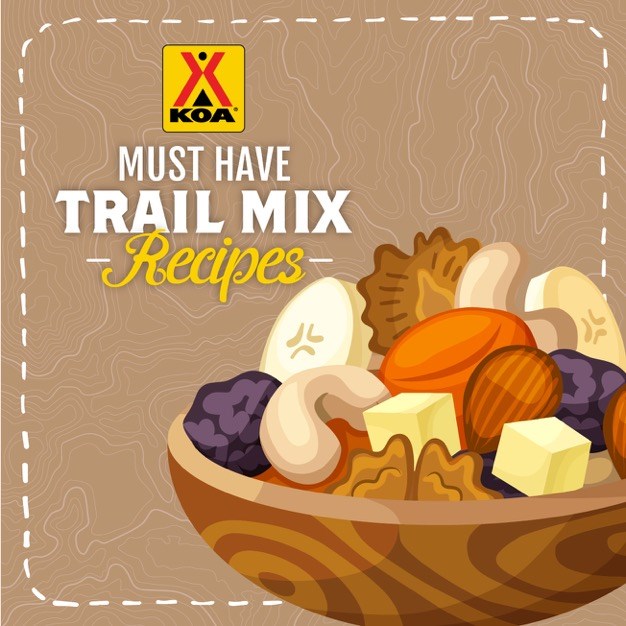 ---
Camping writer for Roadtrippers. Jersey Girl. Poet. Scenic Route Enthusiast.
Brought to you by KOA and our partners at: