Solar panels have changed a great deal since they first came into existence. You may be surprised to hear that solar panels were actually invented all the way back in 1883. A man by the name of Charles Fritts built the first solar cell. He did this by coating selenium with a layer of gold and found that the selenium produced a strong current.
Though his solar cell did not convert energy with anywhere near as much power as solar panels can today, and though modern solar panels use silicon in cells instead of selenium, this discovery of Fritts' was the beginning of an incredible innovation.
About 20 years later, Albert Einstein published a paper on the photoelectric effect and popularized the concept of light carrying energy. Then, around 1954, three scientists working in Bell Labs created the silicon solar cell, which is what we use today. This made possible the use of solar panels were during the 1950s and 1960s to power spacecrafts, the first of which was the Vanguard I satellite in 1958.
Solar energy was becoming a big deal in outer space, and it was only a matter of time until we would see it move back down to earth for use in homes. And the first home that popularized the use of solar panels was the White House during Jimmy Carter's presidency. He wanted to make a statement on clean energy and spread peoples' awareness.
Fast forward to 2005 and after many years, trials, tribulations, and iterations of solar panels, they finally hit the general market and really started booming in popularity. Ever since then, the concept of utilizing the power of the sun to create power for our lives has continued to become more and more prevalent.
Not only has the idea of solar power changed the way that people harness and use energy for their homes, but it has also changed the way that people harness and use energy while camping. Whether you have an RV or are tent camping, you stand to benefit a great deal from taking advantage of what solar power has to offer.
Today, we are sharing how solar energy can help you power your next camping trip, and why you will love it. In fact, we are willing to bet that once you camp with a power generator/solar panel setup, you won't ever go back.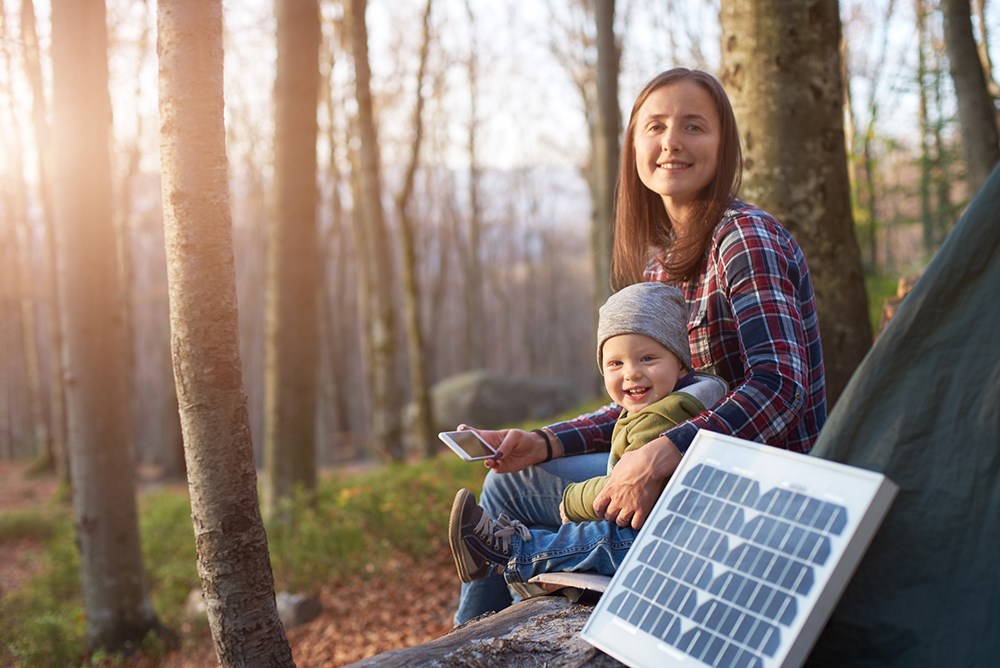 Why Every Camper Needs a Portable Power Station
If you are an RV camper, then a portable power station will quickly become your best friend. Here are some reasons why.
It provides additional outlets.
Unless you're rocking a brand new RV, chances are good that yours doesn't have nearly the power outlet offerings you need for all your devices. From cell phones to iPads to Kindles to laptops and more, the number of electrical devices we have is more than ever in history.
And, like many people, you are likely taking all these devices camping with you so you can enjoy them while on the road. That is great, until you need a way to charge them and your RV does not have the capacity to do so.
Enter the portable power station. Many of these stations have the ability to charge your devices from multiple different sources and can charge throughout the day while you are out adventuring. When you come back at night and are ready to pull out your Kindle for a bedtime read, it will be fully charged and ready when you need it, along with any and all of your other devices.
It allows your air conditioner to do its job.
As much as we love camping during the summer (along with everyone else, given the season's popularity), there is no denying that camping during this time of the year necessitates some AC.
However, you likely know that RVs typically only have enough power to run one air conditioner unit, and sometimes that just isn't enough. That also becomes a problem when you find you need power for something else, but the AC is sucking it all up.
It means no more extension cords to trip over.
For many people, RV camping is synonymous with extension cords going every which way, plugging inside to outside and everything in between.
By getting yourself a portable power station, you erase the need for extension cords and the worry that they are a hazard. This becomes especially important once the sun goes down and the extension cords become nearly impossible to see.
With your portable generator, you can easily take it with you outside of your RV or keep it inside for all of your electricity needs.
It works for more than just camping.
There are some full-time RVers out there, but the majority of campers are not. That's why we love that a portable power station is something that will come in handy while camping, but also when you're not.
You'll find yourself looking for a reason to take your portable power station to the park, to sports games, to parties, to events, and more. You never know who is gonna need some power, and when. And when they do, you'll be there to save the day.
In addition to that, if you find yourself in the unfortunate situation of a power outage, you'll quickly learn how great it is to have one of these portable power stations on hand.
The Benefits of a Portable Power Station
Now it's time to talk specifics. Here are some of the reasons why a portable power station that features solar power is about to change how you camp, in all the right ways.
Size
When you think "power station" or "power generator," you may be thinking the older versions of these devices. Which means you may be thinking "massive" and "heavy."
Thankfully, technology has changed that. Modern-day portable power stations are now super light and easy to transport, which is why they are perfect for camping. Though the solar panels that come with them may not be as compact, they are a piece you will love having when you're planning to camp for a few days.
Rechargeable
The portable power stations of today feature lithium batteries that can be recharged in a number of different ways. It may come as no surprise to learn that our favorite way to recharge them is with the power of the sun a.k.a. via solar panels.
You can also charge the solar panels by a wall plug-in or a 12V plug for a car charger.
Quiet
What was once a noisy device that would be a massive nuisance to you and your camping neighbors is now quiet and won't disturb anyone. Enjoy the power of this thing sans the sound. And actually be able to make friends with your camping neighbors since you won't be starting up a noisy generator at 5 a.m. to make your morning coffee.
Safety
Gas-powered generators run the risk of exposure to carbon monoxide gas. That no longer exists when you make the switch to a battery-powered generator. This type of generator produces zero toxic fumes and therefore can be safely operated anywhere.
Easy to Use
Many modern-day portable power stations require simply pushing a button to turn off and on. It really doesn't get more simple than that.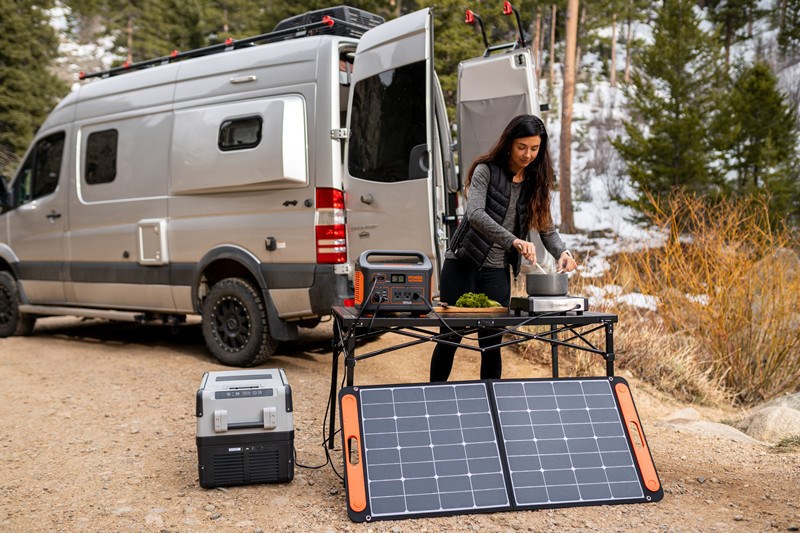 The Setup
In order to take advantage of the many benefits of solar energy, you need to have the right setup.
There is no shortage of options for portable energy, but our favorite setup while camping is a solar generator from Jackery. They have a wide range of options in their fleet of solar generator setups and when you've got one of these, you won't need anything else to power your adventures.
Though a bit on the pricey side, the setup of the Jackery Solar Generator 1500 is far less expensive than outfitting your RV with solar panels. And with this generator, the focus is on its portability which means it will work for more than just your RV – it will work anywhere you want to take it.
In addition to that, portable power stations such as this only have the initial cost – there is no additional cost on fuel and maintenance as you'll find there is with traditional generators.
Jackery's solar solution combines the strength of a portable power station with solar panels. So, basically, it's a generator on steroids. The setup uses solar panels to capture energy from the sun which it then converts into electric power that it stores in the portable power station for when you may need it.
A portable power station like this is able to charge from four different sources: solar, AC, 12-volt, and a generator. In addition to that, it has multiple power ports: USB, USB-C, 12-volt lighter socket, and AC outlets. This means that it can charge all sorts of devices at once and you no longer have a need for brick adapters.
And the best part? This setup is something you can use anytime, anywhere. Not only is it quiet, but it also is portable enough to use not only when you're camping, but when you've got other fun and events happening, such as a backyard BBQ, a birthday party, and more.
Check out all the different portable power stations that Jackery offers – there is one for every budget and every type of camper.
---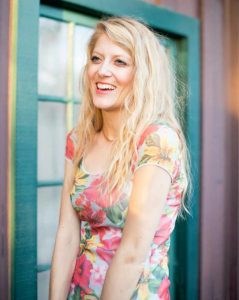 Leslie is a travel writer, copywriter, and web designer who gets butterflies from telling stories through words and visuals.
Her voice comes from a place filled with passion, dreams, and lots of sugar. "Cake over steak" is her go-to motto.
With over 10 years of experience in crafting words, and years of embarking on travels that have taken this Montana girl to some incredible places, Leslie loves the adventures of both body and mind her writing takes her on.
To see what Leslie's up to in the writing and design world, visit her website here.
---