Nestled in the heart of Indiana, you'll find a cultural powerhouse, leading event destination and a thriving culinary community. Indianapolis is one of the best kept secrets of the Midwest, home to endless opportunities to explore. Whether you're a self-acclaimed foodie, avid photographer or outdoor enthusiast, Indianapolis has everything you could ever want and need.
10 Interesting Facts About Indianapolis
This gem of a city is home to the world's largest single-day sporting event, the Indianapolis 500. The event draws hundreds of thousands of attendees each year.
Here's one for lovers of fright: Indianapolis is home to America's third largest cemetery, the Crown Hill Cemetary, located just north of the city.
Have children tagging along? Treat them to a day at the Children's Museum of Indianapolis, the world's largest of its kind.
At the children's museum, you'll find the skull of a recently-discovered dinosaur, Dracorex hogwartsia, also known as "Dragon King of Hogwarts."
The infamous song that we all love, "Take Me Out to the Ballgame" was written by one of Indianapolis' very own, Albert Von Tilzer.
The city is nicknamed the "Crossroads of America" because it has the most interstate legs in the United States.
Behind Washington D.C., Indianapolis has the most memorials and monuments in America.
At Christmastime, you'll find one of the world's largest Christmas trees in downtown Indy, a title they have held since 1962.
The Indianapolis Zoo is the only zoo in the United States to be accredited as a zoo, an aquarium and a botanical garden all in one.
 We have Indy to thank for sliced bread. The Indianapolis-based company, Taggart Baking Company, launched Wonder Bread in 1921.
Top Things To Do In Indianapolis, IN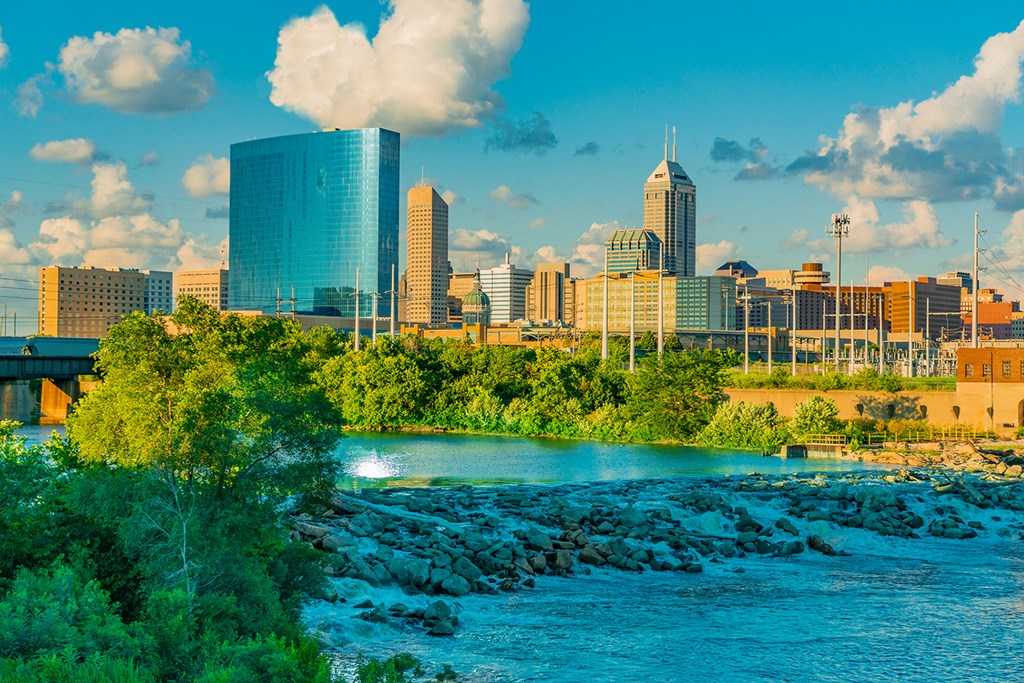 White River State Park
Typically, state parks are found on the outskirts of a city, but White River State Park is a must-see spot located in the heart of downtown Indianapolis. It sits on over 250 acres of land and offers a full day of fun. Explore countless trails, beautiful picnicking areas and peaceful spots to sit back and relax.
Indianapolis Zoo
As a zoo, botanical garden and aquarium all packed in one, the Indianapolis Zoo is a spectacular attraction for all ages of travelers. It's home to the largest group of orangutans in North America, along with 3,800 other animals and 320 species.
Slippery Noodle Inn
Founded more than 150 years ago, the Slippery Noodle Inn is Indiana's oldest operated bar in its original building. Lovingly nicknamed "The Noodle," it is listed on the National Register of Historic Places and has been trafficked by famous celebrities, such as Jimmy Fallon, Dale Earnhardt Jr. and Billy Joel. Take an hour or two during your trip to dine at this historic site and taste their delicious offerings, such as mango habanero wings, cajun tater tots, a whiskey pepper cheeseburger or loaded beef and bacon nachos.
Monument Circle
Located in the city center, you'll find Monument Circle. There, you can check out the famous Soldiers & Sailors Monument and catch lunch at one of the many surrounding restaurants. Monument Circle is just a short walk from White River State Park, so check them both out together!
Indy's Diverse Culinary Scene
From Italian to Thai, you'll find a variety of cuisines in downtown Indy. Consider signing up for an Indianapolis food tour where you'll be guided through the top restaurants the Crossroads of America has to offer. Or, if you'd prefer to dine at a single location but still experience the taste of the Midwest, consider grabbing a deep dish pizza at Giordano's.
Traders Point Creamery
Just a short drive from downtown, you'll find award-winning creamery located on an organic dairy farm. Get some grub at the Restaurant, grab some ice cream at the Dairy Bar and peruse through their Farm Store. You'll be sure to walk away with a full stomach and a handful of dairy products to satisfy your cravings well after your visit.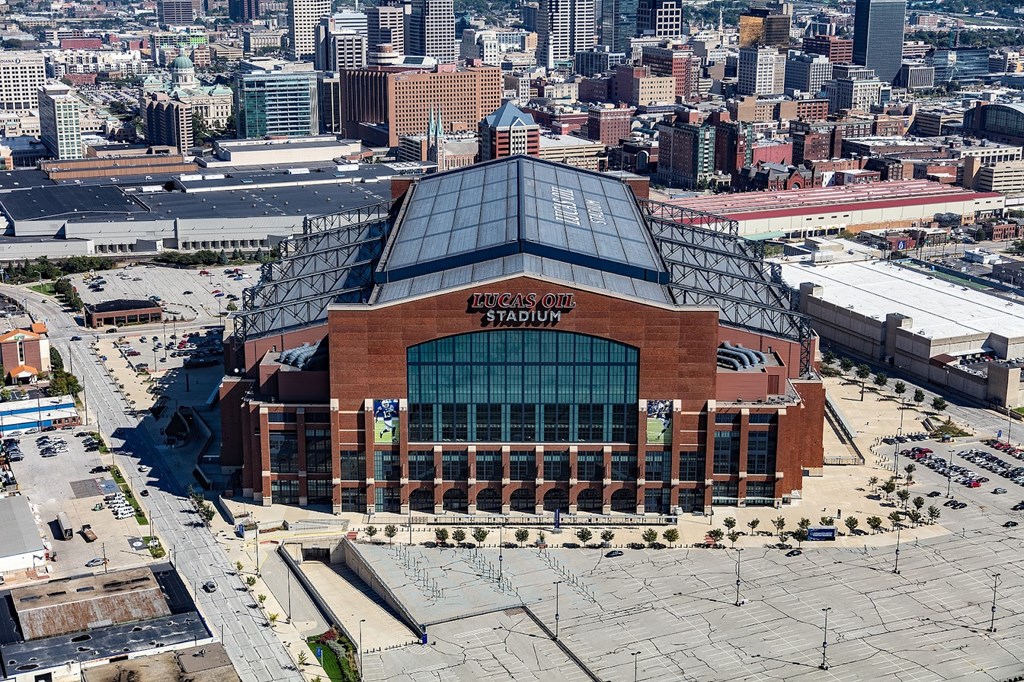 Lucas Oil Stadium
Home to the NFL's Indianapolis Colts, Lucas Oil Stadium is the perfect attraction for any football fans in your crew. Catch a game when the Colts are in town or opt for a stadium tour for a behind the scenes look at the state-of-the-art facility.
Gainbridge Fieldhouse
If your group of travelers prefers basketball, catch a game at Gainbridge Fieldhouse, home to the NBA's Indianapolis Pacers. Aside from basketball, this venue offers big-name concerts that are a great way to spend your time in this Midwest city. Grab your tickets and start planning your trip to Indy!
Indianapolis Children's Museum
With a wide variety of indoor and outdoor exhibits, the Indianapolis Children's Museum offers an interactive experience to excite children about all things arts, sciences and humanities. Join your child as they explore new sights, sounds and textures in this world famous museum.
Go Ape Zipline & Adventure Park
Channel your wild side with this outdoor excursion! Located in another great site of Indy, Eagle Creek Park is an exhilarating adventure called Go Ape. Take part in the aerial adventure, climbing, ziplining and meandering over 40 feet up from the ground. It's no wonder this is a top-rated outdoor activity near Indianapolis!
Indianapolis Motor Speedway Museum
Ladies and gentlemen, start your engines because this is an Indianapolis attraction you don't want to miss. As the home of a famous car race, it's no surprise that Indy also has a museum dedicated to the sport. You'll find it within the bounds of the well-known IMS oval, a 2.5 mile speedway track, and be able to see and read about the winning cars of the Indianapolis 500.
Indy Canal Walk
A beloved activity of both locals and the 28 million annual tourists, the Canal Walk starts at White River State Park and extends north for nearly two miles. This waterside promenade is the perfect place for pictures, a leisurely stroll and taking in the great skyline of Indianapolis.
Camping Near Indianapolis, IN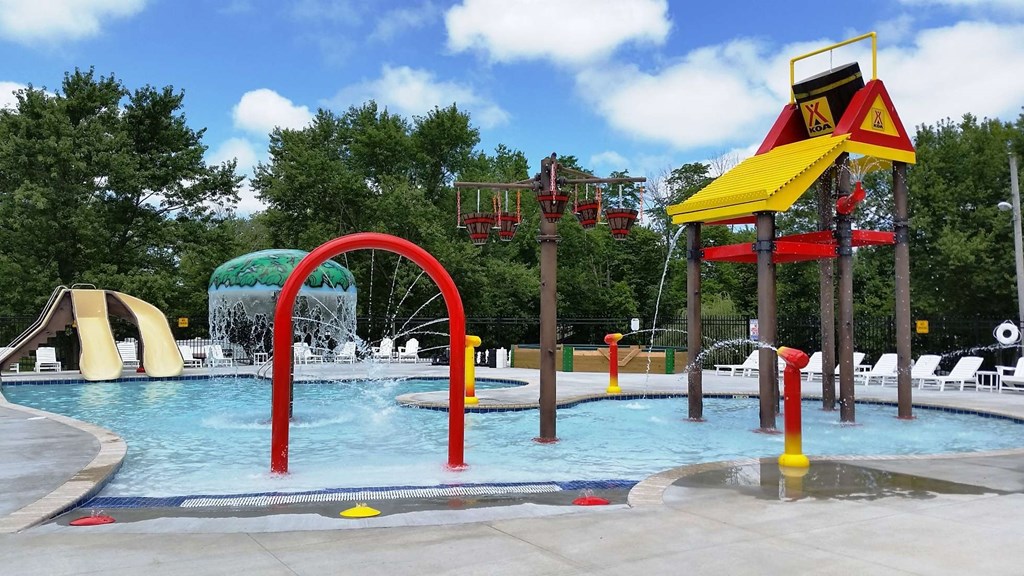 Indianapolis KOA Holiday
When planning your Indianapolis vacation, you'll need to find the perfect place to stay, and at KOA, we have a spot just for you and your crew. Enjoy the amenities at the Indianapolis KOA Holiday, one of the best RV, cabin and tent campgrounds near Indianapolis, IN. Here, you'll find:
KampK9
Bike rentals
Splash park
24/7 laundry facilities
Book Your Indianapolis Camping Sites At KOA
Trust KOA to provide you with everything you need during your Indianapolis vacation. Book your stay at our Indianapolis campground today!
---
About the Author: Kampgrounds of America
Kampgrounds of America is the largest system of open-to-the-public campgrounds in the world, with over 500 locations across the United States and Canada. Founded in Billings, MT in 1962, KOA's family of campground brands – KOA Journey, KOA Holiday and KOA Resort – today serve more than a million camping families each year. KOA is dedicated to "connecting people to the outdoors and each other" by providing people with a variety of camping experiences and the information they need to make the most of their camping trip. Read more of their camping and travel resources by visiting KOA.com/blog.
---