The following is part of a series of guest food blogger posts of creative camping-inspired marshmallow recipes to celebrate National Marshmallow Month. Thanks to Spoonful of Flavor for sharing her peanut butter and marshmallow take on a breakfast favorite, made at the Orlando / Kissimmee KOA. Check out her original post here: Peanut Butter Banana Oatmeal with Marshmallows and Chocolate Chips)
Last weekend I had the opportunity to enjoy the great outdoors at a KOA Campground. We go camping in a tent a few times a year but I've never had the luxury of staying in a deluxe cabin until last weekend. Let's me just say that camping in a deluxe cabin is ten steps above camping in a tent. With all the amenities of home, it was the perfect weekend getaway. And I even made one of my favorite meals for breakfast!

I'm not one of those people who brings my entire house camping with me. I like to travel light so that set up and clean up is easy. I plan all of our meals in advance and try to minimize the amount of equipment we have to bring. Cleaning dishes is a pain when you are camping.  I would rather spend time hiking, kayaking or exploring the local area.
KOA has more than 480 locations in the U.S. and Canada. The Deluxe cabins sleep up to eight people and include a bathroom, bedrooms and a kitchen. I was surprised to see that the cabins are very spacious and comfortable. Flat screen TVs, air conditioning and a full size bathroom is basically like staying in a hotel room. I sure wasn't complaining about the luxury accommodations. The kitchen included a stove, sink, full size refrigerator, toaster, microwave, and Keurig. The kitchen is stocked with enough supplies to prepare meals, including this peanut butter banana oatmeal. Head over to the KOA Campgrounds website for more details on the type of accommodations that can be reserved.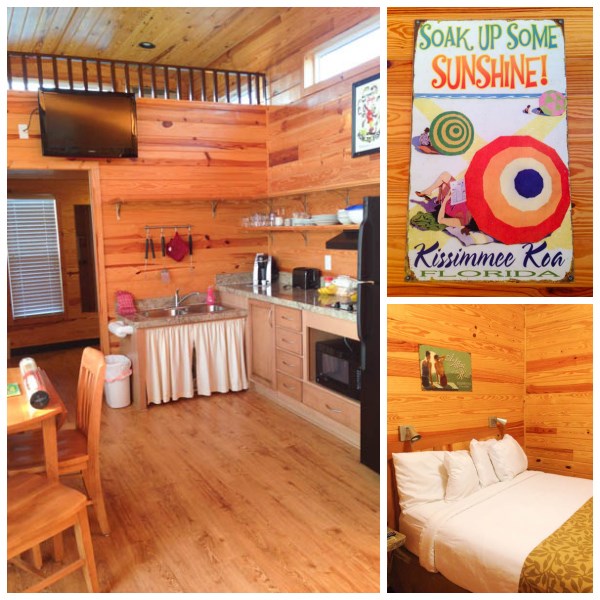 To help KOA Campgrounds celebrate marshmallow month, I'm sharing this hearty yet indulgent oatmeal recipe. Who says you can't have chocolate and marshmallows for breakfast, right?
Peanut Butter Banana Oatmeal is the perfect way to start the day! Ready in less than 15 minutes, this oatmeal is an easy one-pot meal that requires minimal prep or clean up. Cook a batch of oatmeal, mix in creamy peanut butter and layer it with chocolate chips, marshmallows and bananas. Now go have fun and enjoy the great outdoors!
Peanut Butter Banana Oatmeal with Marshmallows and Chocolate Chips 
Ingredients
3 1/2 cups water

pinch of salt

2 1/2 cups rolled oats

1/4 cup creamy peanut butter

2 large bananas, sliced

1/4 cup mini chocolate chips

1/3 cup mini marshmallows
Instructions
In a large saucepan over medium heat, add water and salt. Bring to a boil. Add oats and stir to combine.

Cook for 5 minutes, or until oatmeal thickens. Add peanut butter and mix well. Layer with slices of banana, chocolate chips and marshmallows.

Serve immediately.
Notes: *Add honey or maple syrup for additional sweetener as desired. **I like my oatmeal thick. If you would like creamier oatmeal add milk as desired.