The following guest blog post is part of a series of creative camping-inspired marshmallow recipes to celebrate National Marshmallow Month. Thank you to Lovin' From the Oven for sharing her cinnamon sweet twist on the quesadilla, created at the San Diego KOA. Check out her original post here: S'mores Quesadilla)
Over this past weekend, I had the delightful opportunity of going camping with Kampgrounds of America (KOA). Since my DF and I have a wedding coming up this weekend, we didn't want to venture out too far from Los Angeles. We still did, however, want a mini getaway. We settled on KOA's San Diego Metro campground– not too close, not too far, just right.
It wasn't the regular ol' camping that I'm used to growing up. It's "glamping"… aka "glamorous camping." Have you ever heard of it? We got to stay in a deluxe cabin that had room for six people. It had a full bathroom, partial kitchen (the only thing missing was an oven!), two TV's with cable, air conditioning, wi-fi, and two separate rooms (not to mention a loft).
I didn't take pictures of the bunk bed room, which is pictured below in the upper left hand corner. Since it was just the two of us, the other mattresses didn't have any sheets on them. I told my DF that I'd love to have a vacation home just like KOA's deluxe cabins. They have everything you need, yet remain minimal. I'm a sucker for those log/wood cabins.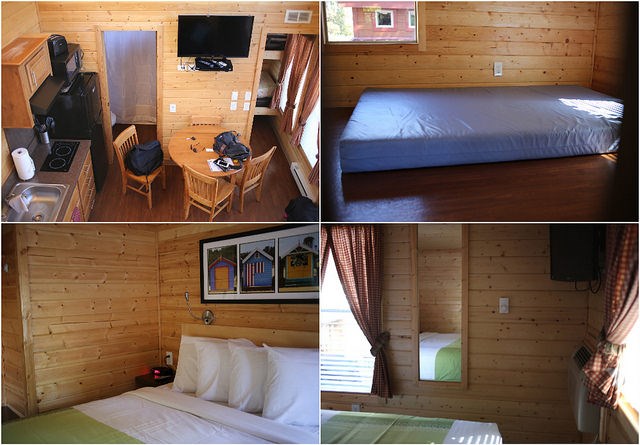 Isn't it amazing? Outside, we had our own fire pit and grill. If you want to rough it a little more than we did, KOA also has sites for RVs, tents, and regular cabins. This particular campsite was extremely close to everything– Starbucks, grocery stores, and even a drive-in movie theater! My DF and I decided to take advantage of its location and went exploring in San Diego.
When we got back from our day out, I went straight to the kitchen. What's camping without some marshmallows? We didn't have any firewood on hand, so I took advantage of the electric stovetop that was in the kitchen and made s'mores quesadillas! San Diego is known for its Mexican food, so it's only fitting to make something with tortillas.
The result was mouthwatering and, dare I say, better than a regular s'more. My DF agreed and happily ate this in lieu of dinner. Hey, we are on vacation after all!
The quesadilla crisped up quite nicely and the cabin smelled heavenly. Who doesn't love the smell of cinnamon sugar floating through the air? It's almost as good as camp fire smell.
These s'mores quesadillas were a perfect way to end our weekend. If you're looking for a mini getaway, I'd highly recommend checking out what KOA campground is near you. They have almost 500 locations in the US and Canada!
If you do happen to go to the San Diego location, make sure to say hello to Courtney, the owner's wife. She made us feel welcome and gave us a wonderful tour of the campgrounds. They'll also be opening up their own restaurant in a couple of months (which she'll be in charge of). I can't wait to come back and try it out!
S'mores Quesadillas
Ingredients
2 tortillas
1/2 cup miniature marshmallows
1/4 cup chocolate chips
2 graham crackers, broken into small pieces
1 tablespoon butter, divided
1 tablespoon cinnamon sugar
Directions
Butter one side of each tortilla. Set aside.
In a large saucepan over medium heat, place one tortilla with the buttered side facing down.
Add the marshmallows, chocolate chips, and graham crackers. Place the other tortilla on top, buttered side facing up.
Once the marshmallows start melting (about a minute or two), flip the quesadilla over and let the other side cook for another minute.
Remove from heat and butter one side again, while warm. Sprinkle the cinnamon sugar on top of the melted butter. Serve immediately.