The following is another guest blog post on creative camping-inspired marshmallow recipes to celebrate National Marshmallow Month. Thank you to The Nourishing Gourmet for sharing a fruity marshmallow Ambrosia salad, created at the Astoria / Warrenton / Seaside KOA. Check out her original post here: (Healthier) Ambrosia Salad
Juicy fruit, flavorful coconut, creamy yogurt, and sweet (homemade) marshmallows come together in this simple, but delicious fruit salad. When you upgrade all of the ingredients to use nourishing ones, this probiotic-rich salad is a healthy treat!
When my birthday rolled around in my childhood, my dinner requests were pretty simple. Mac and cheese was always a request, and so was "Five Cup Fruit Salad," otherwise known as Ambrosia Salad. I loved it so much I felt I could eat it solely for days and be happy (though my mom never let me). These meal requests always made my mom happy because they were so easy and simple to fulfill. This fruit salad takes only about five minutes to throw together, which also makes it even more convenient while camping.
Did I mention the camping part? KOA (Kampgrounds of America)  invited me to be part of their marshmallow month, and to stay at one of their campgrounds. We loved cooking in one of their beautiful cabins (more on their cabin and campgrounds in a second). I not only said yes, but started dreaming of all sorts of gourmet marshmallow recipes. Oh, I had some crazy ideas!
But in the end, my childhood ideals won out, and we were glad it did.
INGREDIENTS FOR MY AMBROSIA SALAD
Perhaps I should say an improved childhood favorite won out.
I've made this salad with all fresh fruit, and it was very delicious. But let's be honest…if there was a time for using canned food, it would be when camping. So I compromised this time with fruit canned in fruit juice (no corn syrup, no sugar). Instead of using highly sweetened coconut flakes, I used unsweetened for a more coconutty and less sugary option.
Our family recipe from my childhood used sour cream. We can only tolerate goat milk products, so I used goat yogurt, and it was AMAZING! It had that tangy taste like sour cream and was so creamy too. Coconut yogurt, or even some thick coconut cream would also work for a dairy-free option. Maybe add some lime juice for a little bit of bright flavor.
I also decided to make my own homemade marshmallows. As many of you know, I am a real fan of homemade marshmallows sweetened entirely with honey or maple syrup (you can get my marshmallow recipe here and here). This time, on a whim, I made up marshmallows sweetened entirely with stevia. They worked really well in this salad (but I don't think they would toast up for 'smores!). I want to experiment with them a little more before sharing the recipe, but hopefully I will perfect them soon.
As a backup, I also brought these (affiliate link) vegan marshmallows which are surprisingly quite decent. They are GMO-free, and don't use corn-syrup, coloring, and some of the nasty non-food ingredients that many marshmallows contain.
Bring all of those foods together, and you have ambrosia – "the food of the gods".
KOA KAMPGROUNDS
We hadn't stayed at a KOA campground before, but plenty of my fellow food bloggers who camp a lot more than we do tell me that they love KOA campgrounds. It was not hard to see why. The specific location we went to in Oregon was by far the best maintained, friendliest campground we've been too. Our location also had all types of camping options, from tent sites to RV spots, to rustic cabins, to the deluxe cabins. Our deluxe cabin was so beautiful I took pictures of it as soon as we arrived. People, it even had wine glasses and air conditioning. I think you call this "glamping" and I decided I was a real fan. Notice in the top picture the big grill, patio table set, and you can also see just the top of the fire pit.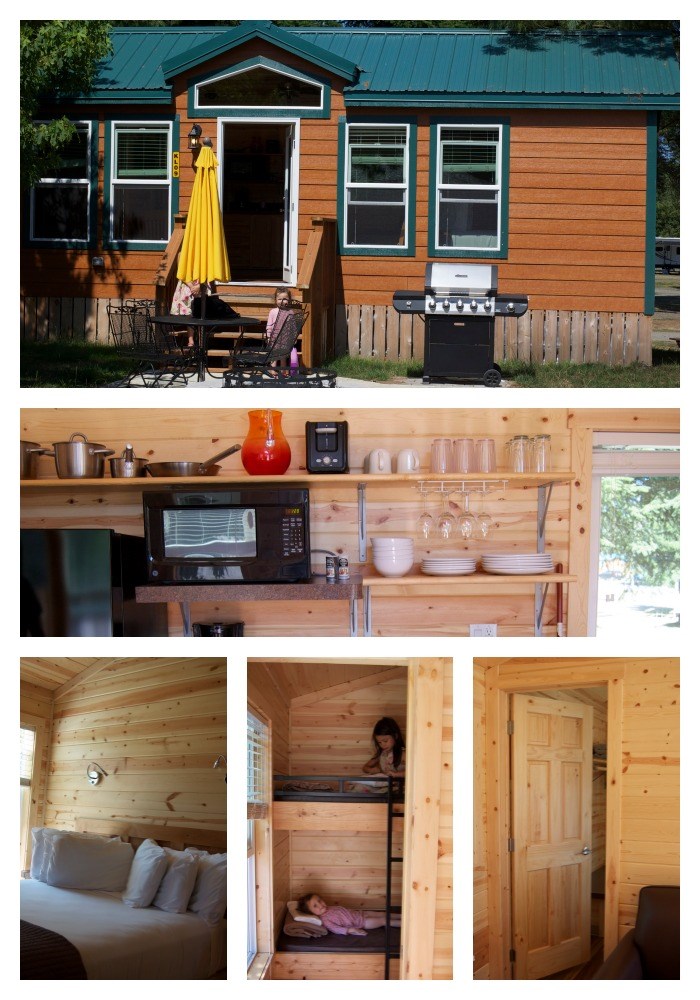 Let's just say we were pretty happy here. Isn't it beautiful!
When we were browsing the locations near us (there were plenty in Oregon and Washington to choose from), it is clear that their campgrounds have a wide appeal. Some locations were clearly for the explorer, located near the foot of serious hiking with more simple accommodations. Others, like the location in Astoria we were at, are more of a family-friendly fun camp. With so many fun things for the kids to do (swimming in their indoor pool, playing miniature golf, crafts, etc), we had to drag the kids away from the actual campground to go to the beach! All to say, our stay was a success.
I also loved learning that KOA has community outreach camping, including care kamps for children with cancer and their siblings, where children can experience camping while still receiving medical care. That was heart warming to hear about.
Special thanks to KOA for sending us to camp and inviting us to be part of #marshmallowmonth! And hat-tip to Frugal Granola for reminding me of this delicious salad. Thanks, friend!
(Healthier Ambrosia) Salad
Ingredients
1 cup of fresh mandarin orange segments or 12 ounce can of mandarin oranges in fruit juice

1 cup of fresh bite-sized pineapple or 1 cup of canned in fruit juice pineapple bits

¾ cup unsweetened coconut flakes (not defatted)

1 cup of miniature marshmallows of choice (if using 

homemade

, cut into small pieces)

1 cup of unsweetened yogurt of choice
Directions
Drain all canned fruit, if using (save juice for making 

fruit juice gelatin 

or drink it!). Mix all of the ingredients together, and refrigerate for about 2 hours before serving.

Enjoy!