Grilled Meatball Subs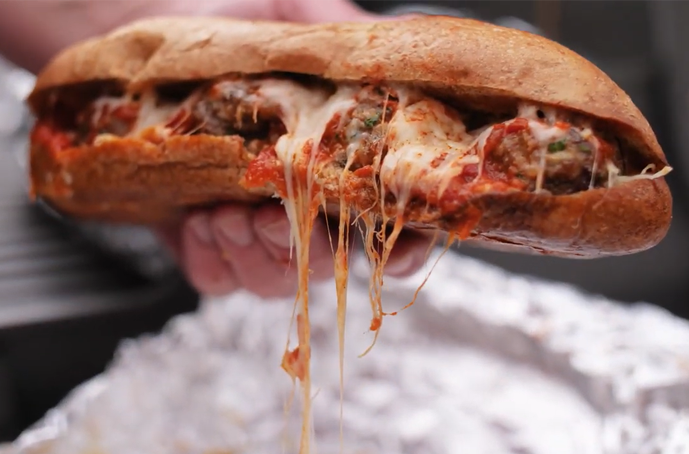 Warm, cheesy and totally tasty, these easy subs make a great addition to your usual camping menu. Make it easy by cooking your meatballs at home before heading to camp.
Grilled Meatball Subs
Ingredients
½ cup finely minced onion
2 garlic cloves, minced
½ cup Italian breadcrumbs
1/3 cup grated Parmesan
1 egg
3 Tbsp. milk
1 tsp. salt
½ tsp. pepper
2 Tbsp. minced parsley
1 pound ground beef
1/4 pound Italian sausage
5 sturdy hoagie buns
1/3 cup melted butter
½ tsp. garlic powder
2 1/2 cups marinara sauce
3 cups shredded mozzarella or Italian cheese blend
Heavy-duty aluminum foil
Directions
Make meatballs ahead. Preheat oven to 400°F. Line a baking sheet with parchment paper or spray with cooking spray. In a large bowl combine onion, garlic, Italian breadcrumbs, Parmesan, egg, milk, salt, pepper and parsley. Add ground beef and Italian sausage and gently combine, being careful not to overmix or the meatballs will be tough.
Scoop into 1 1/2-inch balls and arrange on baking sheet. Bake for 18-20 minutes, until meatballs are cooked through. If not using immediately, cool and refrigerate in a sealed container.
At camp: Preheat grill to 350°F. Melt butter and add garlic powder. Brush buns with garlic butter and grill until lightly toasted.
Divide meatballs between buns, top with marinara sauce and lots of cheese. Wrap each sandwich in heavy-duty foil. Turn off one side of the grill and arrange wrapped sandwiches on the unlit side (indirect heat). Close grill and heat sandwiches until meatballs are hot and cheese has melted, about 20 minutes.
---
About the Author: Kampgrounds of America
Kampgrounds of America is the largest system of open-to-the-public campgrounds in the world, with over 500 locations across the United States and Canada. Founded in Billings, MT in 1962, KOA's family of campground brands – KOA Journey, KOA Holiday and KOA Resort – today serve more than a million camping families each year. KOA is dedicated to "connecting people to the outdoors and each other" by providing people with a variety of camping experiences and the information they need to make the most of their camping trip. Read more of their camping and travel resources by visiting KOA.com/blog.
---