Grilled Chocolate Chip S'mores Cookie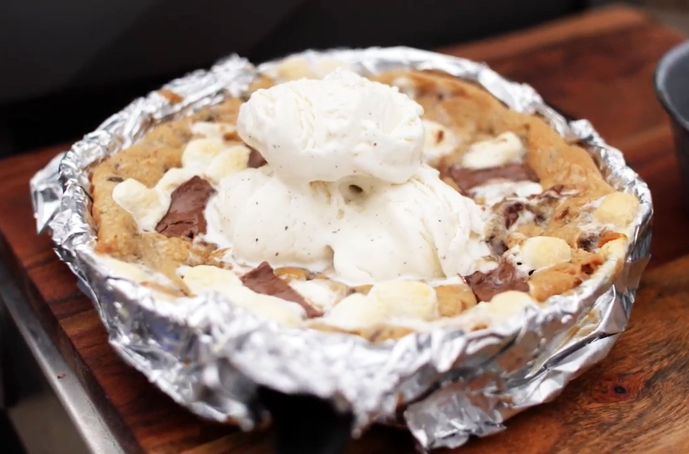 Want to jazz up your typical s'mores next time you go camping? Try this ooey, gooey grilled cookie that combines the yumminess of chocolate chip cookies and s'mores. Want to make it home? This is great in the oven too!
Grilled Chocolate Chip S'mores Cookie
Ingredients
1 roll chocolate chip cookie dough
6 graham crackers
3 milk chocolate bars
1 cup mini marshmallows
Flaky sea salt
Ice cream, for serving, if desired
Directions
Preheat grill to 350°F. Line an 8-inch cast iron skillet with foil. Spray with cooking spray. Press ½ of the cookie dough into the bottom of the pan. Add a layer of graham crackers, followed by a layer of milk chocolate. Sprinkle with mini marshmallows.
Spread remaining cookie dough into a rectangle on another piece of foil. Peel dough circle off and place on top off pan. Press edges to cover all of the s'mores filling.
Turn off one side of the grill and place the pan on the unlit side (indirect heat), close lid and cook for about 20 minutes.
Open grill and sprinkle pan with additional mini marshmallows and a few chocolate pieces and bake for another 10-15 minutes until the top of the cookie has baked.
Remove from heat and cool for 10 minutes. Top with ice cream, if desired, and serve.
Note: This can also be baked in the oven at 350°F. It's great warm, but also delicious chilled and sliced. Serves 6-8
---
About the Author: Kampgrounds of America
Kampgrounds of America is the largest system of open-to-the-public campgrounds in the world, with over 500 locations across the United States and Canada. Founded in Billings, MT in 1962, KOA's family of campground brands – KOA Journey, KOA Holiday and KOA Resort – today serve more than a million camping families each year. KOA is dedicated to "connecting people to the outdoors and each other" by providing people with a variety of camping experiences and the information they need to make the most of their camping trip. Read more of their camping and travel resources by visiting KOA.com/blog.
---