Grilled Chicken & Berry Salad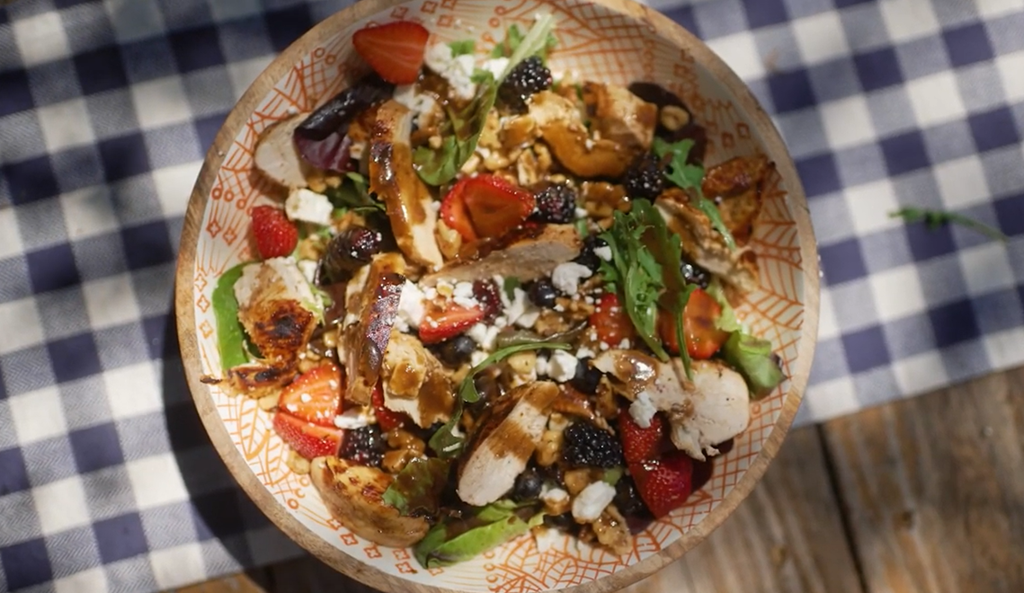 While you might not typically think of salad as a camping food, this sweet and tangy salad might just change your mind! Follow this recipe to make your own dressing, grill up some chicken and create the perfect healthy camping meal.
Grilled Chicken & Berry Salad
Ingredients
½ cup olive oil
1/3 cup balsamic vinegar
2 tsp.. Dijon mustard
1 tsp. honey
1 clove garlic, minced or ½ tsp. garlic powder
Salt and pepper, to taste
2 chicken breasts
4-6 cups spring greens
1 cup crumbled feta or gorgonzola
½ cup blueberries
½ cup sliced strawberries
½ cup blackberries
¾ cup candied pecans or walnut
Directions
Combine olive oil, balsamic, mustard, honey, garlic and salt and pepper in a mason jar. Cover and shake well. Place chicken breasts in a zip top bag and add half of the dressing, Marinate at least 2 hours or overnight.
Preheat grill to medium high heat (400°F). Place marinated chicken breasts on grill, close lid and cook for 7 minutes. Turn chicken and cook for another 7-10 minutes, until cooked through. Let rest for 5 minutes.
While chicken is resting, combine lettuce mix, feta, berries and candied nuts. Slice chicken and add to salad. Drizzle with dressing, toss and serve. Serves 4-6.
---
About the Author: Kampgrounds of America
Kampgrounds of America is the largest system of open-to-the-public campgrounds in the world, with over 500 locations across the United States and Canada. Founded in Billings, MT in 1962, KOA's family of campground brands – KOA Journey, KOA Holiday and KOA Resort – today serve more than a million camping families each year. KOA is dedicated to "connecting people to the outdoors and each other" by providing people with a variety of camping experiences and the information they need to make the most of their camping trip. Read more of their camping and travel resources by visiting KOA.com/blog.
---