Grilled Bananas Foster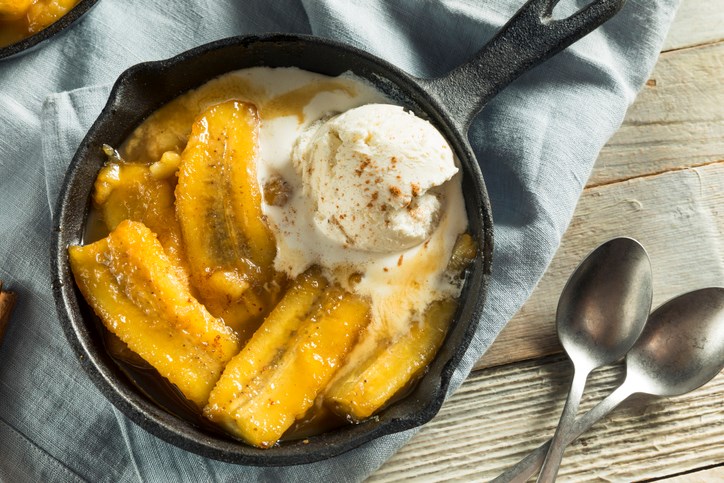 While we love classic camping desserts, it's always fun to try something a little different now and again! This grilled take on a classic from New Orleans is definitely one you'll want to try.
Grilled Bananas Foster
Ingredients
4 bananas
½ cup butter, plus 2 Tbsp. for brushing bananas
½ cup brown sugar
Pinch of cinnamon
½ cup dark rum, regular or spiced
1 pint vanilla ice cream
Whipped cream, for serving
Directions
Clean and oil grill. Preheat to medium high heat. Halve bananas, keeping peels on.
Brush bananas (cut side only) with melted butter and place on hot grill. Grill for 4-5 minutes until soft and nicely caramelized. Remove from heat.

In a small skillet set on the grill, melt butter, stir in brown sugar and cinnamon and whisk until sugar has dissolved and mixture comes together. Peel bananas, cut in half and add to skillet. Add rum and carefully flambé, if desired.
Place bananas over vanilla ice cream and drizzle with sauce from bottom of pan. Top with whipped cream.
---
About the Author: Kampgrounds of America
Kampgrounds of America is the largest system of open-to-the-public campgrounds in the world, with over 500 locations across the United States and Canada. Founded in Billings, MT in 1962, KOA's family of campground brands – KOA Journey, KOA Holiday and KOA Resort – today serve more than a million camping families each year. KOA is dedicated to "connecting people to the outdoors and each other" by providing people with a variety of camping experiences and the information they need to make the most of their camping trip. Read more of their camping and travel resources by visiting KOA.com/blog.
---