Great Fall Adventure: A Wine-Tasting Tour Through NY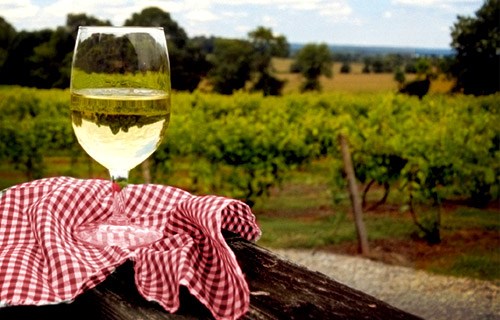 By William Greffe
The RV, always in a "travel ready" state, only required packing a few essentials. Soon, were on our way to the Finger Lakes region of upper New York State to appropriately "toast" a birthday on our wine tour. The KOA, being close to wine growing areas, would become a "Taste Trail Home Base" for several days as we explored by car.
Home base was one of our regular KOA stops. Watkins Glen/Corning KOA is located minutes from the southern end of Seneca Lake, which is the largest and deepest of the Finger Lakes. We appreciate their full-featured big-rig sites each time we return. Their large pull-thrus make arrival and departure a breeze. NASCAR and Watkins Glen race fans love these sites for that very reason.
Rather than planning specific destinations, we obtained an area wine trail map — then enjoyed the excitement of discovery. KOAs have local tourist brochures and they willingly share "hidden treasures." Don't forget to ask!
In the Finger Lakes, casual dining just means relaxed. Pride is taken in featuring local produce and wines. With over 40 wineries within easy reach, adventures were just around the corner. Although each year's "Taste Trail" provides new and exciting stops for us, there are a few wineries that, like this KOA, always get a return visit.
We always enjoy visiting the Pleasant Valley Wine Company just outside of Hammondsport, NY. This winery breathes atmosphere. The 45-minute tour, offered from 11 am to 3 pm during the summer months, is such a joy that we have taken it more than once.
Another regular stop, Heron Hill Winery overlooking Keuka Lake, was chosen as one of the ten most spectacular tasting rooms in the world by Travel + Leisure magazine.
The area has many premium quality cheese makers, as well. Mix Wine Trails with Cuisine Trails and enjoy!
If you are on a tight schedule, you can still enjoy a Taste Trail in one spot. The annual Finger Lakes Wine Festival in July provides a venue at Watkins Glen International for sampling the best from over 80 wineries, along with food — offering cooking classes, live music, and arts and crafts. Designated drivers receive discounted admission and other bonuses and driver sobriety checkpoints keep everyone safe.
While exploring "Taste Trails," don't forget to stimulate the other senses. Not only is the Finger Lakes scenery exceptional, there are many other attractions to enjoy on the way there.
Nature: Watkins Glen State Park – Watkins Glen, NY. The Gorge Trail is a treasure to walk. Within two miles, the glen's stream descends 400 feet past 2000-foot cliffs generating 19 waterfalls. Although the walk is not difficult, an available van ride will allow you to either return to the beginning or start at the top and walk downhill.
Adventure: Harris Hill Soaring – Elmira, NY. This is the Soaring Capital of America (space shuttle pilots trained here). Visit the museum, relax in a swing, watch sailplanes or take a glider flight to view the beauty of the Chemung River Valley. This valley inspired Mark Twain to return here for 20 summers to write. Twain's study and grave are only five minutes away.
Creativity: The Corning Museum of Glass – Corning, NY. This museum not only displays glass history and the newest innovations, we particularly enjoyed having our own glass-making experience.
History: The Glenn H. Curtiss Museum – Hammondsport, NY. Discover his link to Alexander Graham Bell and why he was more than just the "Father of Naval Aviation."
May we also suggest that when exploring new areas, select a "treasure" not to visit. This unexplored attraction will give reason to return. We have visited each of these areas several times and look forward with anticipation to returning. Each visit has been a mixture of old treasures and new discoveries. We thoroughly delight in both.
Amazingly, when we return, this KOA has always found some new way to make our stay more memorable than the last. If you are new to any of these areas, a week-long stay would still leave you with a "Treasure List" and the desire to return.
A "Bucket List" is a great idea. However, make a "Treasure List," too. You won't be sorry!
#####
Bill Greffe, a retired teacher, loves exploring the roads less travelled with his wife, Charlotte. To him, KOAing and RVing are synonymous. He is currently compiling a database of RV itineraries for future sharing. As his children often tease, "Our trips always included going up mountains, down into caves, visiting national parks or places of dead people. We always toured a factory or museum and took a ride on a train, bus or boat." Bill will continue capturing his adventures for KOA.