Go Beyond Old Faithful With These Can't Miss Wyoming Destinations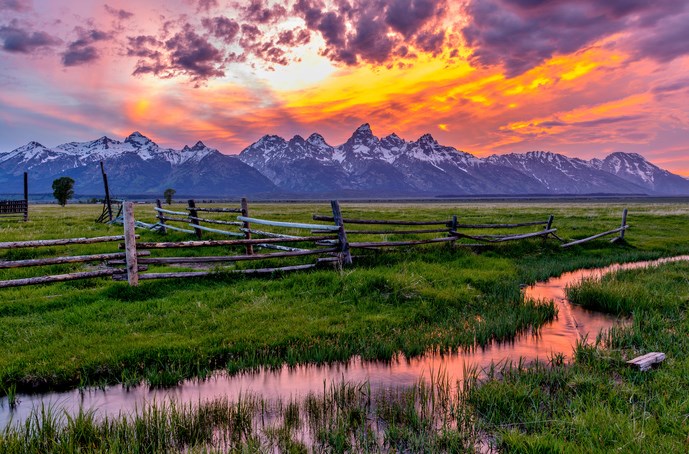 While world famous Old Faithful geyser is nothing to scoff at, the state of Wyoming is home to a host of less known destinations and national wonders just as worthy of a visit. Check out these incredible Wyoming landmarks.
In terms of all-American bucket list experiences, Old Faithful certainly merits a spot among the rankings, but so do numerous other destination-worthy highlights in Wyoming. Here, Yellowstone's iconic geyser monopolizes itineraries and packs in crowds from all over the world, and while it's indeed a spectacle to behold, it's just the tip of the iceberg when it comes to Wyoming's natural wonders.
From other sights in Yellowstone to nearby Grand Teton National Park and monuments and rivers beyond, Wyoming may very well be the ultimate destination for those Americana bucket lists. Skip the crowds and go beyond Old Faithful with these other can't-miss Wyoming destinations.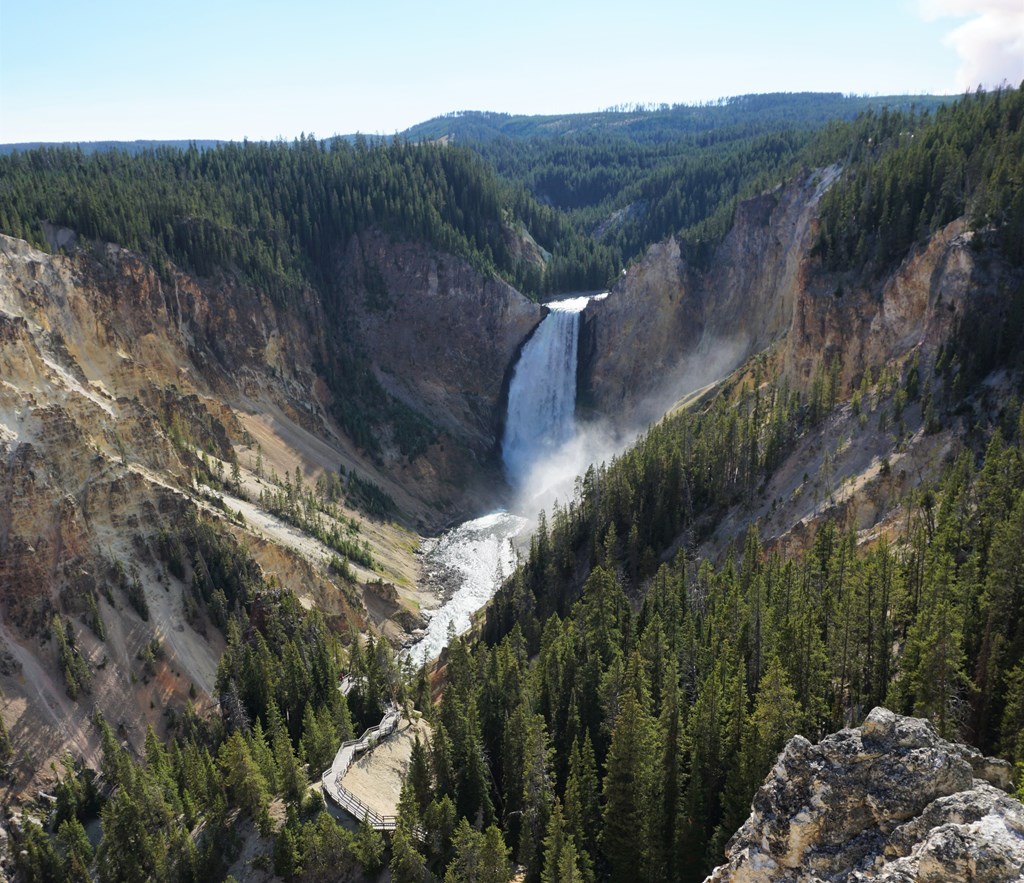 Grand Canyon of the Yellowstone
Who knew that a little slice of the Grand Canyon could be found right here in Yellowstone? According to the lack of traffic in the Grand Canyon of the Yellowstone area, not many. This striking symbol of river erosion is essentially a smaller version of Arizona's iconic park, chiseled by the roaring Yellowstone River and located just downstream from the mighty Yellowstone Falls. At 24 miles long, up to 1,200-feet deep and roughly half a mile wide, it's certainly a sight to see, especially considering the juxtaposition of yellow-hued rocks due to oxidization and the crystal-blue waters of the river, which flows on from here to empty into the Missouri River in North Dakota, making it the longest un-dammed river in the country. Surrounded by lush forests lined with hiking trails, each providing different vistas and various waterfalls, it's a vast section of the park worth a day trip in and of itself.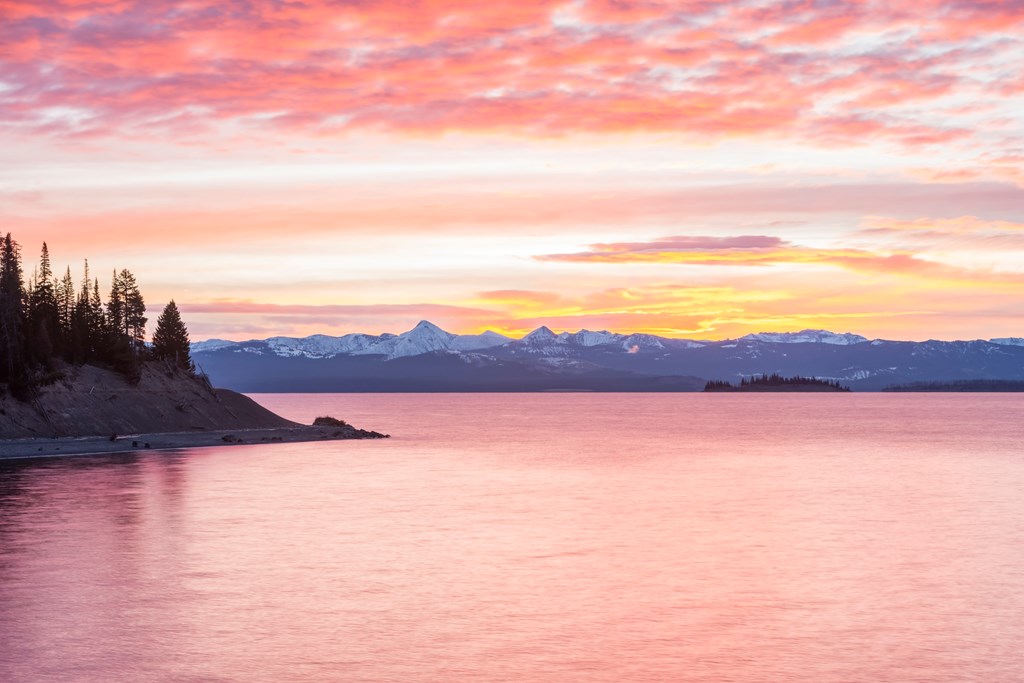 Yellowstone Lake
From its frigid temperature and intimidating depth to its sheer size and elevation, Yellowstone's namesake lake is all about extremes. The largest body of water in the massive National Park, the lake clocks in at 136 square miles with a maximum depth of 390 feet. The glacial lake sits atop the heart of the Yellowstone Caldera, the super volcano that formed Earth's oldest National Park, and at 7,000 feet above sea level, it's the highest freshwater lake on the entire continent. So be sure and bring sunscreen as you embark on a kayak tour. Due to its year round frigidity, swimming isn't allowed. Activities are limited to boating and paddling, the latter of which takes visitors along the shoreline and past bubbling geysers and steaming mudpots. If you're lucky, you may spot any number of animals, such as moose, bears, otters and swans.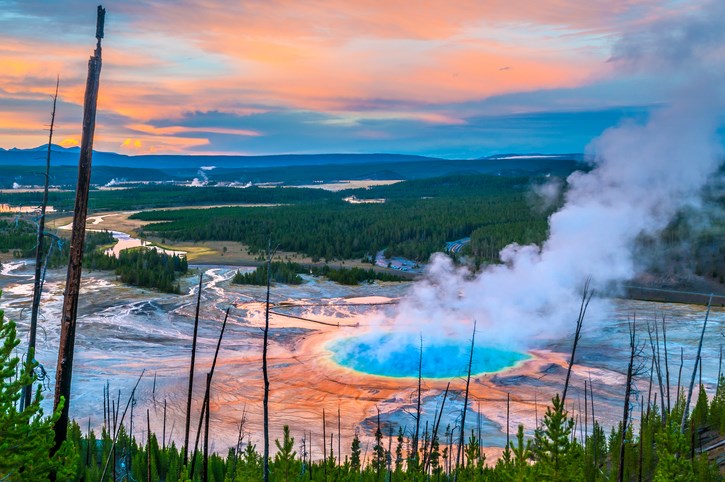 Grand Prismatic Spring
One of the best hikes in all of Yellowstone centers around the largest hot spring in the country; a sprawling pool of kaleidoscopic colors that's become one of the park's calling cards in the Instagram age. And rightfully so. The spring, radiant with hues of red, orange, yellow, green and blue, is show-stopping in and of itself, as many groups simply ascend to the overlook by the trail entrance to marvel at its beauty. But carry on past the thick of the crowds to explore Yellowstone's vast terrain with a roughly five-mile hike that weaves through thick forests, under a soaring waterfall and between rivers and pits of piping-hot water. This is a great trail for wildlife-spotting, too, as herds of bison tend to graze along the way. You may also spot foxes and elk.
Snake River
Fans of the classic Oregon Trail game may remember the Snake River as a strenuous impasse that often doomed travelers due to capsized wagons. Nowadays, the whitewater might of Wyoming's Snake River is still on full display, but instead of nervously wading across in a wagon, visitors are floating downstream in rafts, spotting bald eagles and paddling into waves. Best viewed and visited near Jackson Hole, Wyoming, various outfitters provide immersive day trips down the river, usually divvied into parts that are calm and ones that contain more whitewater. The former is best for drinking in the sights of the majestic landscape and spotting wildlife, while the latter takes rowers deeper into craggy canyons, which cause large waves and adrenaline-pumping adventure.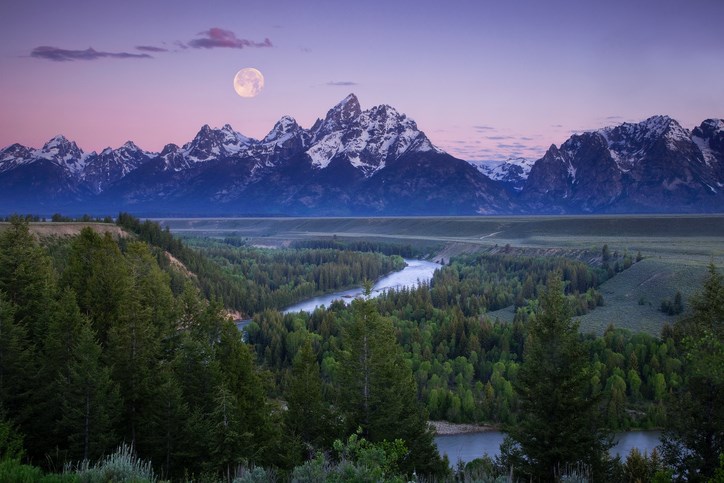 Grand Teton National Park
Immediately south of Yellowstone lies another, less visited National Park; one where ragged, snow-capped mountains jut out from the horizon. Compared to Yellowstone, Grand Teton National Park is much more about hiking, elevation and skiing, with numerous trails of varying difficulty levels winding through the park, alongside shimmering lakes and down into cavernous valleys. Jenny Lake and Death Canyon (not as ominous as it sounds) trails are both great for day hikes, while the park's myriad waterways provide plenty of opportunity for boating, paddling, water skiing and windsurfing. Visit the massive Jackson Lake for all of the above. When it's cold, the park transforms into a winter wonderland, with cross-country skiing and snow-shoeing both available on numerous trails.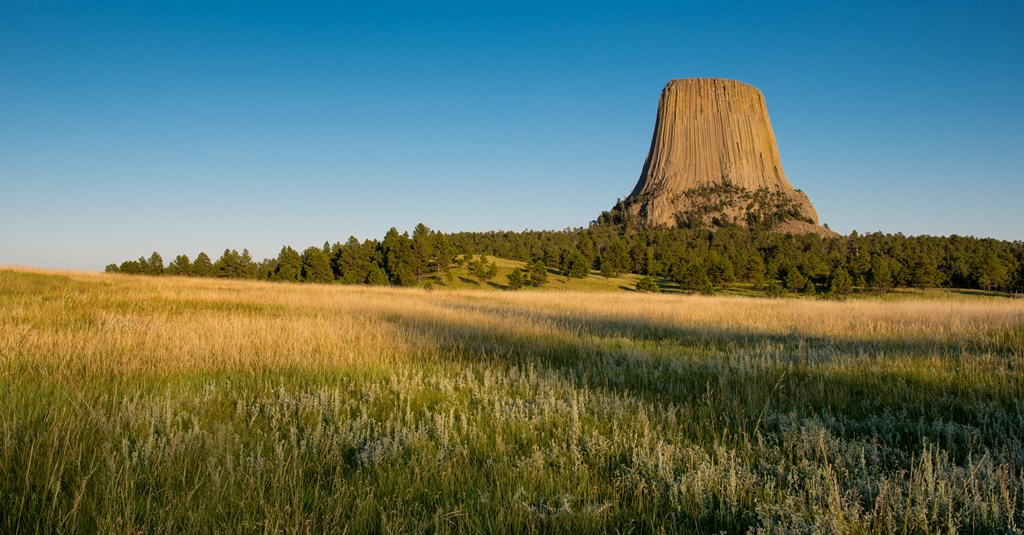 Devils Tower
In the eastern part of the state, Devils Tower rises from the Earth like a behemoth. Located near the Black Hills, the massive butte soars like a natural skyscraper to 1,267 feet, captivating visitors with its sheer scope and beauty. The oldest National Monument in the nation, designated by President Theodore Roosevelt in 1906, Devils Tower dates back much earlier to the Triassic and Jurassic periods. This is when red sandstone, siltstone and gypsum deposits were layered together and formed under a shallow sea. While most visitors simply marvel at the tower from the ground, hoofing it on moderate hiking trails along the Belle Fourche River, the monument has become a popular attraction for rock climbers.
Wyoming KOAs
Wyoming is home to over a dozen convenient KOA campgrounds, making it easy to explore by day and sleep comfortably by night, s'mores in hand. In the northwestern part of the state, near Yellowstone and Grand Teton National Park, there's Cody KOA Holiday in Cody, Wyoming, roughly an hour east of Yellowstone. The campground provides a free shuttle to the Cody Nite Rodeo on summer nights, as well as complimentary pancakes in the mornings, perfect for fueling up for a day spent hiking or paddling.
For all your Grand Teton needs, the Dubois / Wind River KOA Journey is located 50 miles east of the mountainous park, on the babbling shores of the Wind River. Loaded with amenities like a heated pool, game room and playground, the campground provides a comfortable home base for nearby hiking or exploring the historic cowboy town of Dubois.
Smack dab in the middle of Jackson, Wyoming, surrounded by the Snake River, Bridger-Teton National Forest and both National Parks, the Jackson Hole / Snake River KOA is as comfy as it is convenient, thanks to its deluxe cabins overlooking Horse Creek and camping cabins along the Snake River. The campground even offers guided whitewater rafting trips right from the office, as well as discounts on horseback riding, covered wagon steak dinners and fishing trips.
In northeastern Wyoming, Devils Tower / Black Hills KOA gets you so close to the monument you're practically camping on top of it. Located along the Belle Fourche River, the campground offers hayrides through Campstool Ranch and shows nightly screenings of Close Encounters of the Third Kind, which filmed at Devils Tower. There's also a full-service restaurant and a sweets shop with fudge and ice cream.
---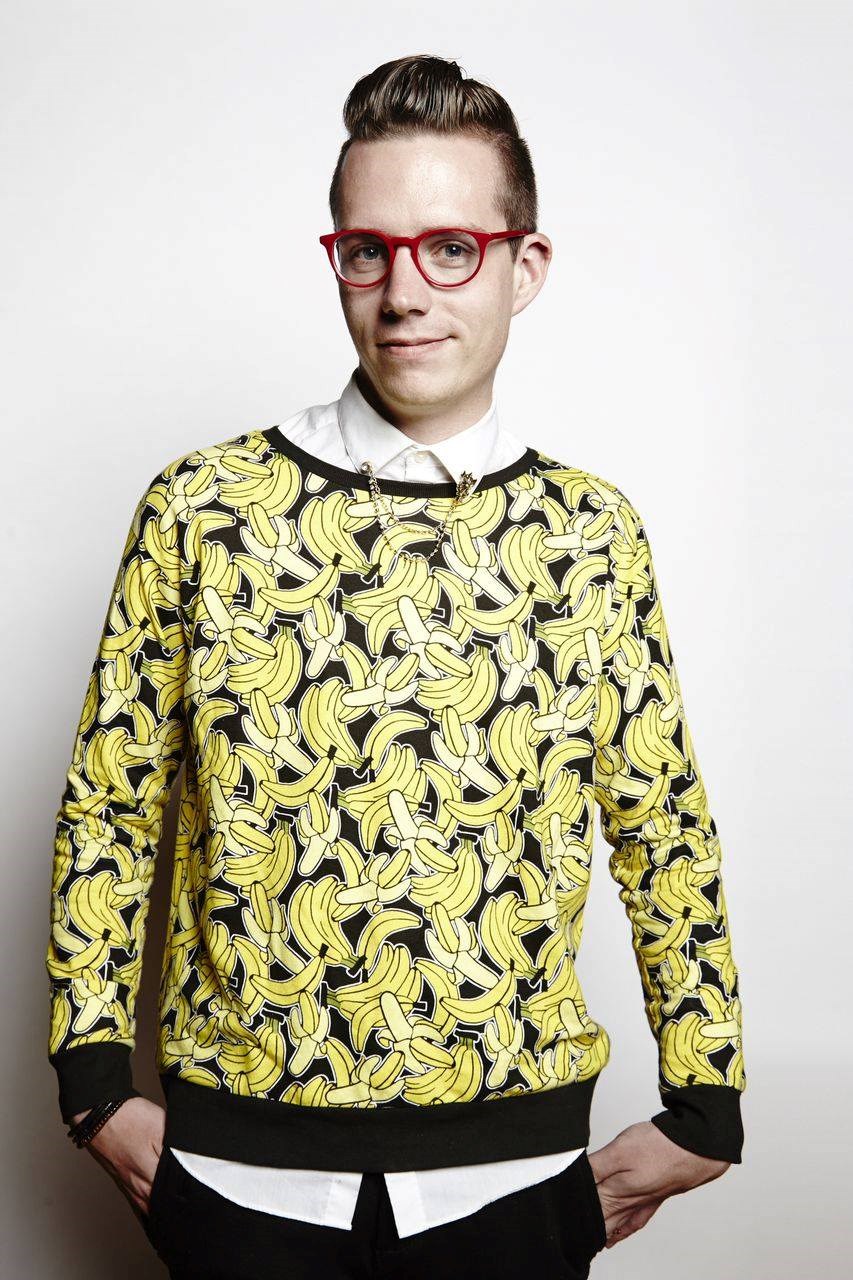 Born and raised in New Hampshire, Matt Kirouac grew up with a love for camping and the outdoors. Though he's lived in Chicago since 2006, he's always on the lookout for new adventures. He writes about travel and food for outlets like TripExpert, Money Inc, Upventur, DiningOut, Food Fanatics magazine, Plate Magazine and Zagat, and he currently serves as Chicago editor for What Should We Do?! He's the author of The Hunt Guides: Chicago (2016) and Unique Eats & Eateries of Chicago (2017).
---