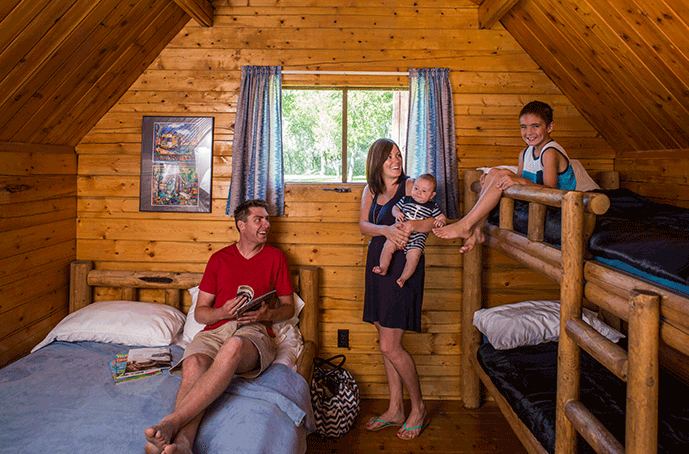 Does your mom love to camp? Then you'll want to check out this guide to help you find the perfect Mother's Day gift.
Oh, mothers. Where would we be without them? (Well scientifically, nowhere) But let's take a look at the general, non-scientific picture of mothers. We likely wouldn't be who we are today without the help of our mothers. They have been with us through thick and thin, fed us and nurtured us, challenged us and believed in us – oftentimes when no one else would.
And no matter how old you are, your mother will always be your mother. No person is too old to need their mom sometimes, and we think she deserves some form of gratitude for her never ending mother duties.
If you're lucky enough to have a mom that loves the outdoors as much as we do, we have some great ways you can show your mom how grateful you are for her. Read on to see our top gifts to show your mom you love her this Mother's Day.
---
Your mom likely survived raising children with a healthy daily dose of coffee. And with a coffee habit like that, chances are she's still regularly sipping down that delicious drink. She shouldn't have to leave that habit behind, or suffer from drinking cold coffee while camping. Thankfully, she won't have to with a Hydro Flask coffee mug. Hydro Flask products are known for their ability to maintain the temperature of the beverage for hours. So whether your mom is in the mood for a steaming hot cup of coffee, or a chilled Irish coffee, she can happily enjoy either with this Hydro Flask. This mug will keep her hot drinks hot for up to 6 hours and her cold drinks cold for up to 24 hours. Also, all Hydro Flask products are all BPA-Free and come with a lifetime warranty. We think your mom will like the sound of all of that.
Price: $28
---
Chances are good your mom has always dreamed of having a hammock she could escape to with a good book and a glass of wine. And likely, she never quite got there. Maybe you didn't have a tree to hang the hammock from, or she just never got around to buying something nice for herself. Whatever the reason, we think your mom would love to have a hammock that is portable and easy for her to take anywhere with her — no trees needed! This great camping hammock from Guide Gear requires just a flat ground to set it on and comes with a carrying bag that makes it super easy for her to tote around.  Pair this with a new book and her favorite wine, and your mom will be on cloud nine.
Price: $44
---
If your mom hasn't already joined the Fitbit club, now is the perfect time. Though our favorite is the 22K Rose Gold Plated one, there are plenty of other options out there that will match your mother's color and style preferences. This Fitbit will help your mom track her miles hiked while camping, her sleep activity while catching zzz's in the beautiful outdoors, and so much more. This is great for moms who always want to be exercising more, but are struggling to motivate themselves to do so. This Fitbit has built into it the ability to set reminders that will notify you when you've been sitting for too long. I think we could all use this great technology, but your mom certainly deserves it.
Price: $180
---
Give your mom a break from her duties and enjoy a more fun side of her when you go camping together over Mother's Day weekend in celebration of KOA's Care Camps Weekend. This great deal gives you Saturday night at a participating KOA campground for just $10 with the purchase of Friday night! Your mom will be thankful to get that special time with you, and will also be thankful that you put your money towards a great cause. KOA's Big Weekend works to raise money so that children with cancer are able to escape for a bit the struggle of their daily lives and have some fun at camp. We are confident your mom will love the idea of giving.
Price varies, depending on campsite
---
There's nothing like a little #girlpower to remind your mom of how fabulous she is. This incredible adventure memoir tells the story of the author's 1,100 mile hike on the Pacific Crest Trail. Whether out camping or at home, your mom will be moved by this story of outdoor adventure and finding yourself in the great unknown. While she may not have experienced what Cheryl Strayed did, your mom will likely connect with this coming of age story set against the stunning background of the Mojave Dessert, California and the Pacific Northwest. Plus, you never know what a book like this might inspire your mom to do!
Price: $10
---
Who says you can't bring a bit of glam with you camping? This decanter and wine glass set from Govino is shatterproof and BPA-free which makes it perfect for any outdoor camping adventure. Let your mom indulge while camping and do it in serious style that's as good looking as it is rugged. The pieces in this set are super lightweight making them easy to pack in and out no matter if you travel with a tent or an RV. But this set isn't just for the road, the elegant design is perfect for mom to use at home as well. This set saves you from pulling out the fancy (and delicate!) win glasses, but doesn't have you drinking straight from the bottle – we think it's the perfect middle ground for wine loving moms! Your mom deserves a glass of wine (or 2), so give her something fabulous to drink it out of no matter where her adventures may take her.
Price: $29
---
A KOA gift card will most definitely win your camping-loving mother's heart. With this in her pocket, she can go camping anytime, anywhere whether it's her favorite KOA campground or a new (and soon to be favorite) KOA in the US. or Canada. It's perfect for a spur-of-the-moment camping trip where she doesn't have to worry about whether a weekend getaway is in her budget. Even better yet, when purchased online, KOA gift cards can be accessed electronically so your mom doesn't have to remember to bring the physical gift card with her! What better gift for the camping mom than the gift of camping?
Price varies
---
Does your mom like to "rock out" while camping? If so, this Bluetooth speaker is the gift for her. With up to 8 hours of music on the speaker's rechargeable battery, your mom will be able to take her camping experience to the next level with her music. It is incredibly portable, lightweight, and of course has Bluetooth capabilities that make it easy for you mom to hook right up to her phone and get funky.
Price: $129
---
It's almost a guarantee that your mother loves cookies. It's our guess that she would love even more enjoying them out of this adorable camper cookie jar. Made of ceramic, this jar may be a bit fragile for life on the road, but it's the perfect addition to her kitchen at home. What better way to reminder her of her favorite pastime each and everyday? Wherever she she chooses to keep it, you will definitely get extra brownie points by baking her cookies to put in her new jar. And we all love a happy cookie-filled mom, don't we?
Price: $15
---
Surely, if your mom is a lover of the outdoors, she will love this National Park map that showcases all of the National Parks in the country in a super stylish way. Did you know that there are 59 National Parks in the United States? That's a lot of parks for your mom to cross off her travel bucket list. Give her a fun way to keep track of her past travels and plan for future adventures with this vintage-style map. Who knows — maybe you will be lucky enough to accompany her on a trip to one of the 59 gorgeous parks!
Price: $35
---
SaveAround KOA Savings Guide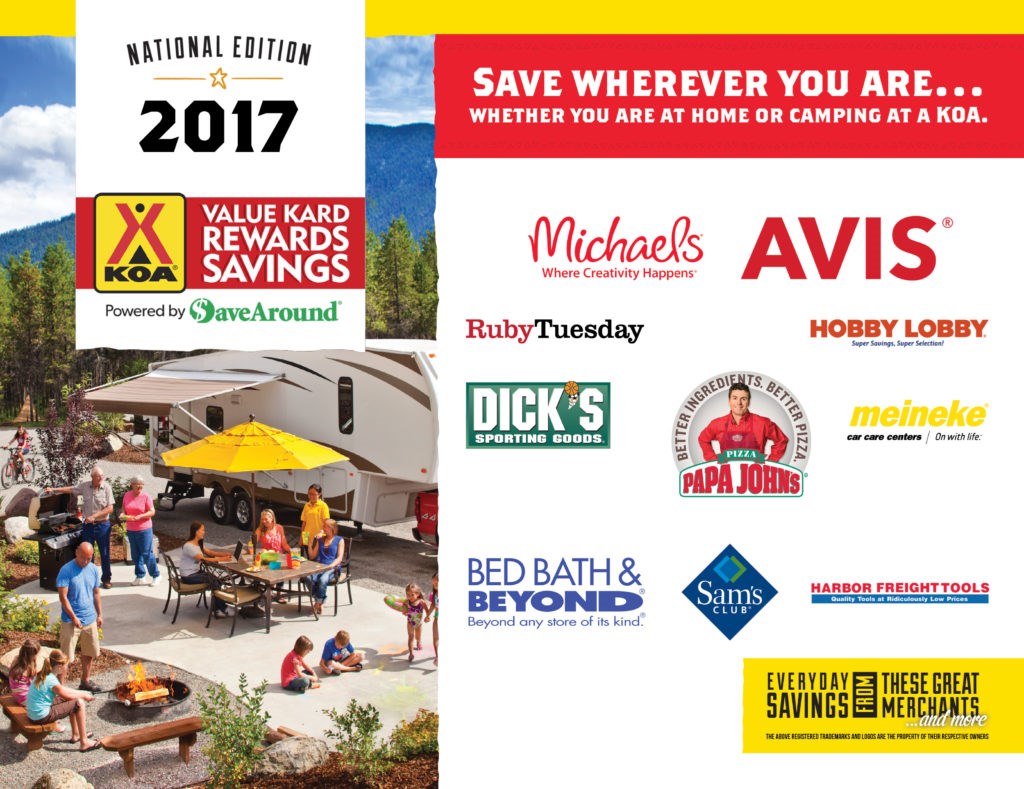 What mom doesn't like to save? With the SaveAround KOA Savings Guide, you can give the gift of savings all year with discounts at hundreds of merchants. Pair our Savings Guide with the app to gain access to even more deals at over 110,000 merchants. This is a gift that keeps on giving!
Get the KOA Savings Guide for $20 from SaveAround.
Get the KOA Savings Guide for just $10 with your Value Kard Rewards Membership. Sign up and find out more HERE!
---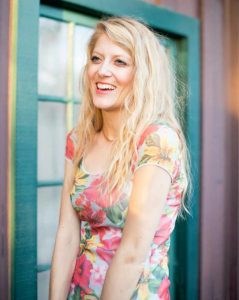 Leslie, a.k.a. Copy Girl, is a copywriter who gets butterflies from telling stories through words.
Her voice comes from a place filled with passion, dreams, and lots of sugar. "Cake over steak" is her go-to motto.
With over 10 years of experience in crafting words, and years of embarking on travels that have taken this Montana girl to some incredible places, Leslie love the adventures of both body and mind her writing takes her on.
Everywhere she goes, she takes this advice with her:
"Hold on to your divine blush, your innate rosy magic, or end up brown." – Tom Robbins, Jitterbug Perfume
To see what Leslie's up to in the writing world, visit her website here.
---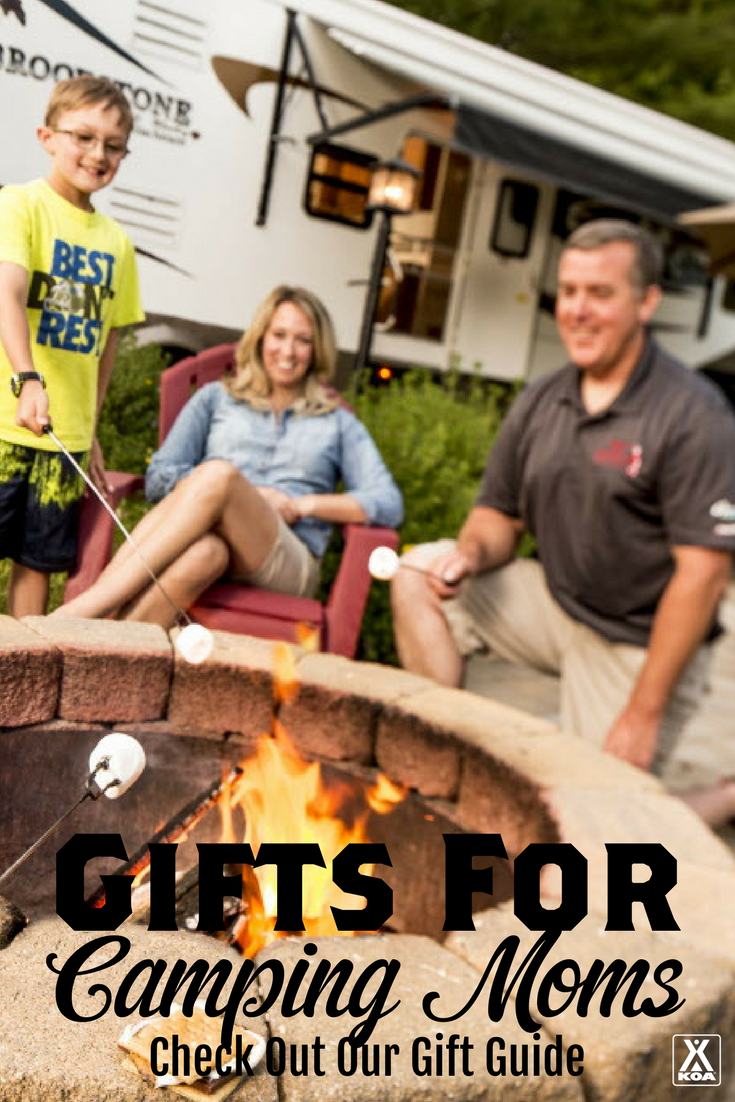 Save
Save