Beginner Fishing Tips for a Successful Trip
Fishing is a fun and relaxing activity that allows you to connect with nature. You can also use the time to bond with friends or family and get some exercise. If you want to try the sport for the first time, learn more about the supplies you should bring and other tips to help create a more enjoyable experience.
Benefits of Fishing
If you have a free weekend or a vacation planned, try bringing a fishing pole and other supplies to the nearest lake, river or pond. You can enjoy many benefits when fishing, such as:
Quality time: Take your friends or a few family members and bond overthis outdoor activity.
Confidence and thrill: Catching fish can create a strong sense of accomplishment and add excitement as you feel the first tug and reel in your catch.
Calming effects: Being in nature and spending time with loved ones creates a sense of calm. Fishing is also a simple repetitive activity, allowing you to relax and enjoy the process.
Exercise: Luring in fish, casting out a line, walking to a fishing spot and staying steady on a boat allow anglers to keep active.
Healthy meal: If you catch and eat fish, you can benefit from a low-fat, high-protein meal with vitamins and minerals.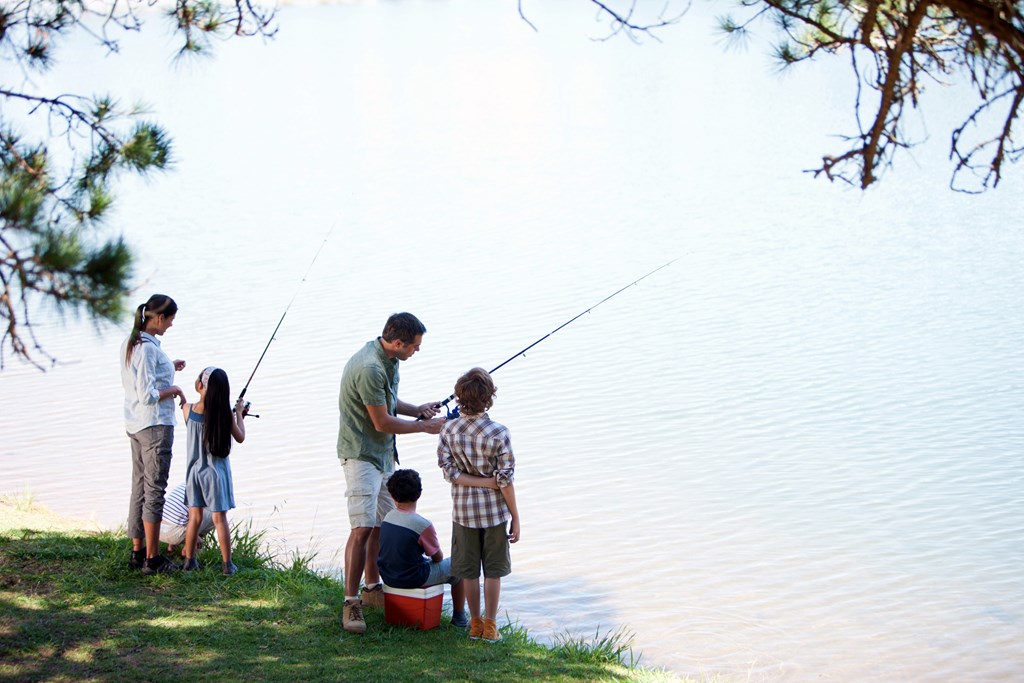 Everything You Need to Go Fishing
You will enjoy the most success during your fishing trips by packing the right supplies. As you start to determine everything you need to fish, a good place to begin is to ensure that you can legally cast a line in whatever state or province you visit. You can do this by getting a fishing license. Look up the fishing license requirements for the area you plan to fish in to be sure you are fully qualified.
After getting a fishing license, you need fishing gear. Start basic and stick to a budget. You can still get quality fish with less expensive equipment. Start with a simple pole and reel, matching it to the size of fish you plan to catch. Bring a net as well to help gather fish when you hook them on your line. Then, choose live bait or lures. For live bait, you can visit a local tackle shop or even unearth bugs and worms in your yard.
Once you have your fishing gear, there are some additional supplies you will need to stay safe. Bring sunscreen, sunglasses and a hat to protect yourself from harmful sun rays and make it easier to see on the water. If you plan to fish from a boat, bring motion sickness medicine and a life jacket to make the experience more enjoyable and safe. Also, pack a first aid kit to patch up any injuries you may face while fishing.
Where to Go Fishing
Every fishing spot is a little different. Knowing which environment suits your needs helps you benefit from a more fulfilling trip for your first time fishing. You have two main location options: freshwater and saltwater.
Freshwater
Among freshwater fishing options, you can choose from ponds, lakes and rivers. The easy accessibility of these fishing spots makes freshwater a good choice for beginners. Freshwater locations also tend to have smaller fish, so they are easier to catch even with less expensive gear. Additionally, you can fish from shore or a bridge, meaning you do not need a boat or kayak. If you want to do the activity on vacation, many Kampgrounds of America locations have lake access, so you can go fishing close to your vacation spot.
Saltwater
If you live near the Pacific or Atlantic Ocean or plan to travel there, you can try fishing in saltwater. Saltwater fishing spots have different fish species than freshwater areas. You can fish from shore or book a fishing trip with an experienced guide to find large catches in deeper areas. A fishing charter guide can teach proper techniques and help you find the best fishing spots.

How to Fish
Catching a fish requires a bit of training and some proper planning. Here is a step-by-step guide for the best way to catch fish.
1. Gather Your Gear
To catch fish, you first need the proper gear. Pack your fishing equipment, including your pole, net and fishing license. You will also want to have the appropriate safety gear to avoid injuries.
2. Grab Some Bait or Lures
Get the fish to start biting with a well-planned lure or some bait. Be sure your bait matches the species you plan to catch and the water conditions. Lures should match the water's color and the size of the fish you want to catch. If you pick up bait like worms, you will need to find out if your desired fish species will eat that bait.
3. Attach Fishing Line
If you bought a hook with a reel, ensure the line is wound correctly and then threaded through the pole's loops, or guides. Some beginner poles do not have a reel and guides. If yours does not, tie the fishing line to the end. Make sure it is secure and will hold a fish without breaking or coming loose.
4. Tie the Hook and Bobber
After securely attaching your fishing line, you can connect your hook and bobber. To keep your hook secure, use a Palomar Knot with a braided line or an Improved Clinch Knot with a fluorocarbon line. Microfilament line will stay connected with either knot.
5. Find an Ideal Fishing Spot
Once you set up your gear, find the ideal fishing spot. You can research the best fishing locations by looking up the area and learning about specific species and where they reside in lakes, streams or oceans. When you find a place, visit early or late for the best fishing.
6. Relax and Watch
After you find the ideal fishing spot, you can cast your line and wait for a bite. Begin by practicing your cast. After you have that down, keep your fishing cord in the water and mimic natural bait movements. Wait quietly and let the fish come to you. If you fish for a long time with limited success, try changing your tactics and location for better results.
7. Set the Hook
If you feel a bite on your line, you want to ensure the fish stays caught. You can do this by setting the hook. You will pull hard on your fishing line to keep the fish secure while you reel it in.
8. Handle With Care
As you reel in and handle your fish, do so carefully to avoid harming yourself or the fish. Grab the fish firmly behind the head and remove the hook, avoiding poking yourself.
9. Document Your Catch
Once you have the fish in hand, celebrate your catch by snapping a photo. Now you have a lasting memory of your first fishing trip.
10. Clean Up
After you are done fishing for the day, clean up by disposing of any fishing line and other garbage to keep the land clear and preserve it for future anglers.
Fishing Do's and Don'ts
Now that you know a little about fishing, you can follow a few do's and don'ts of fishing etiquette for the best experience. When fishing, do:
Go with the flow, including the weather, fish and other anglers.
Try new fishing spots.
Pass your passion on to others.
Do research or talk to the locals for better success.
Don't:
Put off fishing. Time flies. Make the most of it by planning your next fishing trip.
Forget any gear, especially a net.
Book a Fishing Trip With KOA
Now that you know the best way to fish and enjoy a successful haul, you can plan your fishing vacation with help from KOA. Browse available campground locations across the United States and Canada to find the perfect place to catch your first fish.
---
About the Author: Kampgrounds of America
Kampgrounds of America is the largest system of open-to-the-public campgrounds in the world, with over 500 locations across the United States and Canada. Founded in Billings, MT in 1962, KOA's family of campground brands – KOA Journey, KOA Holiday and KOA Resort – today serve more than a million camping families each year. KOA is dedicated to "connecting people to the outdoors and each other" by providing people with a variety of camping experiences and the information they need to make the most of their camping trip. Read more of their camping and travel resources by visiting KOA.com/blog.