You may have noticed the days getting shorter. The air is getting crisper. But 5:00 still hits at the same time every day. Just because summer is getting further in the rearview mirror doesn't mean you can't still enjoy some tasty cocktails at the end of a long day (or even in the middle of the day, if you'd like).
If you're anything like us, you love summer, but you also love fall. So join us in happily welcoming the turning of the season to something a bit more comfortable and autumnal by mixing up some tasty cocktails.
We've rounded up the tastiest cocktails infused with all the flavors that scream "fall" – we're looking at you, pumpkin spice – and are ready to have fun with them.
So grab a glass, all the ingredients, and get ready to cheers to fall.
13 of the Best Cocktails for Fall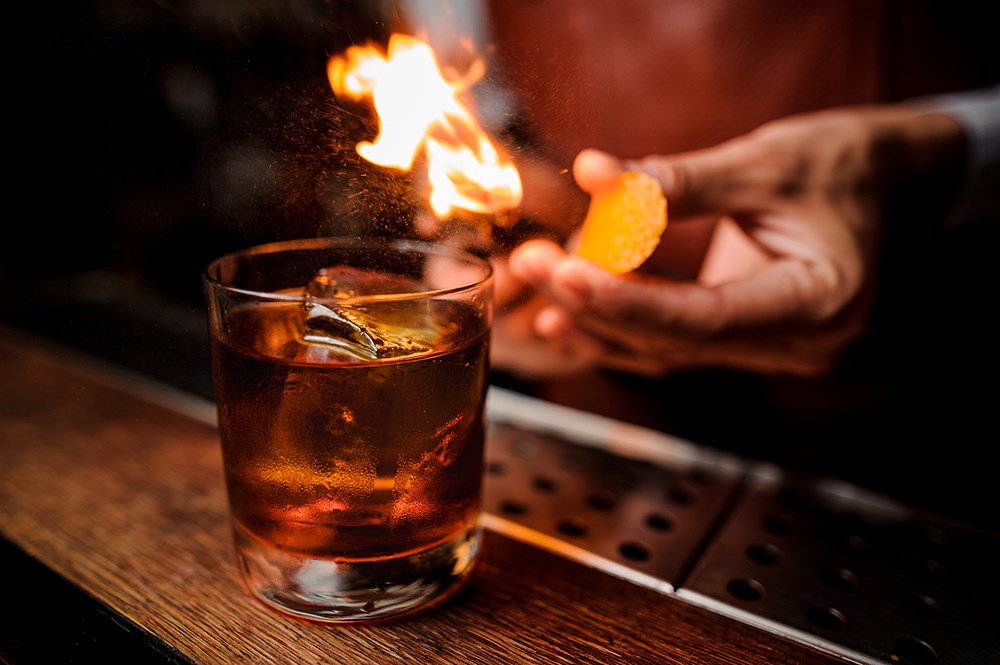 1. Campfire Sling
Makes 1 serving
It's no surprise that this cocktail made the top spot on our list. We can't help but fall in love with anything related to campfires, and this cocktail is no exception. When you need something to warm you up on a chilly night, reach for this drink.
What you need:
2 oz rye whiskey
¼ oz pure maple syrup (grade A amber is recommended, but B is richer)
3 dashes chocolate bitters
Orange twist with scorched orange oil
What to do:
Add all ingredients in an old fashioned glass with a big piece of ice
Stir well
Release the oils from the orange zest by using a flaming wood pick over the drink
Serve
2. Hard Cider Sangria
Makes 4 servings
If you're struggling to let go of summer, don't worry – we have something we think will help. Bring a bit of summer with you, but add a twist of fall to it with this cocktail. To make it more seasonal, switch out the wine for some hard cider and you've got yourself a tasty treat.
What you need:
1 cup quartered and thinly sliced unpeeled green, yellow, and red apples
1 orange, quartered and thinly sliced crosswise
2 T fresh lemon juice
¼ cup apple brandy
1 22-oz bottle hard apple cider, chilled
Ice
What to do:
In a pitcher, combine the apples with the orange, apple juice, lemon juice, and brandy
Add the hard cider just before serving
Serve in tall glasses over ice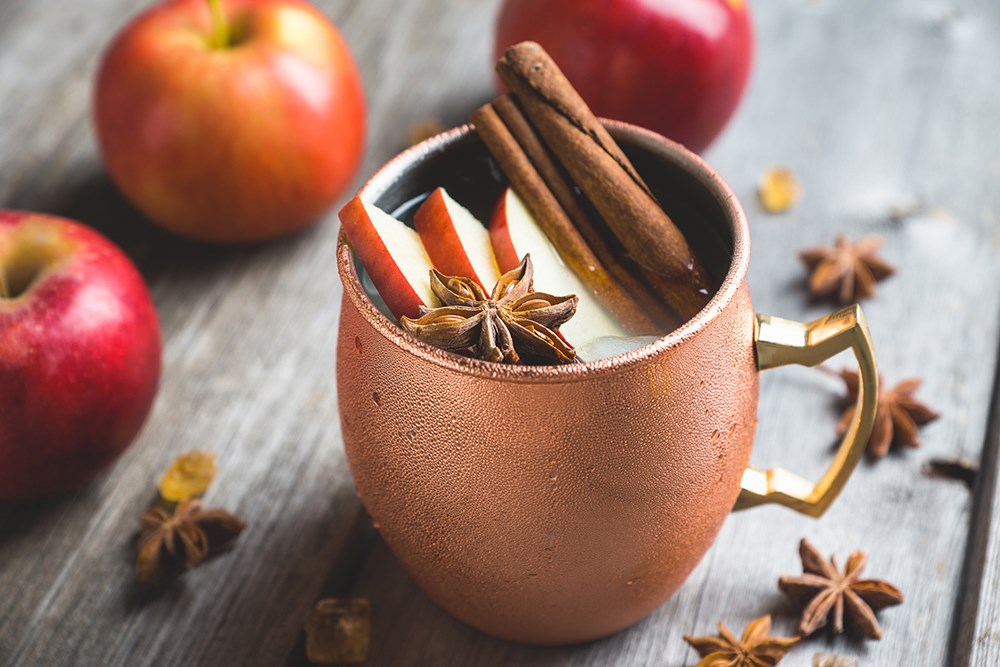 3. Apple Cider Mule
Makes 1 serving
Moscow mules are a favorite no matter what season we are in. They always seem to hit the spot whether it's a hot summer day or a cool winter night. Why not take a favorite drink and add even more spice to it to make it your new favorite fall drink?
What you need:
2 oz vodka
2 oz apple cider
½ oz fresh lime juice
3 oz ginger beer
Lime wedge, thyme sprig, or apple slice for garnish, plus cinnamon
What to do:
In a copper mug or glass, mix the vodka, apple cider, and lime juice
Then add the ginger beer
Add ice and top with chosen garnish
Serve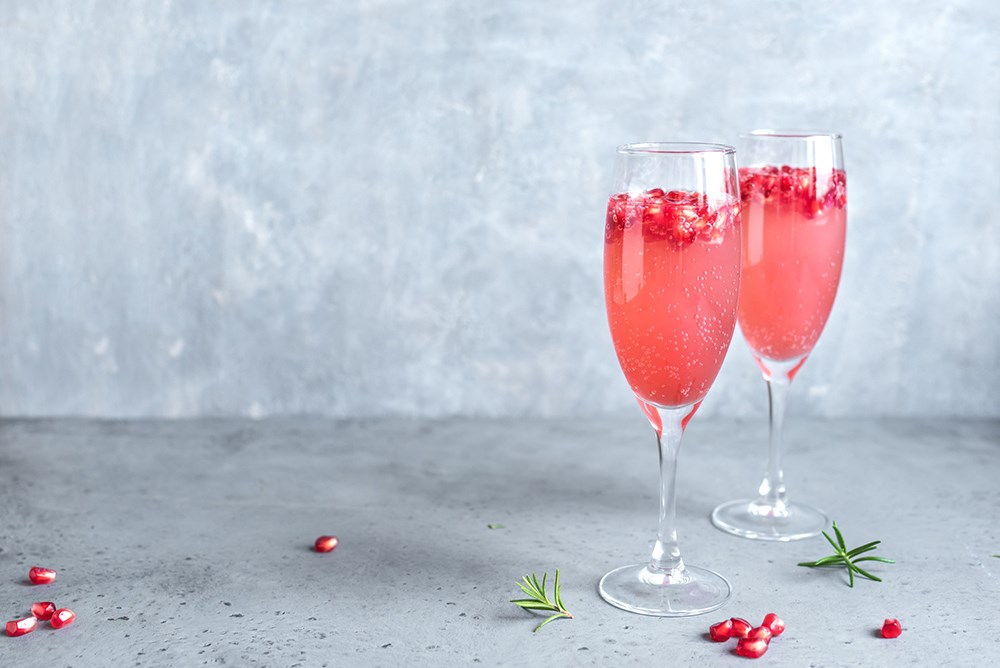 4. Pomegranate Sparkler
Makes 6-8 servings
Who says white wine is just for the summer? We don't. Give your favorite white wine some extra flavor by adding in the fall flavors of pomegranate, both in seed and juice form. This drink will refresh on those days where you need a little pick-me-up.
What you need:
2 T pomegranate seeds
1 8-oz bottle pomegranate juice, chilled
1 bottle sparkling white wine, chilled
What to do:
Put a spoonful of pomegranate seeds in the bottom of 6-8 cocktail glasses
Fill the glasses halfway with pomegranate juice
Top with sparkling wine
Serve
5. Pumpkin Spice White Russian
Makes 4 servings
This drink is far from basic. It's a fun twist on a classic, rich cocktail. We think everything tastes better with some pumpkin spice, in it, so we will let you be the judge as to whether that's true in the case of this cocktail. (But we are pretty sure you'll agree.)
What you need:
4 gingersnap cookies, crumbled
1 tsp honey
¾ cup coffee liquor
⅔ cup vodka
1 ½ tsp pumpkin pie spice
¾ cup heavy cream
What to do:
Crumble the cookies onto a place
Rub the rims of 4 glasses with honey
Dip the cups in cookie crumbs to coat
Whisk together coffee liquor, vodka, and pumpkin pie spice in a measuring cup
Pour into prepared glasses evenly and top with ice
Divide the ¾ cup of heavy cream evenly among the glasses
Serve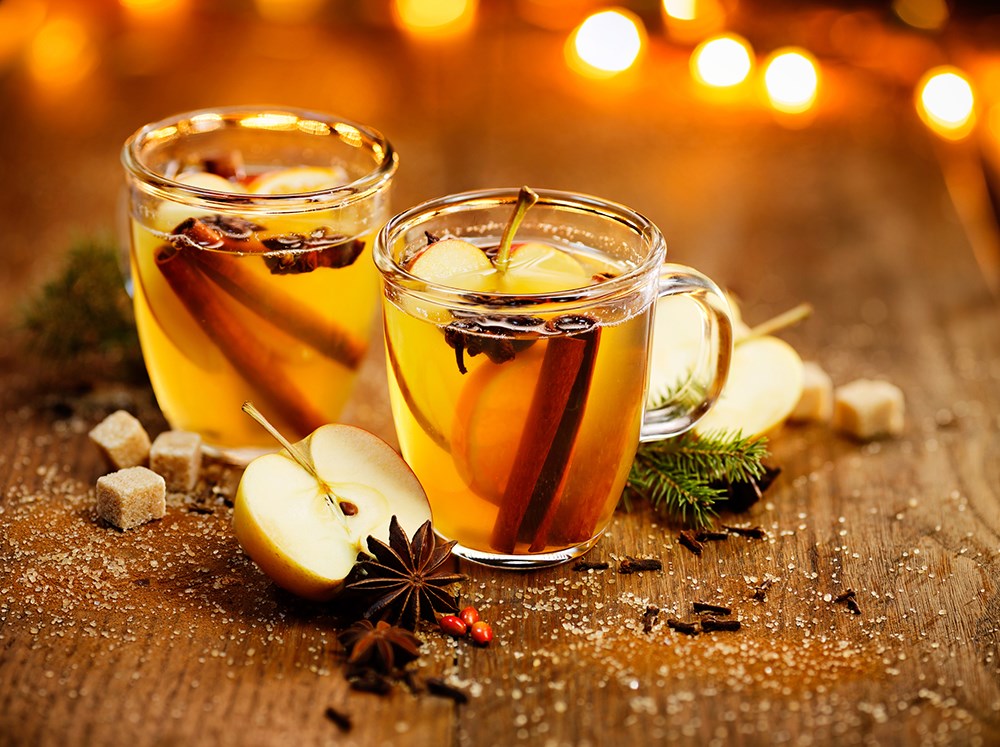 6. Apple-Brandy Hot Toddy
Makes 8 servings
A hot toddy is cold weather's signature drink, but we have opted to make this one lean more towards fall than winter by using apple brandy. You may find yourself making this cocktail far into the holiday season.
What you need:
1 ½ cups water
2 T plus 2 tsp honey
½ cup fresh lemon juice
2 cups apple brandy
8 3-inch cinnamon sticks
What to do:
In a small saucepan, bring water to a boil
Remove from the heat and stir in the honey, until dissolved
Stir in the lemon juice and apple brandy
Set a cinnamon stick in each of the 8 mugs or heatproof glasses
Pour in the hot liquid
Serve
7. Autumn's First Press
Makes 1 serving
Get fancy with a drink that incorporates many different flavors to create a flavor that your tastebuds will go wild for. No matter how cold the fall evening is, this cocktail will warm you right up. We dare you to have only one.
What you need:
1 oz dark rum
1 oz Montreuil Calvados
½ oz herbal liqueur (like Michelberger Forest)
½ oz lemon oleo Saccharum
¾ oz lemon juice
Rosemary sprig
What to do:
Add all ingredients to a shaker
Shake with ice
Strain into a coupe glass
Garnish with rosemary sprig
Serve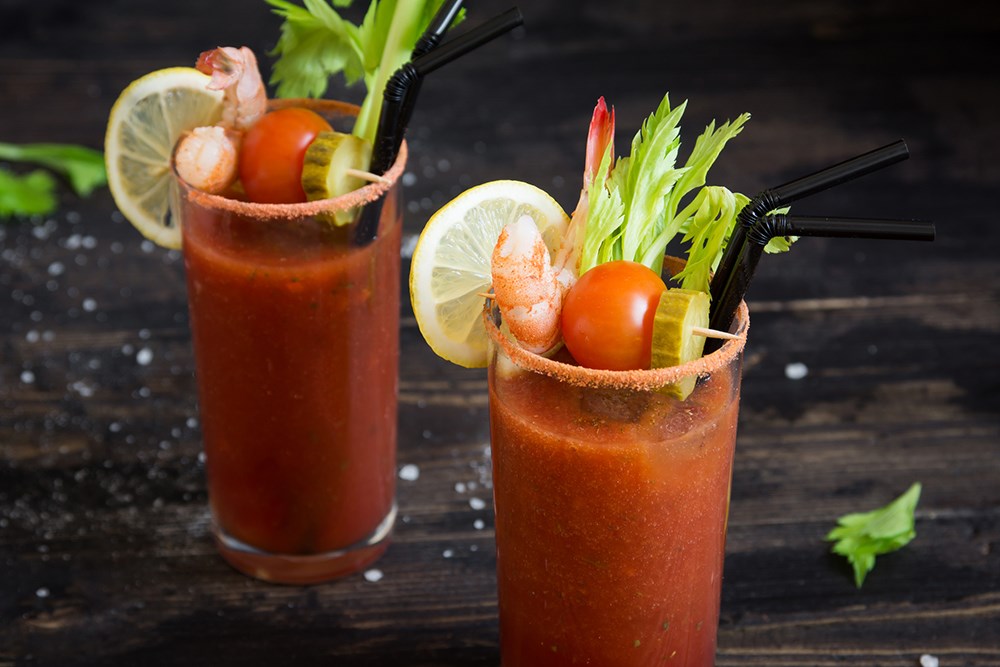 8. Chipotle Bloody Mary
Makes 8 servings
If you're a bloody mary type of person, then you are gonna want to try this twist on the classic. And if you're not a bloody mary type of person, then you are also gonna want to try this twist on the classic. It's different than other bloody marys and might just be the one to convert you.
What you need:
¼ cup canned chipotle peppers, with adobo sauce
46 oz chilled vegetable juice, divided
½ cup prepared horseradish
1 tsp celery seeds
4 dashes Worcestershire sauce
1 cup chilled vodka
Ice
12 large prawns, peeled and deveined
2 T olive oil
Lemon wedge, for rimming the glass
Salt
What to do:
In a blender, blend chipotle peppers and ½ cup vegetable juice on high until you have a puree
 Take ¼ cup of puree mixture and transfer to a small bowl with the shrimp
Marinate for a few minutes, at least
Meanwhile, in a large pitcher combine the rest of the chipotle puree, vegetable juice, horseradish, celery seeds, Worcestershire, and vodka
Mix well and season to taste with salt
Refrigerate until ready to use
In a heavy skillet, add olive oil over medium-high heat
Add shrimp and cook until golden on the edges and opaque in the center (about 1 minute per side)
Fill glasses with ice and pour the bloody mary mixture over the ice
Garnish and top with shrimp
If desired, rub a lemon wedge around the rim of the glasses and dip in salt
Serve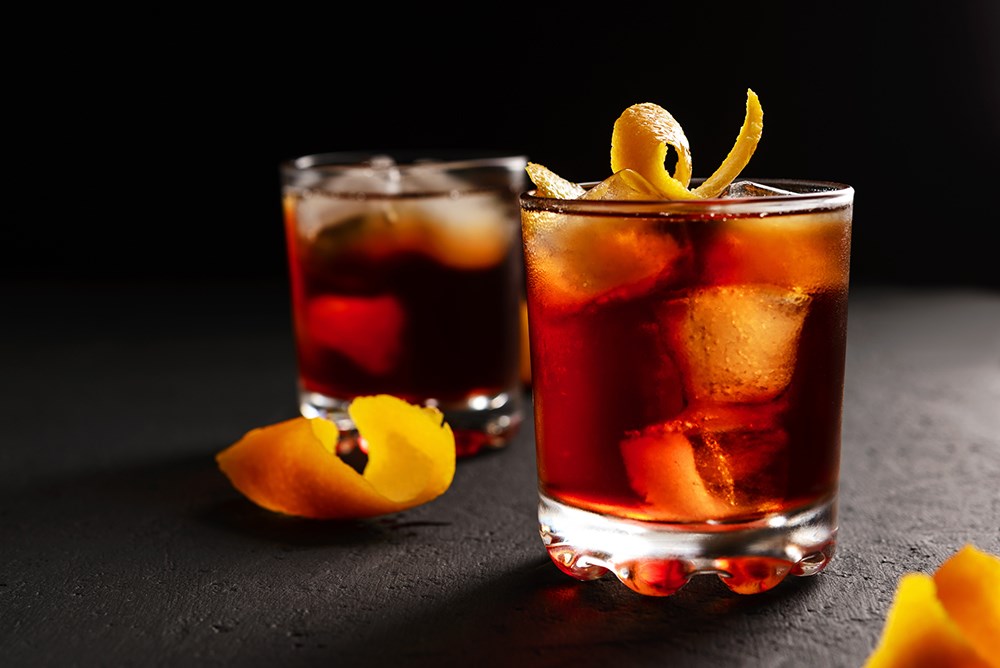 9. Mezcal Negroni
Makes 1 serving
Mezcal has been having a moment for a while now, and we are still obsessed with it. This twist on tequila has more fans than anyone ever expected, and many people are opting to create classic cocktails with mezcal instead. This Negroni is a perfect example, and a perfect drink to toast in the fall.
What you need:
1 oz mezcal
1 oz sweet vermouth
1 oz Campari
Orange twist, for garnish
What to do:
Combine mezcal, sweet vermouth, and compare in a mixing glass filled ¾ of the way with ice
Stir until chilled, or for about 30 seconds
Strain into a chilled coupe glass
Squeeze the orange twist over the surface, then place in the drink
Serve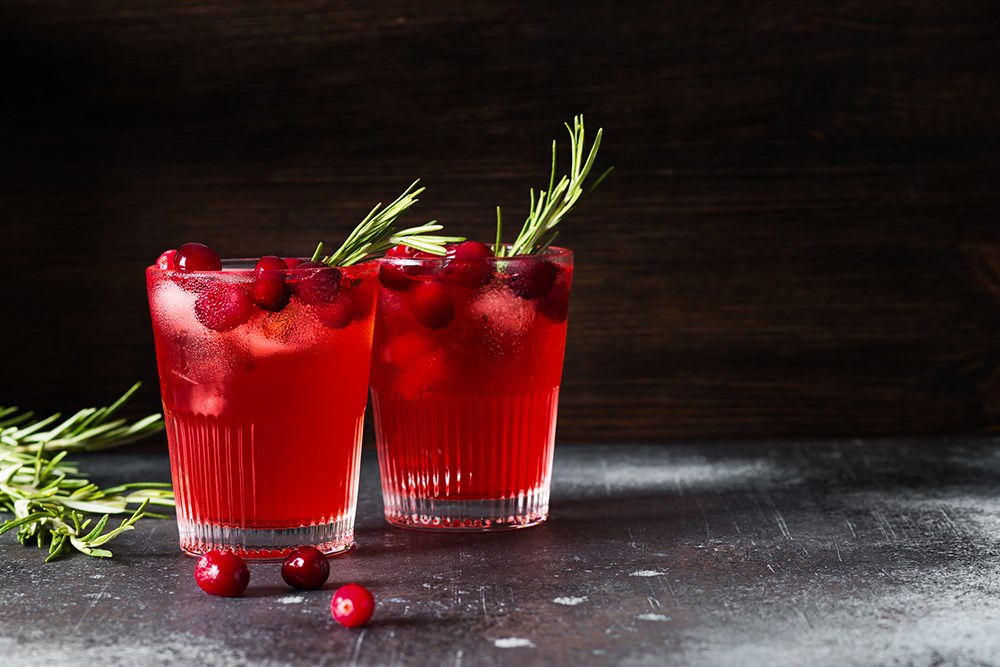 10. Cranberry Margarita
Makes 1 drink
Margaritas are not just for the beach. They are a cocktail worth enjoying any time of the year, with some slight adjustments if you are looking to feel more festive. Make this favorite summer drink a fall favorite too but adding in some cranberry juice that will spice up the flavor and the color, too.
What you need:
1 ½ oz 100% cranberry juice, unsweetened
1 ½ oz tequila Blanco or reposado
1 oz Cointreau
½ oz fresh lime juice
½ oz simple syrup or maple syrup
Salt for the rim
Ice for serving
Cranberries and rosemary sprig for garnish
What to do:
Cut a notch in a lime wedge, then run the lime around the rim of a glass
Dip the edge of the rim into a plate of salt
Put all ingredients in a cocktail shaker and fill with ice
Shake until cold
Strain into the glass with the salted rim
Fill the glass with ice and garnish with cranberries and rosemary sprig
Serve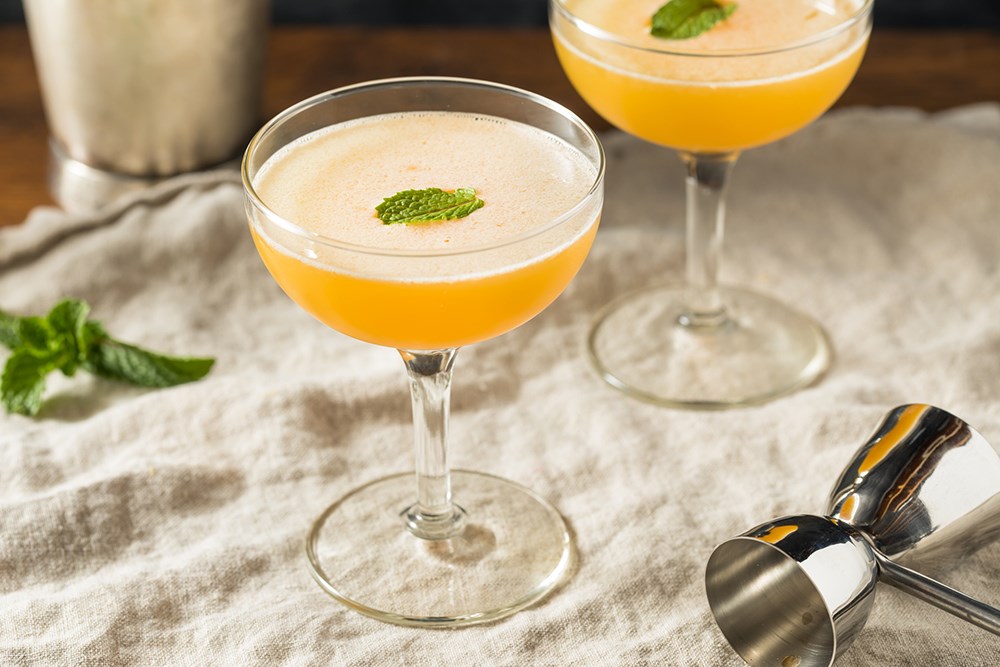 11. Ticket to Cuba
Makes 1 serving
We don't know about you, but no matter how much you love the fall at home, sometimes it's nice to get away and head somewhere exotic, like Cuba. If you aren't able to physically go to Cuba this fall, you can travel there in mind with the help of this autumnal cocktail.
What you need:
1 ½ oz rum
½ oz yuzu juice
½ oz simple syrup
A handful of fresh mint
Champagne
What to do:
Add rum, juice, and simple syrup to a cocktail shaker
Shake until chilled
Double strain into a chilled coupe glass
Add champagne float and garnish with mint
Serve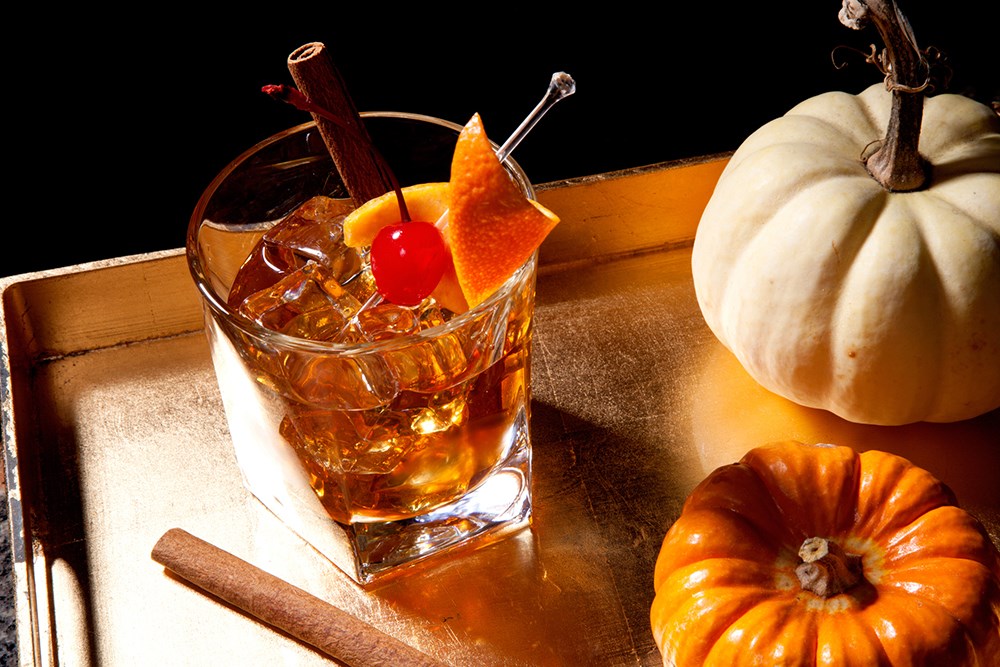 12. Pumpkin Old-Fashioned
Makes 1 serving
Fall isn't fall without putting pumpkin in as many different things as you can. We've decided this time to add it into one of our favorite cocktails, the old-fashioned. This modern twist on a classic doesn't require any fancy ingredients or concoctions. It's quick to make, and even quicker to drink.
What you need:
1 ½ oz bourbon whiskey
½ oz brandy-based orange liqueur
1 oz maple syrup
2 T pumpkin puree
1 dash aromatic bitters
Orange peel or rosemary sprig for garnish
What to do:
Combine the bourbon, orange liqueur, pumpkin puree, maple syrup, and bitters in a shaker filled with ice
Shake until chilled
Double strain through a fine-mesh strainer into a chilled old-fashioned glass filled with fresh ice
Garnish with an orange peel or rosemary sprig
Serve
13. Orchard Mai Tai
Makes 1 serving
A fall mai tai is not something you hear about every day. In fact, we are going to be honest and let you know that we had never heard of it until recently, but all it took was one try and we are hooked. By adding apple brandy and Cognac, this island favorite gets some fall flavor.
What you need:
1 ¼ oz bonded apple brandy
1 oz Cognac
¾ oz orgeat
½ oz fresh lemon juice
1 tsp rum-based allspice liqueur (like St. Elizabeth allspice dram)
½ tsp simple syrup
½ tsp fresh ginger juice
Ice cubes
3 thin red apple slices for garnish
What to do:
In a cocktail shaker, combine all of the ingredients except for the ice and garnish
Fill the shaker with ice cubes and shake well
Strain into a chilled, ice-filled double rocks glass
Top with more ice and garnish with the apple slices
Serve
---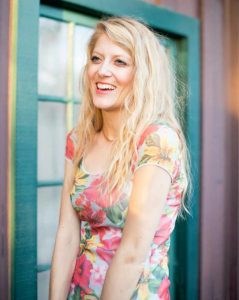 Leslie is a travel writer, copywriter, and web designer who gets butterflies from telling stories through words and visuals.
Her voice comes from a place filled with passion, dreams, and lots of sugar. "Cake over steak" is her go-to motto.
With over 10 years of experience in crafting words, and years of embarking on travels that have taken this Montana girl to some incredible places, Leslie loves the adventures of both body and mind her writing takes her on.
To see what Leslie's up to in the writing and design world, visit her website here.
---