Say "goodbye" to work socks, ties, and coffee mugs. This Father's Day, it's time to give your dad what he wants, not just what he needs. Elevate your gift-giving game and gift him something you know he'll love using in the great outdoors.
If your dad is the type of guy who dreams about hiking mountains, exploring new trails, or connecting with Mother Nature via camping, then get ready to dive into our Father's Day gift guide for outdoorsy dads.
We have scoured the internet, and the big world of adventure gear, gadgets, and experiences to bring to you a list of gift ideas that will make your adventure-loving dad feel like being in nature is his true calling.
So grab your compass and get ready to navigate the waters of gift-giving because we are taking you on an exciting journey to find the ultimate gift for your one-of-a-kind outdoorsy dad.
The Best Father's Day Gifts for Camping Dads in 2023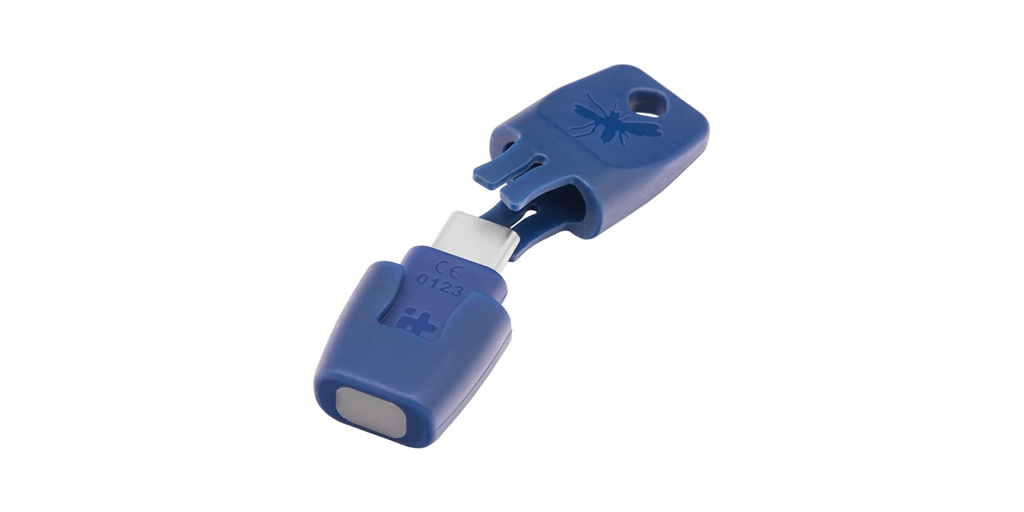 heat it Insect Bite Healer
We are starting things off with a "zap" with a gift that will get your dad out of a pinch countless times when he's out in nature. Few things are more of a buzzkill than mosquito bites that seem harmless at first but then become such a nuisance it's hard to have fun.
Gift him the tool that won't let mosquito bites get in the way of his fun with the heat it insect bite healer. This chemical-free approach to mosquito bites does the trick and keeps your dad safe in the process. So how does it work? This natural treatment uses concentrated heat (124 F)  to treat bug bites within seconds. Say "goodbye" to itching from mosquito bites and also pain from insect stings (yes, this works great for bee stings, too).
All your dad has to do is plug this small device into his phone and use the app to deliver the concentrated heat to fix his bug woes. The app will tell you how long to hold the device on the bitten area, and voila! He'll be back to his adventurous self in no time.
We love how small this device is, so it won't take up extra space or weight with his camping gear. He can hook it right on his keychain for easy access.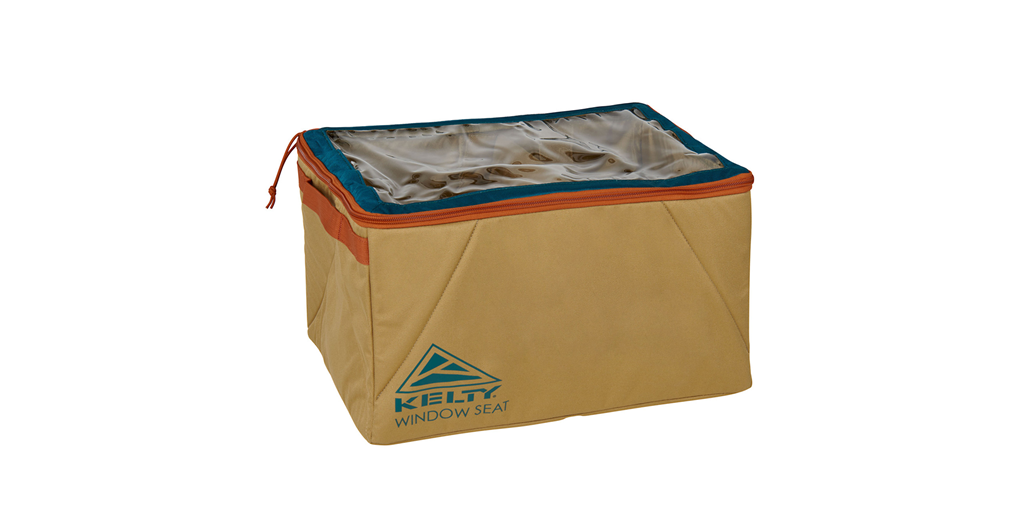 Kelty Window Seat Padded Storage Cube
If your dad is a car camper, he will love having ways to help him stay organized. It's no secret that car camping requires a fair amount of gear, and keeping all of that gear in its right place can be a challenge.
Well, that's a challenge your dad is ready for with this Kelty Window Seat Padded Storage Cube. It features a clear-view top so he can see exactly what's inside, making it easy for him to find what he wants. This also has a padded bottom and sides, so he can put things in this cube that require a bit more protection. And if he wants to pack something bigger in here, the interior divider is adjustable and completely removable if he needs it to be. This packing cube is small but mighty and offers many customization opportunities.
And since your dad's a rugged outdoorsman, he needs a storage cube to hold up in his adventures. Thankfully, this one does the job. It's made of 600D polyester and features dual haul handles to take with him wherever he needs it.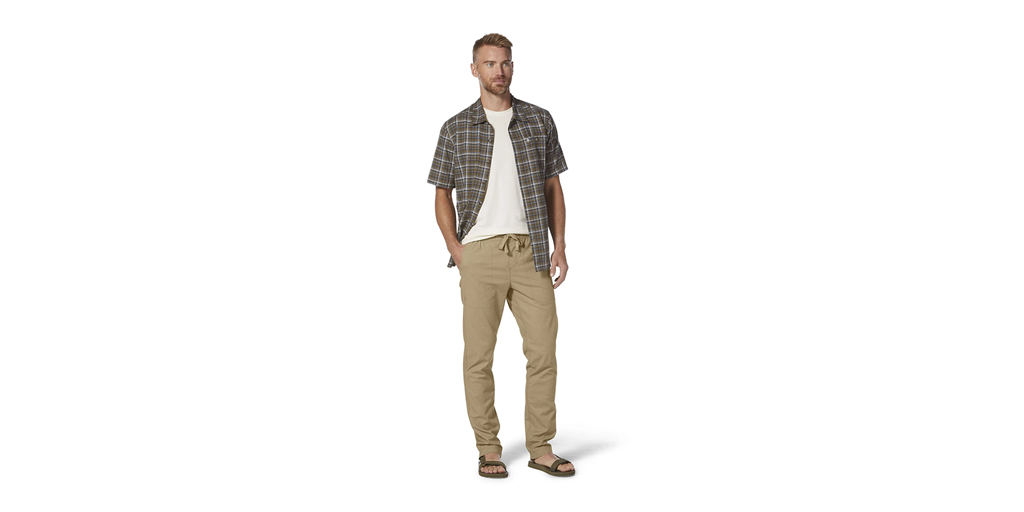 Royal Robbins Hempline Pant
Upgrade your dad's outdoor wardrobe with this gift that gives him style, comfort, and sustainability – the Royal Robbins Hempline Pant. Perfect for dads who appreciate eco-friendly attire without sacrificing performance, these pants offer a versatile yet fashionable option for all their outdoor adventures.
The Hempline Pant is made of a blend of hemp and recycled polyester, which leaves your dad with a lightweight, breathable, and durable fabric that can withstand the rugged terrain he will find himself on while camping. With built-in UPF 50+ sun protection and a natural resistance to odor, these pants are designed to keep your dad comfortable and feeling fresh for the whole day.
Designed with function and ease of movement in mind, these pants have an adjustable waistband and a gusseted crotch, giving your dad the flexibility he needs to hike, climb, and explore in every way his heart desires. The pants also have multiple secure pockets and even a hidden zippered pocket so that he has somewhere safe to store his essentials.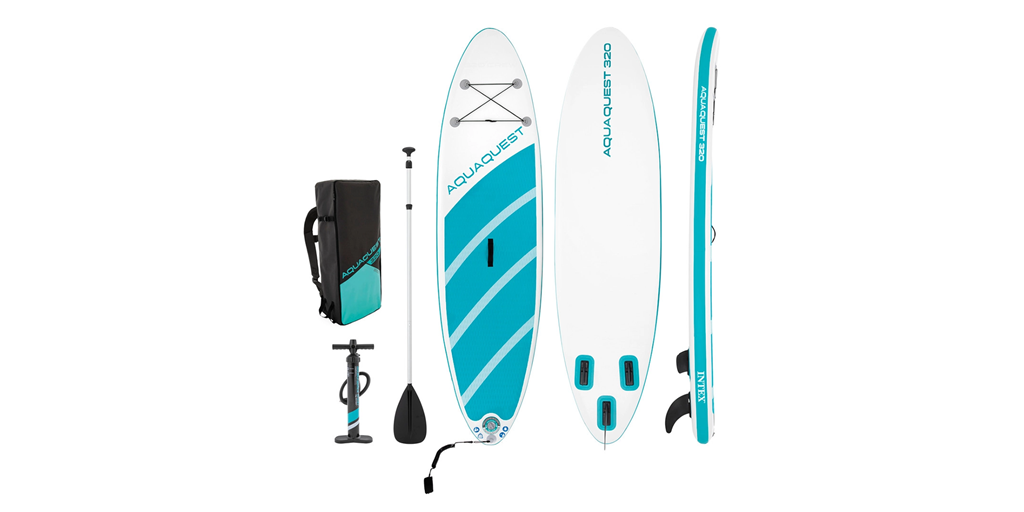 AquaQuest 320 Inflatable Paddle Board Package
Surf's up! This Father's Day, treat your adventure-loving dad to a gift that will make waves in his life: the AquaQuest paddle board. Whether he's a seasoned pro or a beginner, this high-performance board provides your dad with the exceptional quality and stability he needs to have fun out on the water.
The board's double-wall fabric and dual-layer PVC rails make it sturdy enough to handle the choppy waters that call your dad's name. But it does so without the weight. This board is lightweight and portable, so your dad has no reason not to use it.
This package includes everything your dad needs to embark on his water adventure, including an adjustable telescoping aluminum paddle, a dual-action high-pressure hand pump for quick and easy inflation, three removable finds for maneuvering the waves, and a 10-foot coiled swivel leash featuring a quick-release pull tab.
Your dad will feel smooth and comfortable while riding this, thanks to its slip-resistant EVA foam pad. And when it's time to call it a day, the included heavy-duty travel backpack easily fits the deflated paddle board, paddle pump, fins, and leash, so it's ready for his next adventure.
Make his heart swell with joy by gifting him this adventure board that quickly becomes the gift that keeps on giving.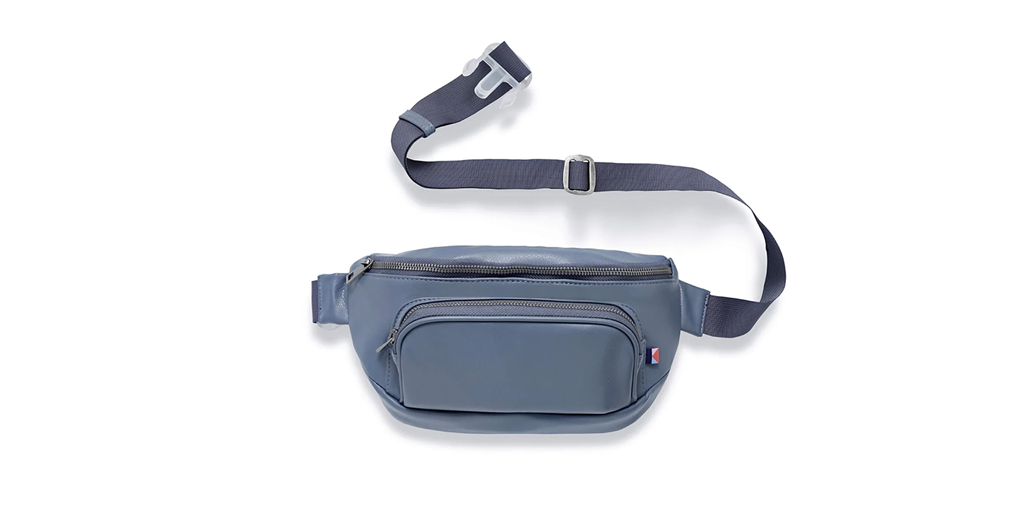 Kibou Unisex Diaper Bag
Diaper bags aren't just for moms. This Father's Day, gift the father in your life a minimal and stylish diaper bag for his fatherhood adventures. Celebrate the newest journey in your dad's life with the Kibou Unisex Diaper Bag. It's a fashionable and functional accessory that's designed to keep up with both father and baby wherever the outdoors takes them.
This innovative diaper bag is designed to be worn not just one way but two: on the waist or crossbody. This makes it easy for dads to access essentials in a flash. The bag also features a built-in waterproof pocket that holds over 20 wipes and keeps them wet for up to a week. Or, if you'd rather use this pocket to keep soiled clothing separate, it works great for that, too. Our favorite feature of this bag? The detachable changing pad that unfolds directly from the back flap of the bag. This ensures that dad's baby has an on-the-go clean surface for diaper changes no matter where they are.
The extra pockets in this bag provide room for cards, IDs, cash, and a car key or pacifier hook. And no matter how much stuff he has in there, he will be able to carry it comfortably, thanks to the ergonomic belt and buckle that provides great comfort.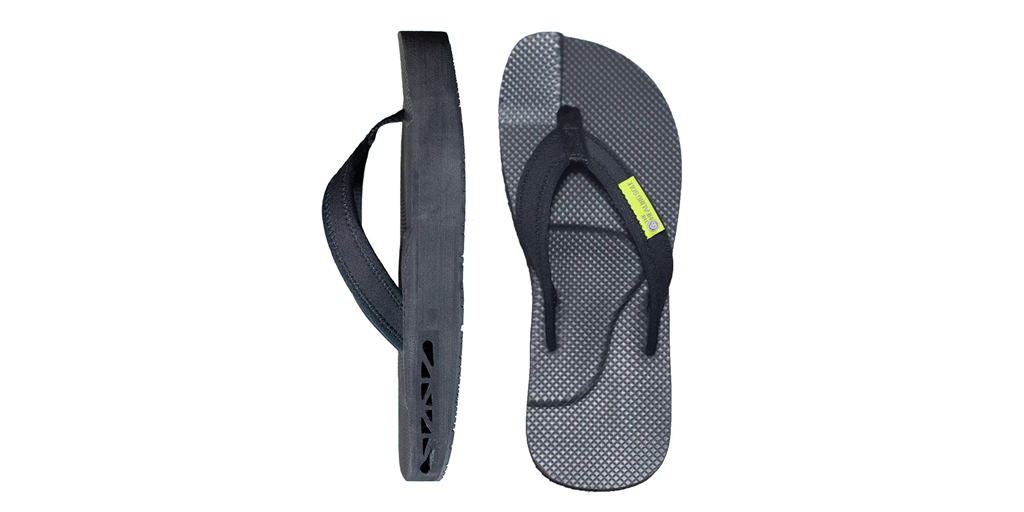 Healing Sole Flip Flops
Designed by an orthopedic surgeon, these innovative flip flops are perfect for dads who spend long hours on their feet, whether that's spent exploring the great outdoors or just from their daily routine.
These Healing Sole flip flops feature a patented design that combines a number of therapeutic elements to help alleviate foot pain and promote recovery from all your dad's adventures. The raised arch support and rocker bottom sole work together to help relieve pressure from the foot, while the firm yet cushioned heel provides shock absorption and stability. These are not things you would expect from flip-flops, but these are different.
They are also equipped with a neoprene toe post that gives your dad comfort and reduced friction, as well as a metatarsal bar that helps to reduce any forefoot pain he may experience. The outsole on these is durable and non-slip, so he can take these flip-flops places he might not take others.
Your dad will love the soothing and supportive walking experience these flip-flops give him, and they will serve as the perfect shoe to end his day of long hiking with.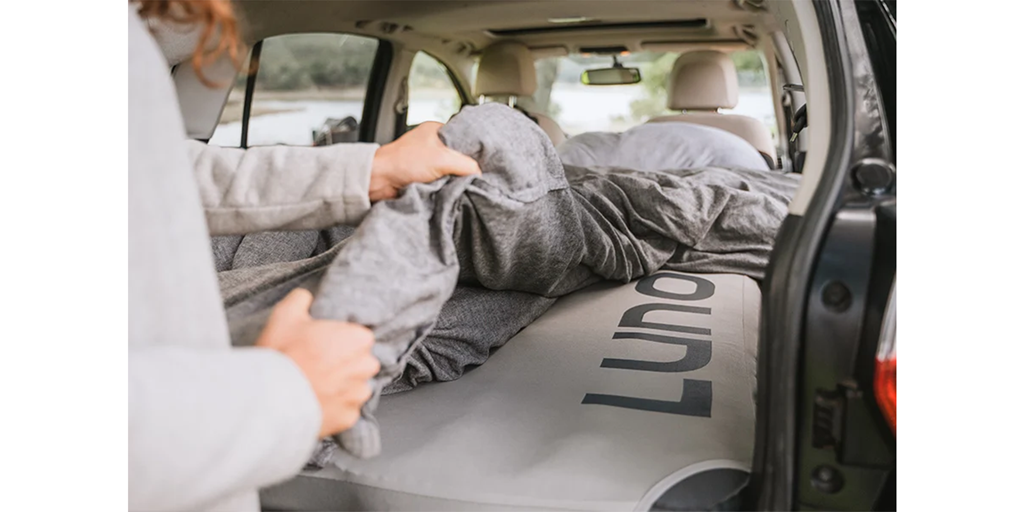 Luno Car Camping Sleeping Bundle
Help your outdoor-loving dad transform his car into a dreamy and cozy haven for camping and road trips with the perfect sleep setup from Luno. This Car Camping Sleeping Bundle gives him the comfort he'll want after a long day of adventures and convenience that will make this his go-to every time he camps. Plus, the durability of this innovative sleep system will wow him as he uses this to spontaneously and easily embark on a getaway under the stars.
The mattress included in this bundle features a unique, custom-designed shape that fits seamlessly into the back of most cars, allowing your dad to maximize his sleeping space without needing a bulky tent or camper. Made from high-density foam, this mattress provides the highest level of support and comfort, ensuring a good night's rest and refueling for his continued explorations.
The bundle also includes a fitted sheet made from microfiber that is both soft and breathable, creating a cozy and comfortable sleeping surface that will feel like home.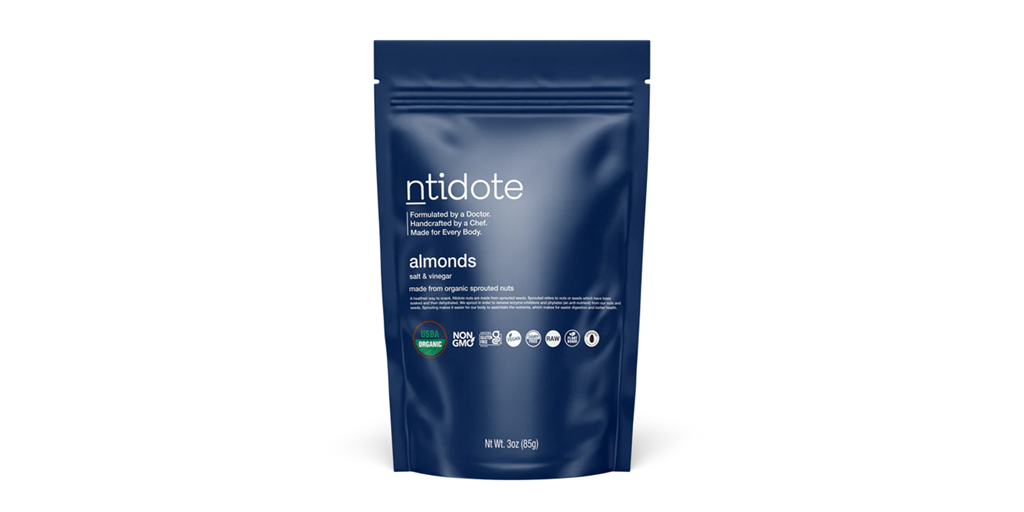 ntidote Sprouted Nuts
Go nuts for Father's Day this year by surprising him with a tasty and nutritious gift to support his health and make his taste buds sing. Introducing ntidote's collection of high-quality nuts provides a healthy snack that will fuel his days and nourish his body for all of his adventures out in nature.
ntidote is committed to providing the best-quality nuts that are not only ethically sourced but also packed with essential nutrients that will get your dad through those long days of hikes. The assortment of nuts they offer includes almonds, cashews, walnuts, and more, and each nut is flavored in a unique way that makes it tasty and full of rich vitamins, nutrients, and healthy fats to fuel his camping.
Some of the flavors include:
Dark Chocolate Covered Cashews
Salt and Vinegar Almonds
Pizzalmonds
Valencia Almonds
So give him a gift that not only tastes great but also supports his health.
Get them here starting at $10.50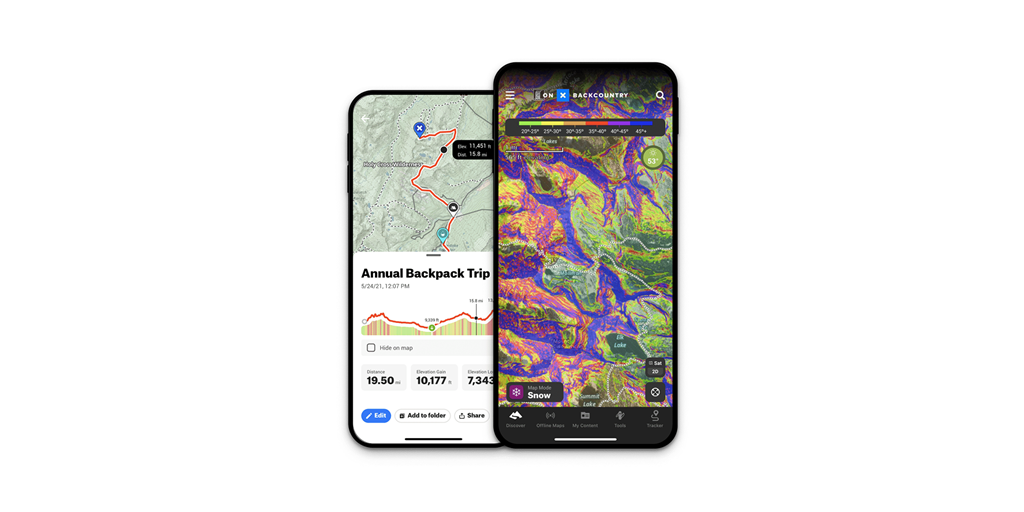 onX Backcountry App Subscription
For the dad who loves to wander in the great outdoors, this Father's Day give him the gift of unlimited exploration with the onX Backcountry App. This indispensable tool will unlock a world of adventure right at his fingertips. Give him the opportunity to embrace his inner explorer as he conquers new trials and discovers breathtaking destinations, all with the power of this app.
The onX Backcountry App is designed to elevate every outdoor experience, offering detailed, up-to-date maps for hiking, backpacking, mountain biking, and more. It offers accurate trail data, customizable waypoints, and offline map capabilities. That means there is nothing getting in the way of your dad tackling any and every adventure he can get his hands on, no matter how remote or difficult the terrain may be.
On top of the mapping features, the app also features weather and avalanche forests, so you can rest easy knowing that your dad is staying safe and informed when traveling into the great unknown.
By gifting this to your father, you're giving him the knowledge, confidence, and resources that he needs to embark on all the adventures his heart desires and ones that will last a lifetime.
Get it here starting at $29.99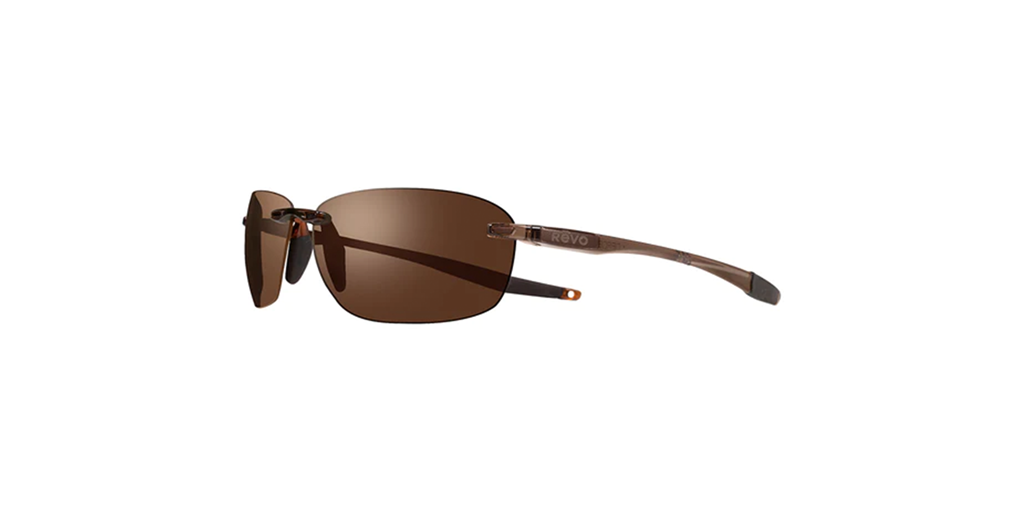 Revo Descend Folding Sunglasses
Surprise your outdoor-loving dad with a stylish and practical gift – the Revo Descend Folding Sunglasses. Designed to provide the highest visual clarity, comfort, and protection during his outdoor adventures, these sunglasses are the ultimate accessory for the active and fashion-forward dad.
One of the highlighting features of these sunglasses is the cutting-edge Evergreen Lens technology, which provides visual acuity that you won't find anywhere else, as well as glare reduction and UV protection. These polarized lenses ensure that your dad will enjoy clear vision whether he's hiking through sun-soaked landscapes, fishing in bright waters, or cycling along winding roads.
These sunglasses are great for performance, but their design is another thing about them that impresses. For starters, they are lightweight, making them the perfect companion for the dad on the go. In addition to that, the frames are rimless and made of durable and flexible materials, so he'll be comfortable wearing them all day. And the best part is the folding mechanism that allows your dad to collapse the sunglasses into a compact size, so he can pack them away when not needed on his adventures.
Let your dad tackle all of his outdoor adventures in style with these sunglasses that will have him looking and feeling cool, too.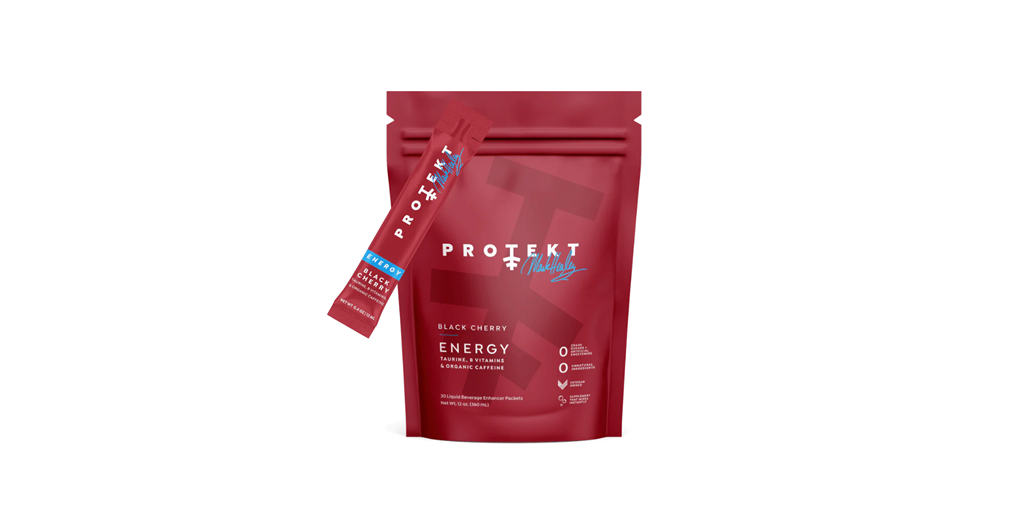 Protekt Liquid Energy Supplements
Your father needs extra fuel to get himself through those nature days that take him on various adventures. And we've got the perfect gift for you to give him that will celebrate your outdoor-loving dad and provide him with the ultimate source of sustained energy to power his adventures – the Protekt Energy Liquid Supplement beverage enhancer.
Formulated with natural ingredients and designed to fuel the body and mind, this supplement is the perfect companion for active dads who need an energy boost without the jitters or crashes that accompany traditional stimulants.
Protekt's Energy Liquid Supplement is a blend of powerful ingredients, including organic caffeine from green tea, organic ashwagandha, and organic ginseng. This combo works together to increase mental focus, reduce stress, and provide a lasting energy serge that will ensure your dad remains energized and alert while in Mother Nature.
Our favorite thing about this beverage enhancer is that it's easy to use and versatile. Your dad can add it to water, smoothies, or any other beverage he wants to enjoy. All he needs to do is pour the individual packet into his drink, and he'll be on his way to a gentle and sustained lift in energy that will see him through hikes, bike rides, and other outdoor adventures.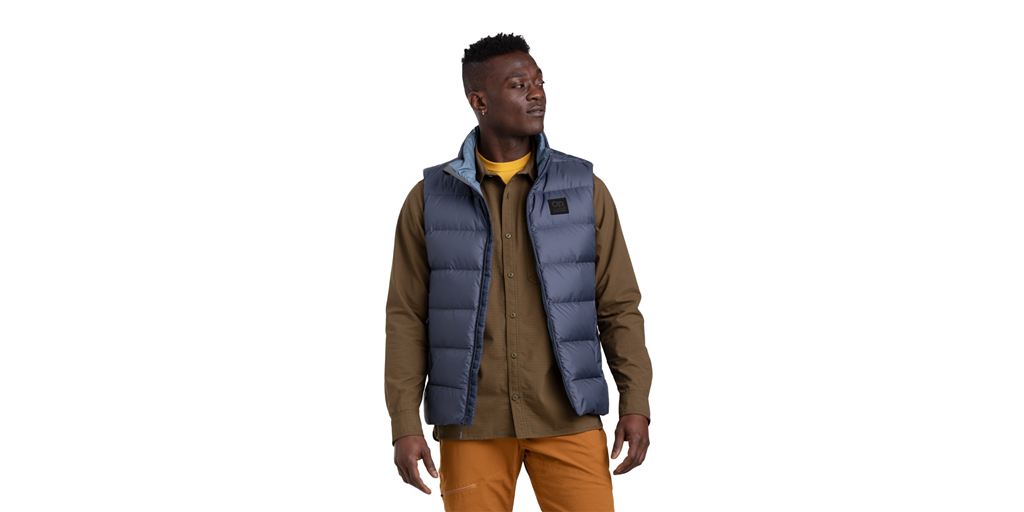 Outdoor Research Coldfront Down Vest
For those times when his adventures take him to colder climates and times of the year, your dad needs something to help him stay warm without being too warm. How do you do that? By gifting him this Outdoor Research down vest that combines functionality, warmth, and style to give him just what he needs.
This vest was designed to provide lightweight insulation and a sleek, modern silhouette in a way that makes it versatile for fathers who love to explore the great outdoors, despite what the weather is doing. Made with high-quality 700 fill-power down insulation, this vest will provide your dad with exceptional warmth without giving him added bulk. This makes the vest a dream when it comes to layering for activities ranging from morning hikes to evenings by the campfire. We love the durable and water-resistant shell that helps protect your dad from the elements, keeping him comfortable and dry through all his adventures.
The vest features a full-length zipper and zippered hand pockets that are a great place for warmth when he doesn't have gloves. There's also an internal zip pocket that is a great place to store his keys or any other items he doesn't want to carry on his explorations. The armholes are made of elastic, and the hem is adjustable, which means he can customize this vest to provide a snug fit that feels great and gives him an extra layer of warmth and protection from the wind.
If you're looking for a gift that combines style, warmth, and practicality, this vest is it. You'll love seeing him snap picture after picture on his journeys wearing this vest that will keep him warm throughout them all.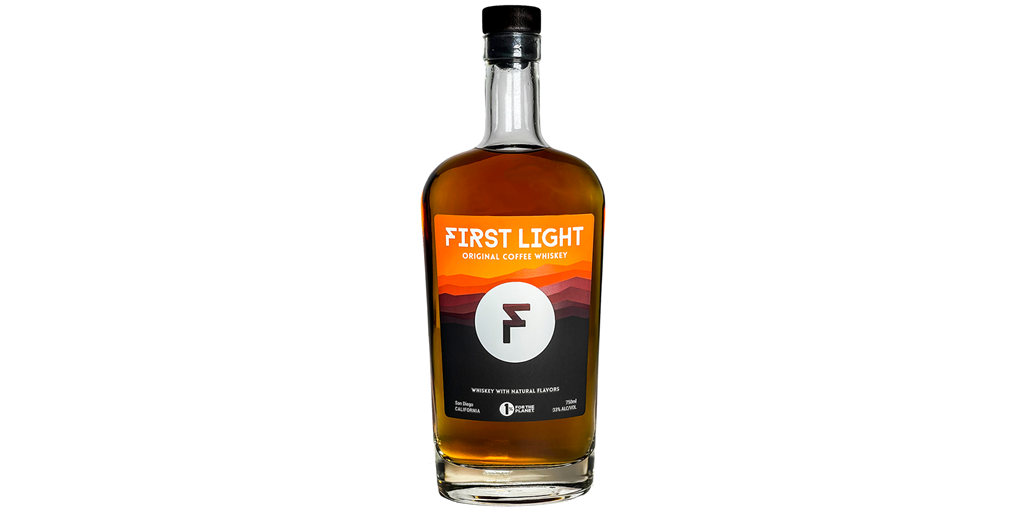 First Light Coffee Whiskey
Raise a flask to Father's Day with something that will light him up from the inside out – a deliciously smooth coffee whiskey. Just in time for summer, First Light Coffee Whiskey is the perfect Father's Day gift for the dad who loves the great outdoors and something to celebrate with at the end of a long day of adventuring.
The Adventure Pack includes eight 100-mL mini flasks, making it ideal for on-the-go. He doesn't need to worry about the weight of a big bottle of whiskey when he's got these little travel-sized snacks that fit easily in his pack and won't add any bulk.
This award-winning coffee-flavored whiskey has won some serious awards, and we think it will also win your dad's heart. Made of 99% American corn whiskey, real coffee extract, and organic blue agave, this whiskey boasts a 66-proof taste that's perfect for sipping around the campfire or celebrating the beginning of a new adventure.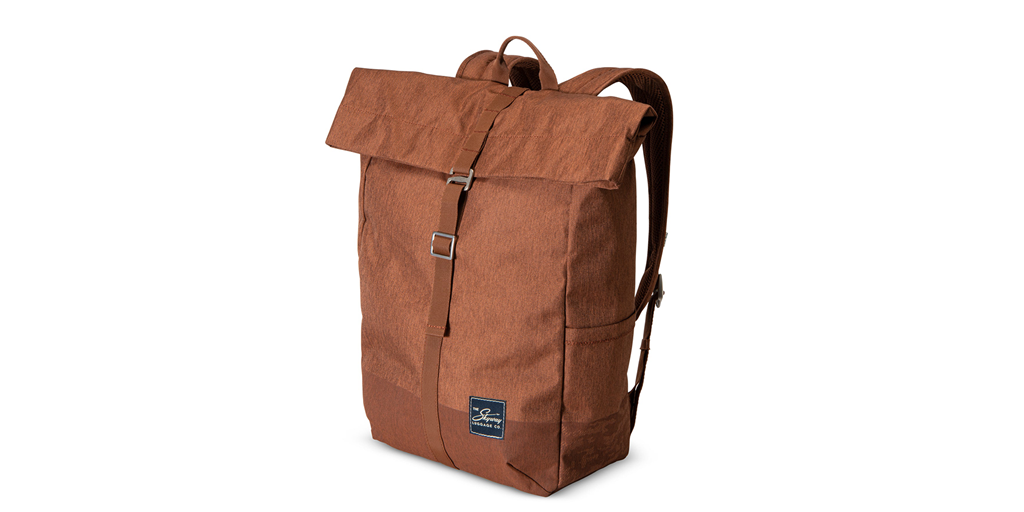 Skyway Rainier Rolltop Commuter Backpack
Surprise your outdoor-loving dad with a gift that combines utility, durability, and style – the Skyway Rainier Rolltop Commuter Backpack. The 30-liter capacity of this bag makes it incredibly versatile, so your dad can adapt it to his every adventure, whether he's adventuring in the wilderness or making his way to work.
This backpack features a unique rolltop design that allows him to adjust the storage capacity, making it the perfect bag for dads that need a bag that's as flexible as their outdoor activities. Made with durable, water-resistant materials, this backpack is built to hold up in rain or shine and keep your dad's belongings inside safe and dry.
The featured laptop compartment is something we love, along with the multiple pockets that can store all sorts of things for his travels and the size zipper access to the backpack's main compartment. He'll be amazed at how the storage and organization options this provides him. The adjustable shoulder straps and padded back panel ensure he'll stay comfortable while carrying it, and the sternum strap gives him extra stability and support when his hikes become more intense.
Give him a gift that's as adventurous as he is and that will see him through his excursions with style and safety.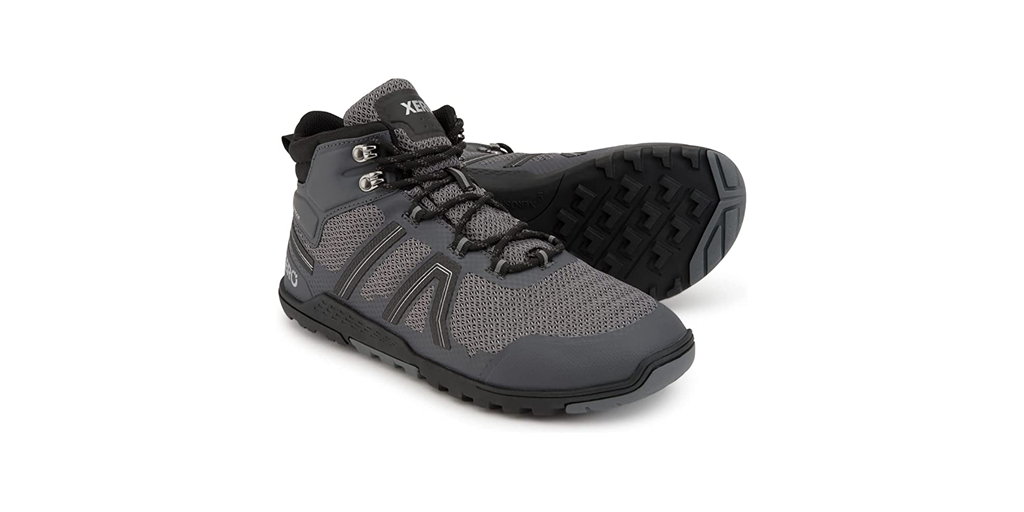 Xero Xcursion Fusion Rugged Waterproof Hiking Boot
Elevate your outdoor-loving dad's footwear game with a gift that offers both comfort and style. We are talking about the Xero Xcursion Fusion Rugged hiking boots. Designed to provide the ultimate barefoot feel while keeping his feet protected from all the rugged terrain, these lightweight boots are perfect for dads who have an itch for adventure and want to have a more grounding, natural connection to the earth beneath them.
These boots feature a minimalist design, which gives your dad maximum flexibility and a wide toe box. Why is this so great? Because it allows your dad's feet to move and spread naturally while he's hiking. The water-resistant ballistic mesh and ToughTek toe cap provide protection and durability, while the sealed seams and gusseted tongue keep water and other elements away from his feet. The dual-chevron tread pattern means he's got a great grip that will take him through all sorts of terrain. And the easy-to-adjust lacing system gives him a secure and customized fit that's perfect for all his outdoor needs.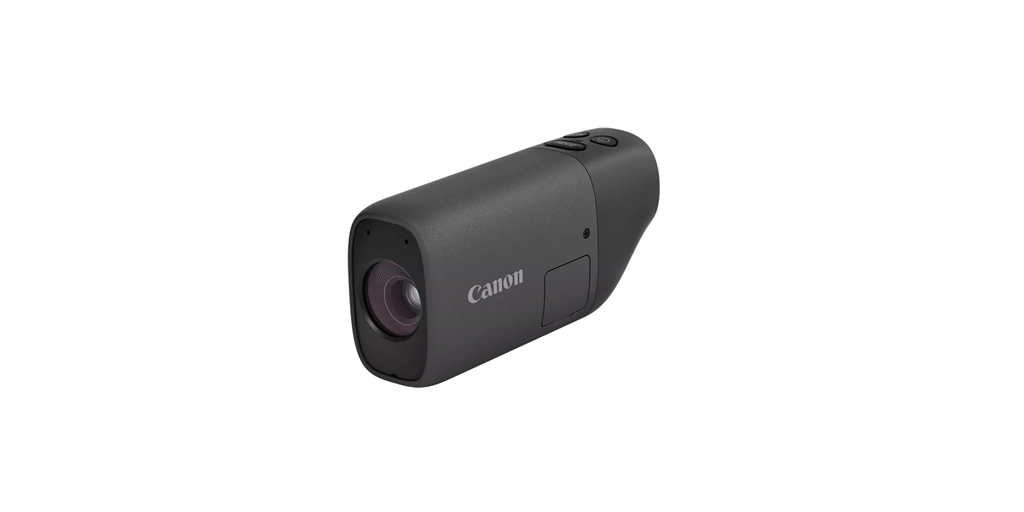 Canon ZOOM Digital Monocular
Give your dad the gift that will allow him to capture the beauty and wonder of nature in great detail. What's that gift? The Canon Zoom Digital Monocular. Designed for outdoor enthusiasts, birdwatchers, and adventurers, this high-tech monocular allows your father to get up close and personal with all the creatures of Mother Nature with the touch of a button.
The Canon ZOOM Digital Monocular features a whopping 5-15x zoom range, so your dad can easily adjust the magnification to fit what he's looking at. The high-resolution LCD screen allows him to get a clear and sharp view of subjects far away, while the built-in image stabilization ensures steady and blur-free images.
We love how versatile this monocular is and how user-friendly it is. The interface includes multiple shooting modes and allows for both photo and video, which means your dad can capture and share all his adventures with friends and family. The compact size and lightweight design make it easy to carry without adding size or weight to his camping gear. Plus, the water-resistant and durable construction means he can take it with him wherever he goes.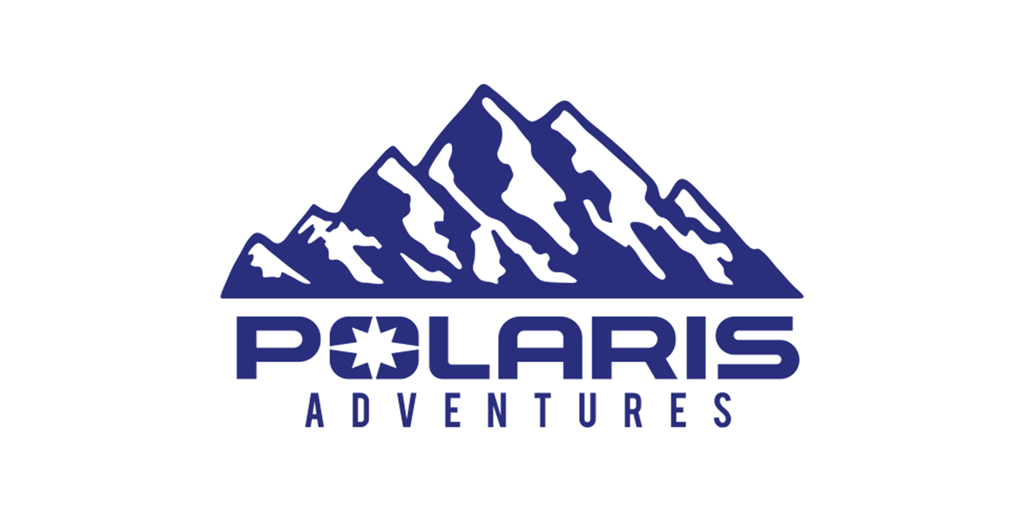 Polaris Adventures Membership
Invigorate your outdoor-loving dad's spirit of adventure this Father's Day with an adrenaline-pumping gift he'll never forget – a Polaris Adventures membership. From off-roading thrills to snowmobiling escapades, these action-packed adventures offer a unique way to celebrate your dad's love for the great outdoors.
Polaris Adventures provides access to many thrilling outdoor activities tailored to your dad's unique interests and skill levels. He can choose from experiences on Polaris RZRs, Rangers, and Generals, or choose a cool snowmobiling ride through a winter wonderland. With guided tours and self-guided rentals available, there's plenty of adventure waiting for your dad.
Each membership offers a day out your dad won't forget, complete with top-of-the-line equipment, expert guidance, and stunning locations across the country. Your dad will love the chance to explore new terrains, conquer challenging trails, and make memories he'll never forget.
Whether your dad is a seasoned off-road enthusiast or a newbie at outdoor exploration, these action-packed adventures are guaranteed to make him feel loved and gift him something he'd never gift himself.
Get 1 month here for $149, or $447 for a 3-month membership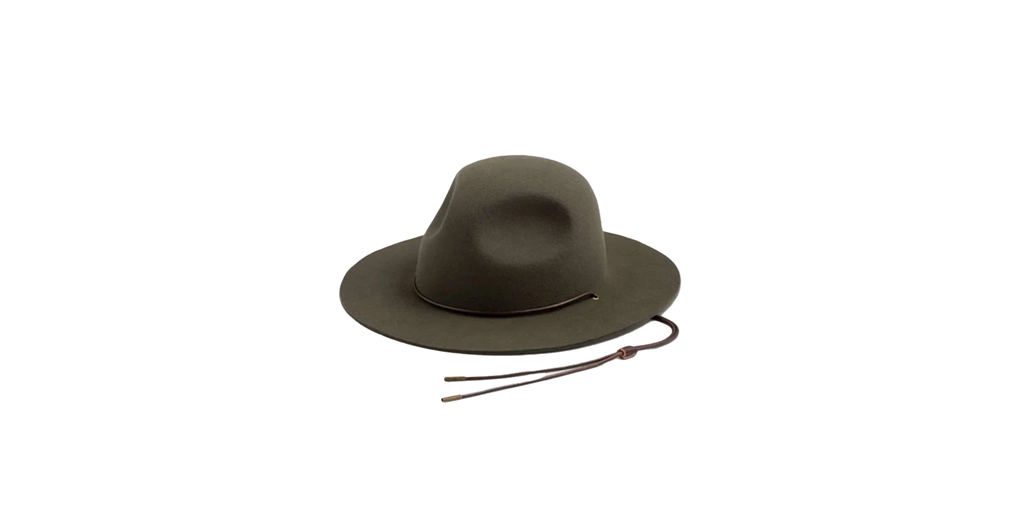 Will + Bear Woodley Moss Hat
Top off your dad's outdoor style with a stylish and eco-friendly gift. What's that, you ask? The Will + Bear Woodley Moss Hat. With its classic design and sustainable materials, this versatile hat is perfect for dads who appreciate quality craftsmanship and care for the environment.
This hat boasts a wide-brimmed fedora silhouette, making it the perfect accessory for your dad's outdoor adventures. Made from 100% Australian wool, this hat not only looks great but also offers quality insulation and breathability, which ensures that your dad stays comfortable and protected from whatever elements he encounters on his adventure.
On top of being stylish and made of premium materials, this hat represents Will + Bear's commitment to sustainability. For every hat sold, the company plants 10 trees, helping combat deforestation and support reforestation efforts worldwide. How cool is that?!
This gift combines style, comfort, and a positive impact on the planet, which is perfect for your stylish and Mother Nature-loving dad. Gift him this hat to keep him looking great while in the wild outdoors, but also to let him feel good knowing this hat contributes to a greener future.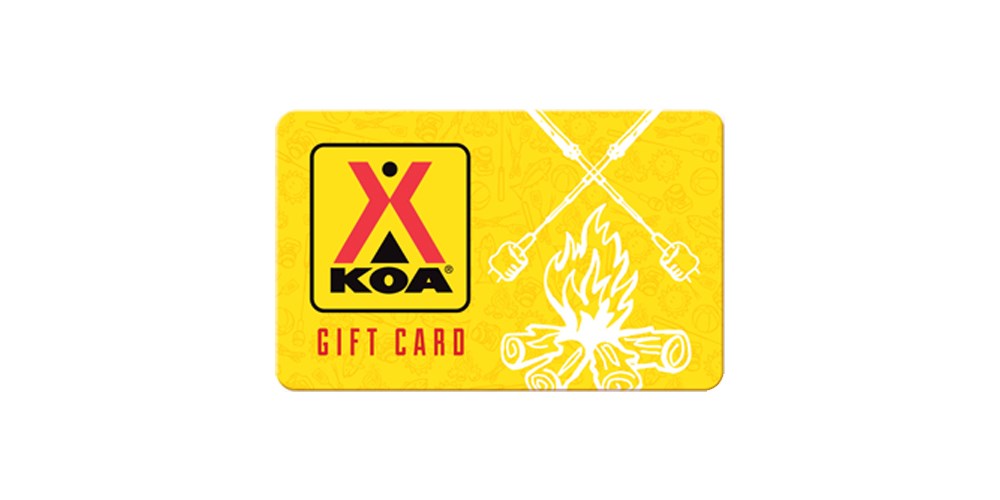 KOA Giftcard
If your dad is a camper, why not gift him the ultimate gift of more camping? A KOA gift card is a simple and easy, yet thoughtful gift to give your outdoor-loving dad. He can use it at any KOA location to buy more nights of camping, goods at any of the KOA locations, and more. The camping world is his oyster with a KOA gift card in hand. There are over 500 KOA locations in North America, so a gift card allows him to check some destinations off his wishlist. You can choose the amount that you want to gift your dad and all you have to do is go to a KOA near you to purchase the card.
Available at a KOA campground near you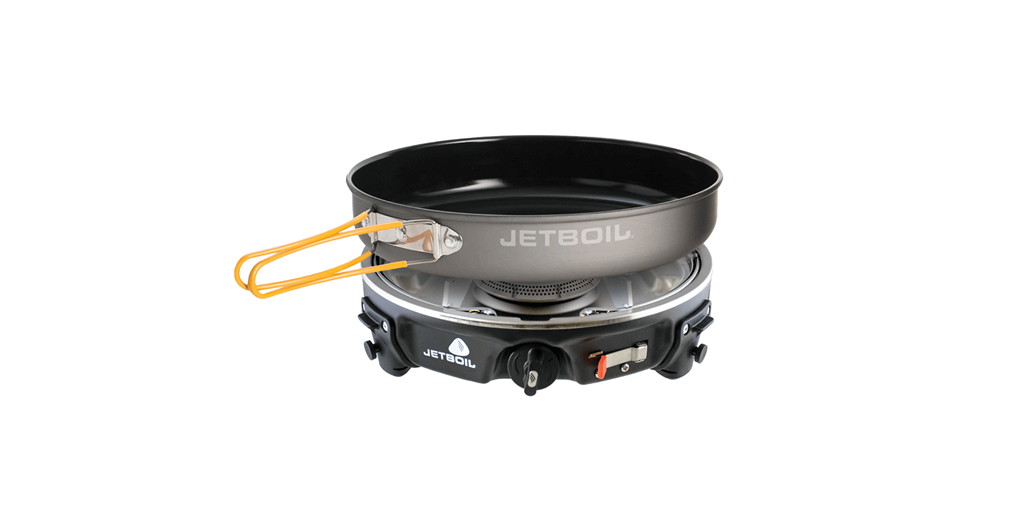 Jetboil HalfGen Cooking System
Culinary freedom in the great outdoors is something your outdoor-loving dad wants, so help him get there by gifting him the Jetboil HalfGen Cooking System. Designed to be versatile, efficient, and durable, this innovative stove system is perfect for dads who still have a taste for good food while exploring Mother Nature.
This Jetboil has a whopping 10,000 BTU heating capacity, which means your dad can quickly and efficiently cook a variety of meals – everything from a morning cup of coffee to a gourmet post-hike feast. The compact and lightweight design makes it easy to transport and set up, making it the ideal companion for camping trips, backpacking adventures, or even tailgating parties.
One of the best features of the HalfGen is its compatibility with other Jetboil cookware and accessories, which means your dad can customize his outdoor cooking setup to suit his individual needs. Plus, we love the stove's advanced simmer control that allows for precise temperature adjustments, ensuring that even the fussiest dishes can be cooked perfectly.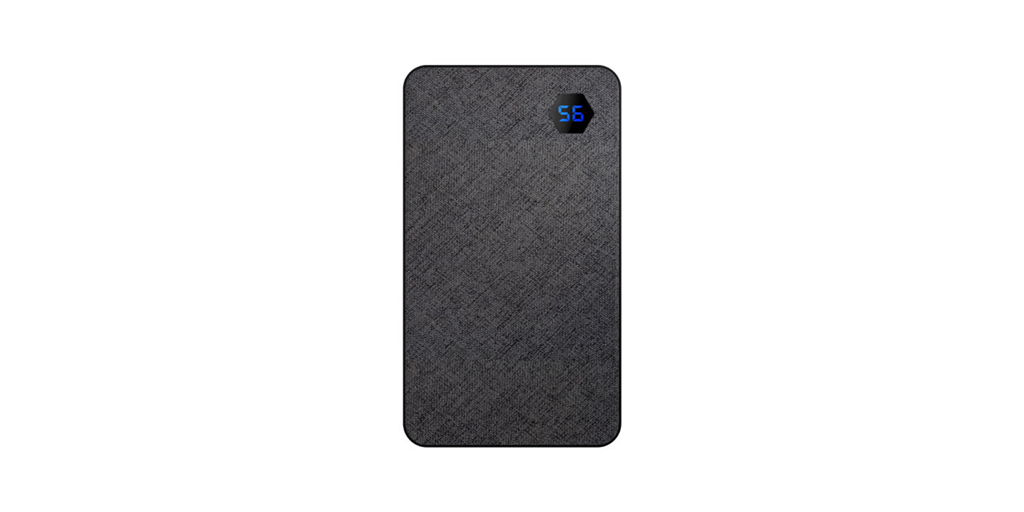 Einova Ultra Fast Power Bank
Help your outdoor-loving dad stay connected and powered up on all his adventures with the Einova Ultra Fast Power Bank. This cutting-edge power bank offers both fast charging capabilities and unparalleled convenience for the dad who never stops exploring.
Boasting a whopping 20,000mAh battery capacity, the Einova Ultra Fast Power Bank is designed to keep your dad's devices charged and ready for action. Equipped with a 63W output, this power bank rapidly charges smartphones, tablets, laptops, and other USB-C compatible devices, making it an essential addition to any outdoor enthusiast's gear.
What sets the Einova Ultra Fast Power Bank apart is its sleek and lightweight design, making it easy for your father to slip it into his backpack or pocket without adding a bunch of bulk. With a durable build and advanced safety features, this power bank is engineered to withstand the great outdoors.
As your dad sets off on his next adventure, he'll appreciate the peace of mind knowing his devices will stay powered and ready for anything.
---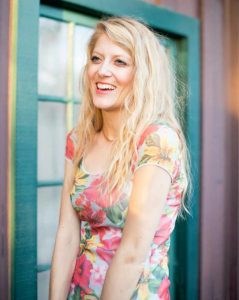 Leslie, a.k.a. Copy Girl, is a copywriter who gets butterflies from telling stories through words.
Her voice comes from a place filled with passion, dreams, and lots of sugar. "Cake over steak" is her go-to motto.
With over 10 years of experience in crafting words, and years of embarking on travels that have taken this Montana girl to some incredible places, Leslie love the adventures of both body and mind her writing takes her on.
Everywhere she goes, she takes this advice with her:
"Hold on to your divine blush, your innate rosy magic, or end up brown." – Tom Robbins, Jitterbug Perfume
To see what Leslie's up to in the writing world, visit her website here.
---
Kampgrounds of America, Inc is a participant in the Amazon Services LLC Associates Program, and affiliate advertising program. Some links may be affiliate links and Kampgrounds of America, Inc may get paid if you buy something or take an action after clicking one of these links.
Prices are accurate at time of publishing. Note that they are subject to change at the discretion of Amazon or their marketplace sellers.