If you're feeling overwhelmed at the thought of trying to find a present to show your love for the most important man in your life, know that you're not alone.
Though Father's Day happens every year around the same time, it never ceases to be a challenge to find the right present. There are plenty of options, but do they measure up to how great the father figure in your life is?
Fathers deserve something great that shows your love and appreciation for all that they've done to make you the person you are today. But you don't want to take the fun out of giving the gift because you're stressed about finding the right thing.
To help you find the perfect present for the dad in your life, we've put together this gift guide that has everything an outdoor-loving father could want.
So put a halt to your stress about the gift and scroll through this list of items to find the one that's perfect for your dad.
The Best Father's Day Gifts for Dad's Who Camp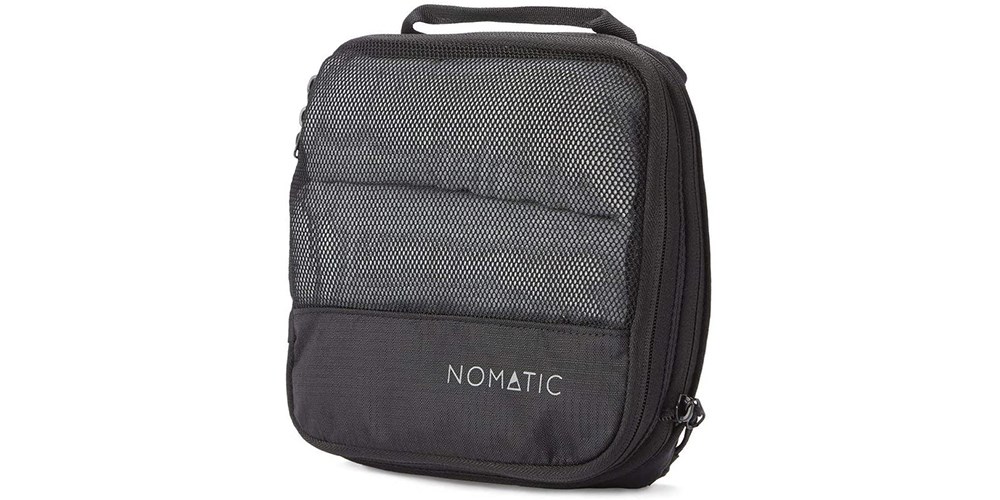 Nomatic Packing Cubes
There are two types of people: those that love packing for a camping trip, and those who hate it. I'm definitely the latter, but regardless of what side of the packing debate you fall on, packing cubes are your BFF. Packing in a way that saves space is crucial when you're heading out on a camping trip, but really when you're heading out on any kind of trip. These cubes are great to use whether your dad is hopping in his RV to go camping for a few days or hopping on a plane to explore overseas. They allow him to pack more than he would by using just a duffel or a suitcase alone, which is crucial, particularly when he's camping and isn't quite sure what the weather may decide to do. A big part of packing clothes for camping is ensuring that you have enough options to stay warm and the right layers to peel off if it starts to get too hot. These packing cubes from one of our favorite travel gear brands, Nomatic, are the perfect ones to get the job done, and done well. They each feature a zippered compression system that helps to condense clothes and cuts down on the amount of space they'll take up by a whopping 50%. That opens up room for other gear your dad may want or need on your camping trips. We love that these are mesh so that he can easily see what he packed inside of them without having to take everything out. They come in three different sizes (small, medium, and large) which each works great for different outfits. The bigger ones are great for bulkier sweaters and sweatshirts, while the smaller ones are perfect for t-shirts and things of similar size.
Get them here starting at $19.99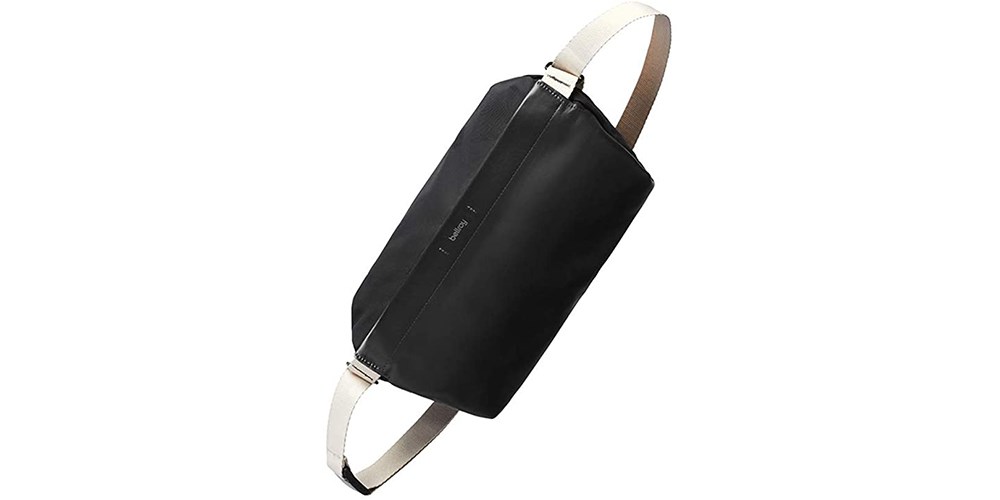 Bellroy Sling Premium Edition
In case you missed it, fanny packs have made a major comeback in the last few years and they are arguably more popular now than ever. However, they have been rebranded and aren't called "fanny packs" anymore, but rather slings. And slings are a more elevated take on the fanny pack that we are here for, and that we are pretty confident your dad will love. A sling that I am a huge fan of is this one from Bellroy. It is made from high-quality, environmentally-certified leather and other fabrics that have been sustainably sourced. Here at KOA, we are all about sustainability whenever and wherever possible. This bag features a main pocket that gives your dad easy access to anything he may need while out on a hike, such as a map, camera, snacks, and more. And a front compartment is the perfect spot for him to store his keys or other valuables. The construction of the strap is one of the parts of this bag that we love the most – it is magnetic, which makes it easy to put on and take off without hassle. There is a padded panel on the back that ensures he stays comfortable while wearing this around on his adventures. If he's planning to pack this thing to the brim, he'll love the expandable gusset. And when he only needs to bring a few things with him, your dad can take advantage of the self-compress feature that helps the bag fit the size of what he has inside of it. This is the perfect hands-free way for your dad to bring his essentials (and some extras, too) with him camping and hiking. And it will get him some great style points, too.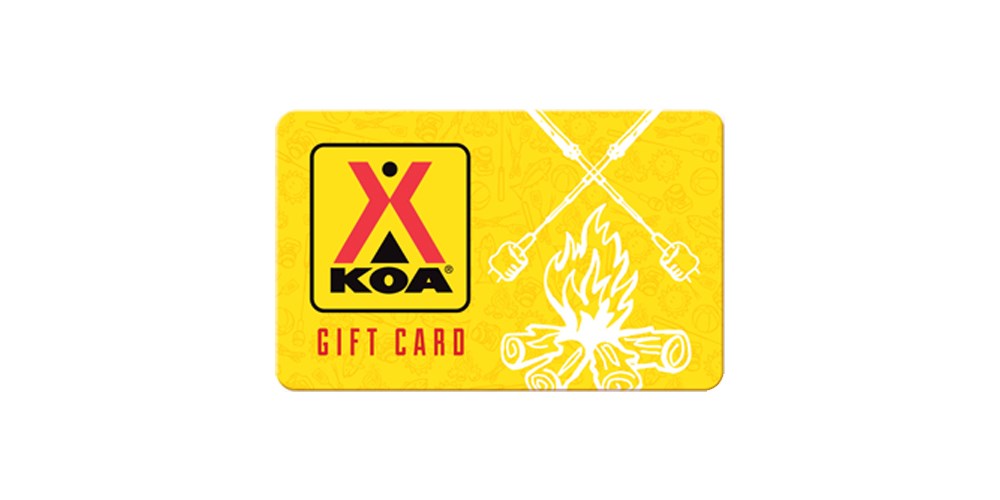 KOA Giftcard
If your dad is a camper, why not gift him the ultimate gift of more camping? A KOA gift card is a simple and easy, yet thoughtful gift to give your outdoor-loving dad. He can use it at any KOA location to buy more nights of camping, goods at any of the KOA locations, and more. The camping world is his oyster with a KOA gift card in hand. There are over 500 KOA locations in North America, so a gift card allows him to check some destinations off his wishlist. You can choose the amount that you want to gift your dad and all you have to do is go to a KOA near you to purchase the card.
Available at a KOA campground near you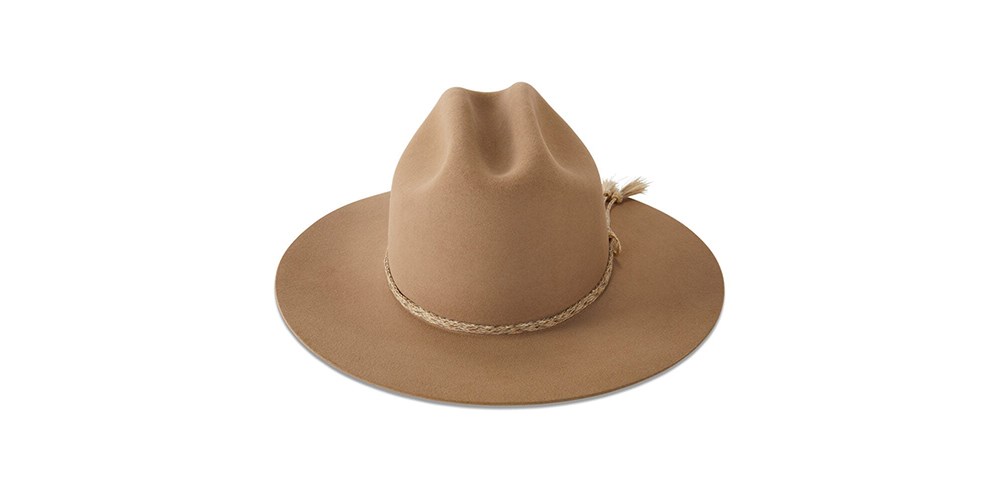 Best Made Stetson Burnet Hat
Ready to experience the power of a hat? We are willing to bet your dad will take on a whole new persona of adventurer if he's gifted this Burnet Hat from Stetson. It seems like every man needs a Stetson in his life, and this one is the perfect mix of classic and modern that will have your dad looking extra stylish. This hat is super soft and made of high-grade rabbit fur felt and features a hand-braided horsehair hatband as well as a leather sweatband to keep him cool when he's out adventuring. The fit of this hat provides the ultimate level of comfort and the satin liner offers texture to keep the hat in its place. This Stetson shape is referred to as classic cattleman and offers a more unique look than the standard Stetson teardrop shape. If your dad has an eye for fashion, we think he'll really take a liking to both the fashion and function this hat provides.
REI Co-Op Trailbreak Foam Pillow
Your dad won't know how badly he needs a proper camping pillow until he takes a camping trip without one. This may seem like an unnecessary addition to his camping gear, but trust us when we say it is necessary. Pillows from home work okay in a pinch, but they aren't built for the outdoors and he may end up ruining his favorite at-home pillow. To avoid this situation, you want to get him a camping pillow, but not just any camping pillow. This one from REI Co-op is a favorite amongst campers, and we understand why. First of all, it compresses down to ⅕ of its size, which makes it ideal for packing away into its own pocket and in your dad's car or bag. The less space his camping gear takes up, the better. And this pillow definitely fits that bill. Don't be fooled by its small size when packed up – this pillow expands to its full size of 18 x 14 inches almost immediately after unpacking it. And it does this on its own, without any inflation. And when this thing has seen better days and looks like it's long overdue for a cleaning, he can just toss it in the washing machine and it will come out nearly brand new. Our favorite thing about this pillow is that is made with leftover foam from REI's sleeping pads, so the materials are recycled and help to minimize waste.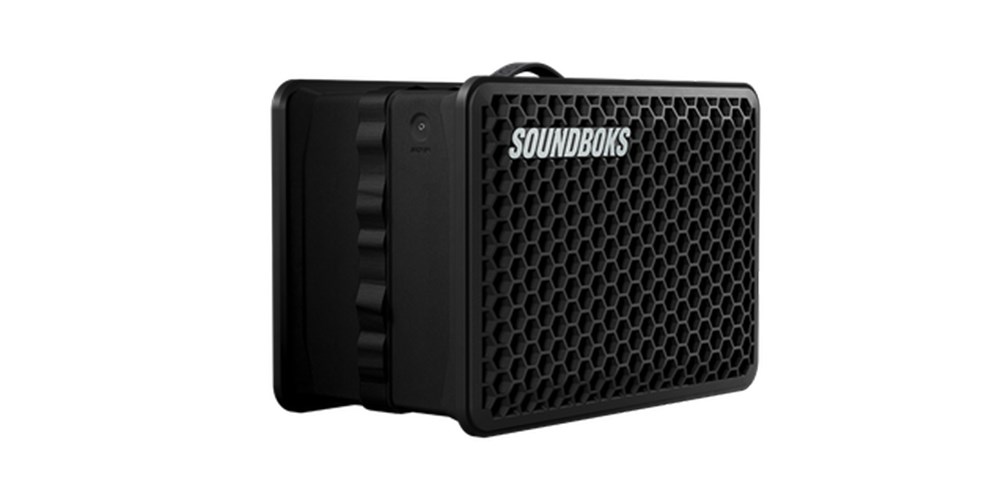 Soundboks Go
If your dad is anything like me, music follows him almost everywhere you go. There's something about the right music that takes every experience to the next level. And to help your dad with that while both camping and at home, we've found the perfect speaker. From one of (if not the) top speaker brand in the world, we present to you the Soundboks Go. This Bluetooth performance speaker is the first of its kind and is a smaller and more portable version of the fan-favorite Soundboks speaker. The Go is portable, which makes it ideal to take on camping trips, backyard parties, beach hangs, and more. What makes it even more ideal is the fact that it is dentproof, splashproof, and lightweight. This thing looks and feels indestructible, and it takes just a few seconds to get it set up. Get ready for your dad's camping trips to feel a whole lot more epic with the Soundboks Go. He can control this speaker from his phone thanks to the Soundboks app, which allows him to assign different stereo roles and elevate his listening experience in ways he never even imagined. This speaker is about to become your dad's new favorite accessory. He may find himself loving this speaker so much that he opts to also get the larger Soundboks, which he'll be happy to hear can easily be linked up with his Soundboks Go for a truly wild listening experience. If you're looking for the one speaker that can take care of all your dad's listening needs, the Soundboks Go is the one.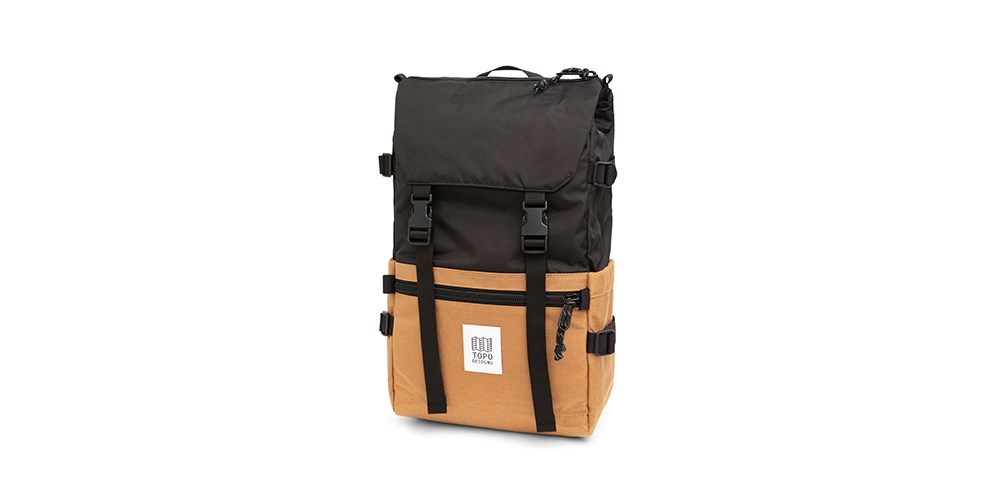 Topo Rover Pack
For a classic pack that has a twist of cool, modern style, look no further than this pack from Rover. Dads love a good bag, especially if it's one that's meant for adventuring. This bag makes for the perfect daypack whether he's out in nature or running errands around town. It's made of durable 1000D nylon yet still manages to be lightweight and easy to care for. It is also water-resistant which makes a world of difference in terms of the versatility of this bag. The closure is a simple cinch and the exterior features a front pocket that gives you quick and easy access to things like keys, phones, and more. We love that this bag also has an internal laptop sleeve that fits most 15" laptops to keep your dad's computer safe if he decides to leave home with it in tow. You get to choose from 18 different color options to make this bag one that fits your dad's personality perfectly.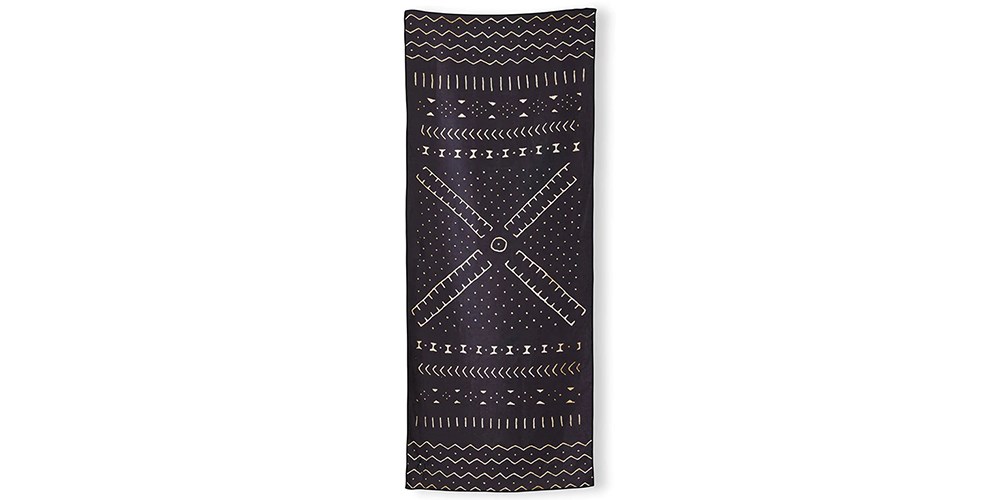 Nomadix Original Towel
If your dad is someone who considers himself practical, then you're about to help him see a whole new concept of practical by gifting him this Nomadix towel. This towel was made with the idea of multi-purpose in mind. It works for camping, heading to the beach, yoga, and anything else your dad finds himself in need of a towel for. Not only are Nomadix towels practical, but they are also stylish. Choose from a ton of different options to find the towel that best matches his personality. We are big fans of the national park ones (no surprise there). This towel is super light (just 1 pound!) and is made from post-consumer recycled materials so your dad will be supporting the planet with his use of this. The MicroTerry fabric is ultra-soft while managing also to be sand-resistant, pet hair-resistant, and odor-resistant. Oh yeah, and this thing will dry super quick which makes it the perfect towel for camping. This thing is durable and packs down into a small bundle, which ensures your dad can and will take it everywhere he goes. We also love the Ultralight Towel from Nomadix too which weighs just 8 ounces and is even more packable.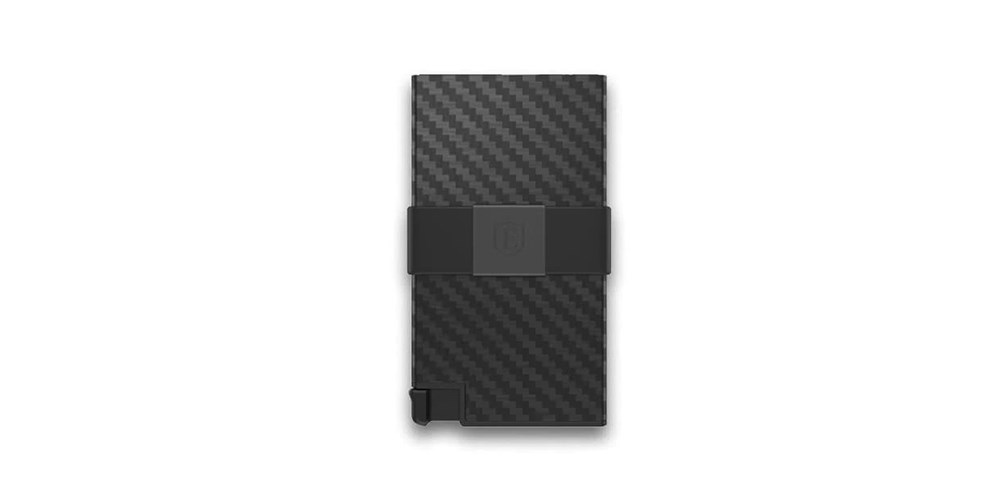 Ekster Carbon Fiber Cardholder
Every outdoor-loving dad needs a strong and reliable wallet. And since we know there is no shortage of options when it comes to cardholders, we've done the hard work of weeding through all the options to find the best ones out there, and at the top of the list is this carbon fiber cardholder from Ekster. It is sleek and compact, and all it takes is the push of one button to expand his cards. This means he can carry more cards while traveling without bulking up. This allows your dad to hold anywhere from 1 to 15 cards, plus up to 6 bills of cash too. It is made of 3K space-grade carbon fiber, which doesn't quite make your dad an astronaut, but means he's got the most durable kind of cardholder there is. Though it's strong and built to last, this cardholder is ultra light – so light, in fact, that he will likely forget it's even there. That makes it ideal for camping because he'll have just what he needs but without the bulk of a standard wallet weighing him down or getting in the way. An added feature of this that we love is that it has an integrated RFID blocking layer that keeps his cards and his data safe from everyone, everywhere.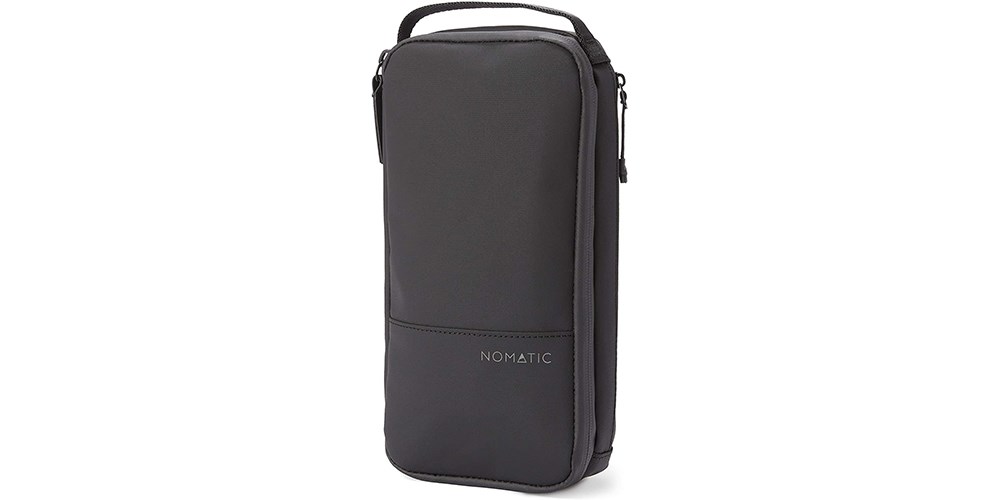 Nomatic Toiletry Bag
After a handful of camping trips without a toiletry bag, we think your dad will see the need for a high-quality toiletry bag to make his life much easier. We've found the best one for you to gift him this Father's Day – the Nomatic Toiletry Bag 2.0. It comes in a small and regular sizes so you can pick the one that best fits your father's camping and traveling needs. This bag is made with water-resistant and durable fabrics and zippers that will keep your toiletries free of leaks. We've all had those times when we've opened up our bags to find that our body wash or hairspray or shampoo was all over. And we would all do whatever we could to ensure that never happens again. Save your dad this headache and get him this toiletry bag that will keep his stuff safe and dry. This also features a hanging strap for ultimate functionality as well as a specific area for him to store his toothbrush so it doesn't get dirty. Inside you'll also find areas where he can hide personal items in a covered zipper, as well as mesh zippered areas so he can see what he's got in there. This thing packs a lot of toiletries while still managing to maintain a slim profile that makes it perfectly packable and filled with what he needs for his camping adventures.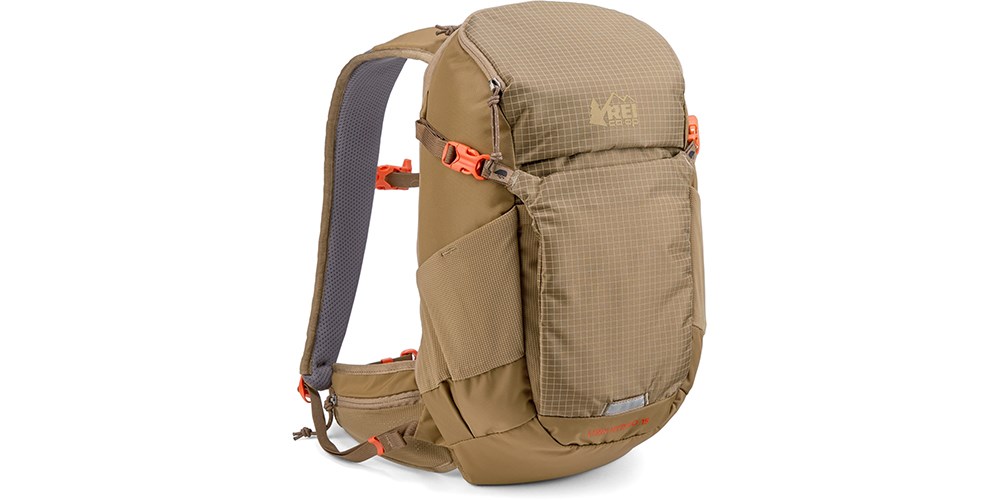 REI Co-Op 15L Hydration Pack
Hydration is key on any given day, but especially when you're adventuring in the great outdoors. Though you probably heard all the time as a kid reminders from your dad to drink water, now it's your turn to make sure he's drinking enough water. The perfect way to do this is with this hydration pack from REI Co-Op. It features a 2-liter reservoir for him to fill up with water and take out hiking or wherever his adventures may take him. The pack allows him to bring other necessary items along with him without sacrificing comfort. It's lightweight, breathable, and ventilated so he'll stay cool even when the sun gets hot. It also has a webbing waistbelt if he finds himself in more rugged terrain and needs to strap in. The finish on this bag is water-repellent and built to last so your dad will enjoy this for years to come. It features a main compartment for all of his bigger items, and that compartment can be accessed from the back. There's also a zip pocket on the top, which is the perfect place to store sunglasses, sunscreen, snacks, cell phone, keys, and more. This bag is small, but mighty and will help ensure your dad stays hydrated in his explorations.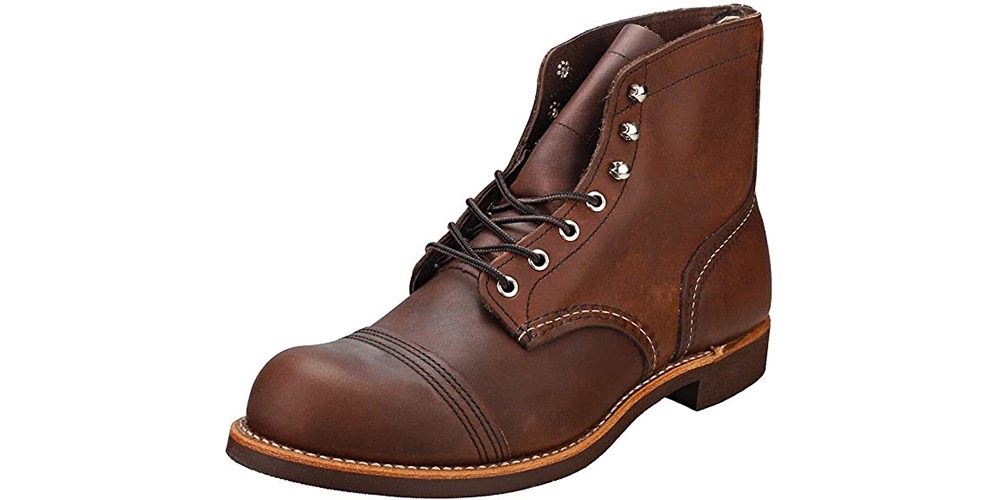 Red Wing Shoes Iron Ranger Boots
These boots were made for more than just walking, which makes them the perfect gift for your adventuring-loving dad. Red Wing is a name that has been trusted for years to provide people with high-quality and long-lasting shoes. And these Iron Ranger boots are no exception. They were originally made in the 1930s with miners in mind but since then, they have evolved to become for far more people and far more jobs. The leather toe cap is the signature look for these boots that will last your dad a lifetime thanks to the triple-stitch construction. At first, these shoes may be a bit tight, but over time the leather will shift to fit perfectly to your dad's feet, making these custom boots without the custom price tag. Your dad will be rocking these around the house, out and about around town, at the campsite, on hiking adventures, and more. He'll love the ankle support they provide him, no matter what he's doing. And you'll likely have a hard time getting him to wear any other shoes except for these.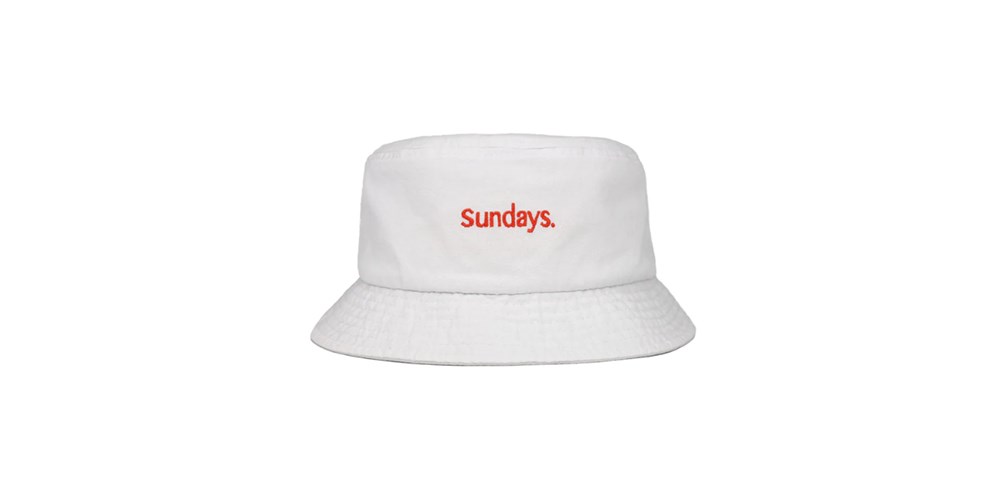 Los Sundays Bucket Hat
Give your dad some serious style points and a great way to keep his face protected from the sun with this bucket hat from tequila brand Los Sundays. With the simple "Sundays" embroidery detail, it can serve as a reminder for him to sit back, relax, have a glass of tequila, and enjoy himself. The style is simple, clean, and will go well with all of his camping outfits. Plus, it won't break the bank. Though he will probably think it's a fishing hat, you can tell him that it's so much more and that he can wear it on and off the lake, and even to dinner with your mom if he wants. Choose from white or black to best suit his style and taste and maybe even get one for yourself so the two of you can match.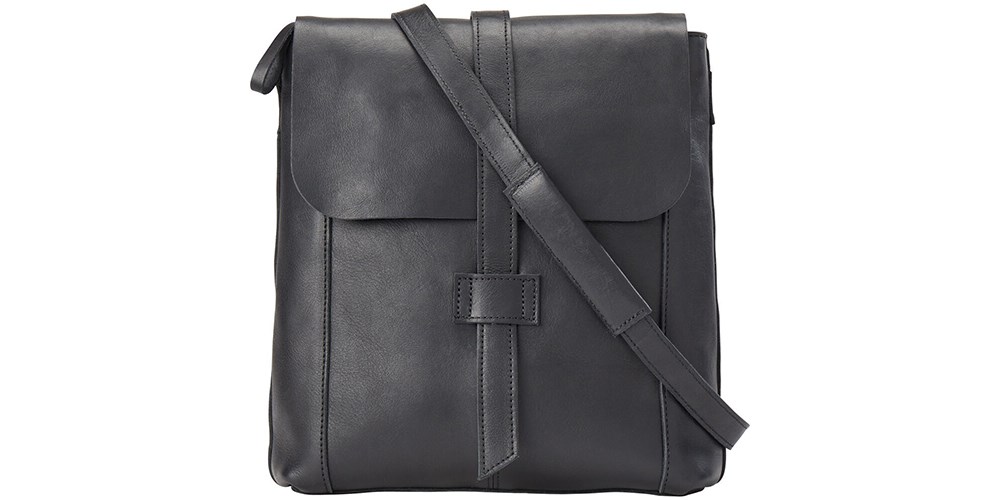 Duluth Lifetime Leather Convertible Backpack
If your dad is an outdoorsman, chances are good that he has a backpack he uses when he goes on his adventures. But chances are also good that his backpack probably isn't the most stylish and focuses primarily on function. While that's great, we think you can elevate your dad's life by gifting him a nice leather backpack that he can use for all kinds of things. And this one from trusted Duluth is called the Lifetime Backpack for a reason – it is built to last. It is constructed of the highest quality leather that gets even better over time. It is sleek but has plenty of room to store all of his necessities, and then some. It's highly fashionable, but also functional thanks to the zippered main compartment that keeps everything from falling out of the bag. The light-colored inner lining makes it easy for your dad to find just what he's looking for and the inner pockets create a special space for him to keep a book, a journal, his phone, and more. He can opt to carry as a backpack or over his shoulder as a cross-body bag.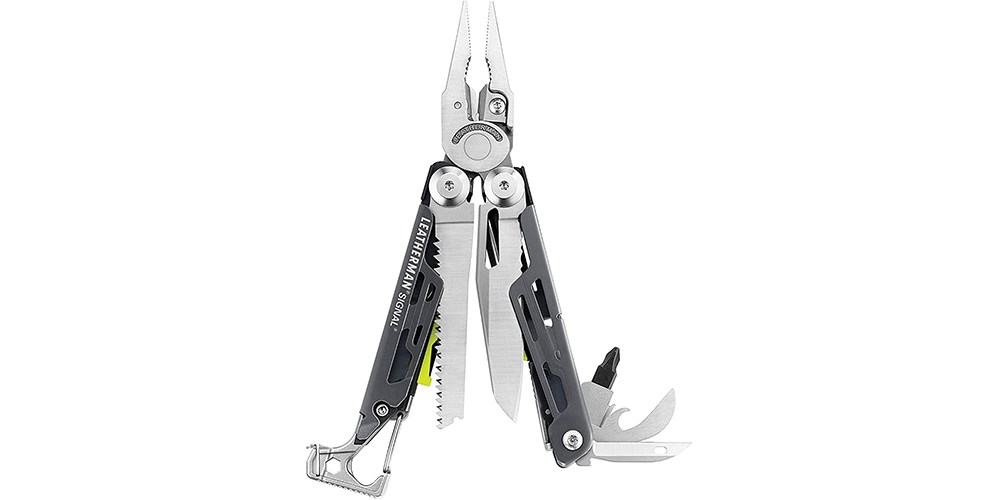 Leatherman Signal Tool
Every dad needs a multi-tool to help them get through not only a camping trip but everyday life in general. And who better to trust than the name of multipurpose tools that everyone knows: Leatherman. Leatherman has been creating tools like this for nearly 40 years and continues to come out with products that make camping and adventuring a safer and better experience for everyone, especially those dads that love tinkering with tools. This Signal is 19 different tools in one, 4.5-inch sized tool. It has everything from a fire-starting Ferro rod, an emergency whistle, and a built-in hammer to a customizable bit driver, a combo blade, and a wire stripper. If there's one tool your dad needs to bring with him camping, it's this Signal. It comes in a few different color options and you can take this gift to the next level by customizing it with artwork, words, patterns, and more.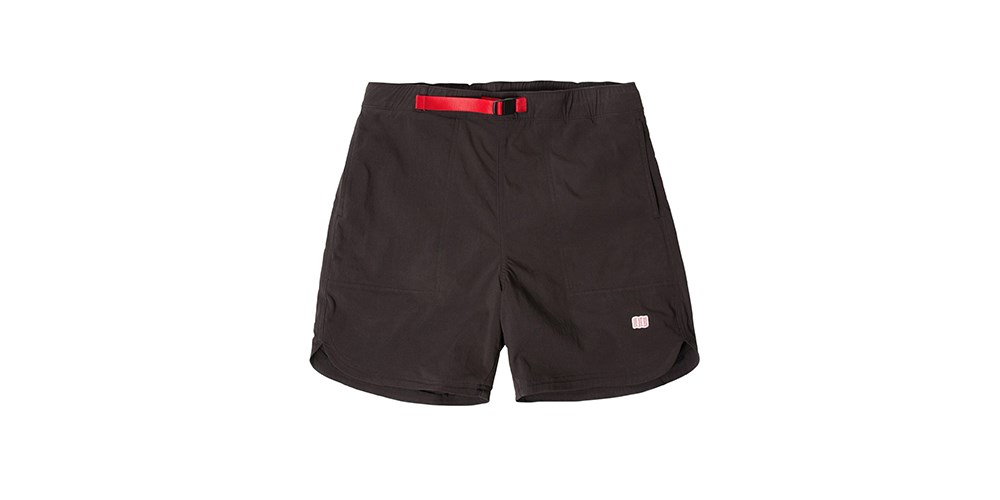 Topo River Shorts
A pair of versatile shorts is something that every dad needs in his closet. Your dad may already have a pair, but we are guessing they may not be the most stylish shorts you've laid eyes on. And that's where you come in by gifting him these Topo River Shorts. They win style points with their classic yet fun look. And these shorts will be his go-to pair for everything he does in the warmer months. These are perfect for hiking, jumping in the water, and walking around town. Almost anywhere your dad finds himself going, these shorts will be the perfect fit (though we don't recommend trying to wear them to a nice dinner). They are made of DWR-treated nylon and feature a two-way stretch to provide your dad with extra comfort. They will keep him nice and cool on those days when the temperatures get high and the 6" inseam length is perfect to let him show his legs off, but not too much that you get embarrassed. These adventure shorts are sure to become your dad's favorite.
---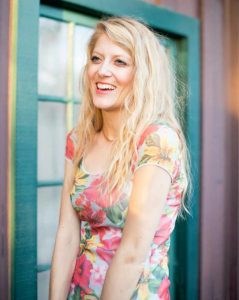 Leslie, a.k.a. Copy Girl, is a copywriter who gets butterflies from telling stories through words.
Her voice comes from a place filled with passion, dreams, and lots of sugar. "Cake over steak" is her go-to motto.
With over 10 years of experience in crafting words, and years of embarking on travels that have taken this Montana girl to some incredible places, Leslie love the adventures of both body and mind her writing takes her on.
Everywhere she goes, she takes this advice with her:
"Hold on to your divine blush, your innate rosy magic, or end up brown." – Tom Robbins, Jitterbug Perfume
To see what Leslie's up to in the writing world, visit her website here.
---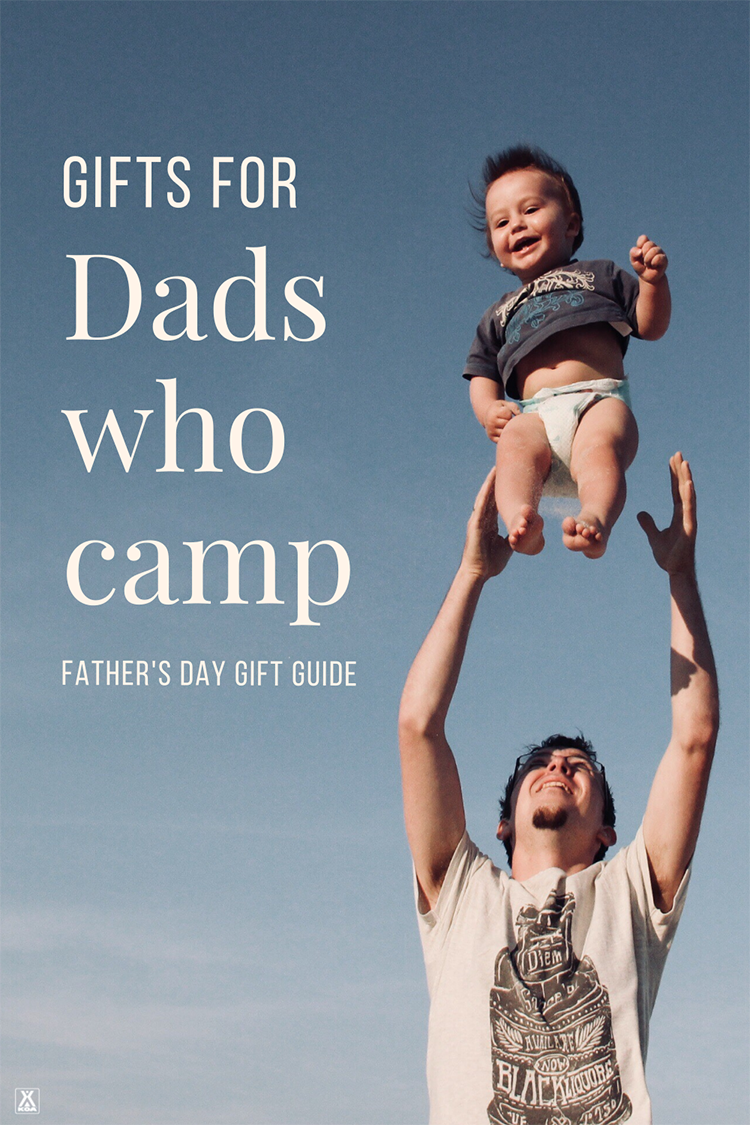 Kampgrounds of America, Inc is a participant in the Amazon Services LLC Associates Program, and affiliate advertising program. Some links may be affiliate links and Kampgrounds of America, Inc may get paid if you buy something or take an action after clicking one of these links.
Prices are accurate at time of publishing. Note that they are subject to change at the discretion of Amazon or their marketplace sellers.