Summer Vacation Ideas for Families
Plann Your Campig Camping Accommodations Now
Tips for Planning Your Next Family Vacation
Summer is right around the corner. According to summer travel research, that means vacation time for 45 percent of Americans. Will you return to a popular family vacation spot? Maybe take a family adventure somewhere new? Whether you're searching for family summer vacation ideas on a budget or a no holds barred vacation, it's crucial to start planning early.
We've gathered a list of some of our favorite fun places to go in the summer with family to give you some ideas as you plan your next summer family vacation.
Summer Vacation Ideas for Families
Families come in all shapes and sizes, with a variety of interests, so we've created a list of some of the best vacation spots for families so that anybody can find the right option. You'll see suggestions for young children, others for older children — some for the rest-and-relaxers, a few for the adventure-seekers — all the way from the west coast to the east coast. We've got your family vacation inspiration covered.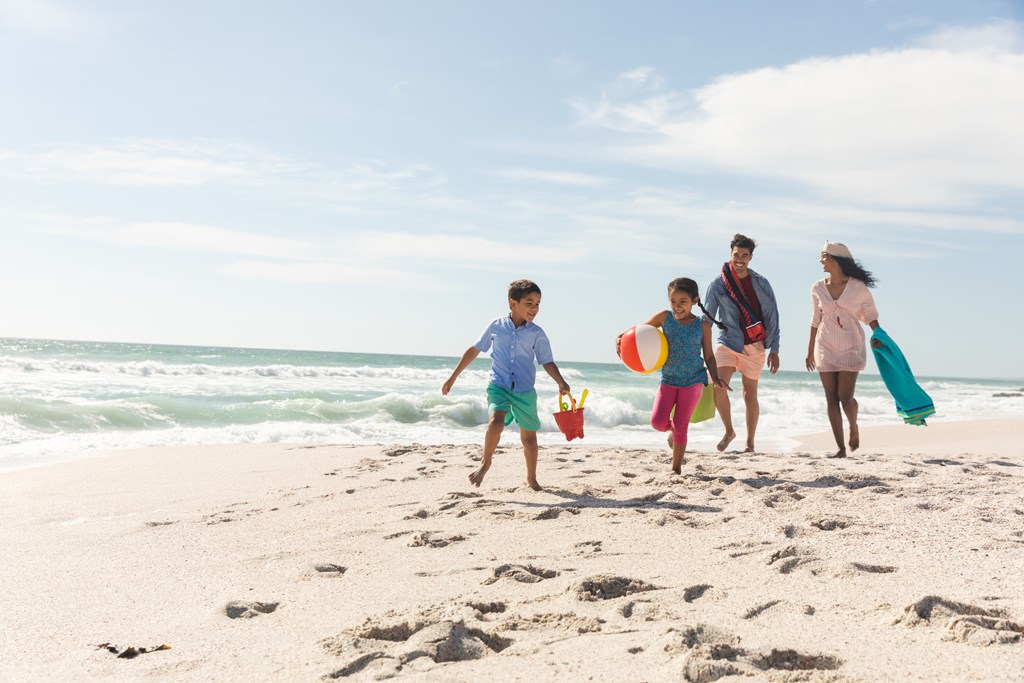 1. Hit the Beach
There's a reason beach vacations are one of the most popular family summer vacation ideas. Digging holes, building sandcastles, playing in the waves, discovering sea creatures — the list of activities on that wide-open area filled with sand and salt water is endless. There are so many options when it comes to beach vacations — how do you know what to choose?
If you're searching for summer vacation ideas for families on the east coast, Sanibel Island, Florida is a family-friendly destination great for all ages, especially young children. Most of the time you'll find small waves, some of the best seashells in the country, mini golf and a lot of opportunities to explore wildlife. You won't see high-rise condos, billboards or even traffic lights. Are you looking for something with a little more excitement? Travel along the east coast to Hilton Head Island for a similar feel.
For families with older children, Myrtle Beach, South Carolina has countless waterparks and other activities great for those who want the beach but also desire a variety of different activities for fun. You'll find a similar vibe farther north at Ocean City, New Jersey.
Are you looking for something on the west coast? The water may be a bit cooler, but California's coast has plenty of beach options. According to TripSavvy's recent list of best family beach vacations in California, La Jolla, Avila Beach and Sant Cruz are all great options. La Jolla has one of the best beaches in California, a cove that you and older kids can explore, marine life, an aquarium and lots of shops. Avila Beach has a jetty that protects it from getting gusty winds and big waves, making it perfect for younger children — it has a boardwalk too. Santa Cruz is another great west coast option with a variety of activities for family beachgoers.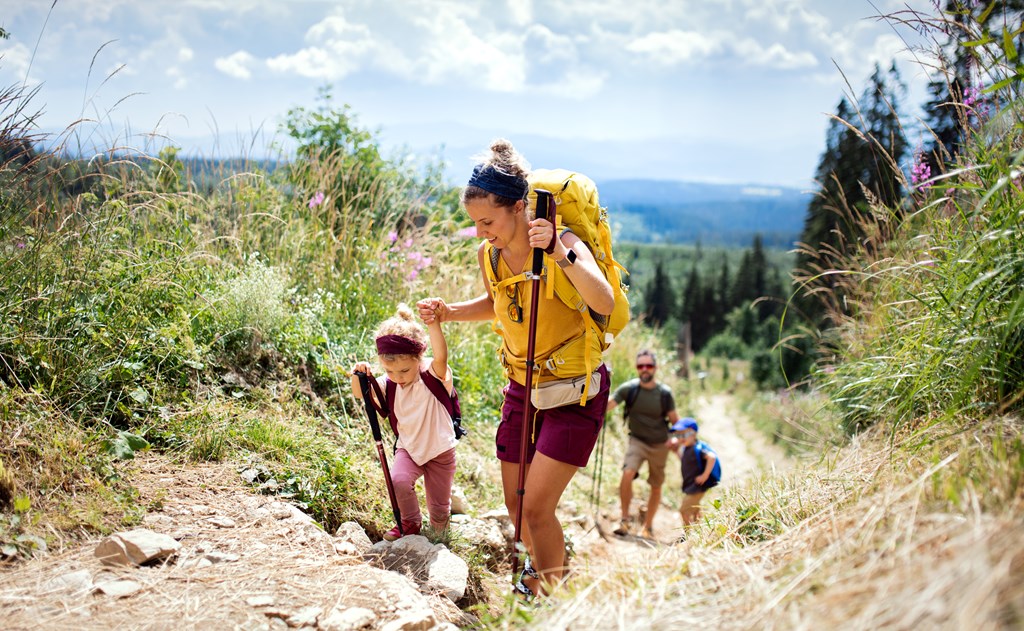 2. Take a Hike
If your family likes to hike, you'll be happy to know that there are plenty of opportunities across the country to hike to some of the most beautiful vistas and overlooks. A few of our favorites happen to be in national parks.
Rocky Mountain National Park in Colorado boasts over 300 miles of hiking trails. Everglades National Park in Florida has over 2,400 square miles of hiking — and biking, kayaking and canoeing. At Carlsbad Caverns National Park in New Mexico, you can hike through 117 underground caves. Shenandoah National Park in Virginia offers several ranger-led hikes, just as many of the national parks do.
Whether you choose to go with a ranger or find your own trail, hiking is a great way to unplug, get exercise and explore new places with the whole family. Choose from 58 national parks — either one close to home or a location across the country. These adventures are perfect for family camping trips, as you can spend the day hiking in the great outdoors and then spend the night under the stars cooking over a campfire and recounting the day's adventures.
If you have any fourth graders in your family, you can get an annual pass to national parks for free — usually, it costs $80. Your child can get a free pass for themselves and a carload of people to visit any and all of the national parks within a 12-month period through the Every Kid in a Park program. While we understand you may not be that ambitious — all national parks in 12 months — but even visiting one or a few makes getting the free pass worth it!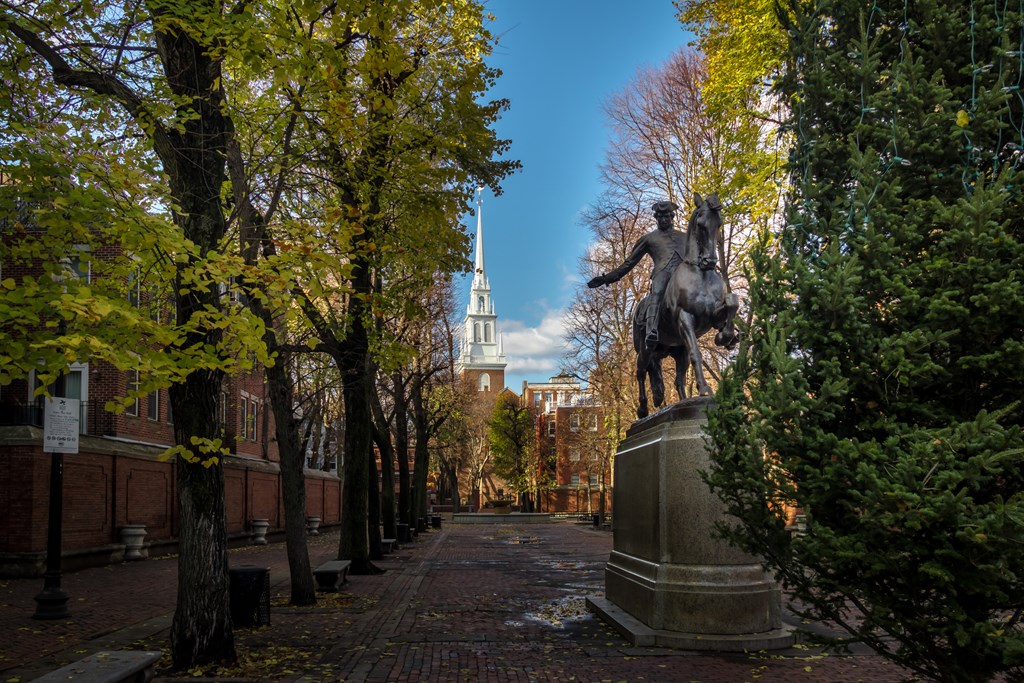 3. Explore a Piece of History
There's something new to learn with every one of these best family vacation ideas, but some locations just lend themselves to bringing history to life. If you're searching for summer vacation ideas for families on the east coast, you're in luck, because the few that top our list are in your backyard. For the west coasters, these historic locations could be combined for a great excuse to take your family vacation east.
Boston, Massachusetts is a logical place to start since it's the location of so many American firsts. Navigate cobblestone streets that Puritans and revolutionaries walked so many years ago. There are so many historical sites in this area that the two-and-a-half-mile Freedom Trail will show you 16 historical sites, including the Boston Common, Paul Revere's house, site of the Boston Massacre, the Bunker Hill Monument and the USS Constitution. Lexington and Concord, where the first shots of the American Revolutionary War were fired, isn't far either.
In Philadelphia, Pennsylvania, you'll have just as many opportunities to learn about history — you can have a chance to visit the Liberty Bell, see the Declaration of Independence, visit Independence Hall and explore the place Ben Franklin called home.
Farther south, Gettysburg, PA makes history come alive on the battlefield. Charlottesville, Virginia is home to Monticello, the plantation where Thomas Jefferson lived — he also designed and built it.
Looking to explore historic monuments in the west? There's a variety to choose from, though they may not be as well known as those on the east coast. You could check out the Muir Woods Monument outside San Francisco, the Devil's Tower National Monument in Wyoming or Mount Rushmore in South Dakota.
No matter where you are or where you're looking to travel there are always opportunities to explore areas significant to local or national history!
4. Check Out a Museum
Washington, D.C. offers a great opportunity to explore the history of our nation — but also gives access to the history of, well, almost anything. The Smithsonian is the world's largest museum, education and research complex, with 19 museums and galleries that house 137 million objects — objects ranging from fossils and spaceships to movie accessories and art.
Those of you who are searching for family summer vacation ideas on a budget will love this — access to the Smithsonian museums and galleries are free for all. Venture outside the city, and you'll find George Washington's Mount Vernon.
There are a number of other museums across the country that the whole family will love, including the Kennedy Space Center in Florida, the Museum of Modern Art (MoMA) in NYC, The Getty Center in Los Angeles, The National WWII Museum in New Orleans and the Art Institute of Chicago. Whether your family is interested in science, history or art you're sure to find options that everyone will love!
Later at night, unwind after a long day of adventures at a campground in a tent or other lodging option.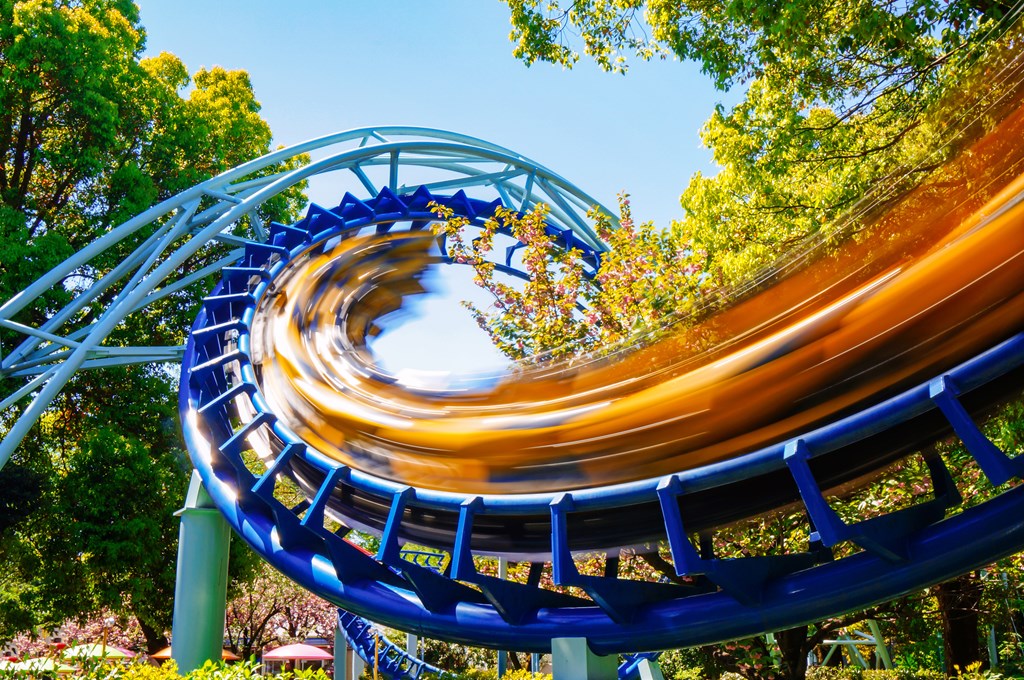 5. Play at a Theme Park
We can't forget to mention Disney World in Orlando, Florida, and Disneyland in Anaheim, California. After all, many would argue there are no other places in the world that capture a child's imagination more than the characters and atmosphere found within these Disney Parks. The restaurants, spas, golf and nearby beaches are also a treat for parents.
If your children are older, you may want to spend a day or two at Universal's Islands of Adventure, which was named the number one amusement park in the world. Think of it as a more grown-up Disney — they boast that every member of your family will have the time of their life.
Another great theme park destination is the Wisconsin Dells, recognized as the Waterpark Capital of the World, which would undoubtedly be a fun family vacation. Choose from a variety of indoor and outdoor activities, including Olympus Water and Theme Park, Timber Falls Adventure Park, Noah's Ark Waterpark, Circus World — and so many more. There's no shortage of theme park fun in the Wisconsin Dells.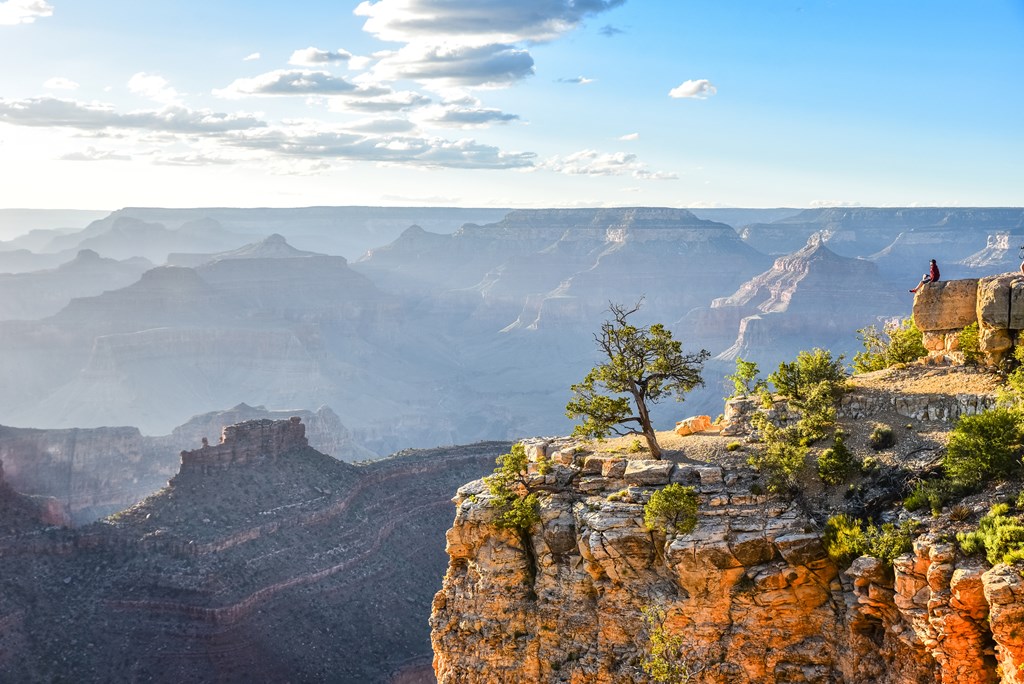 6. Go Site Seeing
The list of sites to see in America seems to be never-ending. While we've included a few of the notables here, there are likely sites to see wherever you choose to spend your family vacation. All you have to do is find them.
The Grand Canyon, located in Arizona, is an obvious choice. It's the second most-visited of all the American national parks. Aside from walking along the rim and looking down into the deep abyss, which is impressive in itself, you can also book a mule trip to ride down into the canyon. Several different-length trips are available, so you can choose one that works for your family. Some ranger-led programs and junior ranger programs also encourage your children to explore.
The Northern Lights are certainly a site to see. In the United States, a few different locations are ideal for watching the night sky light up — but keep in mind, most of the time, late summer vacations are the best time during summer vacation season to view them. Denali National Park and Preserve in Alaska, Idaho Panhandle National Forest, Aroostook National Wildlife Refuge in Maine and Michigan's Upper Peninsula are a few of the best places to see them.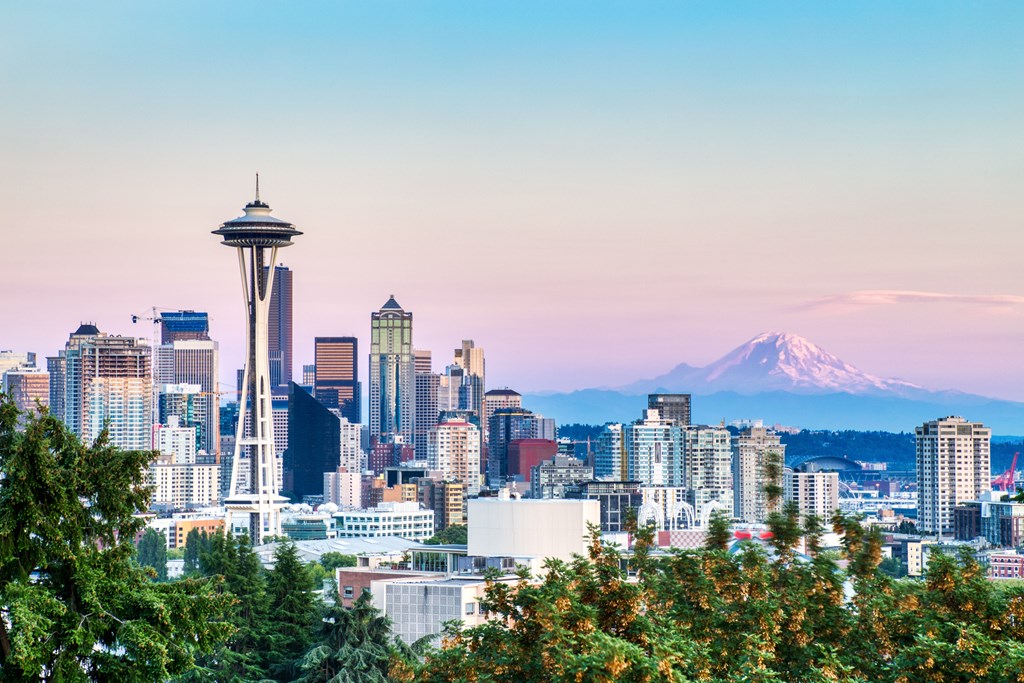 7. Marvel at Engineering Wonders
For many years, the Golden Gate Bridge in San Francisco was the longest suspension bridge in the entire world. For a bridge built in the 1930s, that's an impressive feat. While it may no longer hold that claim to fame, it's still an amazing site to see. Over one mile long and held together by 80,000 miles of steel wire, with cables that are 36.5 inches in diameter — this is truly an engineering site to see.
Other engineering wonders you don't want to miss are Seattle's 605-foot Space Needle that withstands winds of up to 200 miles per hour, the Washington Monument — the quintessential sign of D.C. — and Mount Rushmore in the Black Hills of South Dakota.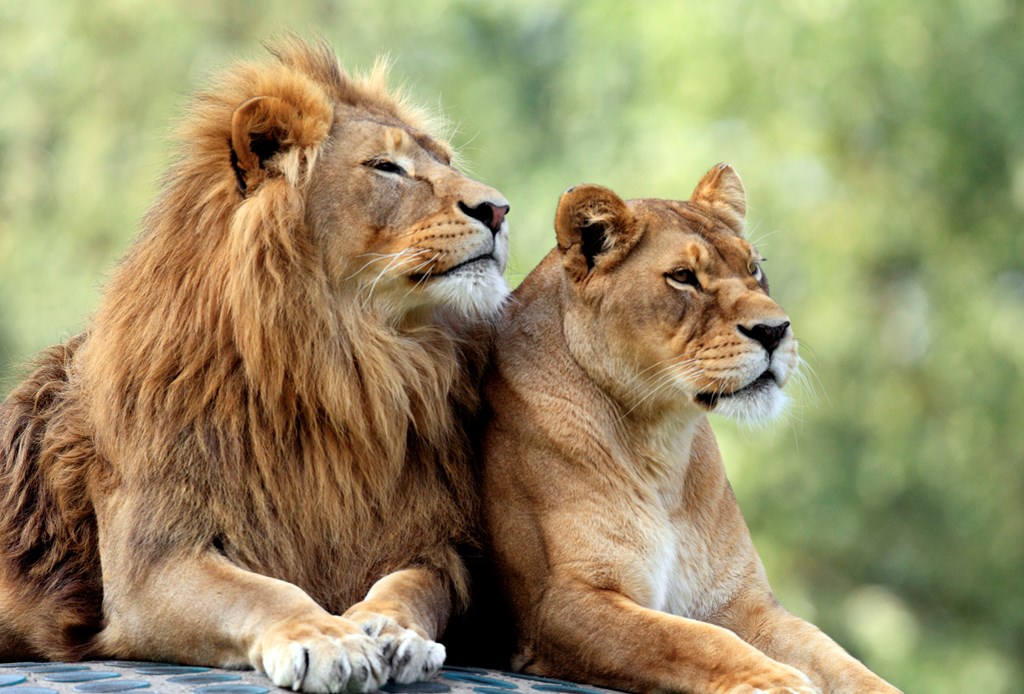 8. Discover New Wildlife
If your children love meeting new animals, make a zoo or wildlife refuge a part of your trip. Sure, you could plan your trip around the zoo with the largest variety of animals and plants in the United States — the San Diego Zoo. But there are plenty of awesome zoos and wildlife refuges in several locations across the country, all with their own activities for children and unique creatures to meet.
The Baltimore Aquarium is full of not only creatures from under the sea that you and your children can admire from behind the glass but also interactive areas where children can touch and hold some of the wonders from the ocean.
When you choose to camp on your family vacation, you will have the opportunity to see some wildlife in their natural habitat. Having the ability to see them from a distance in the great outdoors can be even more exciting than what you witness behind a cage or a piece of glass.
Plan Your Camping Accommodations Now
KOA offers the largest collection of campgrounds in the world. With nearly 500 locations throughout North America, KOA is sure to have one near whichever destination you choose for your family summer vacation. While tent camping is a part of lodging at KOA, it's certainly not all we have. Our lodging options include Tent Sites, RV Sites, Camping Cabins, Deluxe Cabins — and we've even got some unique options for those interested in glamping.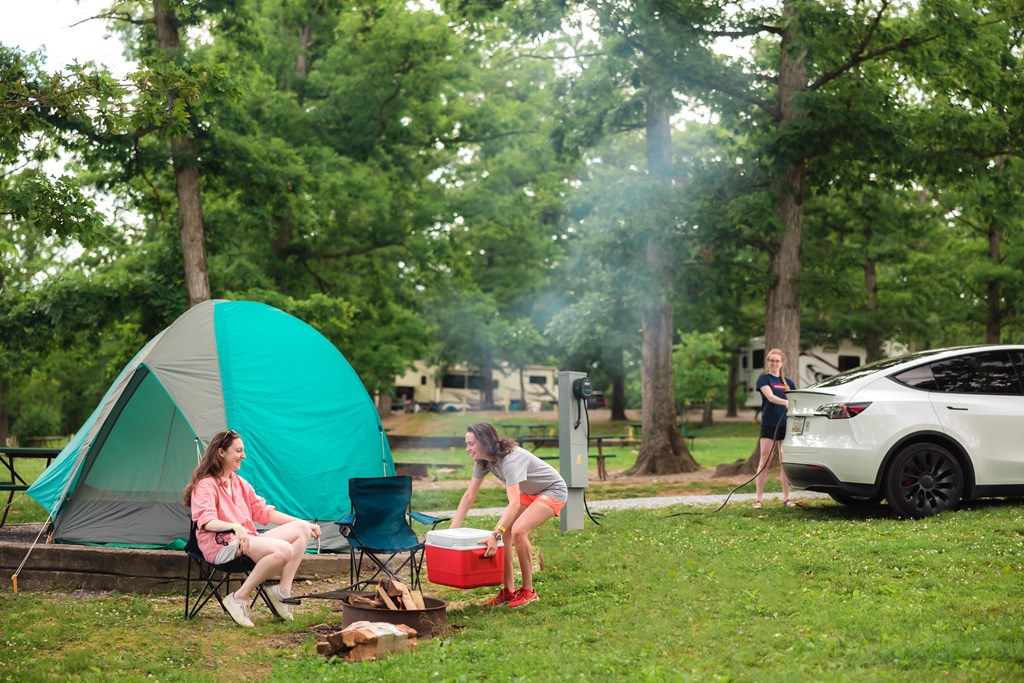 Tent Sites
Perhaps one of the simplest, most affordable ways to stay during your family summer getaway is tent camping. We know families that enjoy tent camping are often looking for just the rustic basics — we offer that, and a bit more to make your family's stay comfortable and convenient.
KOA Tent Sites include a level, dry campsite with a picnic table, fire ring or pit, clean restrooms, hot showers, laundry facilities and a KOA store for anything you forgot to pack. Our tent sites are the perfect place to unwind and unplug after a day of exploring on your family vacation.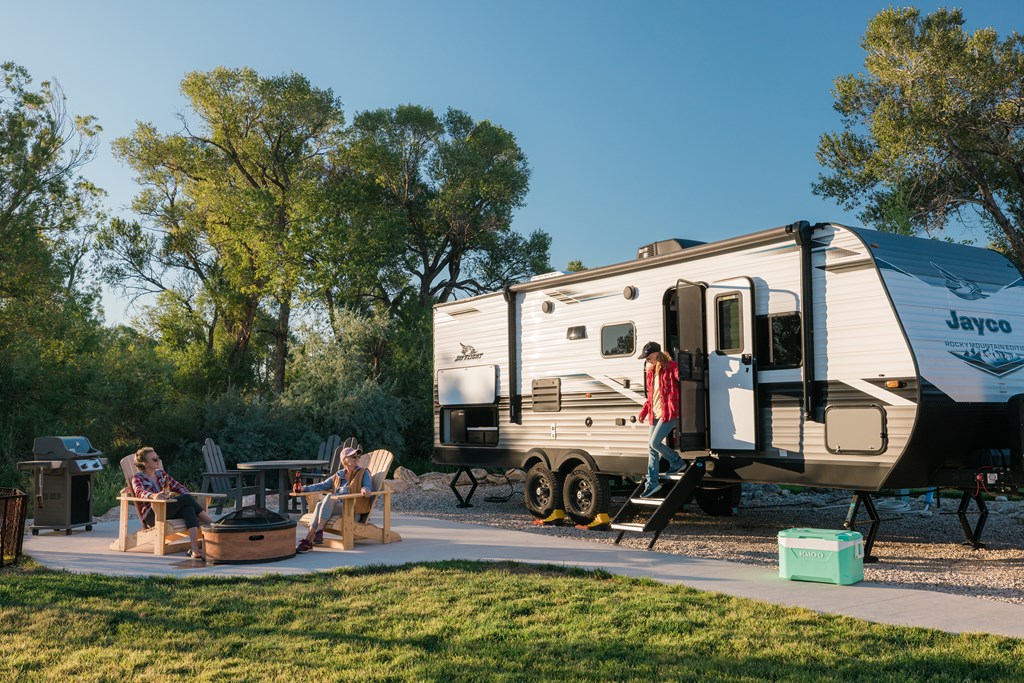 RV Sites
If your family enjoys hitting the road in an RV for vacations, you should know that KOA has RV Sites too. When you stay at KOA, you'll find a clean and level site with access to clean bathrooms, hot showers, a convenience store and laundry facilities.
At the many of our campgrounds, you'll have the option to choose Pull-Thru RV Sites or Back-In RV Sites with full-hookups with 30- or 50-amp service. Select campgrounds also offer KOA Patio RV Sites™ and Kamp K9™ pet parks specifically for your four-legged friends.
If you don't have your RV, you can still take advantage of our RV Sites by renting your RV through Outdoorsy for a few days or a few weeks. Insurance, 24/7 customer service and roadside assistance are included.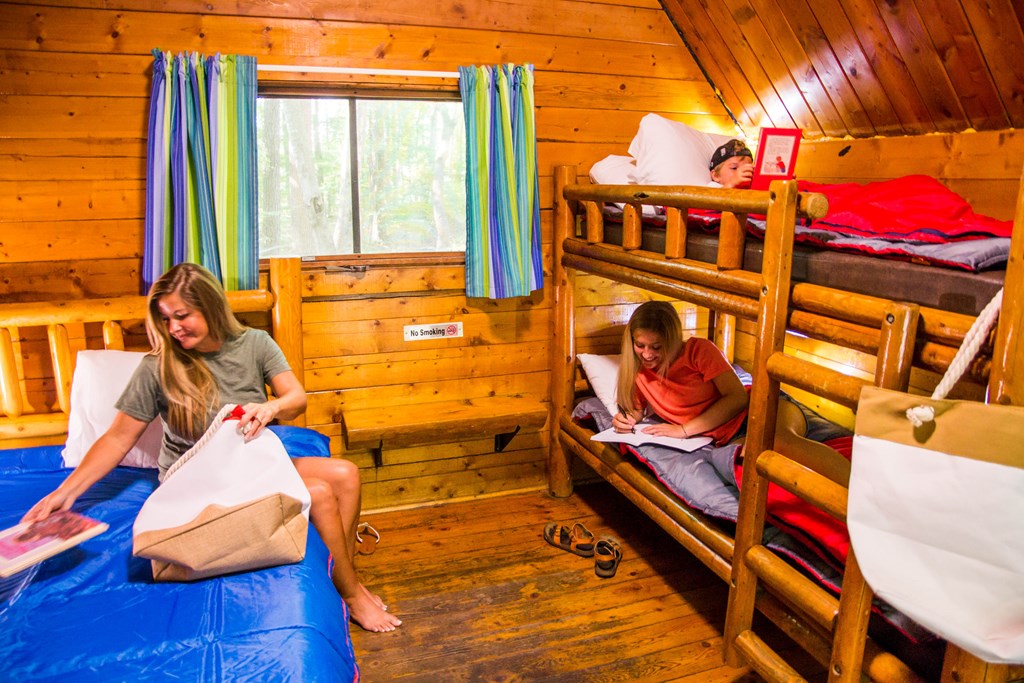 Camping Cabins
For families who are interested in camping but prefer a cabin to a tent, we have Camping Cabins available. When you stay at KOA, you have two different Camping Cabin floor plans to choose from — single- and two-room cabins.
Single-room cabins can sleep up to four people in one full bed and one set of bunk beds.
Two-room cabins can sleep up to six people with two sets of bunk beds in one room and a full bed in the other.
All of our Camping Cabins come with electricity and access to clean bathrooms, hot showers, KOA store and laundry facilities. At many of our nearly 500 locations, you'll find cabins that are pet-friendly, handicap accessible and have a porch swing and/or barbecue to enhance your family's summer vacation.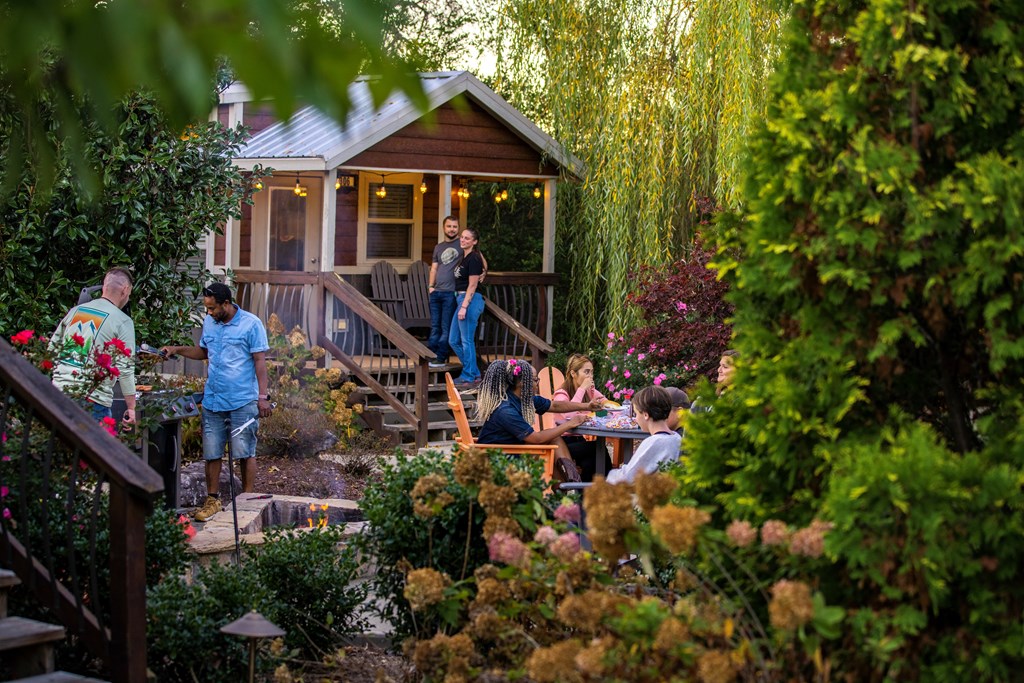 Deluxe Cabins
If you are an outdoor enthusiast who loves spending time in nature but prefers to have some of the amenities of home, KOA Deluxe Cabins may be a great solution for you and your family. These cabins feature private bathrooms, electricity, access laundry facilities. Many are also pet-friendly and handicap accessible, and some include kitchenettes, TVs, gas grills, fire pits, picnic tables and KOA Patios.
KOA Deluxe Cabin floorplans vary, but you can choose from a cabin that sleeps up to four people or one that sleeps up to six people. The four-person cabin usually includes one queen bed and one set of bunk beds, while the six-person cabin usually includes one queen bed, one set of bunk beds and one sleeper sofa or futon.
Glamping Tents & Other Unique Options
For those who love the outdoors but don't like to part with modern-day luxury, are looking to take their family on a different kind of adventure or want to explore accommodations unique to a particular location, we've got a category of lodging just for you. Airstreams, camping cabooses, teepee tents, yurts, wall tents/safari tents and tree houses have all been used for overnight lodging. In some KOA locations, you'll find these lodging options:
Airstream: Staying in one of our Airstreams gives you the opportunity to stay in an American icon from the 1920s without completely "roughing it." This cabin protects from the elements while still allowing you to enjoy nature.
Tepee: Early American settlers lived in tepees through the 20th century. Yes, in some ways, they are like a classic camping tent. However, we've brought modern amenities, like futons and electricity, to some of ours.
Yurt: Originally from Central Asia, yurts are more of a hut. They have more space than a tent, are often made of latticed wood or bamboo and have a doorframe and a crown.
Glamping Tents: European adventurers would travel to experience nature, but they brought along tents that were like small luxury homes. KOA Glamping Tents include options such as safari tents, wall tents, canvas tents and more! These tents are perfect for glamping — they have four walls and often features such as furniture and electricity.
Tree house: Whether it appeals to your kids, or you're a kid a heart, spending a night, or a few, in a tree house is something special. KOA has tree houses that are ideal for both the rustic and the glamping crowds.
Cabooses: Known to everyone as the last car of the train, when railroad travel was prominent, the crew would head to the caboose to relax and rest. While most old trains have been retired, many KOA campgrounds feature renovated historical cabooses so that your family can stay in a piece of history.
Whether your family loves "roughing it" or you are a glamper looking for alternatives to other Vacation Rentals, the variety of lodging available at KOA is sure to appeal to those searching for fun, new ways to unplug and bond as a family. It's also sure to fit in with your list of family summer vacation ideas on a budget.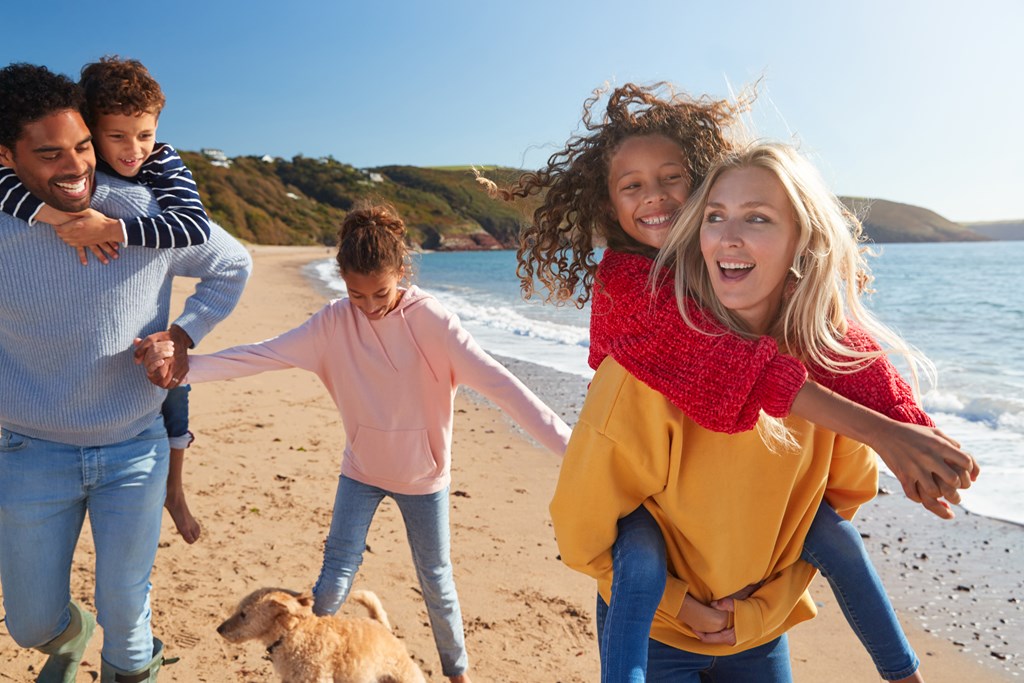 Tips for Planning Your Next Family Vacation
Regardless of whether you choose the beach or the mountains, the city or a rural place, you can follow some planning tips as you prepare to ensure that your relaxing vacation doesn't turn into an exhausting and stressful ordeal.
1. Plan Early
Planning gives you ultimate flexibility on dates, booking activities, buying tour tickets and getting great deals on airfare if you need a flight. You can look into a few different destinations, compare rates and then have your choice of dates to stay, all while ensuring fun family trips aren't sold out. Planning ahead also takes some of the financial stress off and gives you the opportunity to know exactly what the trip will cost and how long you have to put the money away, bit by bit.
2. Let the Children Help Make Plans
Once you've decided on a location for your family vacation, involve your children in the planning process. Show them where the destination is on a map, and share some of the activities that are available through online resources or books. Let them take the lead and come up with a few ideas of things they want to do on the trip. If you have young children, give them a few options and get their input so that everyone is involved in the planning of the next family vacation.
3. Create a Flexible Itinerary
Exhaustion can come from trying to do too much each day of your family vacation. Stress can result from the arguments over what to do if you don't have enough planned. The key is to fall somewhere in the middle and to keep your itinerary flexible. Make a goal of one or two things you want to see or do each day of your family vacation. If something comes up, or one of the sights or activities is no longer feasible, then move on to the next one.
4. Build Downtime Into Your Schedule
Along with the one or two goals you have for each day should be time to relax and take a break from the going, doing and seeing. This downtime is especially good for children, who can get tired and cranky if they are constantly on the move. If you have a busy morning planned, take the afternoon to relax, or vice versa. Downtime is good for mom and dad too.
5. Try Something New
Whether you try a new destination, new lodging, new activities or new restaurants, make a goal to try something new for each family vacation you take. While it's great to return to places and things you know and love, it's equally as fun to go on different adventures as a family. Experiencing new things together is often the source of some of the fondest memories.
6. Keep a Routine
Embracing the excitement of a family vacation is part of the fun, but if you're traveling with young children, it's important to keep some structure to your routine — specifically when it comes to meals, baths and bedtimes. Making sure they're getting their usual, healthy meals and plenty of rest can make a world of difference and help make the trip run smoothly for everyone.
Bringing a couple of their favorite toys or books so that they have a familiar part of home with will also be helpful. While it may be tempting to ditch the routine, it can result in stress that puts the entire family on edge.
Make Memories This Summer at a KOA Campground
If you're searching for fun places to go in the summer with your family, you'll find that there is a diverse array of options to choose from. Regardless of what place you choose to explore, camping is a great way to unplug and continue the adventure. Every KOA campground offers comfortable lodging options, convenient amenities and passionate, helpful staff. Best of all – There are over 500 locations to choose from in North America!
To get started planning your vacation, you can search for a KOA campground by location, or use our family vacation planner to map out your entire trip. We're excited for you to start your next family adventure at KOA!
---
About the Author: Kampgrounds of America
Kampgrounds of America is the largest system of open-to-the-public campgrounds in the world, with over 500 locations across the United States and Canada. Founded in Billings, MT in 1962, KOA's family of campground brands – KOA Journey, KOA Holiday and KOA Resort – today serve more than a million camping families each year. KOA is dedicated to "connecting people to the outdoors and each other" by providing people with a variety of camping experiences and the information they need to make the most of their camping trip. Read more of their camping and travel resources by visiting KOA.com/blog.