3 Tips for Camping With Kids
Camping is a wonderful family activity. It's a great way to get away from the hustle and bustle of modern life and to reconnect with loved ones. However, it's that same hustle and bustle that can make camping with the kids a challenge. With almost constant activity and entertainment from the world of electronic devices we live in, getting the kids to enjoy some relaxing time in the woods ain't always easy.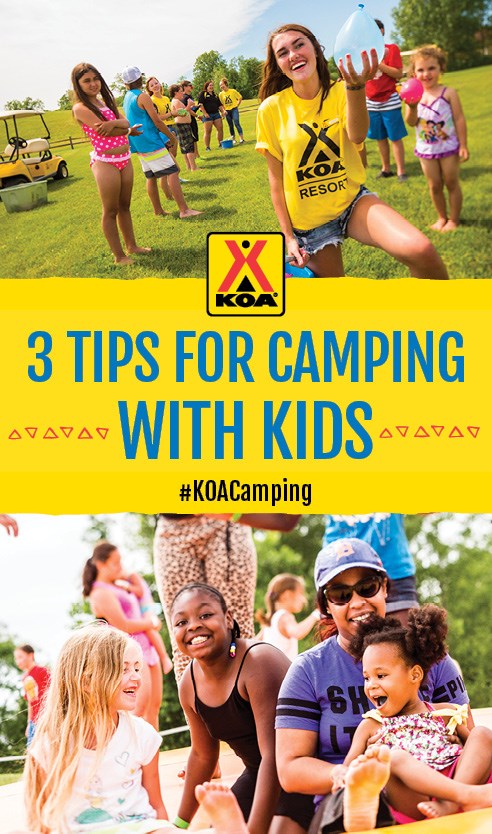 Use these 3 tips for camping with the kids to make your family trip one that the kids will be begging to do again as soon as possible.
1) Involve Them in Packing and Planning
The first thing you want to make sure you do when planning a family camping trip with kids is to keep them involved in the whole process. Ask them for ideas on where to go and what to do on your camping trip. While not all of their ideas may be feasible (no, we're not recreating National Treasure 2, little Timmy), it's important to have the kiddos feel involved. This'll not only get them excited about the trip, but also lead to a deeper interest in the activity.
Allowing the kids to pack their own supplies for the trip is another great way to get them feeling involved. Create a packing list for them to follow and always double check to make sure all the essentials made it in their bag before leaving for the campsite. You don't want to get to there and find a bag full of nothing but toys!
2) Brainstorm Different Entertainment Ideas
Entertainment at the campsite is another important thing to consider before camping with kids. Make sure you have a lot of potential activities planned for the trip. Kids tend to get bored fast, and having a lot of options will help in that case. Nature-themed activities are a great way to get kids excited about being in the woods and camping without them realizing that they're learning. Create a nature scavenger hunt or look for animal tracks to identify. Catching fireflies is another time-honored camping favorite.
Crafts are yet another great way to pass the time and have a lot of fun in the process. Have a weird walking stick contest and see who can find the strangest looking branch or see who can come back with the coolest leaf. Just make sure to teach them what poison ivy looks like if you plan an excursion off the path!
Make sure to have other, more familiar, activities on hand as well. Card and board games are no brainers, and a simple ball can provide hours of entertainment. Teach the kids a game that you used to play as a kid that they may not be familiar with. Passing things like that onto your kids is one of the great bonuses about family camping trips after all.
I'd also be remiss if I didn't mention the words "glow-in-the-dark." Kids (and adults who are young at heart) go wild for anything glow-in-the-dark, and surprising them with some glow sticks and necklaces can be a perfect way to end a day of camping.
I'm a big proponent of leaving the electronic devices locked in the car while camping, but don't underestimate them either. If the kids are simply getting too antsy, a favorite movie can calm them down and let them recharge. A small projector to use on the inside of the tent wall is the perfect way to get all the kids to settle down for the night too.
For the adventurous parents, try to plan a family camping trip with some friends who have kids too. This can make the entire trip more fun for everyone as the adults can talk and help with chores as the kids tire themselves out playing with their friends.
3) Keep Kid-Friendly Food On Hand
Lastly, be sure to keep plenty of easy to eat snacks and drinks on hand. Items like juice boxes and fruit snacks that the kids can easily grab are a great way to keep them happy!
Keep a lookout for future articles on this subject, and if there is a certain camping topic that you'd like to see covered in a future article, leave a comment down below. Visit KOA.com to book your next camping trip!
---
Writer. For Roadtrippers. For KOA. For sanity. Catcher of fish. Baseball fanatic. Proud to call Ohio home.
Brought to you by KOA and our partners at: