Peppermint Ornaments
These pretty red and white striped ornaments are easy to make for adults and kids alike!
Supplies
Baking Sheets
Parchment Paper
Holiday cookie cutters
Cooking Spray
Peppermint Candies
Directions:
Preheat oven to 350.
Spray holiday cookie cutters with cooking spray and place on cookie sheet lined with parchment paper.
Fill cutters with peppermint candies laid flat.
Bake for 5-9 minutes, until candies melt. Keep watch, once they start melting it goes fast!
Remove from oven and poke a hole for ribbon in the top of each ornament using a wooded skewer coated in cooking spray.
Cool and gently remove from cutters.
Thread with ribbon and hang!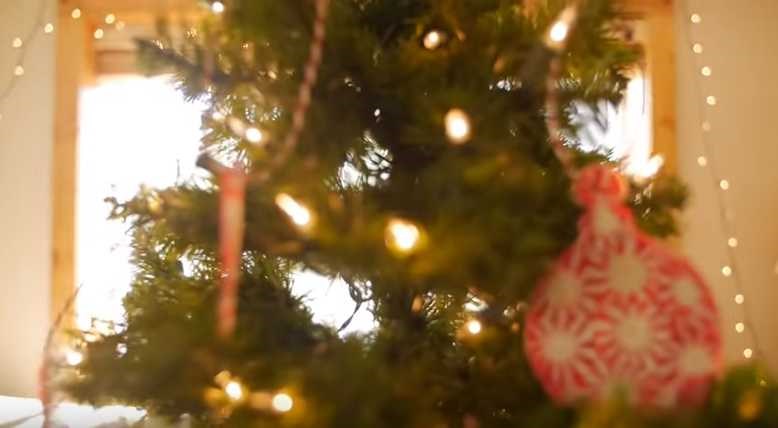 ---
Snow Globes
Perfect for gifts or decoration, these sparkly little globes are as fun to look at, as they are to make!
Supplies:
Mason jars or other tight-sealing jars
Sandpaper
Heavy duty glue or glue gun
Ornaments or figurines
Distilled Water
Glycerin (available in the cake decorating section at craft stores)
Glitter
Directions:
Wash and dry jars.
Use sandpaper to rough up the lids of the jars for the glue and ornaments stick well.
Glue ornaments and figurines to jar lids.
Fill jars with distilled water and add several drops of glycerin.
Add glitter. (Larger sized glitter works well)
Gently screw lid in place.
Shake!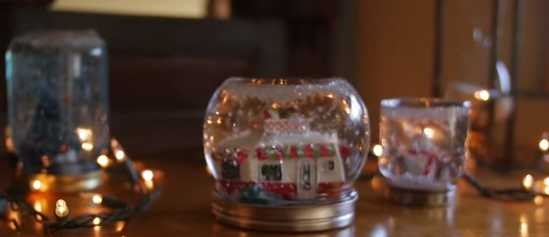 ---
Gingerbread KOA
A deliciously fun craft project for all ages. We've used a "s'more" theme in the video, choose this or use your imagination and decorate withal of your favorites cookies and candies!
Supplies:
Cardboard & Tinfoil (for base)
Gingerbread Recipe (see below)
Gingerbread Templates (see below)
Royal Icing Recipe (see below)
Graham crackers
Chocolate Kisses
Chocolate Bars
Mini M&M's
Marshmallows
Peppermint Candies
Flaked Coconut
Pastry bags or plastic ziptop bags with small corner cut out
Directions:
Make gingerbread dough and roll out.
Print & cut out templates and cut front, back and roof pieces from gingerbread dough. (Use any extra dough to make gingerbread cookies)
Bake for 10-12 minutes.
Remove from oven and use a hot pad to place templates over baked pieces and trim pieces to again match templates.
"Glue" house pieces together using royal icing piped from a pastry bag or plastic ziptop bag with a small corner cut out.
Decorate house using candies and royal icing. We used graham crackers for shingles, with chocolate kisses for accents. Mini M&M's for lights and a wreath on the door, marshmallows for the fence and rooftop, chocolate bars for the sidewalk and peppermint candies for accents.
Allow to dry until set. Do not refrigerate.
Download this helpful template to get started! GingerbreadHouseTEMPLATE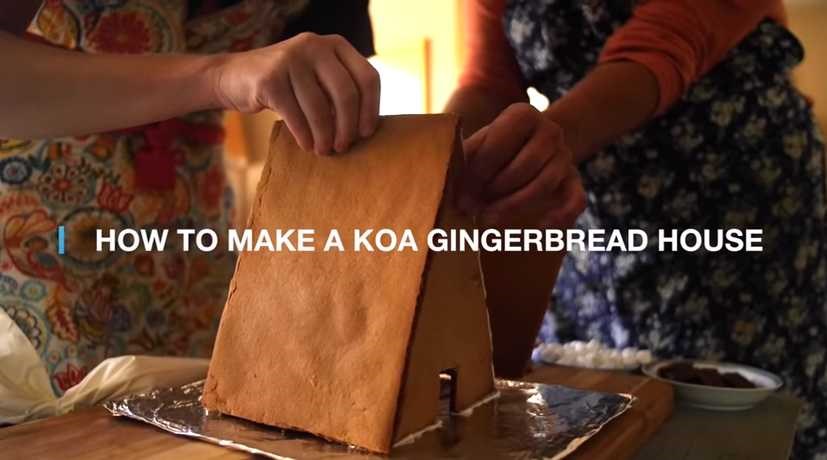 ---
Gingerbread
1 cup sugar
1 cup dark brown sugar
½ cup shortening
2 Tbsp. molasses
2 eggs
½ tsp. salt
1 tsp. baking soda
2 tsp. cinnamon
2 tsp. ginger
1 tsp. ground cloves
2 1/2 cups flour
Preheat oven to 350 degrees. Grease or line 2 baking sheets with parchment paper or silpat. Cream sugars and shortening until light and fluffy. Add molasses, eggs, salt, soda, ginger, cinnamon and cloves, beating well.  Slowly add flour until a stiff dough forms.
Turn dough out onto a floured surface and roll to an 1/8-inch thickness. Cut out house pieces using templates. Transfer to baking sheets and bake for 10-12 minutes until lightly browned.  Remove from oven and use a hot pad to place templates back over baked pieces, trimming any excess from pieces.  Cool completely and assemble house.
---
Royal Icing
1/4 cup meringue powder (available in the baking or Kosher section)
1/2 cup water
1 pound powdered sugar
1 Tbsp. light corn syrup
Using an electric mixer beat meringue powder, water and corn syrup until foamy. Add powdered sugar on low speed until incorporated, scraping bowl. Beat for 5 minutes on medium speed.  Increase to high speed and beat until frosting reaches shiny, stiff peaks, about 2-3 minutes. Cover bowl with a damp cloth between uses.
---
Chocolate Truffle Balls
1/2 cup heavy cream
1 tbsp. butter
12 ounces bittersweet or semisweet chocolate, chopped (or chips)
1 tsp. vanilla
pinch of salt
toppings: unsweetened cocoa, chopped nuts, crushed candy or sprinkles
Bring cream and butter to a simmer. Remove from heat and add chocolate. Let sit for 3 minutes. Stir until smooth. If lumps remain, return to low heat and stir until smooth.  Add vanilla and salt. Refrigerate until firm, about 1 hour. Scoop by rounded teaspoon and roll between palms to form balls. Roll in toppings and chill. Makes about 20 truffles. Note: You can substitute 1 tsp. peppermint extract or 1 Tbsp. liqueur such as Grand Marnier or Cognac for the vanilla, if desired.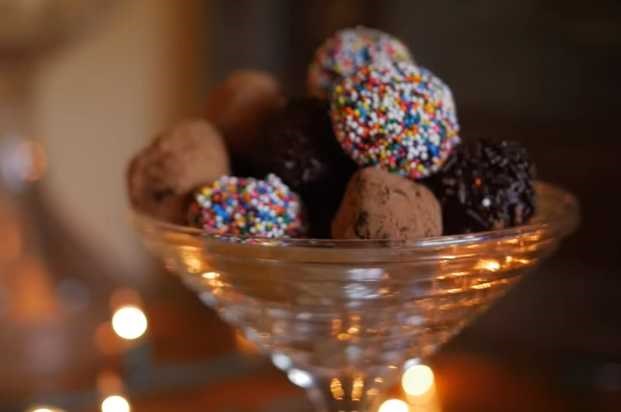 ---
Be sure to take a picture of your finished project and share it on Instagram or Twitter using #KOACamping.  Happy Holidays from our campsite to yours!